"PRETTY OLD" LADIES DO LUNCH IN SANTA BARBARA
Story & Photo by Bonnie Carroll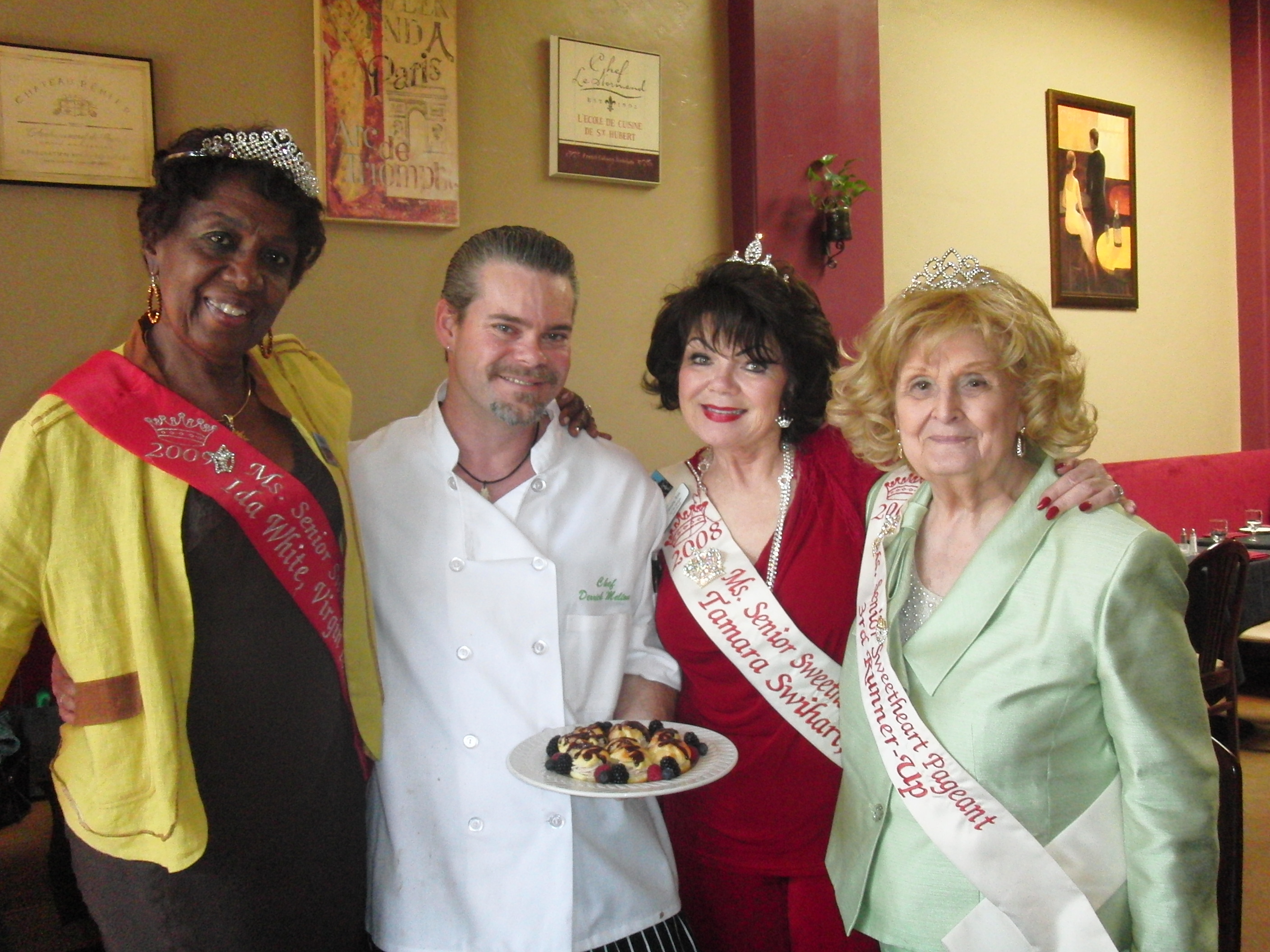 "Pretty Old" stars and members of the Ms. Senior Sweetheart Beauty Pageant Ida White 73 from the Virgin Islands, Tamara Swihart 69 from Jackson Michigan and Phyllis Chickett 83 from St. Paul Minnesota all sampled French crème puffs with Chef Derrick Melton, owner of Mimosa Café, following the Santa Barbara International Film Festival premiere screening of the engaging documentary on the Fall River, Massachusetts Annual Beauty Pageant.
The pageant was created 30 years ago by 78-year-old Larry Kaplan, whose little fundraiser for the local Lyon's Club developed into an unexpected delight—just like the late bloomer contestants and the heart warming film that chronicles their very inspiring story that attracted the support of screenwriters Walter Mattleson, Josh Alexander and producers Sarah Jessica Parker, Alison Benson, Joe Berlinger, and Matthew Prinzing.
According to Ida White "the pageant helps you raise your self-esteem at an age when you think you're finished." Tamara Swihart shared that the pageant gives her hope to deal with life's challenges and be happy. Phyllis Chickett, a born performer said "the pageant gives me a place where I can perform and I love it!" All three women described Larry Kaplan as a guy who wanted to give little old ladies a great vacation for a price they could afford. "Larry is full of love and kindness and is always the same," said Phyllis Chickett.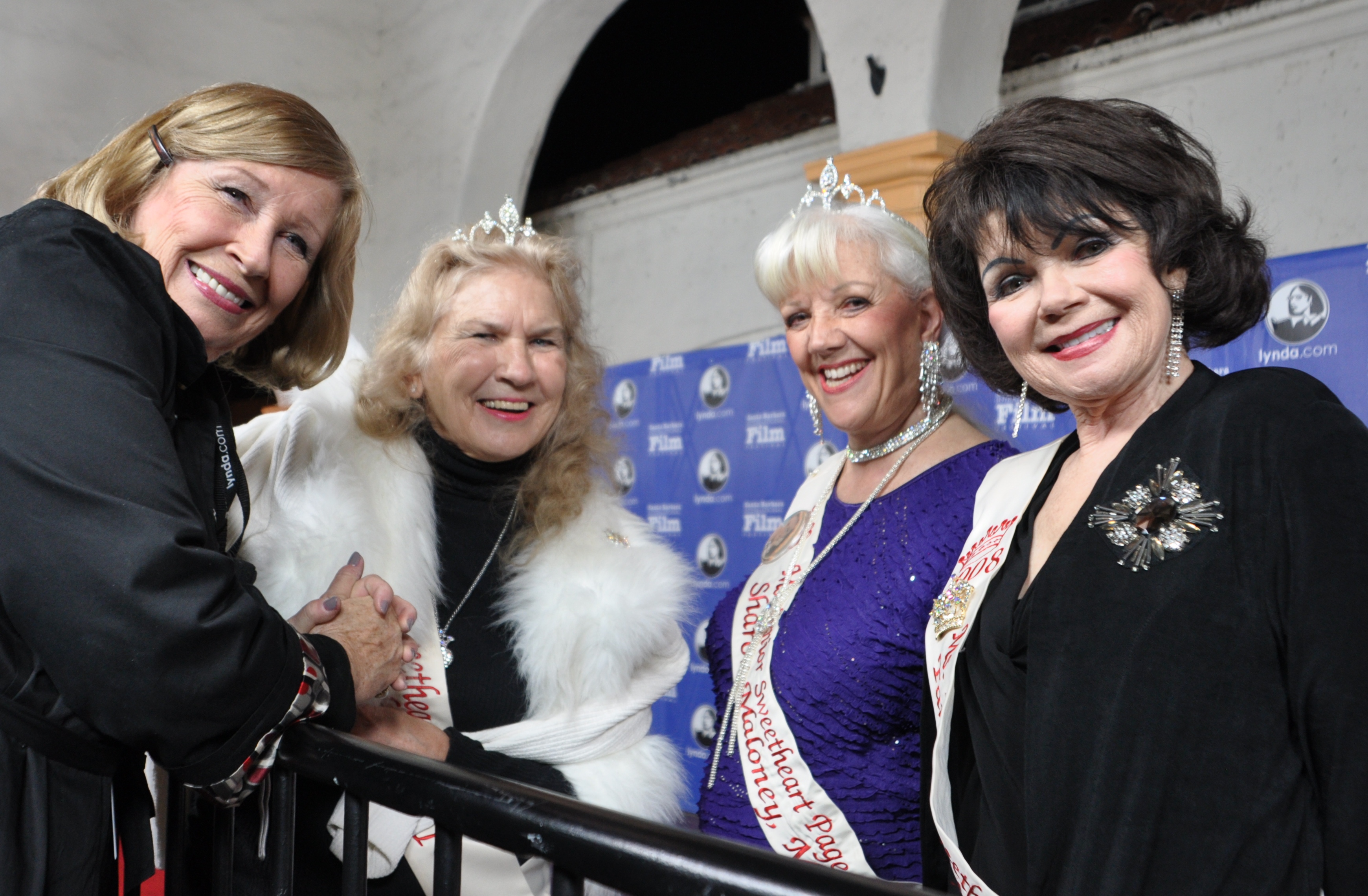 Pageant Beauties Interviewed by Bonnie Carroll SBIFF
         Photo by Edhat.com
For additional film information visit: www.SBIFF.org.
---
WIN VALENTINE EARINGS FROM VOSKOS THIS YEAR

 Voscos Greek Yogurt partners up with Generales & Generales Fine Jewellers, to give away a beautiful pair of Konstantino earrings via a Facebook sweepstakes. Entrants can
register for the piece, valued at $775, on the Voskos Facebook Page. 

The sweepstakes will run from February 1st, 2012 until February 7th, 2012. It is
open to United States residents 18 and older, and void where prohibited. The
winner will be picked at random and will be announced the morning of February
8th, 2012. The earrings will be shipped express, just in time to be a unique,
beautiful Valentine's Day gift!

Perfect for you or for a special someone, the earrings are handcrafted in
sterling silver with 18 karat gold accents in an intricate Byzantine design.
They feature a round cabochon pink tourmaline center and a pearl drop.

"Konstantino jewelry from Greece is known throughout the world for its unique
designs and remarkable artisanship. All Konstantino adornments are individually
crafted in Athens and are created from sterling silver and 18 karat gold.
Collections are inspired by art, architecture, mythology, and the people of
Greece as fused through the creative genius of Konstantino Sioulas" explains
Sylvia Generales, who, along with her husband, Peter Generales, owns Generales &
Generales Fine Jewellers.

Generales and Generales is located in the heart of Toluca Lake, a village with a
small town feel just steps from some of the most famous entertainment studios in
the world.  "As we are located in Toluca Lake, California, we have had the
pleasure of serving two generations of movie stars, from Bob Hope to Kirsten
Dunst.  We are passionate about love and about our jewelry, so what better way
to honor those passions than to make someone very happy on Valentine's Day?"
adds Sylvia.

Voskos Greek Yogurt has been recognized in awards contests presented by Fitness
magazine, Women's Health, Vegetarian Times, Natural Solutions, Self Magazine and
Cooking Light magazine. Visit the Voskos Web site for dozens of Greek yogurt
recipes for high-protein, low-carbohydrate breakfasts, appetizers, entrees and
snacks.

About Voskos Greek Yogurt
Award-winning for its thick, rich taste and nutritional value, Voskos Greek
Yogurt is all-natural, hormone-free, gluten-free, and Kosher certified. Through
Voskos' proprietary ProStrain™ method, Voskos yields two times more protein,
more probiotics, less lactose, and a thicker, creamier consistency. Voskos
offers an organic Greek yogurt line and all-natural line in both plain and
blended flavors. Available nationwide, retailing between $1.49 - $2.99 in stores
such as Kroger, Safeway, Publix, Bi-Lo, Whole Foods, Sprouts, and more. For
store locations, and to download a coupon, visit Voskos.com or
Facebook.com/Voskos.Greek.Yogurt today.
---
WOLFGANG PUCK TO RECIEVE JAMES BEARD LIFETIME ACHIEVEMENT AWARD IN NEW YORK MAY 7, 2012

The so-called Oscars of the food world this year will give the ultimate nod to a man best known for feeding celebrities at the real Oscars.
The James Beard Foundation's Lifetime Achievement award this year will go to Wolfgang Puck, whose menu for The Academy Awards Governors Ball is almost as eagerly anticipated as the awards themselves.
Puck – who has won multiple honors from the foundation and is the only chef to have twice received its Most Outstanding Chef award – was chosen for his talent as a chef and restaurateur, as well as for his history of revolutionizing how American chefs think about food, foundation president Susan Ungaro said in a release.
Puck, whose cooking combines classic French technique with a focus on seasonal and local ingredients, has been an iconic voice in California cuisine. Born in Austria, he moved to Los Angeles in 1975. In 1982, he opened Spago, the restaurant for which he remains best known. Today, he has 20 restaurants around the country.
The award will be presented during the foundation's annual awards gala on May 7 in New York.
---