FIFTH ANNUAL WINE AFICIONADO DINNER AND AUCTION BENEFITTING THE BOGART PEDIATRIC CANCER RESEARCH PROGRAM ANNOUNCES THIS YEAR'S WINE AND
LIFESTYLE AUCTION LOTS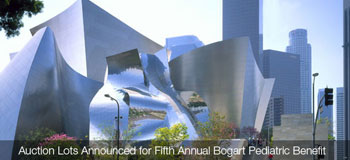 The Sell-Out Dinner and Live Auction, "Que Syrah, Syrah",
Will Take Place on May 10h at Disney Concert Hall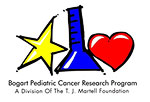 The Fifth Annual Wine Aficionado Dinner benefiting the Bogart Pediatric Cancer Research Program will take place on Thursday, May 10th at the Walt Disney Concert Hall in downtown Los Angeles. This wine lover's evening, aptly called "Que Syrah, Syrah," features three flights of Rhone varietal wines which will be perfectly paired with a sumptuous four-course dinner prepared by Celebrity Chef Joachim Splichal. One of the highlights of the evening is a lively auction hosted by Bogart Board Members Ann Colgin and Jeff Smith. In addition to the evening's special guest, actress Sandra Bernhard, celebrities planning to attend the dinner include Jerry O'Connell (NBC's "Crossing Jordan") and Josh Duhamel (NBC's "Las Vegas"). Tickets for the dinner are $1,000 per person and are available for purchase by calling 323.330.0520 or email to bogart@tjmartellfoundation.org.
This elegant evening begins with a Charles Heidsieck Champagne reception at 6:30 p.m. followed by dinner, where each course is paired with flights—each flight comprised of two to three wines—of highly-sought after Rhone varietal wines from different regions of the world. This year's wine menu includes: 1st flight of 2001 Guigal "Ex-Voto" Hermitage Blanc and a 2005 Cold Heaven Cellars Viognier; 2nd flight of a 2003 Colgin Cellars IX Estate Syrah, a 2003 Araujo "Eisele Vineyard" Syrah and a 2004 Pax Cellars Griffin's Lair Syrah; and the 3rd flight of a 1998 Rostaing Côte Rôtie La Landonne, a 1998 Penfolds Grange Shiraz and a 2004 Montes Folly Syrah. Each of the wines were carefully selected and sourced by the Bogart Wine Aficionado Dinner Committee, all of whom are wine experts and collectors.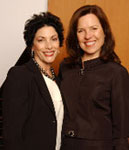 In addition, every year the Dinner Committee assembles one-of-a-kind lots for the live auction which raises additional funds for the Bogart Pediatric Cancer Research Program. "The Committee has outdone themselves with the auction lots this year—a collection of rare 1982 Bordeaux, private dinners and film screenings, use of a private jet! I expect there will be some bidding wars this year!" says Sandra Rapke, Bogart Board Member and Event Co-chair. This year's top wine and lifestyle auction lots include:
1. "Best Sellers Lot"—CAA literary agent Bob Bookman offers up his home for a once-in-a-lifetime dinner with author and former CIA officer Valerie Plame and her husband, former Ambassador Joe Wilson.
2. A private screening of the yet-to-be-released feature film, "Beowulf," a 3D digital motion capture film directed by Robert Zemeckis and starring Angelina Jolie, Ray Winstone, Anthony Hopkins and Robin Wright Penn. This screening for 95 people will take place at Clarity Partners in Beverly Hills. Guests will also be treated to a sweet dessert reception provided by Los Angeles caterer-to-the-stars Along Came Mary.
3 and 4. Left Bank vs. Right Bank Auction Lots. Carte Du Vin owner Jeff Smith has amassed a stellar collection of Left Bank and Right Bank Bordeaux from the epic 1982 vintage including rare and highly collectible Château Lafleur, Château Latour, Château Léoville Las Cases, Château Mouton Rothschild, Château Pichon Lalande, and Château La Mission Haut-Brion, among others. Of significant note for the avid wine collector, the Left Bank lot has all five 1st Growth Bordeaux represented and four of the wines received a perfect 100-point score from wine critic Robert Parker. The Right Bank Bordeaux auction lot currently has 11 bottles and its retail auction value is estimated at $10,000, and the Left Bank Bordeaux auction lot currently has 15 bottles with an estimated value of over $7,200.
5. The Napa Experience. This lucky auction lot winner will have the use of a private CitationShares Excel jet for two couples to fly to Napa, California from Los Angeles. For the discerning traveler, a Napa experience wouldn't be complete without a luxurious two-night stay at Meadowood Napa Valley and a coveted dinner reservation at Thomas Keller's The French Laundry in Yountville. During your stay, you'll also enjoy a private tour and tasting at Colgin Cellars with owner Ann Colgin.
6. Experience "A Talladega Night" where up to six guests will enjoy a Burgundy wine-themed dinner party with thelegendary "Ron Burgundy," actor Will Ferrell and his wife Viveca Paulin and "Talladega Nights" director Adam McKay and his wife Shira Piven. Rounding out the evening's dinner guests are Matt Lichtenberg and Maria Demima, and Ann Colgin and Joe Wender. This catered dinner party will be held at a private home in Bel-Air, California.
7. Back by popular demand is a highly-coveted seat on the Robb Report "Car of the Year" Panel of Judges wherein a successful bidder will win a stay at an exclusive Napa Valley resort with the editors and will test drive the best new luxury and sports car offerings of the year over a two-day period. The Robb Report panel of judges will also enjoy dinners at Napa Valley wineries Colgin Cellars and Darioush.
8. Blu-Ray Package – This package includes the state-of-the-art technology of a Blu-Ray Disc player and every theatrical release title currently available (approximately 150 discs). The lot also includes 15 hours of home installation consultation time with Audio Video Services, Inc.
9. Fly Continental – Continental Airlines will fly two guests first-class to any of their U.S. or International destinations.
The motivation for this high class revelry is the Neil Bogart Pediatric Cancer Research Program, which conducts the only leukemia and cancer research for infants, children, and adolescents for the T.J. Martell Foundation. Over the last four years, the Wine Aficionado Dinner has raised over $750,000 for the Bogart Research Program.
About Bogart Pediatric Cancer Research Program,
A division of the T.J. Martell Foundation
Bogart Pediatric Cancer Research Program, a division of the T. J. Martell Foundation, supports children's cancer and leukemia research at Childrens Hospital Los Angeles. Founded in 1984, Bogart has helped raise over $200 million towards the treatment and cure of these terrible diseases. Bogart researchers are continuously making landmark discoveries in many fields. In genes that regulate the most primitive cells in cancers, cancer stem cells are being discovered. In other gene work, Bogart investigators have been able to predict for the first time how children with neuroblastoma will respond to therapy using "gene chips", which give a "molecular portrait" based on gene activity. With models of childhood cancers, they are showing how cancer cells and normal cells interact to form blood vessels, which are essential for growth of cancers.
In the area of clinical trials, Bogart physicians are testing new therapies that are based upon laboratory findings. Particular emphasis is placed upon improving therapy for children with brain tumors, retinoblastomas (eye tumors), and neuroblastomas (a nervous system tumor that occurs outside the brain). For example, studies of young children with brain tumors seek to cure them and importantly to also preserve their ability to learn and function in society. Survival for children with malignancies (solid tumors and leukemia) was 15% in the 1960s and now is nearly 80%. Approximately 1 in 800 young adults are survivors of childhood cancer. This dramatic improvement is all due to laboratory and clinical research carried out by several investigators worldwide, including those in the Bogart Laboratories.
The Foundation also connects our colleagues, their friends and families suffering from these cancers and leukemias with the most respected medical professionals in the country... because we care about our extended family. For additional information, please visit our website at www.tjmartellfoundation.org.

FOR MORE INFORMATION OR TO ARRANGE AN INTERVIEW,
PLEASE CONTACT JARVIS COMMUNICATIONS AT 310.313.6374
---
HAUTE CUISINE ARRIVES ON THE EAST COAST OF PUNTA CANA WITH TWO NEW PROGRAMS SHOWCASING "ART DE CUISINE"
-- Sivory Punta Cana announces Chef's cooking demonstration and Table featuring Mediterranean and Caribbean-inspired Fare --
Sivory Punta Cana, Punta Cana's luxury boutique resort and spa, has created a series of culinary programs geared toward gourmands and discerning guests alike. As part of the new "Art de Cuisine" series, Executive Chef Denis Jaricot will conduct weekly complimentary cooking demonstrations on Mondays from 3 – 4 p.m. In addition to cooking demonstrations Chef Jaricot will host guests and parties ranging from two to 10 at the cooking demonstration and Chef's Table on Fridays noon to 1:30 p.m. at a cost of just $40 per person, exclusive of tax.
Art de Cuisine events will take place in Tau, an Asian-fusion culinary concept featuring exotic design and atmosphere. Sivory Punta Cana also features Laveranda, a casual beach restaurant offering indoor and outdoor seating and Gourmond, the property's fine dining restaurant specializing in exquisite French cuisine featuring the Caribbean's most extensive wine libraries of more than 8,000 bottles.
Chef Jaricot is an award-winning Executive Chef who has opened some of the Caribbean's well-known five-star hotels and resorts such as Cuisinart on the island of Anguilla, Rosewood's Little Dix Bay on Virgin Gorda in the British Virgin Islands and the Four Seasons Hotel in Toronto, Canada. A native of Lyon, France, Jaricot was trained in classical French cuisine at the prestigious Ecole Professional Rhone-Alpe in Lyon and went on to apprentice under some of France's and the culinary world's most celebrated chefs. Chef Jaricot infuses Mediterranean style and philosophy into indigenous Caribbean ingredients to create healthy and flavorful menu items that mirror the diversity of the destination while satisfying the palates of discerning guests. He shares the technique which he has dubbed "Art de Cuisine" in honor of Sivory's emphasis on Asian and Dominican-inspired design elements, with guests in an hour- long cooking demonstration of three dishes (appetizer, main course and dessert). The session is interactive with guests sampling the dishes they have prepared. This event is complimentary to resort guests.
In addition to the demonstration, the Chef's Table is a unique lunch hosted by Chef Jaricot for up to 10 guests. The event is held each Friday from noon to 1:30 p.m. and includes demonstration and instructions where guests are invited to assist the chef in the preparation of the menu. At the session's conclusion guests are invited to join Chef Jaricot to enjoy the cuisine which will be paired with wines specially chosen for the meal by the resort's Sommelier. The cost of this event is $40 per person excluding tax. For guests purchasing the Sivory Meal plan, the event is complimentary.
The events begin May 4, 2007 and run through August 31, 2007. Reservations are required and based upon space availability. For more information and or reservations, contact Sivory Punta Cana (809) 552-0500
Email: reservations@sivorypuntacana.com or privateentrancec@aol.com
* * * *
Sivory Punta Cana opened December of 2005 as Punta Cana's newest Five-Star luxury property situated on what is considered Punta Cana's gold coast on its own private beach. It features 55 guestrooms, all of which are suites many offering oceanfront views, private plunge pools, two meeting rooms accommodating up to 150, wellness center, full-service spa, three gourmet restaurants, reflecting pool and two casual dining bars, cigar bar, an extensive wine cellar featuring the finest vintages from around the world. Services and amenities include butler service, pool and beach valet, parking valet, business center and Wi-Fi. The property will offer the Ysla Club, a private club with suites, pool and private bar, scheduled to open during the 4th quarter 2007. The property is a member of Small Luxury Hotels of the World and Private Entrance Collection.
---
Can't Wine and Dine Mom on Mother's Day?
Just Point, Click and Ship Home the
Flagstaff House Experience
One-of-a-Kind Gift Box Collection Available Online for Delivery by Mother's Day
In a unique move to provide mothers everywhere with a taste of the restaurant's unique dining experience, the Flagstaff House Restaurant, Boulder's only Four-Star restaurant, has launched a new Gift Box Collection, just in time for Mother's Day.
Coffee, Tea and Table Six: Collectible and Edible
The first upscale gift collection from the Flagstaff House is the deluxe "After Dinner Experience," which consists of a keepsake box filled with delicacies from the restaurant itself, including an authentic Chinese Yixing teapot, French coffee press, European chocolates, Ethiopian and special blend coffees, tea sampler, Flagstaff House's own glass sugar tray with a wide variety of specialty sugars, Chef Mark Monette's poppy seed bread mix, cloth napkins and demitasse spoons.
Immediately upon opening the hinged lid of the keepsake Gift Box, recipients will be treated to the breathtaking view from the restaurant's most sought after dining table that has thrilled suitors, heads of state, newlyweds, movie stars, world-famous athletes and celebrities for more than 35 years.
"We want mothers everywhere to feel like royalty when they receive this unique upscale gift for Mother's Day," said Scott Monette, general manager and partner of the Flagstaff House Restaurant. "Our new Gift Box Collection featuring our After Dinner Experience makes for a one-of-a-kind gift while also providing a taste of our unique dining experience."
The After Dinner Experience Gift Box comes in two sizes: a) a deluxe 16-item collection, available for $185 (before taxes and shipping), and b) 11-item collection, priced at $95 (before taxes and shipping). Both versions are elegantly presented in the restaurant's first run collectible keepsake Gift Box and may be ordered online at www.shopflagstaffhouse.com or by calling the following toll free number: 877-209-6043.
About The Flagstaff House Restaurant
Celebrating 35 years, the Flagstaff House Restaurant has been providing award-winning mountainside dining with inspiring views of Boulder and the Colorado Front Range. Owned by the Monette Family since 1971, the Flagstaff House has one of the largest wine collections in Colorado, with more than 20,000 bottles and 3,000 selections.
Starting in 1983, the Flagstaff House has won the prestigious Grand Award each year from Wine Spectator magazine, signifying the Flagstaff House as one of the top restaurants in the world. Other prestigious awards include the Mobil Four Star Award, the AAA Four Diamond Award and the DiRoNA Award. In 2004, the Flagstaff House became the first Colorado restaurant to be inducted into Nation's Restaurant News' Fine Dining Hall of Fame. Bon Appetit magazine recently named the Flagstaff House among its "Top 10 Favorite Outdoor Dining Spots" nationwide. The Flagstaff House was also featured on a Food Network series called "Road Tasted," that is hosted by Jamie and Bobby Deen, sons of celebrity chef Paula Deen (see www.foodnetwork.com for details).
---
AMERICAN CRUISE LINES MAIDEN VOYAGE OF
THE AMERICAN STAR CHESAPEAKE BAY CRUISE
Guilford, CT – The American Star, the newest luxury cruise ship for American Cruise Lines will enter service on June 2, 2007, and begin its Inaugural Season with a 7-night Maiden Voyage on the Chesapeake Bay. As the American Star heads north for its summer deployment in Maine, American Cruise Lines will be continuing to offer Chesapeake Bay itineraries throughout the summer.
Departing from Baltimore, MD, the American Star will be the fourth American Cruise Lines vessel to cruise the smooth waters of the Chesapeake Bay. This exciting journey through the cradle of American History visits ports steeped in Colonial heritage where settlements began and battles were won. Passengers will explore the living history of Williamsburg and Yorktown, VA, the Chesapeake Maritime Museum on charming St. Michaels, MD, and Annapolis, MD, for a tour of the United States Naval Academy. The bay area will delight the visitors as they explore a wide variety of wildlife like bald eagles and ospreys, and diverse communities of fish and shellfish, including the delicious Chesapeake crab, served onboard during the cruise.
The 100-passenger American Star is 215 feet long, and will have a similar modern design to the American Spirit. The new modern luxury ship will feature more oversized staterooms with private verandahs, and all staterooms will have the large opening picture windows, a trademark of American Cruise Lines. Every room is fitted with a flat-screen satellite TV and DVD player, individual climate control, Internet access and many other modern conveniences and amenities expected by the discerning traveler. The ship's layout will include an elevator to all four decks, four lounges of various sizes, a spacious observation deck, a well-stocked library and a dining room with surrounding windows providing spectacular landscapes and coastal scenery as you dine.
Following her maiden voyage, the American Star will then make her way north for an Inaugural Summer along the Maine Coast and Harbors from June 16th thru September 29th. During the fall, the American Star will depart from New York and sail fall foliage cruises on the picturesque Hudson River, one of ten American Heritage Rivers. The American Star will be the fourth American Cruise Lines vessel to cruise the magnificent East Coast.
American Cruise Lines operates the newest fleet in the world with three luxury overnight cruise ships currently operating and the brand new 100-passenger American Star joining the fleet in the Spring of 2007. American Cruise Lines offers nine distinct itineraries along the smooth waters of the East Coast between Maine and Florida. For more information on American Cruise Lines, call 800-814-6880, or visit us at www.americancruiselines.com.