MOZAMBIQUE
Laguna Beach Restaurant – A Journey to South Africa
by Bonnie Carroll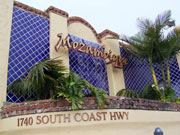 Mozambique, located at 1740 S. Coast Highway in Laguna Beach, California, is a unique visit to experience the taste of a rare spice called Peri Peri, and is also where Master Chef Alfonso Contrisciani creates recipes indicative of those prepared in a country located on the southeast coast of Africa. The restaurant is the brain-child of two young men who spent their youth on the coast of Africa, and are now sharing their experience with local patrons and visitors to the beach community.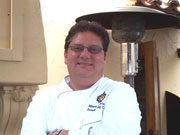 Alfonso Contrisciani is the youngest man in the Unites States to achieve the coveted rank of certified Master Chef and is being credited for spearheading a new culinary trend in the restaurant world by using his vast talents to introduce exotic South African tastes and flavors to America with a new menu featuring the highly sought-after Peri-Peri spice.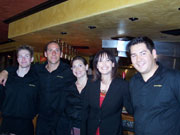 Peri-Peri is the spice indigenous to Mozambique in South Africa, and it is a dark pepper that can be used in a variety of ways. Mozambique has used this spice as the main and additional ingredient in restaurant recipes, as well as in a tastefully packaged line of sauces and condiments that are available at the restaurant or online. According to Chef Alfonso the products will soon be available in markets throughout California.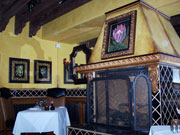 The upstairs bar and restaurant, featuring an open patio, is colorful and alive. The signature cocktails and appetizers are a perfect prelude to one of Chef Contrisciani's elegant dinners. Live music fills the air of the patio on weekends, and the outdoor fireplace is a cozy spot for a romantic rendezvous. The formal dining room downstairs is elegant in a comfortable way, with a classic looking fireplace that centers the room. The staff at Mozambique are highly qualified and extremely efficient. Naturally, wines from Africa abound here, as well as a selection of fine local and international wines that provide perfect pairing options to enjoy with Chef Alfonso's plates.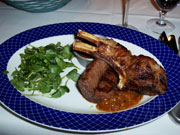 Specialties of the restaurant include a delicious crisped Peri-Peri rotisserie chicken, Durban curry, a lamb dish simmered with curry powder from Durban and served with toasted Basmati rice and chutney mild or hot sauce from Mozambique Spice Company. Another wonderful choice would be one of the many fine beef or seafood dishes on the menu. My starter, a shrimp and crabmeat ravioli was outstanding, and was covered with a lovely asparagus coulis.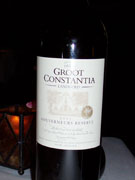 The cool avocado soup, with crabmeat, scallions and coconut, was also a nice surprise. Dessert recommendations include vanilla bean and ginger crème brulee or Queen of the Shebeen warm chocolate cake with coconut ice cream. Both were sinfully delicious.
If you are one who still enjoys fine dining in an environment that affords you the opportunity to actually hear the person sitting next to you, and if you revel in a journey to the unusual in atmosphere and taste sensations, you will love this inviting restaurant. The prices are reasonable and the service is outstanding. For restaurant and product information visit:mozembiqueoc.com.
Recipe:
Seafood Ceviche
---
15th Annual Carmel TomatoFest® September 10, 2006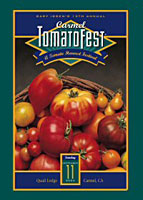 If You Love Tomatoes...
don't miss America's most spectacular tomato event.
Featuring a tasting of more than 350 tomato varieties from around the world, an extravagant outdoor BBQ, delicious tomato recipes created by 60 of Americas best chefs, a tasting of 100 great wines from Monterey County, a "Salsa Showcase" tasting of 90 tomato salsas, "The International Olive Oil Tasting" featuring extra virgin olive oils from 8 countries and the best of California, live music and dancing. Bring the whole family! Net proceeds are donated to local youth charities.
Tickets are limited to assure the best possible experience for our guests who travel here from around the nation. The event has sold out every year (as much as 2 months prior to the event). For additional informaton visit: www.tomatofest.com.
---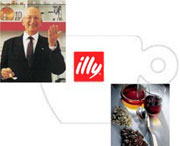 ILLY CAFE NOW AND FOREVER

Authentic Italian espresso
from the world's leading coffee authority.
illy is known throughout the world as the coffee of choice for people who know and love coffee. That's because illy has spent nearly 70 years perfecting the espresso coffee process to bring you the most satisfying coffee experience. illy's dedication to quality and excellence is a family passion that has spanned three generations. What Francesco Illy began in Trieste, Italy in 1933, when he set out to produce the world's finest coffee, continues to this day under the expert guidance of his son, Dr. Ernesto Illy, and grandson, Andrea Illy. Combining authentic Italian tradition with advanced science and technology, illy has earned its reputation as the world's leading coffee authority.
---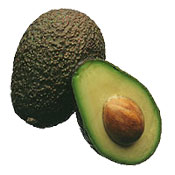 THE LIME IS GREEN WITH ENVY
AT THE RITZ-CARLTON, LAGUNA NIGUEL
The Ritz-Carlton, Laguna Niguel turns into an avocado-lovers paradise during the annual Avocado month. June marks a celebration of everything avocado throughout the hotel. The prosperous California avocado industry began in the late 1920s with the discovery of the Hass avocado. It was named after the postman, Rudolph Hass, who discovered the tree in his backyard in La Habra, California, and the original Hass tree is still standing. The first planting of avocados in California was actually recorded in 1848 by Henry Dalton near what is now Azusa, a few miles east of Los Angeles.
During the June celebration a demonstration-style cooking class will be offered, where guests learn to create and sample their day's cooking delights. The Avocado-themed Cooking with the Masters Class is scheduled for Saturday, June 10, 2006 and is $100 per person.
The menu includes:
Chilled Avocado-Coconut Soup
Seafood Medley, Kaffir Lime Infused Avocado Oil
Presented by Dee Nguyen, Executive Sous Chef
Striped Bass
Heirloom Tomato and Pickled Plum Salad, Avocado Puree,
Pumpkin Seed Vinaigrette
Presented by Joel Harrington, Restaurant 162' Chef de Cuisine
Blackened Ahi Tuna Steak
Avocado and Cucumber Tartar, Siracha Vinaigrette
Presented by Matthew Sisson, The Club Grill & Bar Chef de Cuisine
Avocado-Mascarpone Ice Cream
Served on Grand Marnier Citrus Fruit Salad
Presented by Jeff Lehuede, Pastry Chef
Signature drinks for the June celebration will include a Flaming Avocado Daiquiri, made with cane rum, lime juice, lemon juice, fresh avocado, five dashes of Tabasco and garnished with a lemon wedge.
Avocado oil has been used for years by spa therapists due to its silky-soft texture and superior absorption and throughout June the Ritz-Carlton Spa will feature an Avocado Facial. Avocado oil comes from the seed, but the fruit is also filled with vitamins such as C, E and B6, which may softens lines, moisturizes, cleanses, exfoliates and enriches the skin. Even the avocado peel can be used to help slough away dead skin cells and add new sheen. This 90-minute treatment is $185. For additional information visit www.ritzcarlton.com.
---
INSIGNIA EMERGES FROM
MULTI-MILLION DOLLAR REFURBISHMENT
Dramatic Enhancements Result In a Ship That Is Virtually Brand New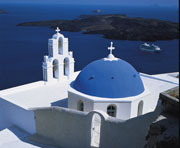 Oceania Cruises' Insignia has recently emerged from a multi-million dollar refurbishment. Carried out during a ten-day period in a French shipyard, Insignia gleams like a freshly polished jewel, resplendent with stylish new furnishings and sporting an abundance of new amenities. Several hundred shipyard workers were joined by Insignia' s 400+ staff members to undertake the refurbishment project which consumed thousands of meters of new upholstery, custom-milled carpeting and special flooring, thousands of gallons of paint and refinished acres of teak.

Under careful adherence to the line's commitment to quality, this refurbishment project was undertaken with the ship only in service less than two years and was planned to coincide with the beginning of her 2006 European season. Sparkling like new, Insignia will soon host Oceania Club members who are sailing on the line's second annual Oceania Club Reunion Cruise. Repeat guests, and those sailing for the first time alike, will be equally impressed with the luxurious new appointments. Several thousand meters of new, custom-milled woolen carpets replaced all existing carpeting and were laid throughout the public areas and accommodations. All of her staterooms and suites received the new third generation Tranquility Beds with new Imperial Mattresses.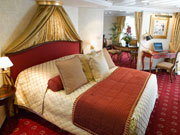 New state of the art communication equipment was installed to facilitate greater internet speeds and the use of cell phones at sea. At the shipyard, the refurbishment work was overseen by members of Oceania Cruises' executive team that included President and CEO, Frank Del Rio; Senior Vice President of Vessel Operations, Robin Lindsay; and Vice President of Hotel Operations, Franco Semeraro.

" Insignia set a new standard for luxury and excellence in the cruise industry when she was introduced in 2004, and the significant investment we have made in these improvements demonstrates our commitment to providing our guests with the finest cruise experience on the seven seas," stated Frank Del Rio, President and CEO of Oceania Cruises.
Insignia Emerges as a "New Ship"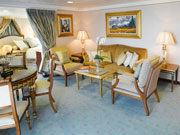 Virtually identical to that of her slightly younger sister ship, Nautica, Insignia' s extensive multi-million dollar upgrade and refurnishing left no area of the ship untouched. Thousands of square meters of custom carpeting was installed throughout the public areas, corridors and accommodations. In fact, every square inch of carpeting and upholstery aboard Insignia is now brand new. All of the teak decking and railings were stripped and reconditioned and all stateroom/suite doors and hardware were removed, stripped and French-polished.

All of the rich wood paneling was restored to "better than new" condition and the ship's team of professional upholsterers worked around the clock to reupholster more than 300 sofas, hundreds of chairs, and reconditioned hundreds of tables and fittings. Horizons, the ship's observation lounge and nightclub received an extensive roster of upgrades which included new upholstery and carpeting, a new sound and light system and a magnificent new inlaid dance floor. The most dramatic enhancement of all is the addition of a new bar with an exquisite, hand-crafted granite top and a bar front composed of crackled, backlit Murano glass. Insignia is also the first of the line's ships to receive a museum quality nautical art collection comprised of antique paintings and ship models that have been acquired from private collections around the world.
Dramatic New Owner's and Vista Suites
Stripped to the bare steel and rebuilt under the direction of renowned shipboard architect Petter Yran, principal of the legendary firm of Yran & Storbratten, each of the Owner's and Vista Suites has been fitted with luxurious new Empire-style furnishings and couture fabrics, a wide-screen plasma television, a Bose® surround sound audio system and wide-screen laptop computers. All ten of the suites have been furnished with custom made pieces and museum quality artwork that were selected by Oceania Cruises' President and CEO, Frank Del Rio, and Executive Vice President, Bob Binder. Owner's Suites are resplendent in a new color scheme of rich claret and gold that exudes an air of nobility while the Vista Suites, with their soothing yet luminous palette of gold, meadow and sage project an ambiance of relaxation and understated elegance.
Sophisticated Resort-Style Relaxation Areas
With the addition of eight new private cabanas aboard Insignia, Oceania Cruises now boasts the only fleet to feature luxury private cabanas at sea. Located atop the ship on Deck 11, the new cabanas are a haven of solace and relaxation. Featuring sweeping views of the sea and scenery through walls of glass, each is furnished with a custom made teak Balinese Daybed for two, chic white privacy drapes and a roll-back Roman-shade roof which affords guests the optimum amount of sun, shade and refreshing sea breezes. Cabanas may be reserved on a full-cruise or daily basis and feature the services of a dedicated attendant who will provide drink service, morning and afternoon snacks and chilled towels. Guests may also avail themselves of meal service in their cabana and special wellness treatments performed by the staff of the Oceania Spa.

Adjacent to the pool on Deck 9, The Patio is a chic and luxurious on-deck lounge area. Featuring plush sofas and chairs, sheer draperies and daybeds with spectacular sea views, this lounge offers the perfect respite from the sun while allowing guests to remain part of the pool deck social scene. In the afternoon and evenings, the lounge area takes on a unique ambiance with mood lighting and live music from the band stand where guests may enjoy a refreshing cocktail and dance to the strains big band and jazz performed by the ship's renowned orchestra.

Elegant New Stateroom and Penthouse Furnishings
In addition to the new carpeting and Tranquility Beds , all accommodations onboard have been redecorated with new draperies, valances, fabrics and soft furnishings. All sofas and chairs have been re-upholstered and new draperies and accent furnishings in warm jewel tones of gold and deep sapphire. Sleek, new glass-topped cocktail tables that were custom made in Italy lend a chic yet functional element to the staterooms and suites, and all Concierge Level Veranda Staterooms and Penthouse Suites feature new flat-panel televisions.
Museum Quality, Multi-Million Dollar Art Collection
Renowned and beloved for a rich, warm décor that exudes comfort and elegance yet eschews stuffiness and pretense, Insignia is now home to a new multi-million dollar art collection. Comprised of antique nautical paintings and models along with contemporary and traditional pieces from renowned artists and masters, the collection imparts a new richness to the already sublime interiors. Strolling or relaxing throughout the ship, guests will discover pieces that are not only aesthetically complimentary but ones that provoke thought and inspire discussion. As with any great collection, it will continually grow through new additions and guests will be delighted to find new pieces being continually added throughout the year.
An Enticing Array of Diverse Itineraries
In 2006, Insignia's itineraries span all of Europe, from the Greek Isles to the British Isles and Iceland. This winter, she returns once again to South America to call upon the quaint colonial trading villages on the Brazilian coast, to the vibrant metropolises of Buenos Aires and Rio de Janeiro and the dramatic, glacial fjords of Chile. The spring of 2007 sees her return to Europe where she joins Nautica to call upon the most fabled destinations in the Mediterranean and Greek Isles.

Insignia will make three very special European voyages in 2007:

She will host the third annual Oceania Club Reunion Cruise from Athens to Rome on September 13, 2007 and calls on Kusadasi, Turkey; Rhodes, Greece; Antalya, Turkey; Limassol, Cyprus; Alexandria, Egypt; Heraklion, Greece; La Goulette, Tunisia; Valletta, Malta; and Messina, Sorrento and Rome, Italy.
She sails a very special Mythology and Archeology cruise from Istanbul to Barcelona which, as the name conveys, calls upon the great wonders of the archeological world – Mitilini, on the Greek isle of Lesbos; Kusadasi, Turkey; Rhodes, Greece; Antalya, Turkey; Limassol, Cyprus; Alexandria, Egypt; Heraklion, on the Greek isle of Crete; Valletta, Malta; La Goulette, Tunisia; Cagliari, on the Italian isle of Sardinia; and Mahon, Spain.

Join Jacques Pépin and his special guests as they sail onboard Insignia on August 6, 2007 from Barcelona to Saint-Tropez, France; Monet Carlo, Monaco; Florence/Pisa, Italy; Rome, Italy; Sorrento, Italy; Taormina, Italy, Athens, Greece; Santorini, Greece; Delos, Greece; Mykonos, Greece; Kusadasi, Turkey and culminates with and overnight stay in Istanbul, Turkey. For additional information or reservations, please contact your Travel Agent or Oceania Cruises at 800-531-5658. Visit us at OceaniaCruises.com.
---