NEW OPEN AIR RESTAURANT ON HYDE PARK – NOW OPEN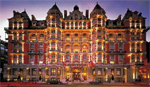 Mandarin Oriental Hyde Park, London is delighted to announce the launch of its new open air restaurant, The Park Terrace.
Discreetly sheltered by Mandarin Oriental's north façade, The Park Terrace overlooks the southern meadows of Hyde Park below the Serpentine Lake.  Soft linens and elegant teak furniture sit upon quarried Portland stonework against an enchanting floral backdrop to create the informal elegance of an English country garden.  
Making the most of its idyllic location during the summer months, The Park Terrace is open all day until September 30 for early morning breakfasts, sunny lunches, traditional afternoon teas and balmy evening dinners.  Head Chef Chris Tombling's accomplished seasonal menu features fresh, summery dishes such as "Asparagus, Pea and Bean Salad, Crumbled Feta, Fresh Mint, Rocket Leaves with Lemon dressing" and "Roast English Lamb, Baby Summer Vegetables, Spinach and Natural Jus".
In keeping with the hotel's 5 star surroundings and its reputation for intuitive service, staff at The Park Terrace will provide the ultimate in al fresco service.  On hot summer days, a Terrace Butler will be on hand with a selection of sun screen creams, cooling iced towels, water sprays, and a sunglasses cleaning service.  Guests are also able to borrow designer sunglasses – including children's sizes, books from the hotel's Vintage Classics library, hand-held Mandarin fans, soft pashmina shawls, and a selection of magazines and newspapers.
Just a few steps away from the sophisticated boutiques of Sloane Street and Knightsbridge, diners will nevertheless feel a world away as they take in the wide open expanse of peaceful parkland.  Looking out across South Carriage Drive, diners will be able to enjoy the quintessentially English spectacle of the Household Cavalry riding past from Knightsbridge Barracks to nearby Buckingham Palace every morning, and soak up the daily Hyde Park scene of people riding, walking their dogs, jogging, roller-skating, and cycling.      
Working closely with The Royal Parks' own landscape gardeners to ensure the design was in keeping with its surroundings an expanse of flower and plants mirror those found in Hyde Park.  Seasonal plants include the pastel shades of Cosmos, traditional pompom Dahlias and the elegant cottage garden favourite, Verbena Bonariensis.  A colourful mixture of plants such as the scented purple sage, ornamental bronze grasses and the pink spire-like flowers of the Veronicas mark either end of the terrace.  Flower beds are given structure using shrubs such as the Forest Pansy with its purple leaves, sweet-scented Drimys and sun loving Oleanders.
Director of Food & Beverage, Sarah Coy, commented: "We are privileged to be able to offer unspoilt parkland views in a uniquely peaceful environment in the centre of London.  The Park Terrace will provide guests a chic and elegant setting from which to relax and enjoy the summer, with the benefit of our award-winning cuisine and the legendary Mandarin Oriental service."
For general booking enquiries, please contact the restaurant on +44 (0) 207 201 3849, or visit www.mandarinoriental.com/london.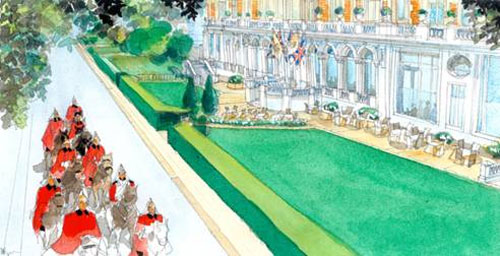 ---
SANTA BARABARA TRUST FOR HISPANIC
PRESERVATION PRESENTS THE 7TH ANNUAL
"CASA CANTINA" AT THE HOME OF FIESTA -
CASA DE LA GUERRA
Four day SBTHP fundraiser features live music by Spencer the Gardener, Vientos del Sur, and Somos Son

Celebrate Fiesta where it all began as the Santa Barbara Trust for Historic Preservation presents the 7th annual Casa Cantina in the courtyard of the historic Casa de la Guerra. Part of the annual Old Spanish Days Fiesta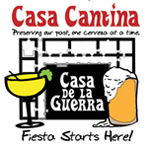 celebration, from Wednesday, July 30 to Saturday, August 2, locals and visitors alike are invited to stop by, have a cold drink and celebrate at the home of Fiesta – Casa de la Guerra.
Featuring beer, margaritas, and wine for sale, "Casa Cantina" is located across the street from De la Guerra Plaza in the heart of downtown's Fiesta activities. For a small fee (free admission before 6pm), drop in, have a cold drink and enjoy live music and a photo history of Fiesta in the Casa courtyard. SBTHP members receive FREE admission with a valid membership card. All proceeds benefit the Santa Barbara Trust for Historic preservation and the continuing restoration of Casa de la Guerra. For more information call (805) 965-0093 or visit www.sbthp.org. 
"Casa Cantina" Hours and Entertainment:
Wednesday, July 30, Noon to Midnight
Live Music by Spencer the Gardener from 9:00 pm to Midnight
Thursday, July 31, Noon to Midnight
Live Music by Vientos del Sur from 9:00 pm to Midnight
Friday, August 1, Noon to 1:00 am
Live Music by Somos Son from 9:00 am to Midnight
Saturday, August 2, Noon to 1:00 am
Live Music by Somos Son from 9:00 am to Midnight
This event is sponsored in part by Pacific Beverage, KTYD 99.9, Slushers of Santa Barbara, Firestone Walker Brewing Co., Jordano's, Santa Barbara Olive Company, and Plaza Liquor.
CALENDAR LISTING
"Casa Cantina"
DATE & TIME
Wednesday, July 30 to Saturday, August 2
July 30 & 31: Noon to Midnight
August 1 & 2: Noon to 1:00 am
WHERE
Casa de la Guerra
15 East De la Guerra Street, Santa Barbara, CA
ADMISSION
$: Admission fee varies (includes 1 FREE drink before 6:00 pm)
21 years of age and over ONLY after 6:00 pm
FREE Admission for SBTHP Members
FOR MORE INFORMATION
Visit www.sbthp.org or call (805) 965-0093
SHORT DESCRIPTION
Celebrate Fiesta where it all began with the 7th annual "Casa Cantina" in the courtyard of the historic Casa de la Guerra. From Wed, July 30 to Sat, August 2, locals and visitors are invited to relax, sip a cold drink, and party at the home of Fiesta.
ABOUT the Casa de la Guerra – One of the most important remnants of Santa Barbara's Spanish-Mexican heritage, the Casa has been at the heart of Santa Barbara's history since its construction (1819-1827) by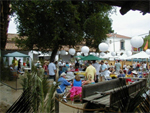 the fifth Presidio comandante, José de la Guerra. The house played an important role in the civic and social life of Santa Barbara well into the twentieth century as the site of regular gala celebrations for family weddings, community gatherings, and visiting government emissaries. When the first modern Old Spanish Fiesta was held in 1924, parties and teas in honor of members of the early families were held at Casa de la Guerra. Following the devastating June 29, 1925, earthquake in Santa Barbara, the Casa and neighboring El Paseo served as models for rebuilding parts of downtown Santa Barbara. Beginning in 1990, the Santa Barbara Trust for Historic Preservation began conducting research to determine the structural history of the Casa, with particular emphasis on its original configuration. As information is compiled and verified, the SBTHP is returning the Casa to its appearance during the time José de la Guerra and his family resided there, a thirty-year period between 1828 and 1858.
ABOUT the Santa Barbara Trust for Historic Preservation (SBTHP) – Founded in 1963 by Dr. Pearl Chase and other concerned community leaders, the Santa Barbara Trust for Historic Preservation is a 501(c) 3 nonprofit organization working to preserve, restore, reconstruct and interpret historic sites within Santa Barbara County. SBTHP is the primary force behind the reconstruction and preservation of El Presidio de Santa Barbara State Historic Park and the restoration of Casa de la Guerra in downtown Santa Barbara. SBTHP is also preserving and restoring the Santa Inés Mission Mills—the site of a future California State Park and recently purchased the building that housed Jimmy's Oriental Gardens, providing an opportunity to interpret the history of Santa Barbara's Asian community in the Presidio neighborhood. SBTHP is currently reconstructing the Northwest Corner of El Presidio de Santa Barbara, the eighteenth-century Spanish colonial fort that is Santa Barbara's birthplace. Using over 50,000 adobe bricks made on site, these additions will eventually house the new Presidio visitors' center, and with the help of the new Santa Barbara Presidio Research Center, serve to interpret the city's Hispanic heritage, and the larger multi-cultural heritage of the surrounding Presidio neighborhood from the eighteenth century to the present. For more information visit www.sbthp.org
---
26th ANNIVERSARY AMERICAN WINE & FOOD
FESTIVAL SERVES UP WORLD-CLASS CELEBRATION
FOR A GOOD CAUSE
Wolfgang Puck, Barbara Lazaroff and friends unite for a weekend of food, fine wine and festivities benefiting Meals On Wheels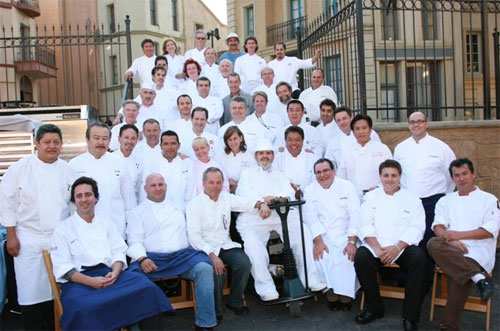 It's the epicurean event of the year. The one place that puts world-class chefs at your service for a weekend of delectable dishes, superb libations, fantasy auction items and amazing entertainment. The 26th Anniversary American Wine & Food Festival (AWFF) returns to Los Angeles for a star-studded gathering benefiting the Los Angeles Chapters of Meals On Wheels.
 
Kicking off Friday, September 26, the weekend of festivities features three spectacular events, an estimated 40 celebrated chefs, and fine wine and spirit purveyors. For the second year, AWFF will start the weekend with the sizzling Red Hot @ Red Seven party at the Pacific Design Center. Saturday, internationally renowned chefs serve palate-pleasing plates at the signature AWFF event on the Universal Studios' back lot. The Chefs Grand Tasting Dinner wraps up the weekend with an exclusive dinner event at Spago Beverly Hills Sunday evening.
 
Tickets for all three events go on sale July 1. Last year's events sold out, so be sure to mark your calendar! Please visit www.AWFF.org for tickets, sponsorship opportunities and Festival details.
 
Red Hot @ Red Seven
Date: Friday, September 26, from 7 to 11 p.m.
Location: Red Seven by Wolfgang Puck
A new event added to the line-up last year, Red Hot @ Red Seven kicks off the AWFF festivities. Set at Wolfgang Puck's chic West Hollywood restaurant Red Seven, this searing hot celebration open to the public draws in Hollywood's hottest for a night of spectacular beef, smooth wine & spirits and sizzling musical entertainment. With the ambiance of the Pacific Design Center's famous fountains blazing red, this truly is a night to remember.
 
Taste delicious morsels of mouth-watering beef served by Red Seven, CUT and sidebar Beverly Hills, CUT and sidebar Las Vegas, Lawry's The Prime Rib, La Brea Bakery and more.
 
Red Hot @ Red Seven tickets are available through the Puck-Lazaroff Charitable Foundation for $150 per person, parking is included. For more information and to purchase tickets, visit www.AWFF.org.
 
American Wine & Food Festival
Date: Saturday, September 27, from 6 to 11 p.m.
Location: Universal Studios' Back Lot
For its 26th year, this signature food & wine event brings together culinary elite for a great cause. Held on the back lot of Universal Studios, the festival is open to the public and features live bands, a silent auction, a few surprises and an unrivaled epicurean feast.
 
The quick to sell-out event draws a crowd of 2,500-plus individuals elated at the opportunity to sample an array of treats prepared by top chefs. The Puck-Lazaroff Charitable Foundation has put together an esteemed line-up of celebrity chefs for this year's AWFF including Nobu Matsuhisa of Matsuhisa & Ubon, Julian Serrano of Picasso, Alex Stratta of Alex, Roy Yamaguchi of Roy's, Lee Hefter of Spago Beverly Hills, Stephen Pyles of Stephen Pyles, Mark Peel of Campanille, Jasper White of Summer Shack, Sam Choy of Sam Choy's and many more.
 
The always-popular silent auction brings fantasy to reality. Hundreds of luxurious items will be auctioned away. Don't miss your opportunity to take home these fabulous items…many of which are not available anywhere else!
 
AWFF tickets are available through the Puck-Lazaroff Charitable Foundation for $300 per person. Table reservations are available from $3,500. For sponsorship opportunities and to purchase tickets visit www.AWFF.org. 
 
 
Chefs Grand Tasting Dinner
Date: Sunday, September 28, at 6 p.m.
Location: Spago Beverly Hills
Wolfgang Puck, Lee Hefter & Barbara Lazaroff with Chef de Cuisine Thomas Boyce & Executive Pastry Chef Sherry Yard welcome some of the finest chefs from around the world to prepare an elegant six-course meal at the 9th Annual Chefs Grand Tasting Dinner. Six celebrity chefs pair up, each preparing one course, for the grand gala dinner. The evening is filled with exquisite dishes paired with beautiful wines and a live auction full of one-of-a-kind items and experiences.
 
Chefs for the 2008 Chefs Grand Tasting Dinner will be announced in July. 
 
Chefs Grand Tasting Dinner tickets are available for $750 per person or $7,000 per table. Please contact Tracey Spillane, General Manager Spago, at (310) 385-0880 for reservations. Seating is limited.
 
About the American Wine & Food Festival
Since its inception in 1982, the Puck-Lazaroff Charitable Foundation has supported the American Wine & Food Festival, raising more than $14 million for the Los Angeles Chapters of Meals On Wheels. This organization serves thousands of meals each day to Los Angeles' homebound senior and disabled citizens.
---
CRAWFISH FESTIVAL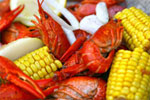 International Food Court featuring New Orleans- inspired cuisine, Café du Monde-style chicory coffee and beignets, children's area, dance floor, two stages and beach bars come together to create the most authentic Crawfish Festival experience west of the Mississippi.
Also, Mardi Gras dancers, Louisiana to L.A. Second Line Dancers, Arts & Crafts booths, Magicians, Storytellers and other special attractions direct from Louisiana!
WHEN
August 2-3, 2008
Saturday, August 2nd: 12noon - Midnight
Sunday, August 3rd: 12noon - 11pm
WHERE
Rainbow Lagoon
400-403 Shoreline Village Drive
Long Beach, CA 90802
Learn More: http://www.longbeachcrawfishfestival.com
---