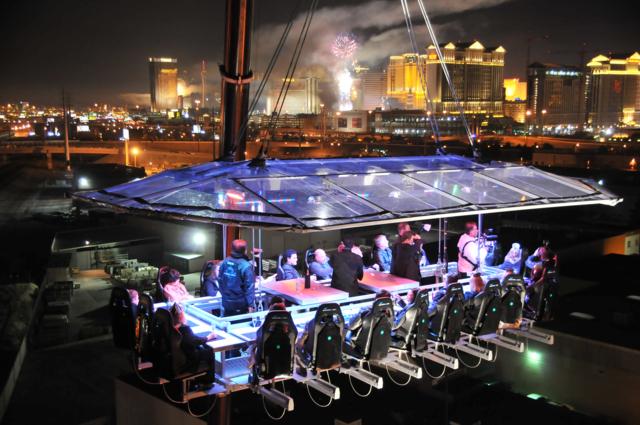 DINNER IN THE SKY
New exciting dining experience for adventurous foodies in New York or Las Vegas.
Dinner in the Sky Las Vegas offers a unique and unforgettable dining experience of a lifetime!
Suspended over 160-180 feet in the air! Guests sit comfortably at the 22 person Sky Table and enjoy spectacular views of the Las Vegas skyline while dining on fine food prepared by a professional team of Sky Chefs.
Each guest receives the VIP treatment. Guests can be pick ed up and droped off at their hotel, enjoy a red carpet reception, a complimentary photography session and access to the Sky Lounge, a fun and festive place to party down or just relax before and after a flight!
Call 702.257.7303 or 1-877-4SKYDINE for information or reservations.
---
SECOND ANNUAL VERMONT CHEESEMAKERS FESTIVAL
TO BE HELD ON JULY 25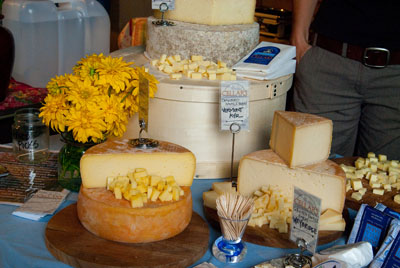 STATE'S LEADING CHEESEMAKERS AND OTHER ARTISAN FOOD PRODUCERS TO GATHER IN SHELBURNE
On July 25, close to 100 cheesemakers and other artisan food producers will take part in the second annual Vermont Cheesemakers Festival in Shelburne, VT.  Hosted by the Vermont Butter & Cheese Company and the Vermont Cheese Council, the Festival will take place at Shelburne Farms from 10:30-4:30 pm.  The event, which is open to the public, attracted over 1,100 visitors from across the country last year.
This year's attendees will sample over 100 types of cheese from 50 different cheesemakers, a variety of locally produced wines and beers, and several other artisan foods, including maple syrup, honey, chocolates, baked goods, and more. The Festival will also feature three tasting seminars, a cheesemaking demonstration, and a cooking show.
Among the "big cheeses" taking part in this year's Festival will be:
Sean Buchanan

, Executive Chef,

Stowe

Mountain

Lodge,

Vermont

;

Steve Jenkins

, Cheesemonger and author of several books including

The Food Life

and the best-selling

Cheese Primer

;

Kate Arding

, Cheesemonger and co-founder of

Culture,

the premier cheese magazine;

Janet Fletcher

,

Food writer and author of 18 books on food and wine including

The Niman Ranch Cookbook, The Cheese Course

, and the

Four Seasons Pasta;

Marc Druart,

Master Cheesemaker at the Vermont Institute for Artisan Cheese

;

Robin Schempp

, Culinologist and President, Right Stuff

Enterprise

,

Waterbury

,

Vermont

.
Sean Buchanan will lead a cooking demonstration on new and innovative ways to incorporate cheese and other local products into cooking. Kate Arding and Marc Druart will introduce visitors to the basics of cheesemaking, while Steven Jenkins will lead a panel discussion on the ins and outs of artisan cheesemaking.  Janet Fletcher will educate attendees on the best wine and cheese pairings and how to host your own pairings event.

"Vermont's artisan food industry has become one of the most well-established and highly recognized in the country," said Allison Hooper, co-owner of Vermont Butter & Cheese Company.  "The Festival allows us to showcase some of Vermont's best products, and judging by last year's record attendance, there is definitely a growing interest in this type of hand-crafted and locally produced food."

"Many of the cheesemakers and other artisan food producers are running small operations," said Laini Fondiller, President of the Vermont Cheese Council. "This Festival provides them with a unique chance to reach consumers from across the country, helping to increase recognition of their products and grow their businesses."

On Saturday, July 24, the day before the Festival, more than 20 creameries, vineyards, and breweries state-wide will participate in Vermont Artisan Food Open Studio Day.  Open Studio Day includes special tours and tastings and gives travelers a great reason to spend a weekend of artisan food discovery in Vermont.

Last year's event sold out quickly so it is highly recommended that visitors purchase their tickets early.   Tickets are available at http://www.vtcheesefest.com/ for $30 each.

 

For further information or to attend the Festival, contact: Jennifer Marcus, Goodman Media International, 212.576.2700 x 239 or jmarcus@goodmanmedia.com.

 
---
Top Ten Things Seen at the 2010 NRA Show (abridged)
The National Restaurant Association just concluded its annual confab in Chicago. Here's a quick look at some of what was seen and heard at the massive show at McCormick Place.
Honey as a flavor ingredient. We saw it in cheesecake, ice cream, cookies, marinades, drinks (hot and cold), candy and more.
The street trucks. These Twitter-talking trucks are fun to watch, particularly when you see their acceptance by mainstream restaurants. So, who's out there starting the next big idea?
One of the coolest food items we saw was Twist Potatoes, a Korean invention that uses a simple and inexpensive machine to turn potatoes, zucchini, and carrots into an eye-catching side dish. Potatoes are twisted, fried, and then dipped in a choice of dried options, including bulgogi powder.
Coke's new dispensing machines. They are all about personal choice and DIY. And everywhere we went, someone said, "Have you seen those cool Coke machines?"
The movement toward "whole animal" butchering and the use of all pieces and parts in the restaurant. We watched as a whole hog was butchered in front of a crowd and learned how Chef Rob Levitt of Mado, for one, sees pork sirloin as the next big cut of meat.
Okay, that's five of the top ten. Here's a link that will take you to the other half.
---
AN EVENING WITH ANTHONY BOURDAIN & ERIC RIPPERT
Tickets to "An Evening with Anthony Bourdain & Eric Ripert" on sale July 19,
shortly after release of Bourdain's new book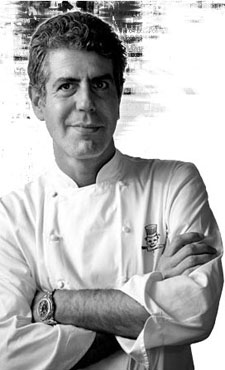 The long-awaited follow-up to Anthony Bourdain's New York Times bestseller "Kitchen Confidential," hits bookstores today – giving fans plenty of time to read it before seeing Bourdain and fellow celebrity chef Eric Ripert in Indianapolis this fall. 

Bourdain's new book, "Medium Raw," explores the changes in the subculture of chefs and cooks and the restaurant business over the last 10 years, when his blockbuster restaurant tell-all debuted.

On Sept. 30, Bourdain, who also hosts the Travel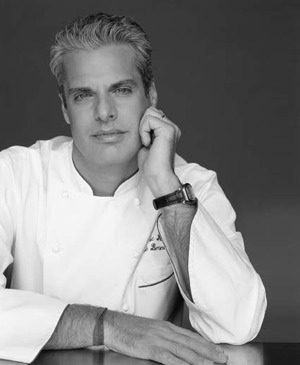 Channel's "No Reservations," will speak at 7 p.m. in Indianapolis along with friend and fellow celebrity chef Eric Ripert of the PBS show "Avec Eric" at "An Evening with Anthony Bourdain & Eric Ripert" at Clowes Memorial Hall on the campus of Butler University. 

"An Evening with Anthony Bourdain and Eric Ripert" will be an evening of storytelling and observation providing a frank and provocative insight into what really goes on behind the kitchen doors.

Tickets go on sale at 10 a.m. on July 19 at www.TicketMaster.com and the Clowes Hall box office.  Tickets are $25, $40 and $100.  The $100 ticket includes admittance to a private reception with the speakers in the Krannert Room at Clowes immediately following the show.

Bourdain and Ripert were invited to Indianapolis by the Indiana Humanities Council and Spirit & Place Festival as part of the Food for Thought initiative.  Financial support is being provided by BSA LifeStructures, Butler University, Café Patachou and a grant from the Efroymson Family Fund, a CICF Fund.

Food for Thought is a statewide program of the Indiana Humanities Council that encourages Hoosiers to think, read and talk about food online and in person through events, festivals, public conversations, reading programs, a traveling exhibit, community gardens and more.  The Spirit & Place Festival, an annual event designed to stimulate conversation, collaboration, community building and action, has chosen Food for Thought as its 2010 theme.

"People from all over the state have been calling our office asking when tickets go on sale," said Keira Amstutz, president and CEO of the Indiana Humanities Council.  "These chefs are popular with foodies as well as the general public, and we're looking forward to bringing them here for a conversation about how food and culture are interrelated."

Pam Blevins Hinkle, director of the Spirit & Place Festival, said, "We chose Food for Thought as the 2010 festival theme because what we eat and how we eat illuminates important issues that need conversation. Food tells us volumes about our history and culture as well as our spiritual, social, and economic values. We're excited to have such blockbuster speakers get the conversation started."

About Anthony Bourdain
Anthony Michael "Tony" Bourdain is a chef and author who gained immediate popularity from his 2000 New York Times bestselling book, "Kitchen Confidential: Adventures in the Culinary Underbelly."  The book is a witty and rambunctious expose of the hidden and darker side of the culinary world, as well as a memoir of Bourdain's professional life.  He also is host of "Anthony Bourdain: No Reservations," a culinary and cultural adventure program on the Travel Channel.  A graduate of the Culinary Institute of America and a veteran of professional kitchens, Bourdain is currently a chef-at-large whose home base is Brasserie Les Halles, a French restaurant with locations in New York and Miami. 

About Eric Ripert
Eric Ripert was born in Antibes, France, and learned to cook at a young age. By 15, he left home for culinary school in Perpignan. At 17, he moved to Paris and worked for top chefs there, as well as in Washington, D.C., and in New York. He was recruited in 1994 as chef for Le Bernardin, one of the finest restaurants in New York and the world.  It received four stars, the highest rating, from The New York Times more than 20 years ago, and has retained those stars more than twice as long as any other current four-star restaurant in the city. 

About the Spirit & Place Festival
The Spirit & Place Festival stimulates conversation, collaboration, community building and action through collaboration among arts, religious, and civic  organizations. Spirit & Place is a collaborative community project managed by The Polis Center, part of the IU School of Liberal Arts at IUPUI.  Major financial contributors include Lilly Endowment Inc.; Allen Whitehill Clowes Charitable Foundation, Inc.; the Indianapolis Foundation, an affiliate of CICF; Eli Lilly and Company;  IUPUI/IU School of Liberal Arts at IUPUI; and the University of Indianapolis, as well as more than 200 other community partners and donors.  For a free festival magazine or more information, call The Polis Center at (317) 274-2455 or visit www.spiritandplace.org. This year's Festival takes place November 5-14, 2010.

About the Indiana Humanities Council
The Indiana Humanities Council connects people, opens minds and enriches lives by creating and facilitating programs that encourage people to think, read, talk and listen. As a convener, leader and partner, the Council promotes the public humanities and engages Indiana's community of minds to create stronger, more vibrant communities. Learn more at www.indianahumanities.org.

---
MIGNON
WINE & CHEESE BAR IN DOWNTOWN LOS ANGELES OPENS
It was once a tailor shop on Sixth, but now the petit tasting emporium uncorks the best in fine wine and offers small plates of charcuterie, with cheeses selected by Alex Brown, cheese aficionado. Hosts Santos Uy and Danny Kronfli of Bacaro will make your taste buds feel right at home.
Happy Hour at the darkwood bar promises a price that is right, and treats that include Marcona almonds, walnuts and dried farmers market fruits. Kunik, Bleu de Basque from Spain and Prosciutto de San Daniele.
They serve crostini topped with honey ricotta, yuzu marmalde and toasted almonds, accompanied by a glass or bottle of Marionnet Loire Gamay or Le St. Andre Provence Rose for a delightful ending.
Mignon, 128 East Sixth Street in Los Angeles. For information  visit: info@mignonla.com
---
GASTRONIMIQUE AT THE FOUR SEASONS
Epicureans know that the best way to experience a destination is to take a bite out of it. Almost 100 per cent of today's travellers dine out during trips,* and the most of them want to excite their palates with something new. These self-proclaimed "foodies" – often found scouring their neighbourhood green market, tuning in to Top Chef, or taking a new class at the local culinary school – hunger for appetizing adventures and bragging rights.
The gastronomic gurus at Four Seasons Hotels and Resorts around the world are answering the challenge with three exclusive new dining experiences that will make their fellow gourmands salivate with envy.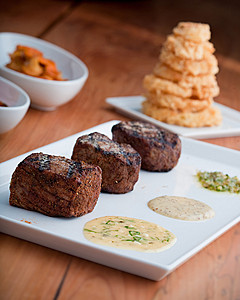 Personal Blend – To each their own taste buds at the soon-to-open Sidecut at Four Seasons Resort Whistler. The modern steakhouse guarantees a perfectly personalised meal by allowing guests to create their own signature rub. An hour-long "blending session" allows creative cooks full access to Chef Edison Mays' wall of spices – many of which were sourced from the Resort's 2,700-square-foot (251-square-metre) rooftop garden and hand-dried by Mays himself. Their recipe is then saved in a special database for future visits and is bottled so that guests can show off their creativity at home.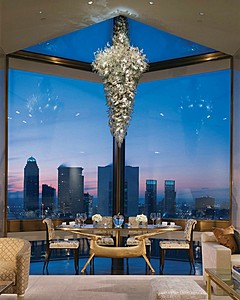 Michelin over Manhattan – At Four Seasons Hotel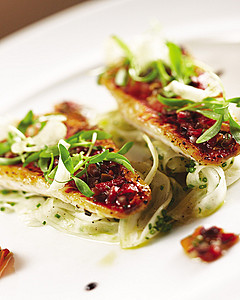 New York, aficionados of the finer things in life can enjoy two of the world's most coveted experiences – at the same time. By taking over The Ty Warner Penthouse (the country's most expensive suite), guests can experience an unforgettable room service option: an eight-course dégustation menu paired with wines from L'Atelier de Joel Robuchon. Featuring signature dishes of the most Michelin-starred chef in the world, this once-in-a-lifetime meal is savoured at an elegantly set table that sits directly in front of the suite's 15-foot (4.6-metre) window. Each bite is complemented by dramatic views of New York.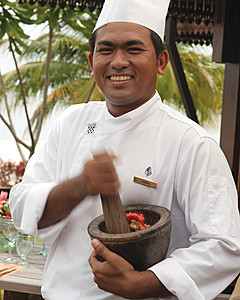 Local in Langkawi – Devotees of "eating local" can take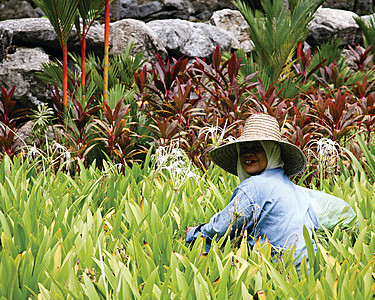 it to the extreme at Four Seasons Resort Langkawi, where miles are reduced to steps during the Gourmet Garden dinner. The intimate experience begins with a short walk to the Resort's garden. There, guests hand-pick the produce for their customised meal with the Executive Chef as their guide. Later, they return to enjoy the handcrafted creations at a private table nestled within the garden that supplied the feast's ingredients. Visit: www.fourseasons.com.
      *statistic courtesy of The International Culinary Tourism Association
---
American Truffle Company
presents the inaugural
Napa Truffle Festival
black truffles, cultivation and culinary programs, leading truffle scientists, Michelin-star chefs,
fabulous food and wine pairings, a truffle orchard excursion, epicurean market and more…
December 10–12, 2010
"… The truffles themselves have been interrogated, and have answered simply: eat us and praise the Lord."
Alexandre Dumas
SAVE THE DATE - TRUFFLE FESTIVAL FRIDAY, DECEMBER 10TH
What
December 10-12, 2010 the American Truffle Company (ATC) will present the inaugural Napa Truffle Festival, featuring a unique combination of leading truffle cultivation experts and scientists, along with internationally renowned Michelin-star chefs.
The focus is primarily black truffles—specifically, Tuber melanosporum (the winter or Périgord truffle) and Tuber aestivum/uncinatum (the summer or Burgundy truffle), which will be examined, discussed, probed, prepared, demonstrated and finally paired with wines and feasted upon.
Where
Napa Valley will serve as the epicenter for the Truffle Festival weekend.

Local restaurants will provide seasonal truffle menus and contribute to culinary seminars and classes focused on truffles.

The Westin Verasa in downtown Napa will serve as the host venue and offer a special discount rate for the festival weekend.
Overview
The Napa Truffle Festival weekend kicks off Friday evening with an opening reception at The Westin Verasa and organized dinners at select Napa restaurants. Saturday includes cultivation and culinary seminars, cooking classes, and a truffle orchard tour excursion. Sunday concludes the festival with a Truffle Buffet Breakfast, followed by an Epicurean Marketplace.
The highlight of the Festival will be Saturday night's Grand Truffle Banquet, hosted by Michelin-star Chef Ken Frank of La Toque restaurant, featuring a multi-course truffle menu (each course prepared by a Michelin-star chef) and wine pairing.
Truffle Festival Schedule
Friday, December 10, 2010
Opening reception at The Westin Verasa

Organized dinners at select Napa restaurants
Saturday, December 11, 2010
Sunday, December 12, 2010
Truffle Buffet Breakfast
Epicurean Marketplace
More Information to Follow:
Price per person

Participating chefs, scientists and special guest speakers

Details about the truffle orchard tour
Check the website for updates: www.napatrufflefestival.com.  
About American Truffle Company…ATC was founded on the principle of applying significant scientific advances in the cultivation of truffles.  With a foundation rooted in over a decade of truffle research and field experience, they have pursued cutting-edge truffle research both in the laboratory and in their ever-growing global community of partner truffle orchards, resulting in one of the most technologically advanced truffle cultivation methodology systems. For more information, visit www.americantruffle.com.
ATC will contribute a portion of the proceeds from the event to the Hunger Project and Feeding America.
---