8 TH EXTRAVAGANZA FOR THE SENSES
by Bonnie Carroll
The LA Free Clinic held its 8 th Annual Extravaganza for the Senses at FOX Studio, where a cast of thousands enjoyed the fabulous food, wine, cocktails,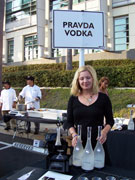 music and silent auction to support the free medical, dental and social services provided to the homeless, working poor and runaway high risk youth in Los Angeles. The event traditionally raises over $200,000.
Food and beverage sponsors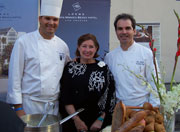 for the event included Loews Hotel, Santa Monica, Volunteers in the art of Taroh reading, future life experts, handwriting analysis, and psychic predictions donated their time to visit with guests and give them helpful and fun information as the event was in full swing. To learn more about the LAFC visit www.lafreeclinic.org.
---
THINK PINK "A LA PROVENCALE" INAUGURAL R.A.P. PINK OUT!
by Bonnie Carroll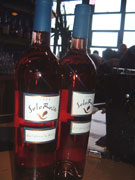 Following a very successful showing in New York City this spring, the Wines of Provence Council (CIVP) set out to paint California pink this summer by celebrating the sunshine season in style with their world-famous rose wines at the Rose Avengers and producers' (R.A.P.) first-ever PINK OUT! tasting in San Francisco last month. Following the July 16 th event the Los Angeles-area retail stores launched a showcase of Provence wines to run throughout the summer, inviting Californians to think pink…Provencal-style! The campaign will include in store tastings in LA, West Hollywood and Beverly Hills.
The packed event featured samples of Provence roses at Butterfly – Pier 33 in San Francisco, where press, trade members and wine lovers alike paired the wine with the culinary delights of Chef Robert Lam. According to Alain Baccino, CIVP President, " Provence is committed to the U.S. market, which showed significant growth last year to become our third largest in exports worldwide. "With an ever-growing U.S. trend towards fine dry roses, the Provence Wine council reaffirms its dedication to the U.S. and California markets through this 2005 program. For additional information please visit www.provencewines.com or www.rapwine.com.