CHEF, AUTHOR AND HOST OF THE TRAVEL CHANNEL'S NO RESERVATIONS, TO APPEAR AT ROYCE HALL AT UCLA ON WEDNESDAY, JUNE 16TH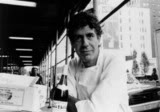 Chef, author of Kitchen Confidential and host of The Travel Channel's No Reservations, Anthony Bourdain, will visit Royce Hall at UCLA for one night only, Wednesday, June 16th at 8:00pm.  Bourdain will spend the evening sharing candid, and often hysterical, insights about his life's work and travels including an open question and answer session with the audience.   Following the release of his much anticipated new book, Medium Raw: A Bloody Valentine to the World of Food and the People Who Cook (Released nationally on June 8, 2010 by Ecco), Bourdain will have plenty of new stories to share for all those in attendance.
Bourdain has been dubbed "the bad boy of cuisine" for his rock star look and blunt observations about the world of restaurants, chefs and cooking.  The executive chef at New York's famed bistro Les Halles, Bourdain is the author of the bestselling Kitchen Confidential: Adventures in the Culinary Underbelly, a candid, hysterical, and sometimes shocking portrait of life in restaurant kitchens that has been translated into over 28 languages.  His book, A Cook's Tour, published in conjunction with his series on the Food Network, was also a bestseller in the U.S. and the U.K.
A contributing authority for Food Arts Magazine, his work has appeared in The New Yorker, The New York Times and Gourmet.  He has also been profiled by CBS Sunday Morning and Nightline and appeared on The Late Show with David Letterman.  No Reservations, nominated for an Emmy and widely popular all over the world, is currently in its sixth season. 
Tickets go on sale to the general public on Friday, April 9th at 10am.  Ticket prices range from $35 - $175 for VIP packages.  Tickets are available online at Ticketmaster.com, charge by phone at 800-745-3000 or locally at 310-825-2101, at the UCLA Central Ticket Office and all Ticketmaster locations.
A limited number of VIP tickets will be available, and includes premiere seating within the first 5 rows, access to an exclusive meet and greet session with Bourdain catered by the prestigious Santa Monica eatery Wilshire Restaurant (www.wilshirerestaurant.com), featuring tasting selections from Chef Andrew Kirschner's renowned menu.  Wilshire Restaurant is proud to be the Official Restaurant Sponsor for the evening.
Copies of Bourdain's new book, Medium Raw:  A Bloody Valentine to the World of Food and the People Who Cook, along with other titles from his back catalog will be available for purchase on site provided by Book Soup, the official bookstore for the evening.
---
May 21-22 (Fri-Sat)
Join us for our ninth Cooking for Solutions celebration—the culinary event of the year—on May 21-22. It's an elegant way to discover how your food choices protect the health of the soil, water and ocean life. Aquarium Members receive reduced ticket prices. Tickets are on sale now.
---
Food & Wine's Celebration of Brazil

This month's Food & Wine magazine featured an article that showcased Leblon Cachaça! Acclaimed artist Vik Muniz and French Chef Daniel Boulud gather in Muniz's Brooklyn based studio apartment to celebrate Brazil. We share with you some of Daniel's culinary recipes along with Brazil's classic cocktail: The Caipirinha. Mixed by Boulud with Leblon Cachaça, the cocktail is sublime and delicious.

Photo: Lucas Blalock and Stephanie Foley
Source: Food & Wine Magazine, May 2010
Daniel Boulud's Caipirinha
2 oz. Leblon Cachaça
1/2 oz. fresh lime juice
3 lime wedges and 1 lime wheel
1 tsp. sugar
1/2 oz. simple syrup

Method:
Fill a rocks glass with ice. In a cocktail shaker, muddle the lime juice and lime wedges with the sugar and simple syrup. Add the Leblon Cachaça and 1 cup of ice and shake vigorously. Strain the mixture into the rocks glass and garnish the caipirinha with the lime wheel.
Salt Cod Croquettes
1/2 pound skinless boneless salt cod, rinsed
1 cup milk
2 thyme sprigs
1 bay leaf
8 garlic cloves- 3 smashed, 5 minced
1 pound Yukon Gold potatoes, peeled and cut into 2in. chunks
1 tbsp. extra-virgin olive oil
1 large shallot, minced
3 tbsp. chopped cilantro
1 tsp. piment d'Espelette
1 large egg yolk
3 large eggs
1 cup all-purpose flour
1 1/2 cups fine bread crumbs
Vegetable oil, for frying
Lemon wedges, for serving


 Photo: Stephanie Foley
Method:
1. In a bowl, cover the cod with water and soak in the refrigerator for 24 hours to 2 days. Change the water at least 3 times.
2. Drain the cod; transfer to a saucepan. Add the milk, thyme, bay leaf and smashed garlic. Pour in enough water to cover the fish by 2 inches. Simmer over low heat for 20 minutes, until the fish flakes. Transfer the fish to a plate and let cool. Flake the fish.
3. Add the potatoes to the saucepan and simmer until tender, 10 minutes. Transfer the potatoes to a large bowl along with 2 tbsp. of the cooking liquid; mash to a coarse puree.
4. In a small skillet, heat the olive oil. Add the shallot and minced garlic and cook over moderate heat until softened. Scrape the mixture into the bowl with the potatoes. Add the cod, cilantro, piment d'Espelette and egg yolk and stir. Refrigerate the mixture until chilled, at least 30 minutes.
5.In a bowl, beat the eggs with 1 tsp. of water. Put the flour and bread crumbs in bowls. Line a baking sheet wih wax paper. Form the cod mixture into 1-tablespoon-size balls. Dredge the balls in flour, dip them in the beaten eggs and coat with the bread crumbs. Arrange the croquettes on the prepared baking sheet and refrigerate until chilled, about 10 minutes.
6. Fill a large skillet with 1/2in. of vegetable oil and heat until shimmering. Working in 2 batches, fry the croquettes over high heat, turning once or twice, until golden all over; drain on paper towels. Transfer the croquettes to a platter and serve with lemon wedges.
Brazilian Seafood Soup (Moqueca)

MARINATED SEAFOOD

3 pounds large shrimp—shelled and deveined, shells reserved
3 pounds mahimahi, cut into 1-inch cubes
2 pounds cleaned squid—bodies cut into 1/4-inch rings, tentacles halved
3 tablespoons finely grated ginger
6 garlic cloves, minced
3 tablespoons dendê oil (see Note) or peanut oil
1 tablespoon piment d'Espelette
1 tablespoon salt
1/2 teaspoon freshly ground pepper

SHRIMP STOCK
Reserved shrimp shells
2 quarts water
1 medium red onion, thinly sliced
1/3 cup thinly sliced fresh ginger
1/4 cup white wine vinegar
Stems from 1 bunch of cilantro
3 thyme sprigs

SOUP
3 tablespoons unsalted butter
3 tablespoons all-purpose flour
Three 14-ounce cans unsweetened coconut milk
2 tablespoons dendê oil or peanut oil
1 medium red onion, finely chopped
Salt
1 pound plum tomatoes, seeded and coarsely chopped
Leaves from 1 bunch of cilantro (1 cup)
One 14-ounce can hearts of palm—drained, rinsed and thinly sliced
Coconut-Cashew Rice, for serving


Photo: Stephanie Foley
---