FOUR SEASONS BEVERLY WILSHIRE HOSTS
PALO ALTO CHEF & MANAGER
by Bonnie Carroll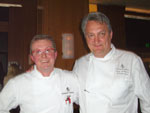 The Four Seasons Palo Alto Quattro Restaurant Executive Chef Allessandro Cartumini and Felipe Gomez-Kraus, Restaurant Manager, were among the honored guests at a cocktail reception in the BLVD Restaurant & Bar hosted by Radha Arora, General Manager & Regional Vic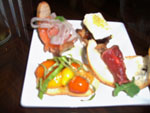 e President of the Beverly Wilshire Hotel in Beverly Hills. Chef Cartumini is Italian born - a native of Lago Maggiore in the Piedmont region of northern Italy.,

The contemporary Italian appetizers and desserts served at the reception were a sampling of the authentic Italian plates served by Cartumini at Quattro, and included miniature risotto samplings, hors d'oeuvres of Italian cheese, fresh vegetables and imported meats, and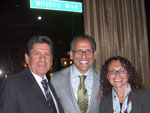 tiny chocolate espresso cups filled with cream.

Quattro Restaurant & Bar located in the Four Seasons Palo Alto showcases northern California cuisine with an Italian twist. The dramatic restaurant design includes a shimmering water wall and an outdoor fireplace to enhance al fresco dining. For additional information visit
www.fourseasons.com.
---
CLUB CULINAIRE
The dinner series entitled Chef A Table provides an opportunity to experience the culinary creations by several of Southern California's most renowned chefs promoting French cuisine. During dinner each table is hosted by a different chef who will play musical chairs as the courses change; An excellent way to dine with these culinary artists. Guests can gain insight on culinary issues, French culture and even obtain invaluable tips for their next trip to France. The Chef A Table dinners start with a Moet & Chandon cocktail reception at 7:00 PM, followed by a five-course dinner paired with wines at 8:00 PM. Chef a Table dinners are $105/members, $115/non-members (gratuity non-included) and payable to the host restaurant.
The Bistro Dinners consist of informal three course dinners paired with wine. Prices are: $35/members, $45/non-members (gratuity non-included), payable to the host restaurant and start at 7 PM. To become a Member or Friend of the Club please call Kora Kroep at 949 295 0506 or visit our website at www.clubculinaire.org For more information regarding menus, directions or to make reservations, please call the participating restaurant directly.
For all events: two tickets per member, dinners start at 7 PM.
Wine is included in all events.
Please call host restaurant for reservations.
April 22
Chef a Table Dinner at Le Toque with Chef Ken Frank
Tel: (707) 963-9770 www.latoque.com
1140 Rutherford Crossroad, Rutherford, CA 94573
Ken Frank opened La Toque in the heart of Napa Valley in 1998 to critical acclaim. It was named one of the 20 best restaurants in America by the Wine Spectator. La Toque is a showcase for Chef Ken Frank's modern cuisine and his passion for fine wine. The small and elegantly understated La Toque in the tiny town of Rutherford is very much a chef's restaurant; it's pretty and comfortable, but the main attraction here is the food. Chef Frank's menu is French in technique and finesse, but subtly enlivened with Asian and Mediterranean influences, not to mention being exceedingly wine-friendly. This will be a fun group excursion for all and the Rancho Caymus Inn has extended a special room rate for our guests; call 707 963 1777 for room reservations.
May 22
Bistro Dinner at Wine Bistro with Chef Peter Roelant and Owner JB Torchon
Tel (818) 766-6233 www.winebistro.net
11915 Ventura Blvd, Studio City, CA 91604
It's great to find a restaurant serving casual French Bistro when you get the hunger pangs for that type of food. Owner/host J B Torchon seems to know about all of his customers, and if he doesn't, he will by the end of the evening!! J B frequently hosts special parties (Bastille Day, Beaujolais Nouveau and wine dinners) that just add to the friendly spirit of this establishment. In the kitchens Peter Roelant, formerly with Four Oaks Restaurant , makes sure that your experience will be heigtened by some incredible fare. We can't wait to go, bring your dancing shoes.
June 4
Chef A Table dinner at Hotel Bel-Air with Chef Bruno Lopez
Tel: (310) 472-1211 www.hotelbelair.com
701 Stone Canyon Rd, Los Angeles, Ca 90077
Chef Bruno Lopez has worked in the most prestigious locations, including Raffles Ermitage, The Ritz Carlton Marina del Rey, Dubai and Half Moon Bay. Since two years at the helm of the Hotel Bel-Air fine dining restaurant, chef Lopez combines fresh indigenous products with herbs and unique sauces, creating flavorful and innovative cuisine in a 'French-California' style. Voted "Most Romantic Hotel Restaurant" and "Most Appealing Décor," by Zagat, Restaurant 2004, The Hotel Bel-Air restaurant has been romancing guests for over 50 years.
June 24
Picnic des Chefs at Griffith Park
Tel 949 295 0506 www.clubculinaire.org
Crystal Spring Picnic Area
4730 Crystal Springs Drive, Los Angeles, Ca 90027
$35 members, $45 non-members, $20 kids 12-21,
under 12 free (if accompanied by a paid adult)
A fun and sun filled day for the whole family. The Chefs of the Club will pamper you and cook up a storm in an informal setting. We have changed the format a little so that we can truly take advantage of all the culinary talent we have in the Club. The Tour de France will feature dishes from various regions. Of course, wine will be served to quench your thirst, along with mineral water, French beer, Orangina and sodas. On the program is an incredible raffle, including tickets from Air France to Paris and Tahiti as well as other fantastic prizes.
And as if this was not enough, a French DJ will keep us dancing or you may want to partake in a game of volleyball or petanque. For the kids there is ample entertainment: an enormous moon-bounce and lots of games. Reservations must be made in advance, so please call Kora now.
July
Bistro Dinner TBD
August 20
Chef A Table Dinner with Chefs Bruno and Donald Lockhart
Tel: 949 476 2001 www.fairmont.com
4500 McArthur Blvd, Newport Beach, CA 92660
The hotel has recently completed an extensive $32 million transformation, and now radiates a new dramatic feel from both an architectural and design standpoint. A stylish new restaurant, bambú, serves as the centerpiece of a four-story atrium with lush palms, 20-foot bamboo trees and an atmosphere that is a thoughtful marriage of natural stone, exotic woods and inspired motifs. The menu, masterfully created by Executive Chef Bruno Egea, who brings more than 25 years of progressive culinary excellence to the hotel, features California cuisine with an emphasis on fresh seafood, including several classic dishes reinvented with an unexpected combination of flavors and a multi cultural approach that celebrates fresh, seasonal and local products. Together with Sous-Chef Donald Lockhart they will surprise us, no doubt.
Sept 24
Bistro Dinner - Garden Café with Chef Akira Hirose
Tel: 213 621 2022 www.maisonakira.com (garden café)
100 N Central Ave, Los Angeles, CA 90012
Owner and Chef Akira Hirose has created an exquisite menu featuring the tastes of French and Japanese cuisine in a casual, but elegant atmosphere. Akira takes personal interest in preparing each selection with the freshest ingredients for culinary delight. Since 2003, Chef Akira has been delighting the Pasadena community with its gourmet cuisine which is now available in the Downtown Los Angeles Area. They are available for private events as well as catering. We look forward to seeing you at their exclusive location in Downtown, at the corner of the Japanese-America National Museum.
Oct (TBD)
Chef a Table with Chef Conny Andersson
Tel 949 295 0506
Swedish-born, Conny Andersson's desire to cook was inspired by his talented family of chefs. He accepted his first position after graduating with honors from culinary school at the SAS Park Avenue Hotel in Gothenburg, Sweden. In Los Angeles he landed at L'Orangerie, as many of our Club chefs have travelled through their kitchens, including Jean-Francois Meteigner, David Berg and Akira Hirose, to name a few. Conny then moved down the street to the Four Seasons Hotel in Beverly Hills for a while. Following this, he travelled to the Caribbean, India, the Maldives Republic and then luckily came back to the Beverly Hills Four Seasons followed by The Regent Beverly Wilshire to delight us with his incredible fare. This time he has something very special in mind for us.
Nov (TBD)
Bistro Dinner at l'O a la Bouche with Chef Bruno Commereuc
Tel 949 295 0506
Bruno Commereuc, originally from Brittany, grew up making 'charcuteries' and brought his knowledge to the US to recreate delicacies such as 'Boudin Blanc', 'Boudin Noir', 'Merguez', 'Foie Gras' and more. Some of these items cannot be imported, because of FDA rulings and this is probably one of the only places you'd be able to find them. We can assure you that Bruno's products are as authentic you would find them at the French butcher's. For your orders call Florence at (213) 804 0561 or email them at oalabouche@gmail.com. When we go to print with our calendar their new restaurant location is still in the making so we are waiting patiently for the return of Angelique Café on the Westside.
Nov 16
La Grande Affaire Fundraiser for the California Hospital Medical Center Foundation
Tel 949 295 0506
This will be the twelfth consecutive year that the Chefs of the Club will prepare this very elegant affair to benefit the California Hospital Medical Center Foundation. Each year a different region of France is highlighted. The cocktail reception features hors d'oeuvres prepared by our chef-members and is complemented by incredible ice sculptures by our master ice-carver, Jacques Tokar, followed by a five-course dinner. Join us in the experience.
Nov 25
Gala du Club at the Regency Club with Chefs Patrick Jamon and Dominique Raynal
Tel 949 295 0506 www.clubculinaire.org
10900 Wilshire Blvd, Los Angeles, CA 90024
The Club Gala is our end of the year feast, where the chefs get to relax and enjoy. Chef Patrick Jamon of the prestigious Regency Club will be our host this year. This event is one of the few hosted at this beautiful private club where we may invite you. As always, reservations are limited; an excellent opportunity to discover Chefs Patrick Jamon and Dominique Raynal, a well hidden jewel from our culinary crown.
Please refer to the website regarding any changes to the calendar at: www.clubculinaire.org
---
ESENCIA RESORT MAKES CULINARY TRAVEL
A FAMILY AFFAIR IN RIVIERA MAYA
Cooking Classes in Traditional Mexican Cuisine Offered Year-Round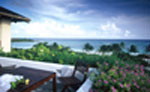 Playa Xpu-Ha, Mexico (March 8, 2007) – Seasoned gourmet travelers and aspiring Foodies, young and old, can learn the makings of traditional Mexican cuisine from a top chef at Esencia Resort in the Riviera Maya, Mexico. Esencia, the 29-room luxury boutique resort, now offers one-day cooking classes from celebrated Chef Alejandro Rojas of Four Seasons and James Beard House fame. As Executive Chef of Sal y Fuego, the resort's signature restaurant highlighting Meso-American cuisine, Chef Rojas helps adults and children, as young as four years old, learn the finer points of botanas, Yucatecan appetizers, and the secrets of tasty salsas. Cooking lessons at all levels are offered including a Mini Pastry Chef class for children 4 to 8 years, a Junior Chef class for children 8 to 12 years and an Executive Chef class for adults. Each chef is outfitted with the proper attire including apron and chef hat. Cooking classes cost $100 per person. Reservations are made in advance at 1-877-528-3490. Accommodation rates start at $475 per night. www.hotelesencia.com
"We developed these classes because many guests wanted to learn how to make the destination's regional dishes," explains Chef Alejandro Rojas. He adds, "Guests are becoming more sophisticated about foods and are no longer happy just to taste but also want to know how the food is prepared. For kids, this is a great opportunity to inspire a love for cooking."
Mini Pastry Chef
The world of a Mini Pastry chef involves cookies, muffins, small cakes and tarts with icings and meringues. The objective is to have young children become familiar with basic ingredients like flour, sugar, chocolate, eggs, butter, dried fruit and nuts. Classes are not only entertaining but educational as young students tour the resort's organic herb and vegetable garden. The little chefs are taught to value the land, which in turn provides essential foods. 4 to 8 years old, 2 hours, $100 per child.
Junior Chef
Junior chefs learn how to make salsas, guacamole and masa fantasies (Mexican specialties made from corn or flour dough) such as sopes (fried cakes), tortillas, gorditas (thick tortilla tacos) and tamales (cornmeal dough with filling). Most of the ingredients are gathered from the organic herb and vegetable garden. Junior chefs are taught to recycle and replenish the earth by re-planting small plants in the garden and are taught the nutritional value of different plants. The objective is to create good food with home-grown ingredients. 8 to 12 years old, 2 hours, $100 per child.
Executive Chef
Adults assume the task of preparing a six-course traditional Mexican meal. Executive Chef Alejandro shares his tips on how to properly treat ingredients with love and respect. First, chefs prepare botanas like empanadas or ceviche. Next, soups, salsas and moles (Mexican sauces) are prepared. Entrees often include Chile Relleno (stuffed chiles), and Tikin Xic Fish (Yucatecan baked fish). Each lesson ends with dessert. To accompany the meal, chefs will learn how to make Esencia's signature cocktail, Caribeña, inspired by the tropical flavors of the Caribbean. 2 chefs minimum, 6 chefs maximum per class, 4 hours, $100 per person.
About Esencia: Located in Playa Xpu-Ha, Mexico on a two-mile stretch of fine white sand beach, 46 miles south of Cancun, Esencia is the essence of simplicity, elegance and beauty. The boutique resort, re-opened in January 2006, has 29 spacious suites and guestrooms with features ranging from deep-soaking plunge pools to private solariums. Sal y Fuego, Esencia's signature restaurant, uses fresh seafood and naturally grown produce presented with Mexican flair and rustic simplicity. Aroma, opened in Summer 2006, is the first pampering organic spa specializing in fito-therapy. The resort is managed by ProHotel International who also operates the celebrated La Pleta Resort and Spa in the Spanish Pyrenees.
---
5X5 COLLABORATIVE DINNERS SET BY
TOP LOS ANGELES CHEFS
Angelo Auriana, Valentino; Michael Cimarusti, Providence; Josiah Citrin, Melisse; Christophe Emé, Ortolan; David LeFevre, Water Grill.
A series of 5 extraordinary tasting dinners at 5 of the best restaurants in Los Angeles as created by 5 top chefs. Pricing for the dinner will be $130; $190 with wine pairings and with $20 from each reservation donated to the Los Angeles Chapter of Cure Autism Now. Each participating chef will be present at the 5X5 dinners to prepare a course in the style of the Host Restaurant.
The five chefs designed the collaborative dinner project as a means to build a stronger community among chefs and restaurateurs within the Los Angeles restaurant scene. The mission of 5X5 is to provide a unique dining experience for the discerning diner while forging new and/or stronger relationships with their esteemed peers in Southern California. By working together as a collaborative, 5X5 plans to build beneficial interaction and networks among each other along with mutual inspiration through working, supporting, and learning as a collaborative team of talent and resources and above all to have some fun!
Monday, April 30, 2007: PROVIDENCE
Wednesday, May 23, 2007: ORTOLAN
Sunday, July 1, 2007: WATER GRILL
Sunday, July 29, 2007: MELISSE
Sunday, August 26, 2007: VALENTINO
PARTICIPATING RESTAURANTS:
PROVIDENCE
5955 Melrose Ave
Los Angeles, CA 90038
323.460.4170
www.providencela.com
MELISSE
1104 Wilshire Blvd,
Santa Monica, CA 90401
310.395.081
www.melisse.com
ORTOLAN
8338 W. 3rd Street,
Los Angeles, Ca 90048
323.653.3300
www.ortolanrestaurant.com
WATER GRILL
544 South Grand
Los Angeles, CA 90071
213.891.0900
www.watergrill.com
VALENTINO
3115 Pico Blvd,
Santa Monica, CA 90401
310.829.4313
www.valentinosm.com

---
America's 400th Anniversary
The Journey That Changed the World
Sandra Day O'Connor, Honorary Chair
America's Anniversary Weekend
The Premier Event of America's 400th Anniversary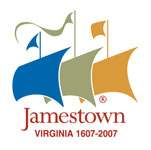 America's Anniversary Weekend, the premier event of America's 400th Anniversary, will be held May 11-13, 2007 to commemorate the 400th anniversary of the 1607 founding of Jamestown, Va., America's first permanent English settlement. The three-day salute to Jamestown and its enduring legacies includes world-class entertainment, historical attractions and special commemorative programming offered each day at three Anniversary Weekend sites. Former Supreme Court Justice Sandra Day O'Connor, and actor James Earl Jones will participate in weekend festivities. Additionally, Grammy winning artists Bruce Hornsby & The Noise Makers, Chaka Khan, and Ricky Skaggs and Kentucky Thunder and thousands of performers from across the nation will delight attendees at this once-in-a-lifetime event. Detailed program information can be found at www.Americas400thAnniversary.com.