THE PEARL OF HAVANA
A Dream Fantasy Fundraiser for The Andre Sobel River of Life Foundation
by Bonnie Carroll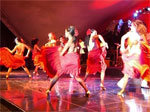 From the red carpet arrival to the finale at the Bella Vista Ranch on the Nesbitt Estate and Polo Field, the evening dedicated to raising charity dollars for The Andre Sobel River of Life Foundation was a duplication of an elegant 1940s Cuban extravaganza, complete with music by the Sultans of Mambo, a delightful 'Babalu' performance by Desi Arnaz, Jr., a sizzling dance duet to 'Ravel's Bolero', the Banditos de Amor with performances by The Tropidanza Dancers, and a grand finale Conga line.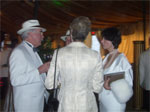 Women arrived elegantly dressed in white with pearls, some had gardenias in their hair, and each man attending was given a Panama hat to wear while enjoying tasty bites and Mohito's during the silent auction of fine art, exquisite jewelry and more. The auction was held in a very sexy 'Casa Blanca' style nightclub area that lead to the main dining room and stage. An Exclusive Cigar Lounge hosted by Arturo Fuente and Santa Ba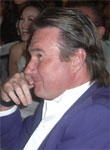 rbara Cigars and Tobacco was adjacent to the auction area, where gentlemen enjoyed the best in fine cigars and cocktails. Design inspiration for the evening came from three stunning movies: Bolero (1934), Café Metropole, (1942) a period piece of exquisite nightclub glamour, and Andy Garcia's Lost City of '06.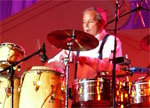 The catering was done by the very talented Helen An, Crustacean of Beverly Hills. Celebrities were everywhere, including talented actor Hector Elizondo, and talented former tennis champion Jimmy Connors. Beau and Jeff Bridges and Mary Hart were honorary co-chairs for Pearl of Havana, and Luis Estevez de Galvez, internationally renowned designer, architect, and Coty award winner from Montecito, did his amazing magic with the sets.
The Andre Soble River of Life Foundation raises funds to help singl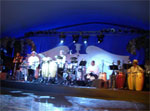 e parent families with catastrophically ill children in financial crises within 24 hours. The ASRL Foundation believes that "by caring for the care-giver, we care for the child." The Andre Sobel River of Life Foundation enables single parents of children with life-threatening illnesses to care for their children full time by relieving financial burdens when other resources are exhausted or unavailable. This organization was founded in 2000 and works closely with hospitals and social workers across the U.S. Based in Los Angeles, ASRL works locally with the Ventura County Medical Center. Visit: Andreriveroflife.org.
---
The Art of Food & Wine Palm Desert Poised to Become
Southern California's Premier Food and Wine Festival
100 wines, 40 wineries, 20 chefs, 10 bands and two days of Grand Tastings
The Art of Food & Wine™ Palm Desert, a four-day celebration featuring the very best in art, food and wine hospitality and education, is set to become Southern California's premier culinary festival. Taking place Nov. 8-11, 2007 in Palm Desert, Calif., the Art of Food & Wine will showcase more than 100 wines from 40 wineries while 20 chefs from around the globe entertain guests with their culinary mastery.
The signature experiences at the Art of Food & Wine 2007 are the elegant Grand Tastings. Taking place both Saturday and Sunday of the festival, the varied events at the Grand Tastings are sure to please every palate:
Celebrity Chef Demonstrations
Lidia Bastianich, Gale Gand, Elaine Gonzalez, The Hearty Boys, Dean Max, Ina Pinkney, David Rosengarten, Tommy Tang, Rick Tramonto and Jason Wilson
Lifestyle Seminars
Barrie Lynn, the Cheese Impresario, pairing artisanal cheese and wine; Russell Jacques sharing stories about applying art in life; Six Master Sommeliers giving instruction about expert wine tasting, the differences among bubbles from around the world, navigating a wine list and selecting an affordable Bordeaux; Erika Heinemann discussing food and wine pairing; Elaine Gonzalez teaching about chocolate gift giving; Thomas Curry showing guests how to taste olive oil; David Rosengarten teaching food and wine pairing; and Phillip diBelardino educating about the new renaissance in Tuscany
Book Signings
Lidia Bastianich, Gale Gand, Elaine Gonzalez, The Hearty Boys, David Rosengarten, Tommy Tang, Rick Tramonto
Entertainment
The Truth, contemporary reggae; Zach Hexum, alternative pop; Carmel Helene, classic rock 'n' roll; Tim Peterson Singers, gospel; Wil Donato, saxophone; Abie Perkins Band, jazz, and more
Wineries
Acacia Vineyard, Banfi Vintners, Basket Case, Beam Wine Estates, Beaulieu Vineyard, Bernardus Winery, Brassfield Winery Estate, Carpineto, Castello Delle Regine, Chalone Vineyard, Château de la Gardine, Cline Cellars, Francis Coppola Winery, Cosentino Winery, Crawford Malone Fine Wine & Spirits, Edna Valley Winery, Estancia, Ferrari-Carano Vineyards & Winery, Franciscan Oakville Estate, Foster's, and more Wine Estates, Hand Picked Selections, Ironstone Vineyards, Jordan Vineyard & Winery, Lockwood Vineyard, Marqués de Riscal, Merryvale Winery, Robert Mondavi Winery, Joseph Phelps Vineyards, Pine Ridge Winery, Provenance Vineyards, Ravenswood Winery, Sebastiani Vineyards & Winery, Simi Winery, Sonoma Vineyards, Robert Stemmler Winery, Sterling Vineyards, Rodney Strong Vineyards, Toasted Head, Turnbull Wine Cellars, Vintage Point, and more
Restaurants
Bing Crosby's, BluEmber, Chop House, The Cliffhouse, Cookies By Design, Cuistot, Desert Willow Golf Resort, Hog's Breath Inn, JEM Steakhouse, Kaiser Grille, Morton's The Steakhouse, Pacifica Seafood Restaurant, Purple Palm, Roc's Firehouse Grill, Romano's Macaroni Grill, Ruth's Chris Steakhouse, Steakhouse of Agua Caliente Casino, Sullivan's Steakhouse, Ristorante Tuscany, Tommy Bahama, Under Chocolate Skies, Wally's Desert Turtle, and more
Advance tickets are required and all events are expected to sell out. A limited number of weekend passes are available at www.artoffoodandwine.com or by calling 1.866.96.TASTE (82783). By purchasing weekend passes, guests are provided with private hospitality, special event access and exclusive souvenirs.
The partners of the Art of Food & Wine Palm Desert are the City of Palm Desert, the Desert Springs JW Marriott Resort & Spa and Southern Wine & Spirits of America. Other sponsors include Agua Caliente Casino, Fidelity Investments, KCET-TV, KitchenAid, Starwood Vacation Ownership and Wine Spectator. Host committee members include Burrtec Waste and Recycling Services, The Desert Sun, Kaiser Restaurant Group, KMIR-TV, Oneida, Pacific Western Bank, The Palm Springs Desert Resorts Convention and Visitors Authority, Palm Springs Life and Set to Save (The Palm Desert Energy Partnership). Corporate sponsors include KemperSports Management and Kinsell, Newcomb & De Dios.
About The Art of Food & Wine Palm Desert
The Art of Food & Wine Palm Desert is a unique four-day celebration attracting thousands of art and culinary enthusiasts from across California and around the country to enjoy the very best in art, food and wine hospitality and education. Taking place November 8-11, 2007 in Palm Desert, California, the event features food and wine tastings, celebrity chef demonstrations, culinary seminars, art, music, shopping and golf — all nestled in southern California's beautiful Coachella Valley. For more information, visit www.artoffoodandwine.com or call 1.866.96.TASTE (82783).