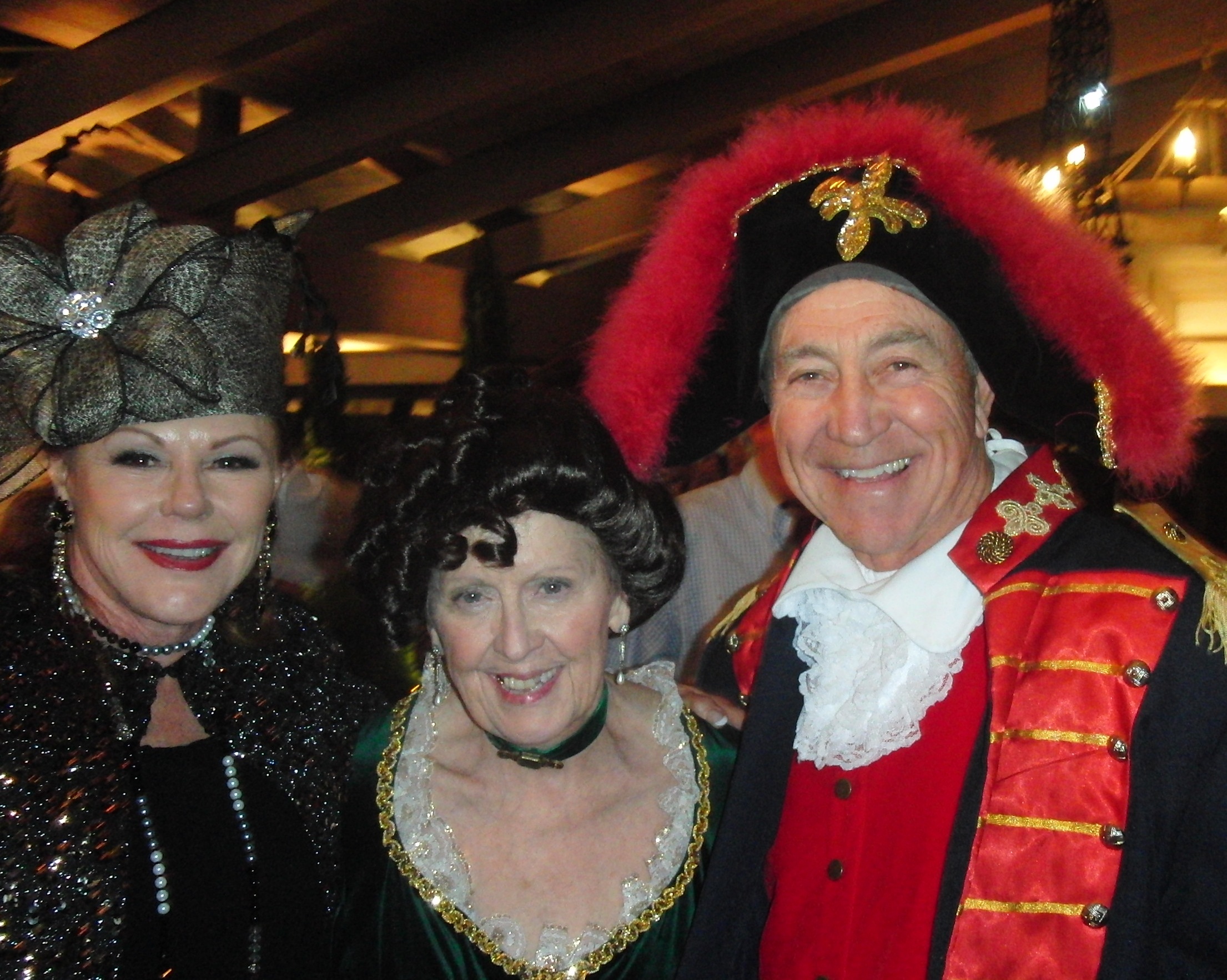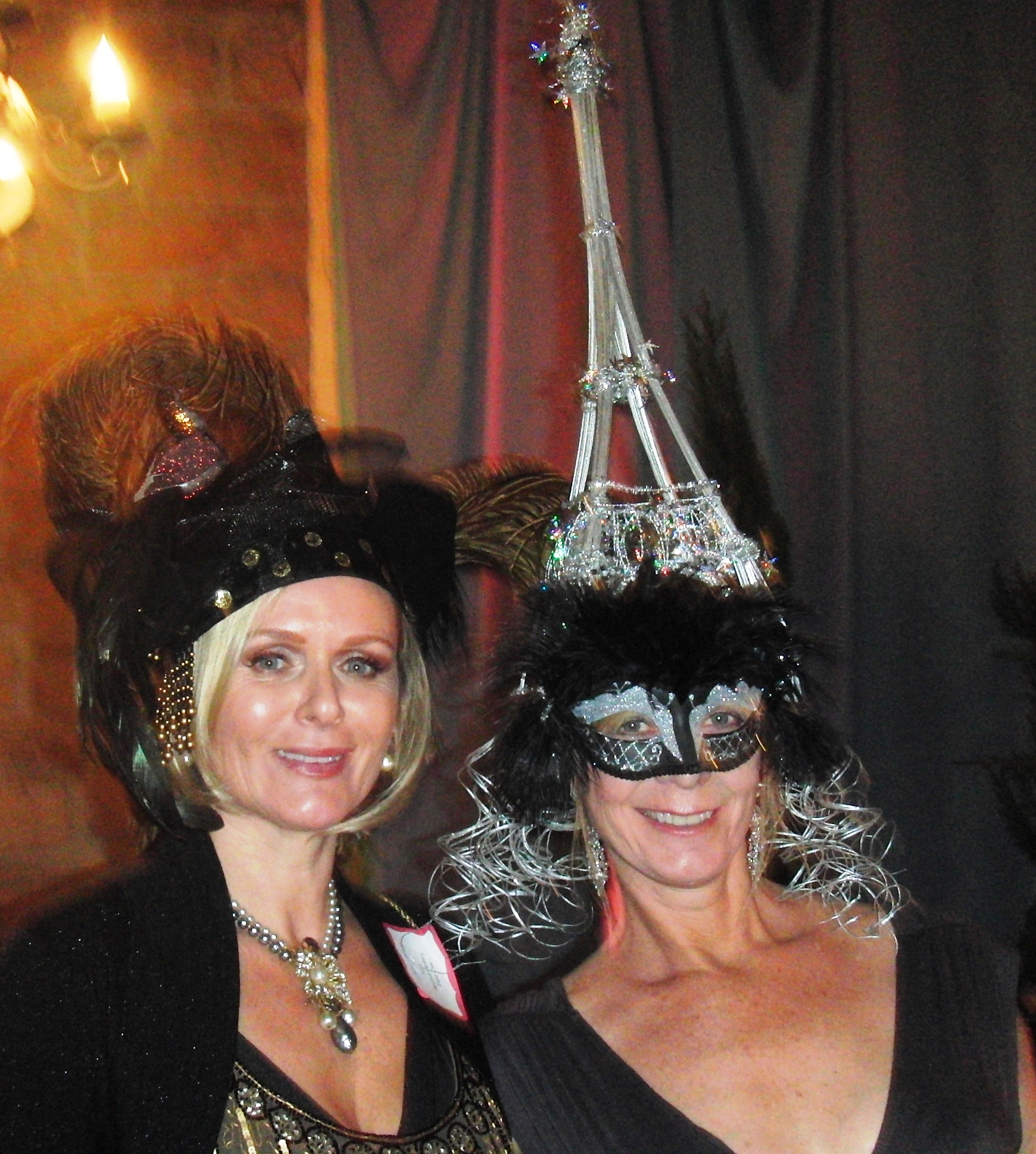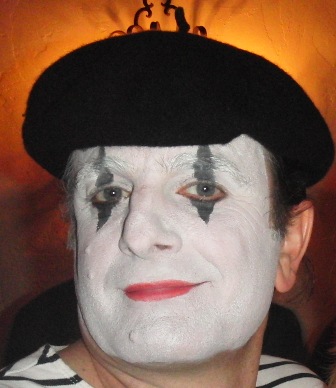 ARTIZAN'S BALL 2011 . . . Ooh La La!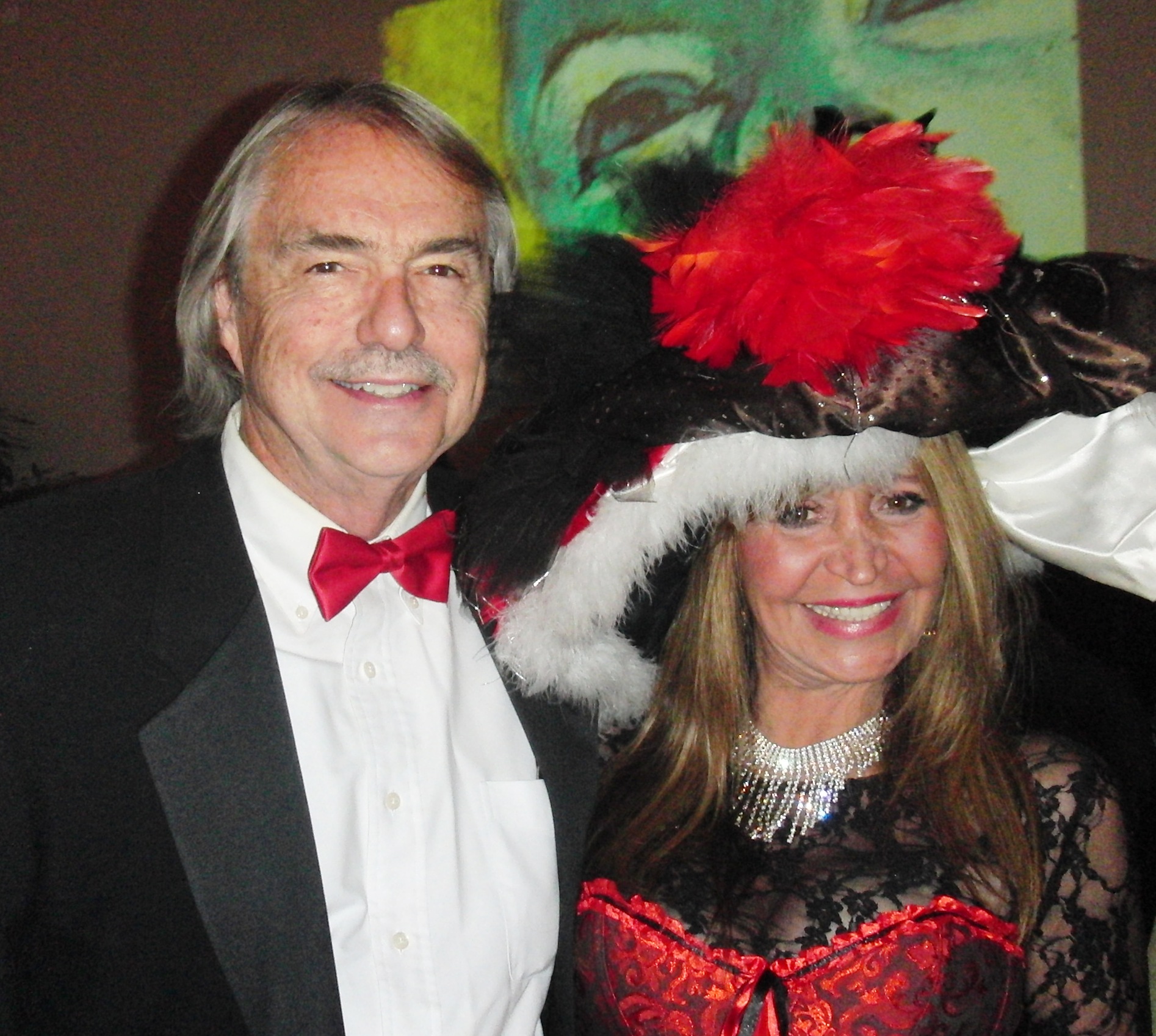 It was a colorful 'Night in Gay Paris' fun filled scene with 400 guests, Sarah House staff, board members and supporters all decked out in their authentic and ingenious French themed costumes to celebrate twenty years of compassionate end-of-life care being offered to those living with, or dying from HIV/AIDS in the Santa Barbara community.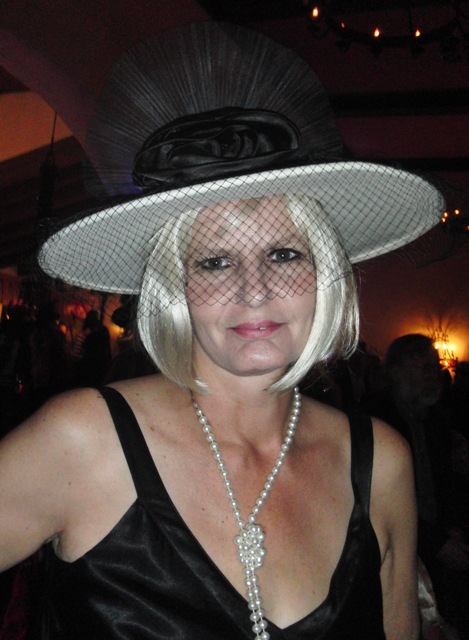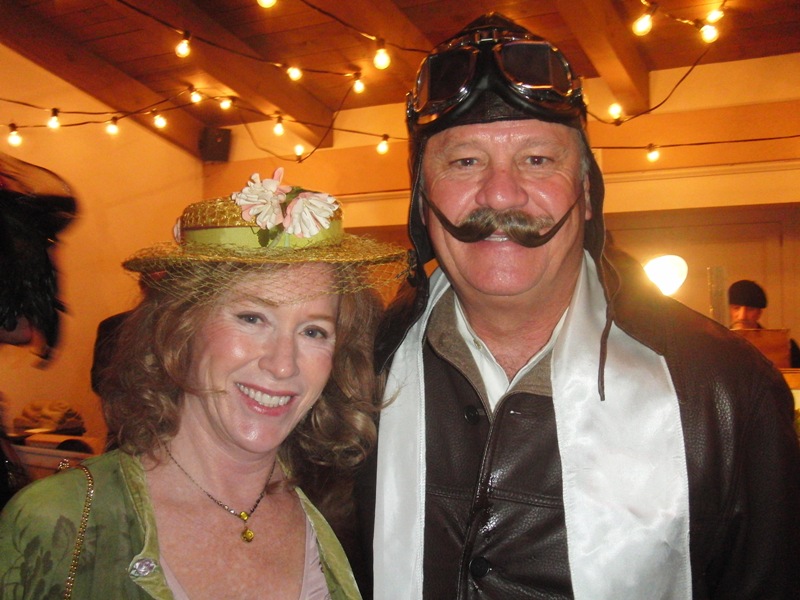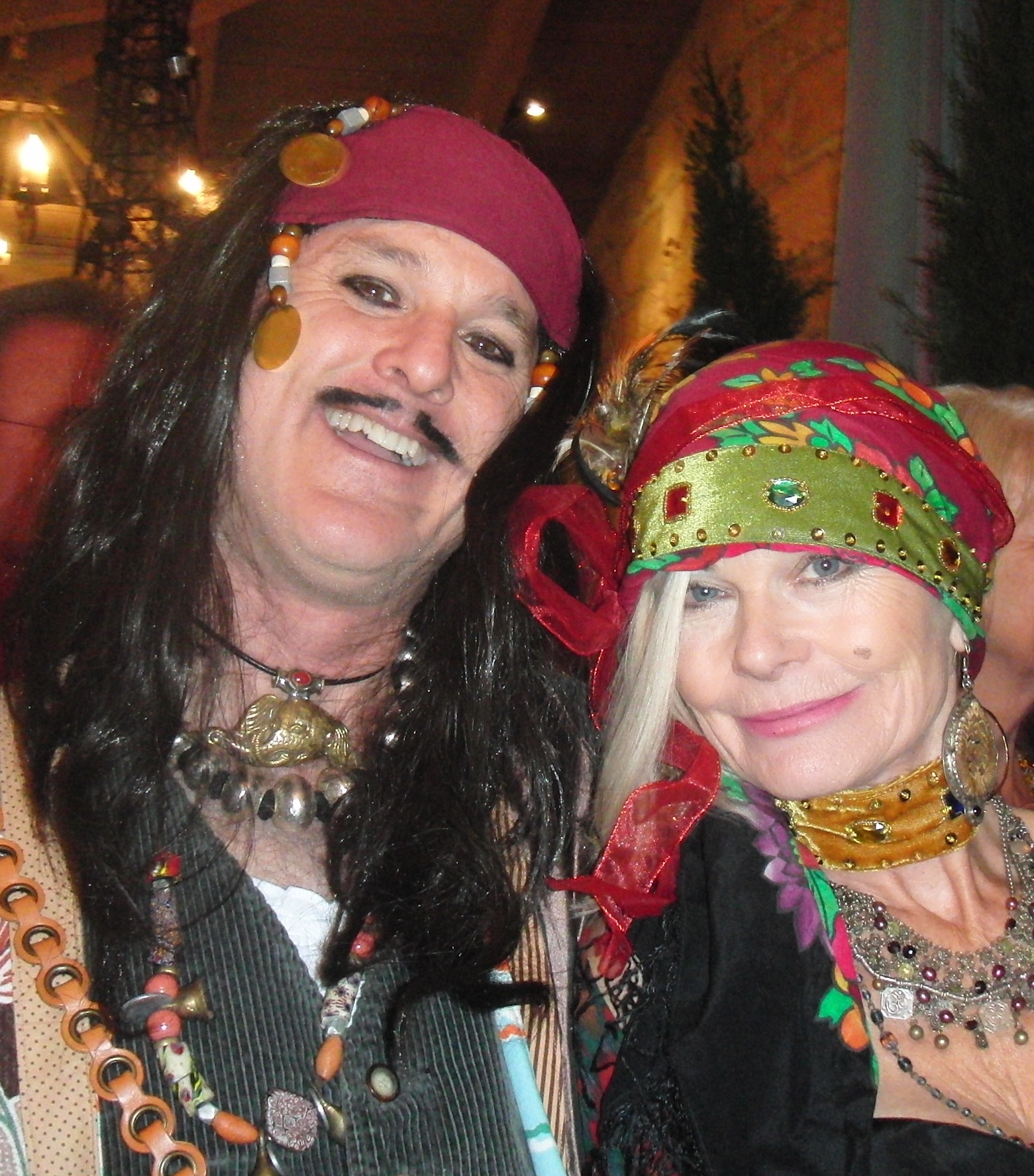 Event chair Kerrie Kilpatrick-Weinberg and co-chairs Alana Guinn, Karen Borick, Patsy Tish, and President Rick Knowles greeted guests as they arrived. Executive Director Randy Sunday passed out complimentary champagne cocktails while Harry and Judy Weisbart (Napoleon & Josephine) worked the crowd.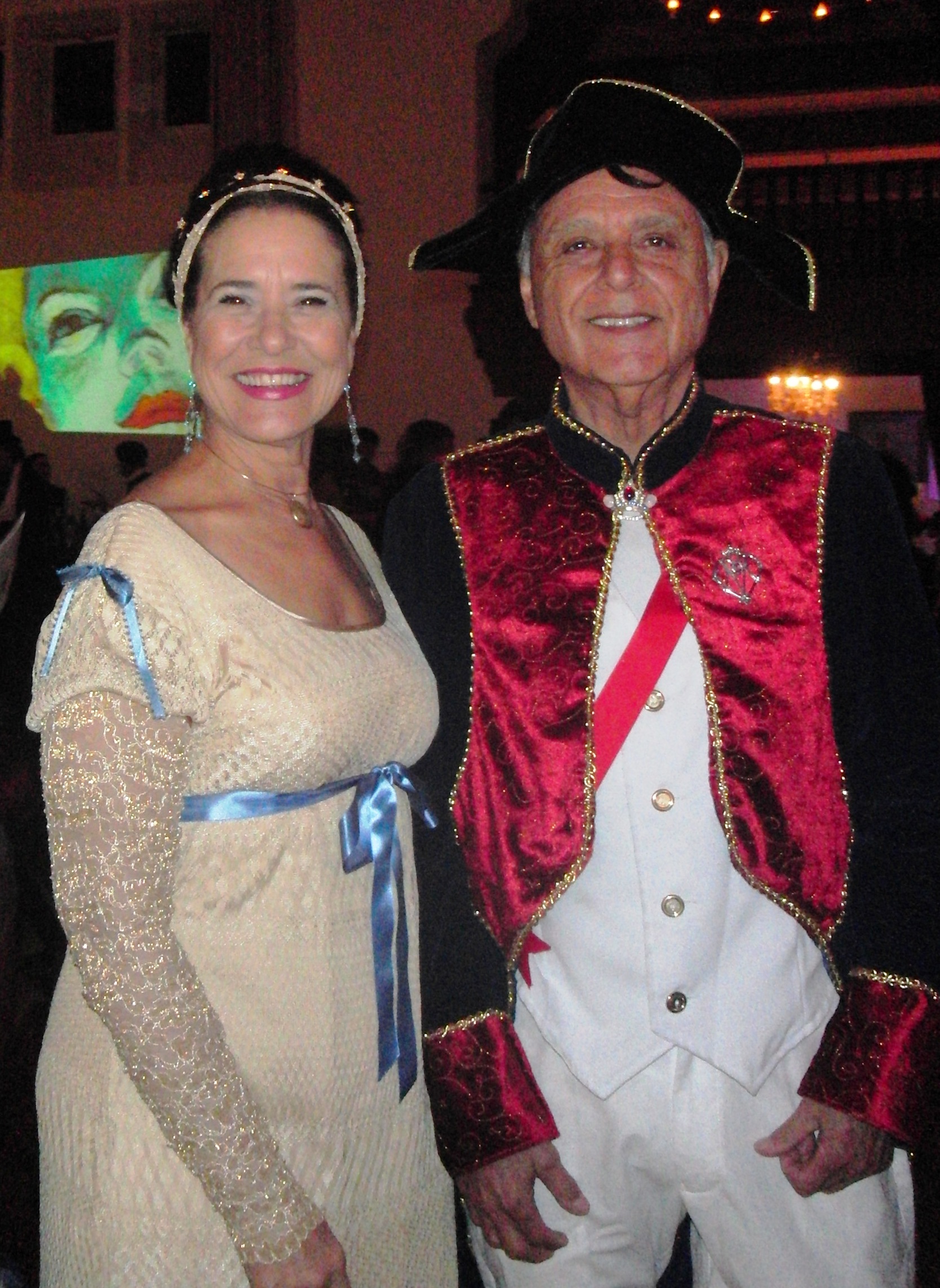 The Santa Barbara Woman's Club became a French nightclub,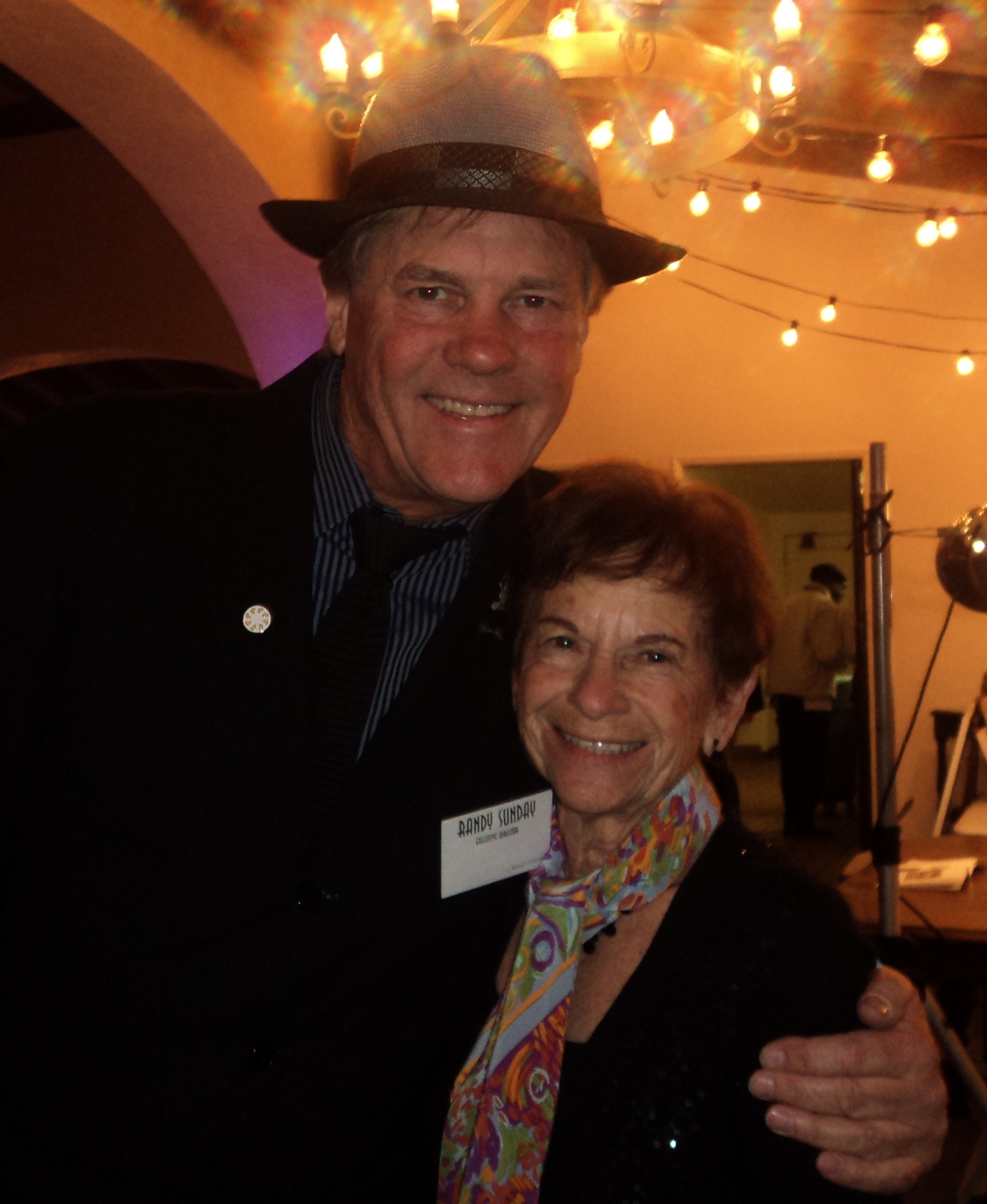 complete with music by the Dixie Hicks & DJ Mr. Hurley Live, Can-Can dancers by Naughty/Nize Girlz, a bevy of auction items, best costume contest judged by Alma Rose Middleton, owner of Paris Street Boutique, Fauztales Fashion show, Mime Matt Tavianini, Magic Castle magician Trenton Caine, live artists featuring Carol Talley, Sean Anderson, Tom Henderson and Andy Johnson, fabulous food from New West Catering, Mimosa and Organic Soup Kitchen. Alma Rose, Buttonwood Farm, Andrew Murray and Tana Sommer-Berlin provided wines. For additional event information or to make a donation visit: www.sarahhousesb.org.
---
Taste Awards - January 12 at the Egyptian Theatre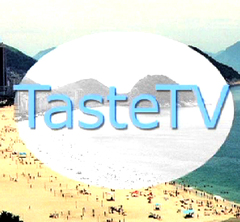 The 3rd Annual TASTE AWARDS, the premier awards show celebrating the year's best in Food, Fashion, and Home Lifestyle programs on Television, in Film, Online, and on Radio has announced that the upcoming awards show celebration will take place on January 12, 2012 at the Egyptian Theatre in Hollywood.

The final Nominees for the TASTE AWARDS were announced on November 2nd in San Francisco. Viewers Choice voting for radio, film, and specific web categories also begins on November 2nd.

The Estonian Consulate is sponsoring a Foodie Travel Trip to Estonia for two for the TASTE AWARDS Winner of the "Best Food Travel Program on the Web" category.

Additional Official Partners include the AmericaOne television network, PR Newswire, TasteTV, Cuisine Noir Magazine, Ferrara Flame, SummerJasmines, Schiltz Foods, Peju Winery, Raymond Vineyards, R&B Cellars, Ecogenics, Jenuinely Pure, Sella All Natural Skincare, Deep River Snacks, Food Should Taste Good, Mediterranean Snacks, Cinda's Toffee, Toffee Break, Toffee Talk, and Eventbrite. More partners can be seen on the TASTE AWARDS website.

The viewer appetite and response to food and style programs has surged over the last decade, making them some of the highest watched and sponsored video content. The Annual TASTE AWARDS (also known as the TASTY Awards) in Hollywood celebrate the year's best in food, fashion, and home lifestyle programs on Television, in Film, Online, and on Radio.

It has included appearances by stars, celebrities, producers and executives from networks and platforms such as the Food Network, the Style Network, Bravo, the Cooking Channel, TLC, Discovery, Lifetime, E! Entertainment Television, PBS, NBC, ABC, the CW, HGTV, the Travel Channel, HD Net, Hulu, YouTube, Sony Pictures, and more.

For more information, go to www.TheTasteAwards.com or www.TastyAwards.com, as well as get updates on Twitter at www.Twitter.com/TastyAwards, or on Facebook at www.Facebook.com/TastyAwards
---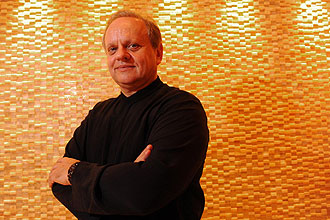 Michelin-Star Chef Joel Robuchon Cooks for Air France's Business Cabin
One year after introducing the new seat in its Business (Affaires) cabins, Air France calls upon the magic of French chefs to offer Business class customers exceptional dishes on long-haul flights departing from Paris-Charles-de-Gaulle.

For six months, starting December 1, 2011, Joel Robuchon serves as the first of Air France's ambassadors of the art of French gastronomy.

The Chef's culinary creations, one of the four hot meal choices offered on board, will be renewed every ten days.

In a special preview, Air France unveils some of the signature dishes of Joel Robuchon coming soon to its Business class menus:

• Basque shrimp and turmeric-scented pasta with lemon grass
• Chicken breast in green curry sauce, poppy seed rice, carrots and shiitake mushrooms
• Crayfish pasta with Nantua sauce

With 27 Michelin stars, Joel Robuchon is at the head of more than 20 establishments, from gourmet restaurants to gastronomic workshops, featuring innovative concepts in which exquisite food melds easily with a lively and friendly atmosphere. He is an advocate for the "sublimely simple," the spirit of combining product quality with ease of execution.

As described by Joel Robuchon on the onboard menu, "a simple recipe, absent the superfluous, with a purity through which the full flavor of each ingredient is fully expressed".


About Air France
The AIR FRANCE KLM group currently operates from 14 U.S. gateways and provides service from 125 U.S. cities through joint venture partner Delta. AIR FRANCE KLM, the result of a merger between AIR FRANCE and KLM in 2004, is one of the leading European air transport groups. Its main activities are the air transport of passengers and cargo as well as aircraft maintenance. In 2010-11, AIR FRANCE KLM carried 71.3 million passengers and 1.5 million tons of cargo. The group's fleet comprises more 590 aircraft, including 181 regional aircraft operated by its partners Brit Air, City Jet, Regional and KLM Cityhopper. Its network covers 254 destinations in 124 countries from its hubs at Paris-Charles de Gaulle and Amsterdam-Schiphol. The Flying Blue frequent flyer program is leader in Europe and has over 19 million members. With their partners Delta and Alitalia, AIR FRANCE and KLM operate the biggest transatlantic joint venture with more than 250 daily flights. AIR FRANCE and KLM are members of the SkyTeam alliance which has 15 member airlines, offering customers access to a global network of over 14,500 daily flights to 926 destinations in 173 countries.

For more information or to purchase tickets, visit www.airfrance.us, call 1-800-237-2747 or contact your travel professional. For deals and the latest information follow Air France on facebook.com/AirFranceUSA and Twitter @AirFranceUS.
---
 2012 Crab & Wine Festival Toasts Northern California's Local Bounty of Land and Sea
Mendocino County Serves Up Delicious Fare at Internationally Recognized Annual Event, January 20-29
Every January for the past thirteen years, Northern California's Mendocino County has been celebrating locally harvested Dungeness crab and award-winning wines from "America's Greenest Wine Region" with a festival that satiates the taste buds of foodies and oenophiles alike. From gourmet, crab-themed dinners in four-star restaurants, to family-style cioppino feeds, to the ever popular Crab Cake Cook-off featuring local Mendocino chefs, this festival has something for everyone! And to wash down the abundance of crab, local winemakers will be pouring at winemaker dinners throughout the county and also at the official Wine Tasting Competition, held in conjunction with the Crab Cake Cook-off. Visitors will enjoy a multitude of dinners, tastings, demonstrations, excursions, events and lodging specials over the course of the ten days -- hosted by Visit Mendocino County, the Mendocino Coast Clinics, innkeepers, restaurants, wineries and more.

The 2012 festival takes place from Friday, January 20th – Sunday, January 29th. Some special highlights not to be missed include:
 Crab and Wine Days - January 20th and 21st in Fort Bragg, CA – Two Benefit Events!
Mendocino Coast Clinics hosts the two flagship events of the Crab & Wine Festival. Over the course of two days, visitors can take part in Crab & Wine Days. Held at Pentecost Hall in Fort Bragg, spectacular ocean bluffs and majestic redwood forests create an incredible backdrop for the festivities.   
Jan 20 - Cioppino Dinner:

  Family-style dinner, serving steaming bowls of fresh Cioppino, hand-tossed salad, dessert, wine, beer, coffee & lots of homemade hot bread for dipping. $35 for adults and $15 for children, dinner served at 4:30, 6 and 8 p.m.

 
Jan 21 - Crab Cake Cook-Off and Wine Tasting Competition:

 

The premiere event of the Crab & Wine Festival!

Held under a big tent set up just behind Pentecost Hall, this is where Mendocino County chefs and wineries compete for the coveted "Professional's Choice" award (chosen by a panel of esteemed food, wine & travel editors) and the "People's Choice" award (chosen by festival attendees). Taste hand-crafted crab cakes from 12 Mendocino County Chefs while sipping from 22 wineries! Also on offer:  "Made in Mendocino" products, such as Shamrock Artisan Farmstead Goat Cheese, Cocoa Bungalow from Wicked Bon Bons and locally roasted Thanksgiving Coffee. Hot Crab Cioppino and cool Crab Salad with Cafe Beaujolais bread round out the offerings. $75 for adults, Noon - 3 p.m.
Proceeds from the Cioppino Dinner, the Crab Cake Cook-Off and the Wine Tasting Competition benefit the Mendocino Coast Clinics, a non-profit, board-governed community health center that provides medical, dental, perinatal and behavioral health care to all Mendocino Coast residents & visitors, regardless of their ability to pay. www.mendocinocoastclinics.org or 707-961-3463
 Here's a taste of what else you can expect during the 10-day festival:
Complimentary Crab Appetizers at many Mendocino County wineries (where wine tastings are still mostly free!)

Crab Catching Excursions aboard local vessels

Crab Tasting Menus at local restaurants

Crab Tasting & Cooking Demonstrations

Crab-themed Winemaker Dinners

Discounts on Lodging at a host of charming inns, quaint B&Bs, luxury resorts, rental properties and historic hotels throughout Mendocino County
 "Our festival continues to attract people from around the world," said Scott Schneider, President of Visit Mendocino County, Inc. "And it's a win-win for everyone, as the local chefs and winemakers are able to showcase their talents, the attendees get to sample an array of fabulous food and wine creations, and local organizations are able to raise a substantial amount of money for philanthropic purposes."
The above is just a sampling of the dozens of events that will take place during the 2012 Crab & Wine Festival in Mendocino County. For specific information about events surrounding the Crab & Wine Festival, visit www.visitmendocino.com and search for "crab." Please note that new events are being added every week. For more information on Mendocino County, call 866-782-9636 (866-GO-MENDO), or visit www.visitmendocino.com.
About Mendocino County
Gourmet, locally-sourced restaurants, unique lodging establishments, picturesque villages, friendly wineries, majestic redwoods and the rugged seaside all await you in Mendocino County. The County boasts a longstanding tradition of coming together as a community and creating an environment where visitors will encounter friendly faces, tranquil surroundings and the delicious seafood and wine bounty of the region.   
---
---