ENOTECA DRAGO
The Comforts of Classical Italian
by Bonnie Carroll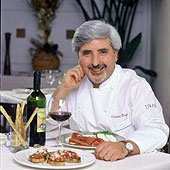 Enoteca Drago, located at 410 N. Canon Drive in Beverly Hills, is one more culinary brain child of Master Chef Celestino Drago, and is reminiscent of the traditional Italian wine shop or trattoria you would find tucked away in an Italian village. Drago is once again on the cutting-edge with this venue; the wine tasting bar craze has hit Los Angles, replacing the coffee bar boom that had dominated city neighborhoods over the past ten years. The restaurant offers a progressive sampling of food and wine that is completely authentic, and also a seasonal menu based on discovering new favorites in some of the most beloved flavors of the cucina, and naturally it is all presented in the elegant Drago style.
The rich dark woods and walls lined with racks holding a rare collection of fine wines, along with the exquisite glass light fixtures of Murano Italian glass, and colorful artwork that adorn the walls provide an ambiance of rustic elegance. The restaurant staff is caring and efficient, as well as attractive.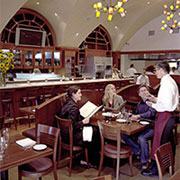 Wine bars such as Enoteca Drago have become the hot spots where the chic meet to enjoy a glass of wine after hours, at lunch or with dinner. This is a venue that attracts foodies and wine lovers of all ages to savor one more divine Drago dinner with regional rare wines. The hip younger crowd of wine aficionados indicate they enjoy being seen in Beverly Hills tasting fine wines as a social pastime.
Favorite items on the menu include delicious Insalata de Cose Buone, chopped salad, cannelloni beans, avocado, blue cheese and crispy prosciuto; Carpaccio Di Bue con Insalata di Carciofini, beef filet carpaccio with baby artichoke salad, lemon dressing and parmegiano; a variety of unique pizzas; a fantastic Toscan bean soup; a variety of pastas including raviolini de Funghi, salsa al foie gras e tartufo, miniature ravioli, foie gras and truffle sauce; a collection of Italian meat and fish favorites and divine endings like Stratciatella Ice Cream and Carmel Balsamic Sauce, Lemongrass Mascarpone Parfait with Apricot Limoncello Sauce.
Dolce Forno Bakery, a new bakery venture of the family located in Culver City, provides the finest in fresh baked breads, and patrons enjoy cheeses from the preeminent Cheese Store in Beverly Hills. The wine bar offers 250 plus bottles, and over 50 Italian wines by the glass, which pair beautifully with the Celestino cuisine. 2 1/2 oz tastings, 6 oz glasses, quartinos and flights afford the novice and aficionado the opportunity to explore a myriad of wine regions. Mixing and matching small plates of one region with wines of another is an educational and satisfying experience at Enoteca Drago.
Restaurant and food related ventures of the charming and talented chef include Drago Ristorante, Il Pastaio Ristorante, Enoteca Drago, Dolce Forno Bakery and Drago Special Events. It was my good fortune to meet Celestino in 1996 while covering a food event at a local hotel. It has been my pleasure to review and write about his many wonderful accomplishments through the years, and this article is no exception. I adore Celestino the creative chef, the food, and the helpful servers. I celebrate the joy for life that permeates everything associated with this family, and hope you will as well. Mangia Bene!
Enoteca Drago
410 N. Canon Drive
Beverly Hills, CA
www.CelestinoDrago.com
---
NEAL FRASER - GRACE RESTAURANT
FIRST LOS ANGELES CHEF TO WIN "IRON CHEF AMERICA"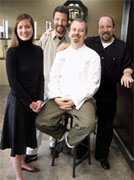 Partners Neal Fraser, Amy Knoll Fraser, Richard Drapkin and Brooks Townsend marry passion, vision, expertise and, yes, grace to provide the ultimate dining
experience at GRACE.
When "Iron Chef America" aired on Sunday, January 22, GRACE Chef and Co-owner Neal Fraser became the first Los Angeles chef to win a Kitchen Stadium Battle on the Food Network's highly popular series. Fraser faced off against Iron Chef Cat Cora, renowned chef, cookbook author and television personality as both chefs drew from their extensive culinary repertoires to create five course dinners which best expressed the "secret ingredient": Pork.
Fraser's inventive New American dishes wowed the panel of celebrity judges and garnered him an impressive 47 points, which exceeded Cora's 41 points. Fraser's winning menu consisted of:
Grilled Pork Chop with Fresh Corn, Hominy Polenta, Pancetta, Roasted Pepper and Onions and Pumpkin Seed Oil
Pressure Cooked Pork Belly with Forbidden Black Rice, Sweet and Sour Cabbage and Cherry Sauce
Pork Tenderloin with Yukon Gold Potato Spatzle, Roasted Brussels Sprouts, and Violet Mustard Sauce
Roasted Loin of Pork with Chorizo Lomo Fries, Garlic Rapini, and Cider Sage Sauce
Sautéed Fillet of Pork with Morels, Ramps, Asparagus, Mascarpone Thyme Risotto, and Red Wine Sauce.
GRACE is located at 7360 Beverly Boulevard in Los Angeles, 323-934-4400
Winning Recipe:
Grilled Pork Chop Fresh corn & hominy polenta, pancetta, roasted pepper & onions, pumpkin seed oils
---
CULINARY CACHE:
SIZZLING EVENTS SET FOR 2006 IN MONTEREY COUNTY
From Steinbeck Country to the Bounty of the Vines, Grab a Glass and Go
MONTEREY COUNTY, CA, 2006 - Celebrate the culinary side of California this year with a world-class line up of food- and wine-related events staged throughout Monterey County. Bursting at its agricultural seams, this region is a great stop for foodies hot on a taste trek or the traveling oenophile seeking the next new vintage. From Salilnas Valley's "Salad Bowl of the World" to the nation's top artichoke producer, Monterey County boasts more than 300 culinary events annually; grab a fork and go. Visit www.montereyinfo.org for a complete listing of events, plus information on lodging, attractions, dining and shopping.
JANUARY 2006
January 24-28
Valley of the World WineFest
Salinas: 831-775-4721
www.salinasrotary.org
Enjoy a week of wine tastings, wine-pairing sessions, and wine auctions, plus gourmet dinners and a gala finale at the National Steinbeck Center. Prices and venues vary; call or visit the website for details.
FEBRUARY 2006
February 16-19
20th Annual Masters of Food & Wine
Carmel: 800-401-1009
www.mfandw.com
The world's leading international summit of the best food and wines. Rare wine tasting and food prepared by the best chefs in the world, with cooking demonstrations. This year's featured chefs include Roy Yamaguchi (Roy's), Lee Hefter (Spago Beverly Hills), Olivier Bajard (Ecole Internationale de Patisserie) and Janos Kiss (Corporate Chef, Hyatt Hotels).
February 17-19
Wine Passport Weekend
Carmel: 831-375-9400
www.montereywines.org
Explore Monterey's Wine Country with 'passport' in hand; collect stamps and enter to win a fabulous prize of wine and gifts. Plus winemakers dinners.
MARCH 2006
March 30-April 1
Monterey Wine Festival
888-814-WINE
www.montereywine.com
Enjoy the finest wines from California and beyond at the 30th annual festival. Tastings, seminars, and cooking demonstrations at sites in Monterey.
APRIL 2006
April 22
Earth Day celebration at Earthbound Farm
Carmel Valley: 831-625-6219
www.ebfarm.com
Celebrate down on the farm, where they celebrate Earth Day with farm tours, bug walks, composting and planting demonstrations, and great activities for kids. Sample organic foods and beverages, too.
MAY 2006
May 19-20
Cooking for Solutions
Monterey: 831-644-7561
www.montereybayaquarium.org
Notable chefs gather in a three-day extravaganza dedicated to sustainable seafood. This year's event honors Rick Bayless of Frontera Grill/Topolobampo in Chicago, and includes chefs from San Francisco, Vancouver, Mexico City, South Carolina and beyond.
May 20-21
Castroville Artichoke Festival
Castroville: 831-633-2465
www.artichoke-festival.org
Sample the many unique flavors of the artichoke in a fiesta atmosphere, with tasteful treats, musical entertainment, arts and crafts.
JULY 2006
July 28-30
Gilroy Garlic Festival
Gilroy (San Benito County)
Tel: 408-842-1625
www.gilroygarlicfestival.com
Gourmet garlic food fair with arts and crafts, cooking demonstrations, children's area, three stages of musical entertainment and 65 food booths.
AUGUST 2006
August 5-6
Turkish Festival
Monterey: 831-655-7509
www.taaca.org
A celebration of Turkish culture and arts, featuring live music and folk dances, dance workshops, belly dancing, arts and crafts, food, and kids activities.
August 12
14th Annual Winemaker's Celebration
Monterey: 831-375-9400
www.montereywines.org
Nearly 40 Monterey County wineries will pour new releases and special wines. Also featuring educational exhibits (grapevine pruning, barrel building, cork display), live music and silent auction.
August 27
Jewish Food Festival
Carmel Valley: 831-624-2015
A celebration of Jewish foods like latkes and bialys, strudel and kugelhopf, plus Jewish culture: Klezmer music, crafts, cooking demos, folk dancing, art exhibits and more.
SEPTEMBER 2006
September 2-4
20th Annual Greek Festival
Monterey: 831-424-4434
www.stjohn-monterey.org
An ethnic festival featuring authentic Greek food -from dolmades and gyros to baklava, live music, traditional dancing, a taverna and crafts.
September 9-10
Festa Italia – Santa Rosalia Festival
Monterey: 831-625-9623 or 831-375-4263
Italian music, bocce competitions, arts and crafts, delicious Italian food.
September 10
Gary Ibsen's Carmel TomatoFest 2006
Carmel: 888-989-8171
www.tomatofest.com
The largest tomato-tasting event in the nation features 300 varieties of tomatoes, tomato dishes created by 50 of the best chefs in the region, tastings by 25 wineries, and an International Olive Oil Tasting.
September 30-October 1
13th Annual Old Monterey Seafood and Music Festival
Monterey: 831-655-8070
www.oldmonterey.org
Fresh seafood, live music and crafts, all around Custom House Plaza and Alvarado Street.
September TBA
Taste of the Valley
Salinas: 831-424-7611
www.salinaschamber.com
Part of "A Salute to Agriculture," this food and wine fest boasts the Salinas Valley bounty with gourmet recipes, Monterey County wines and floral displays.
OCTOBER 2006
October TBA
Galante Vineyards' Annual New Release Harvest Open House
Carmel Valley
Tel: 800-GALANTE
www.galantevineyards.com
Taste new releases, meet the winemakers, and learn about Galante wines and the wine-making process.
NOVEMBER 2006
November 9-12
10th Annual Great Wine Escape Weekend
Monterey: 831-375-9400
www.montereywines.org
Celebrate the vendange at Monterey County wineries and restaurants as they roll out the red carpet for a weekend of open houses, winemaker dinners, tours and entertainment.
November 18
Thanksgiving at The Farm
Salinas Valley: 831-455-2575
www.thefarm-salinasvalley.com
The Farm invites everyone to enjoy the Valley's bountiful goodness, while the kids get to go on a Veggie Treasure Hunt.
DECEMBER 2006
December 3
Holiday Spectacular
Carmel Valley: 831-624-2600
www.chateaujulien.com
Held at Chateau Julien; great ideas for home decorating for your holiday celebrations.
AGRICULTURAL TOURS & FARMS
AgVenture Tours – www.agventuretours.com
Frank Capurro and Sons (artichokes grower)
Castroville Artichoke Festival – www.artichoke-festival.org
Earthbound Farm – www.ebfarm.com
The Farm – www.thefarm-salinasvalley.com
Monterey County Vintners & Growers Association – www.monterywines.org
Monterey Abalone Company
Monterey Bay Aquarium's Seafood Watch Program – www.mbayaq.org/cr/seafoodwatch.asp
National Steinbeck Center (Valley of the World Agricultural Wing) – www.steinbeck.org
Work Ranch (work/farm stays) – www.workranch.com
VISITOR INFO: Monterey County is located 120 miles/192 km south of San Francisco and 345 miles/552 km north of Los Angeles along the classic California corridor. The region boasts 99 miles of prime Pacific Coastline, the Monterey Bay National Marine Sanctuary, three historic missions, 45,000 acres of premium vineyards, 25 golf courses and 250+ accommodations. Monterey County includes the Monterey Peninsula, Big Sur, North County and the Salinas Valley. The Monterey Peninsula Airport, just three miles from historic downtown Monterey and minutes from the area's major attractions, is served by non-stop flights to and from Denver, Salt Lake City, Las Vegas, Phoenix, Los Angeles and San Francisco. For a free copy of the Monterey County Travel & Meeting Planner, visit www.montereyinfo.org or contact the Monterey County Convention & Visitors Bureau at 888/221-1010.