SANTA BARBARA NATURAL HISTORY MUSEUM HOST
HISTORY OF FOOD: WHISKY
Local Caterers Serve up Comfort Food to Pair with US and International Spirits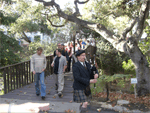 Among the local catering companies providing tempting tastes to guest attending the Santa Barbara Natural History Museum "History of Food: Whisky" symposium and tasting on the grounds of the historic landmark property were Mondial Catering, Michael's Catering, Catering Connection, Marmalade Café and Catering Company. and Jessica Foster Confections who provided the sweet endings. According to Meredith Moore, event manager, "the museum offers three of these "History of Food" activities annually, and they are always very successful".

A whiskey seminar was led by Edward "Dirt" Adams, Master of Whisky in the auditorium. Classic Malts of Scotland included Dalwhinnie, Glenkinchie, Craggenmore, Oban Talisker and Lagavulin, as well as Johnnie Walker Green, Bushmills Irish whisky, Bulleit American Bourbon and Crown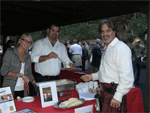 Royal Canadian whisky.  Southern Wine and Spirits provided the whisky for the annual event that attracted a huge crowd of interested guests and whisky aficionados, who also enjoyed nibbling on the creative food samples.
The Scottish Society of Goleta provided musical entertainment on their bag pipes, and demonstrated ancient games of Scotland for guests. A piper lead the crowd of enthusiastic kilt sporting attendees from the symposium in the auditorium across the bridge to the tasting area for a sip of specialty whisky paired with local comfort foods, including an authentic Irish stew. An orchestra of Celtic musicians performed on a hill above the outdoor venue, and a good time was had by all.
Big Kudos to Heather Moffat, director of education and exhibits for implementing a very interesting and appetizing program, and to Meredith Moore and her staff for gracefully pulling off a very tasteful afternoon, from beginning to end.
---
VALENTINO CELEBRATES LA VIGILIA DI NATALE
Piero Selvaggio and Chef Tommaso Tarantino Present an Italian Feast for Christmas Eve
Valentino, the premier Italian restaurant in Los Angeles, announces the return of its spectacular La Vigilia di Natale on Christmas Eve on Wednesday, December 24, 2008.  Valentino owner, Piero Selvaggio and Chef de Cuisine Tommaso Tarantino have designed a Seasonal Tasting Menu celebrating the holiday in traditional Italian custom, delicately harmonizing classical and contemporary culinary styles that have made Valentino a treasured dining landmark.
Christmas is the time for gatherings of family and friends and Valentino, with its intimate dining rooms, unsurpassed wine cellar, and the consummate graciousness of Selvaggio, is a grand choice for a singular holiday dining experience.  Valentino Chef de Cuisine Tommaso Tarantino has designed a six course tasting menu inspired by authentic Italian regional cuisines, using the finest artisanal ingredients and imported products available.
La Vigilia di Natale begins with a 'welcome' taste from the kitchen, followed by Sicilian Style Stuffed Swordfish; a traditional Italian Salted Cod; Black Vermicelli with Mixed Seafood; and a choice of Fresh Fish of the Day or the Italian holiday tradition of Cotechino and Lentils.
The dinner concludes with Pastry Chef Davide Giova's specially created Il Dolce di Natale.  The Christmas Eve dinner is priced at $90 per guest with an optional wine pairing from Piero's honored wine cellar at $60 per guest.  In addition to La Vigilia di Natale tasting menu, Valentino will offer a limited à la carte menu as an option.

Among the numerous awards and accolades the restaurant and owner Piero Selvaggio have received over the years count James Beard Awards in three different categories, the California Restaurant Association's Lifetime Achievement Award in 2004 and Wine Spectator's Grand Award, which the restaurant has garnered each year since 1981.  Valentino is consistently given top ratings by the Los Angeles Times, LA Weekly, Zagat, Citysearch and Gayot.com and recently received a coveted one star rating from the 2008 Michelin Guide for Los Angeles.

Reservations for La Vigilia di Natale at Valentino are available continuously from 5:00 p.m. until 10 p.m. and may be made by phone or on the internet at www.valentionosm.com or www.optentable.com. 
---
MGM MIRAGE RESTAURANTS AWARDED 2009
MICHELIN STARS HIGHLIGHTED BY THREE-STAR
HONORS FOR JOËL ROBUCHON AT MGM GRAND
Joël Robuchon Only Las Vegas Restaurant to Once Again Earn Michelin's Highest Honor
Michelin Guide's Las Vegas edition is a European nod to Las Vegas' evolution into one of the world's top dining destinations.  Seven of the seventeen restaurants honored with at least one Michelin star are within MGM MIRAGE properties.  Receiving top honors is the Michelin three-star restaurant, Joël Robuchon at MGM Grand, the only Las Vegas recipient of this well-respected distinction.
Earning an impressive two stars is Chef Julian Serrano's Picasso at Bellagio.  Two stars is defined by Michelin as "excellent cooking, worth a detour" and is bestowed upon restaurants exhibiting "skillfully and carefully crafted dishes of outstanding quality."  Chef Serrano's signature creations, including Lamb with truffle crust and Medallions of Fallow Deer, are outstanding dishes that have contributed to this latest accolade.  
Rounding out the honors and capturing one star are five impressive restaurants – L'Atelier de Joël Robuchon at MGM Grand, Le Cirque at Bellagio, MICHAEL MINA Bellagio, Aureole at Mandalay Bay and miX atop THEhotel at Mandalay Bay.
"We are so proud to have been recognized by Michelin for having many of the world's top chefs and restaurants within our resorts," said Jim Murren, president and COO of MGM MIRAGE.   "The Las Vegas Michelin Guide accolades have been made possible by the enormous creativity of our culinary talent."
Joël Robuchon at MGM Grand was the "Chef of the Century's" first fine dining restaurant in the United States and represents "exceptional cuisine, worth a special journey" according to Michelin's three-star criteria.  A three-star Michelin restaurant also is defined by the following.  "One always eats extremely well here, often superbly.  Distinctive dishes are precisely executed, using superlative ingredients."
Chef Robuchon said, "I couldn't be more proud of this restaurant and these talented chefs.  I am honored to receive this award for a second consecutive year and to have the only three-star restaurant in Las Vegas."
The restaurant joins the ranks of only 69 other restaurants worldwide, including Jean-George and Le Bernardin in New York, to hold Michelin's highest star rating. 
Gamal Aziz, president and COO of MGM Grand, said, "Chef Joël Robuchon is one of those rare individuals with such drive, passion and pursuit of perfection, he was destined to achieve accolades such as the Michelin three stars.  MGM Grand's culinary scene has been raised to new heights with the addition of Joël Robuchon."   
Chef Robuchon has a longstanding relationship with the Michelin Guide.  He was the youngest chef of record to receive three stars for his restaurant Jamin in Paris in 1984 and is currently the most starred chef in the world.
Robuchon and his team, including Executive Chef Claude Le Tohic, Pastry Chef Kamel Guechida and General Manager Loic Launay, have crafted an experience that has drawn raves from diners and media alike.  This esteemed honor joins numerous other awards including Esquire's Best New Restaurant 2006, Bon Appetit Chef of the Year in 2006 for Robuchon and Pastry Chef of the Year for Guechida in 2007, Condé Nast Traveler "Hot Tables of 2006," as well as a James Beard Foundation nomination for Best New Restaurant in 2006.
---
SAVOR A CULINARY ADVENTURE IN
THE TROPICS AT TURKS & CAICOS'
SECOND ANNUAL GOURMET SAFARI
Winter 2008 Event Showcases Signature Cuisine of Renowned Executive Chefs and Notable Local Talent
The Tourist Board of the Turks & Caicos Islands, a burgeoning luxury Caribbean destination best known for its world-class beaches, today announced an impressive line-up of top chefs and esteemed properties participating in the second annual Turks & Caicos Gourmet Safari, taking place Dec. 19–20, 2008 on the exclusive island of Providenciales (Provo).
"A culinary exposé, the Turks & Caicos Gourmet Safari invites select guests to taste the absolute best of the tropics," said Hon. Wayne Garland, executive chairman of the Turks & Caicos Tourist Board.  "The Gourmet Safari will be a phenomenal display of local Turks & Caicos cuisine and culture against the backdrop of famed Grace Bay Beach.  We are pleased to unite distinguished executive and celebrated Belonger (native) chefs, who together will create exquisite island dishes sure to impress even the most discerning palates."
Nikheel Advani, chief operating officer and principal of Grace Bay Resorts and co-chair of the Gourmet Safari, commented, "After rave reviews of last year's inaugural Gourmet Safari, we are looking to further astound attendees, extending the experience beyond culinary excellence by showcasing the destination's upscale hotels and resorts.  Debuting in February 2009, The ESTATE at Grace Bay Club—a new collection of 22 custom-designed ultra-elegant suites—will be one of the Islands' featured attractions on display during this revered occasion."
Evening festivities will begin with an opening reception at Grace Bay Club  Infiniti Bar, a luxury all-suite property perched on 11 immaculate acres of Grace Bay Beach, followed by a first course at Coyaba an elegantly appointed gazebo style restaurant in a lush tropical garden offering fine eclectic contemporary Caribbean cuisine; a second course at The Somerset on Grace Bay's O'Soleil, where Executive Chef Stephen McGarrie brings a world of expertise and Caribbean roots to this sophisticated establishment; a main dish to be enjoyed at The Regent Palms' Parallel 23, comprised of tropical fusion cuisine in a setting of casual elegance; and then concluding with dessert and cigars at The Restaurant at Amanyara, offering a selection of Asian and Mediterranean fare along with an extensive array of premium cigars.
The Turks & Caicos Gourmet Safari will take place Dec. 19–20, 2008 from 6:30 p.m. to 12:30 a.m.  Space is limited to an intimate group with costs per couple starting at $500.  Dress is island elegant.
For reservations, contact Anna de Guia at info@tcigourmetsafari.com.  For more information, visit www.tcigourmetsafari.com. 
---
SPAIN'S CUISINE IN THE SPOTLIGHT
Star-studded Series Debuts on PBS-TV This Fall
Gwyneth Paltrow, Mario Batali, Mark Bittman, Claudia Bassols
This fall, food lovers throughout America are in for a huge culinary and visual treat.  The ultimate foodie road trip – featuring four dynamic personalities traveling to one of the world's most exciting destinations – is coming to public television.  Kicking off September 20, "Spain…on the road Again," debuts with an all-star cast including: award-winning actress Gwyneth Paltrow, celebrity chef and restaurateur Mario Batali, food columnist and best-selling author Mark Bittman, and Spanish actress and singer Claudia Bassols.
This lively gang of two food and wine-obsessed men and two smart, beautiful women take television viewers on an exciting voyage of discovery.  The 13-part series showcases Spain from A (Andalusia) to V (Valencia), with stops in Madrid and nine other regions.  Viewers will follow the four personalities as they tour the country's vibrant cities and go off the beaten track into Spain's unspoiled countryside.  The four explore museums, tour cathedrals and castles, and are impressed by the country's dynamic modern architecture.  Rounding out this "trip of a lifetime" are: visits to wineries and spas, shopping, and a taste of Spain's non-stop nightlife.
All four have deep attachments to Spain – and love good food.  Paltrow fell in love with the country while an exchange student during her teenage years.  Batali's family moved to Spain, where he attended high school and "learned to eat and drink."  Bittman has been traveling to the country for almost 30 years and has visited some 15 times.  Bassols hails from Barcelona and was an ideal traveling companion, lending a Spanish perspective, as well as a healthy appetite. 
Along the way, they encounter some of Spain's most renowned chefs and culinary icons: chefs Ferran Adriá, Juan Marí Arzak, Carme Ruscalleda, Sergi Arola and vintner René Barbier, as well as everyday Spaniards who make them feel welcome. 
A sampling of their experiences include:
Touring the famed Alhambra and tasting salmorejo, a cold soup

Gorging on some of the world's best seafood and drinking albariño in Galicia

Following the tapas trail in Bilbao and chatting with Frank Gehry about his iconic design for the Guggenheim

Sampling cider and fabada, the Asturian bean stew

Finding the perfect rice for paella in its birthplace, and touring Valencia's stunning City of Arts & Sciences, designed by Santiago Calatrava

Tilting at windmills in the Don Quixote country of Castile La Mancha and munching on manchego cheese

Spending the day with lobstermen off Menorca

Visiting the Boquería market and the architecture of Gaudí in Barcelona and exploring Dalí country

Seeing castles in Castile & León and tasting the famed jamón ibérico from pigs that feed on acorns
In Madrid, they wander through the city's major cultural institutions, the Reina Sofia, Thyssen and Caixa Forum and at the Prado they discuss the relationship between food and art.  Later they sample cocido madrileño, the city's traditional chickpea stew.
The 13-part "Spain…on the road Again" series premiered on Saturday, September 20 on public television stations nationwide. (For exact times and dates in your area, log on to: www.spainontheroadagain.com.)  A companion book to the series entitled, "Spain: A Culinary Road Trip," written by Mario Batali with Gywneth Paltrow and published by the Ecco imprint of HarperCollins will be in bookstores on October 23.
---
D'ACQUA EXECUTIVE CHEF ENZO SPILLS
THE BEANS ON PRESIDENTIAL PALATES
VIVA ITALIA!

As Barack Obama's team feverishly plans for the inaugural ball, food options will be at the top of the to-do list. Cooking for guests is always an interesting topic, but more so when the guest of honor is the President of the United States of America. Chef Enzo should know – he's had the experience of cooking for the last two presidents and now offers his take on what he'd like to prepare for President-elect Obama.

"When a chef gets the opportunity to cook for the President, it's a great honor, and one they are likely never to forget," explains Enzo Febbraro, co-owner and executive chef of Washington D.C.-based D'Acqua Ristorante. "I've cooked for the past two, and now I hope to carry on that tradition by getting the chance to cook for President-elect Obama."

So, just what would Chef Enzo prepare for the new President? He's heard that he likes Italian food, so he'd like to prepare a meal of:
Grilled octopus to start, along with pasta linguine sea urchin

For the main dish, a Fiorentina di manzo "Beef porterhouse fiorentina style"

And for dessert – a sfogliatelle, which is a traditional Neapolitan dessert featuring a flaky pastry shell, stuffed with polenta, ricotta, orange zest, and orange blossom water
"I think that the new President would find this selection of some of my finer dishes to be pleasing," adds Chef Enzo. "Not only is it a very balanced and nutritious meal, but it is also very adventurous in taste."


Chef Enzo also had the opportunity to cook for President Clinton several times, including such dishes as sausages and broccoli rabe, stuffed eggplant with mozzarella, roasted bell pepper, bucatini amatriciana with pancetta (Italian bacon, onion and tomato), and ravioli stuffed with ricotta and spinach.


For President George W. Bush, he has prepared fittura di paranza (fried calamari, anchovy and shrimp), crab salad, meat carpaccio, grilled octopus, paccheri with lobster, gnocchi with meat, Neapolitan ragu, and turbot, salt-crushed.


About D'Acqua Ristorante
D'Acqua Ristorante, owned by Chefs Enzo Febbraro and Francesco Ricchi, is located at 801 Pennsylvania Ave. NW in Washington, D.C. The restaurant, which features a coastal Italian menu with a seafood emphasis, was opened by the two highly acclaimed chefs in 2006, and has quickly earned great reviews. Enzo, a native of Naples, Italy, has traveled throughout Europe, preparing dishes at high-end restaurants and hotels. Francesco, a Florentine native, has owned a number of award-winning establishments, and has also hosted President George W. Bush. The restaurant is a popular political dining establishment that is frequented by Washington's elite, including senators, members of congress, and White House staff. To learn more about D'Acqua Ristorante, visit the Web site at www.dacquadc.com.
---