J.K. PAUL'S INDIAN CUISINE RAISES THE BAR
Maurya's is a Thoroughly Modern Indian Food Scene
by Bonnie Carroll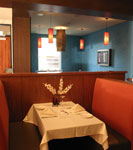 In a sleek, contemporary Beverly Hills setting, the spirit of the ancient Mauryan Dynasty is celebrated with authentic gourmet Indian cooking. The dynasty was recognized for its magnificent art, advanced monetary system and, of course, a cultured approach to food that contributed to the evolution of one of the world's great cuisine's. Maurya, one of the city's premier Indian restaurants, was created in the spirit of the Mauryan Dynasty and infused with a sophisticated contemporary flair.
Maurya, which opened in early 2005, is a venture of owner Nalin Patel, a technology industry entrepreneur who bemoaned the lack of authentic gourmet Indian cuisine in L.A. Maurya's sleek space, adjacent to the Writers Guild of America, was conceived by acclaimed designer Sat Garg. The lively bar, featuring brass and mosaic-tile, inviting silk sofas and plama screens create a Bollywood hip scene, where wrap parties and corporate meetings abound in VIP rooms.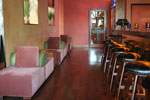 Tables are dressed in crisp ivory linen with colorful and tasteful touches in china and fabrics. Maurya's cutting-edge design seems to suits the mixed clientele who enjoy their delicious and authentic dishes.
The cooking of master chef J.K. Paul, a graduate of India's prestigious culinary school in Bangalore, truly distinguishes Maurya. Previously of the acclaimed Sun-n-Sand Hotel in Bombay and Le Meridian Hotel in New Delhi, Paul is one of India's genuine celebrity chefs. At Maurya, he prepares a blend of authentic Nawabi and northern Indian cuisine, with occasional dishes inspired from his native Bombay. He honors ancient culinary tradition-in fact, all of his spices are ground fresh daily-but is not adverse to introducing contemporary twists. By using different combinations of spices, every creation is distinctive and memorable. "I am anxious to show the people of California what truly authentic Indian cuisine is all about," explains the chef.
Appetizers include Lentil Soup (Dal Shorba) spiced with cumin seeds and flavored with chopped cilantro ($5.95); Spinach and Corn Samosas ($5.95); Tandoori Stuffed Mushroom Kabab ($10.95); Paneer Tikka ($12.95), a house-made Indian cheese barbecued in the tandoor; and baby potatoes marinated with mustard oil, carom seeds, turmeric and other spices, called Saundhe Aloo ($10.95). Several of these appetizers and entrées are also offered at the bar for patrons of the stylish lounge.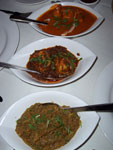 Although Maurya adheres to the no-beef Hindu custom, the regular menu offers an extensive selection of lamb, chicken, seafood and vegetarian entrées that can be prepared from mild to fiery hot. My favorites included Chicken Tikka Makhni barbeque in tandoor, Kadhai Jhinga ajwain-flavored jumbo prawns in tomatoes and spices. and Aloo Gobhi, and cauliflower with potatoes and pickled ginger, spiced with royal cumin and pounded coriander, cooked in the steam of young tomatoes and pickled ginger. The house-made Naans are simply outstanding and come in a variety of optons, including onion, mint or spinach. A Lassi, traditional Indian drink is a perfect accompaniment with dinner, or French Champagnes and California wines.
Desserts include a carrot and reduced milk creation called Gajjar Halwa, garnished with pistachios and raisins; the traditional rice pudding referred to as Phirnee, flavored with cardamom and saffron; tiny cheese dumplings steeped in saffron-flavored reduced milk called Chena Payesh; and Fig, Almond or Pistachio Kulfi. The restaurant is open open for lunch Monday through Friday from 11:30 a.m. to 2:30 p.m., and on Sunday from 12:00 p.m. to 3:00 p.m. Dinner is served Sunday through Thursday from 5:30 p.m. to 10:30 p.m., and Friday and Saturday from 5:30 p.m. to 11:00 p.m. Reservations can be made by calling 310.786.7858.
---
LUCIA'S
Roman Hospitality in America
by Bonnie Carroll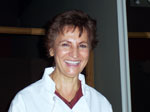 Lucia's Italian Kitchen located in Pacific Palisades, California, opened its doors in 2004, and gained prominence throughout Los Angeles for its casual ambiance, fine service and authentic Italian cooking. The popular restaurant recently reinvented itself as LUCIA'S, with delightful menu changes, and a totally new design that is elegantly comfortable.
The new menu selections, the merging of the two intimate dining areas, additions of vibrant appointments, al fresco seating and a rich wood-clad wine bar, which showcases a thoughtfully assembled cellar has created a warm and inviting stage for diners to completely enjoy the extensive collection of Italian specialties created by twenty-five year culinary veteran executive chef Cathy Halter, who is a native of Italy, and has honed her skills in Hawaii, Washington and apprenticed with Paul Prudhomme at his famous K-Paul's in New Orleans.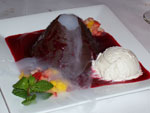 A wide variety of dining options are available that include, original pizza recipes and design your own pizza's that come in 4 to 12 slices per order, and Monday is 2 for 1 pasta night. Don't miss the unique Kobe beef cheeseburger with caramelized onions, fontina cheese and wild mushroom, fettuccini Verona with garlic-sautéed shrimp, roasted garlic pesto, goat cheese and pine nuts, and their signature Kauaiian Ribs, an addictive appetizer made with homemade papaya BBQ sauce. Health minded diners will enjoy low carb "mock" mashed potatoes and penne alla Magro made with high-protein penne, chicken, and a roasted vegetable medley. The chocolate volcano dessert is a divine ending to a memorable Lucia's dinner.
Chef Halter is a true Italian woman, who was born near Rome, and has an endless passion for food. She credits mentors like Paul Prudhomme for giving her the confidence and cooking expertise that have enabled her to pursue her dream as a chef/restaurateur. "Italians grow up with a love for good food, and this has played a big part in my career," said chef Halter. Michael and John Halter, the two sons of the chef, are managing partners in a variety of ventures with their mother, and have extensive experience in the restaurant and food industry. Morten Kaag, a former hotel management executive from Denmark, is also a member of the Lucia partnership. "It is our hope that diners from all over Los Angeles will think of Pacific Palisades as a dining destination," said John Halter.
LUCIA'S is open nightly from 5:00 p.m., and
538 Pacific Palisades Drive
Pacific Palisades, CA
310-573-1411