AIRBERLIN In Flight Adventures                                        Via Duesseldorf to Mallorca by Bonnie Carroll
            Shopping Along the KO                        Dreaming in Mallorca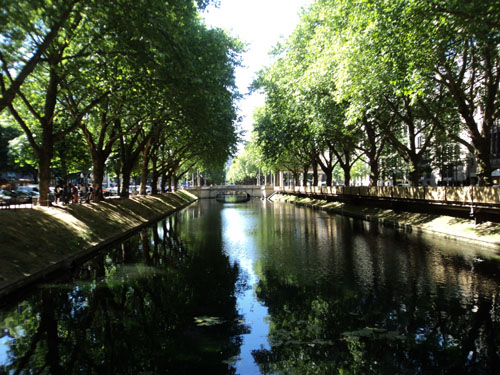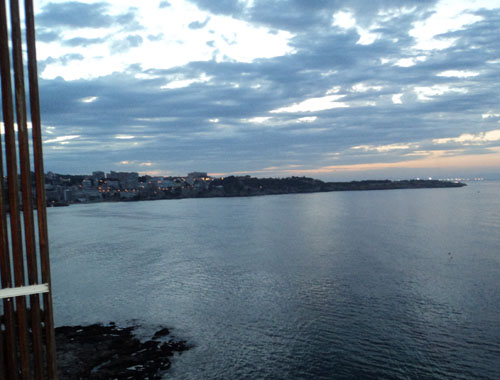 What an amazing surprise to find myself on a flight to Mallorca, Spain via Dusseldorf, Germany in a plane that has seats large enough and flexible enough (head lying flat and legs stretched all the way out) to actually sleep in, with a crew who worked hard to provide outstanding service 24/7, and really delicious food and beverages to savor along the way.
According to Thomas Kotter, the Director of Communications for Dusseldorf Airport, who met us on arrival "we hoped the airport design would bring the outside inside, and have tried to include everything a traveler could want or need for easy travel."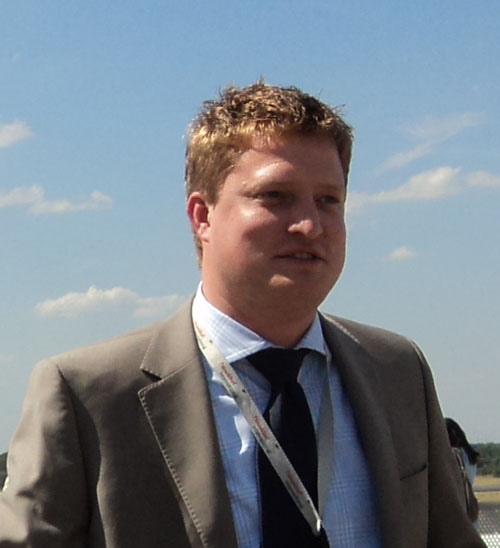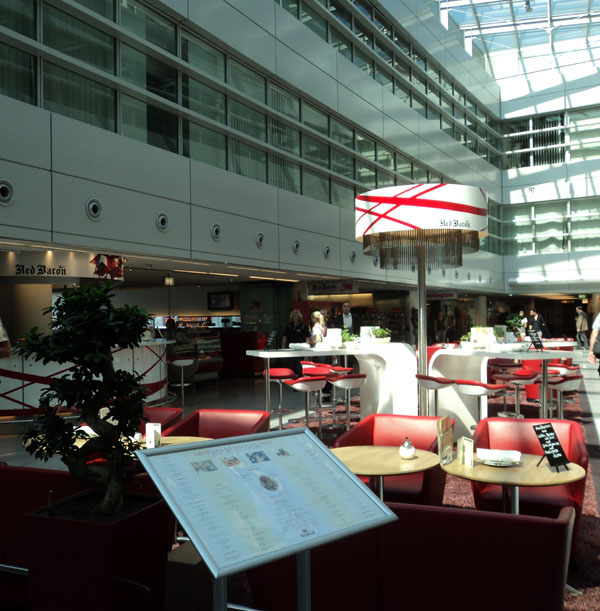 This my friends is what's happening on Airberlin today.The business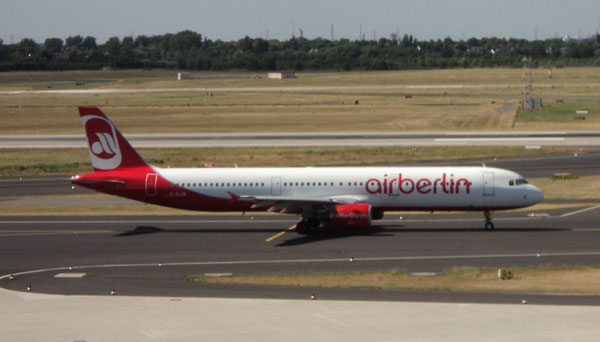 class on their aircraft is as nice as anything I remember about first class flying in times past. The attention to detail and passenger comfort was amazing. Passengers were given nifty little bags filled with things you need like a tooth brush and paste, a razor and shaving cream, L'Occitane skin cream, ear plugs, eye shades, soft little socks with slippers to match, and more. And that was just for starters.
Check-in at th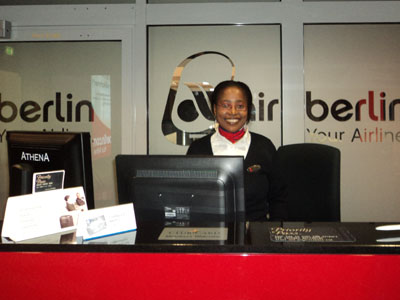 e club for Airberlin is handled by competitent and friendly staff,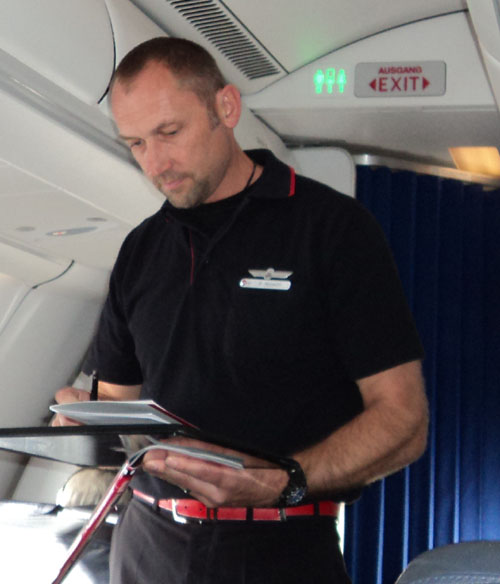 who call you to board your flight on time. The food and beverage service on board the aircraft is outstanding. Someone has put some real thought into how people like to eat when flying on long haul flights. Everything was tastefully prepared and perfectly served with real silverware, cloth napkins, and individual salt & pepper shakers. Menus included unique appetizers, hot entrees, cold plates, soups, desserts, breakfast plates, a full bar service, and selected wines for pairing with food items.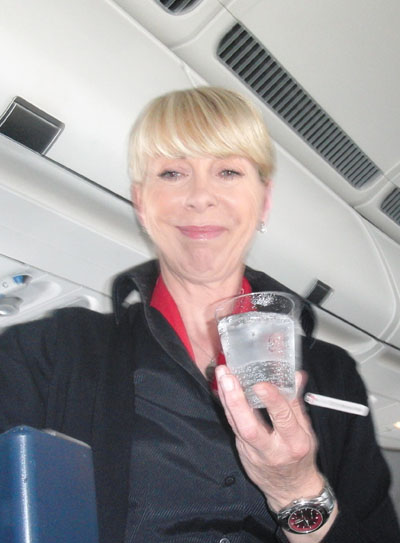 Flights from Dusseldorf to Mallorca offer several menu items from Sansibar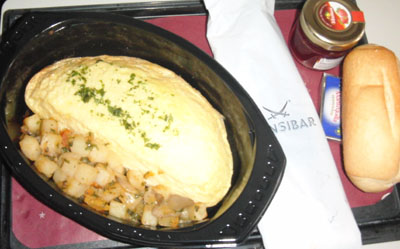 Restaurant for seven euro. I tested a full bodied pene pasta with mushrooms and cream sauce on the lunch flight, and a delicious Spanish breakfast omelet on the morning return flight. If you require more than a sandwich these new options are a tasty option for the price.
Pillows and blankets are abundant, and six different current films in English or German can be enjoyed throughout the flight, or you could select music, any kind of music you liked in different languages. Sleeping was the easiest I've experienced, and the cabin was very quiet. The crew are careful not to wake you unless you requested it, and they were so kind and helpful at all times.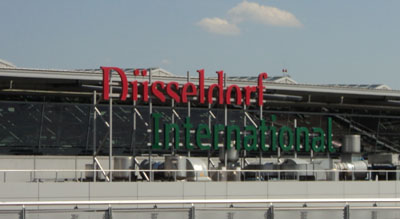 The Duesseldorf International Airport is one of, if not the most attractive and contemporary air terminarls I've seen. There are live musicians performing at the wine bar in the terminal for travelers enjoyment.The tax free area is huge and offers countless shopping and dining options to experience between flights.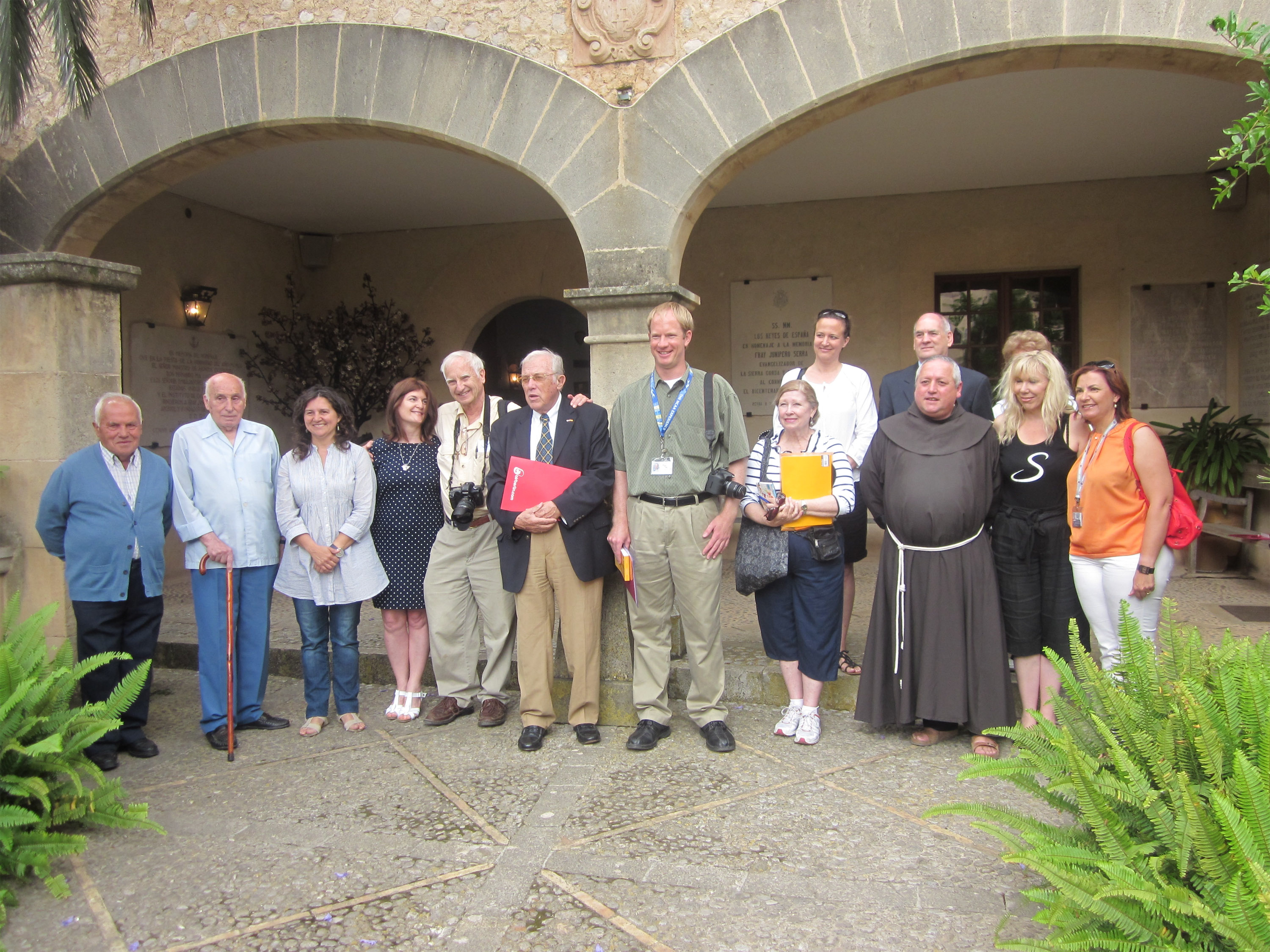 This new flight scheduled from Los Angeles to Dusseldorf recently enabled a group of media guests, some representing California cities where Father Serra founded Catholic missions, to meet with members of The Friends of Father Junipero Serra Association. They also visited the childhood home of Father Serra in Petra, Mallorca.  The group gathered information at the Museum of Father Junipero Serra, and the chapel where Father Serra's parents are burried. In 2013 Petra will be celebrating the 300th Anniversary of Father Serra's birth, and a huge celebration is being planned for this date.
_____________________________________________________________
Unique Culinary Offerings & New York Celebrity Chef Featured
During French Revolution Festival
At Grand Velas Riviera Maya's Fine Dining French Restaurant, Piaf
 From July 11th - 23rd, a festival honoring the anniversary of the French Revolution will be held at AAA Five Diamond Grand Velas Riviera Maya.  The resort's gourmet restaurant Piaf will be showcasing the talents of Maitre Cuisinier de France's Chef Claude Godard. Chef Godard, New York City's Madison Bistro chef and owner, has worked alongside some of the best chefs in Paris, Burgundy and South Africa.  Alongside Piaf's Executive Chef Michele Mustiere, Chef Godard will prepare a five-course meal tasting menu with wine pairing in honor of the anniversary of the storming of the Bastille. This special prix fixe menu will include such delights as Sautéed Foie Gras with Artichoke Mousseline and white truffle; Hazelnut-butter Roasted Sea Bass, and a decadent chocolate dessert served with poached raspberries and caramel fudge. The tasting menu is available to all resort guests at no additional charge as part of the all-inclusive rate.  For outside guests, dinner is $1200 pesos (approx. $100 USD) per person, $1500 (approx. $125 USD) with wine pairing. Tax and service fee are additional.  For more information, call Velas Resorts at 1-888-323-2776 or visit http://www.velasresorts.com/. 
About Piaf:
Designed to emanate the passion of its namesake chanteuse, Piaf is the product of Executive Chef Mustiere's culinary vision of French classicism. Piaf is open from 6 p.m. to 11 p.m. daily. Reservations are required. Outdoor terrace and indoor, air-conditioned seating is available.
About Grand Velas Riviera Maya:
The AAA Five Diamond Grand Velas Riviera Maya, an all-suites and spa resort located five minutes from Playa del Carmen, is the latest and most sophisticated iteration of the ultra-luxury, all-inclusive resort experience.  This Leading Hotels of the World designated resort is the preeminent one of its class boasting 491 suites, each more than 1,000 square-feet, in three separate ambiances-- premium ocean-front Grand Class Suites with terrace plunge pools for families with children 12 and up, family-friendly ocean-view Ambassador Suites and Master Suites embraced by the flora and fauna of the Yucatan Peninsula's jungle.  The resort presents a gastronomic tour of the Yucatan, Europe and Asia offering seven restaurants with world-class chefs from France, Spain and Mexico; dedicated butler service for each guest, and the region's largest spa sanctuary at over 89,000 square-feet specializing in signature treatments inspired by ancient cultures from around the world.  The spa recently won Virtuoso's "Best Spa" in the world and a SpaFinder Readers' Choice Award.  The resort was designed by lauded Mexican architecture firm Elias and Elias and features the sleek and modish interiors that fuse the serenity of the Caribbean with the vibrancy of Yucatan cultures. 
____________________________________________________________________
Bread and Roses Event

SAVE THE DATE!

BREAD & ROSES 2011
Saturday, September 17th
4:00 p.m. until 8:00 p.m.
@ QAD in Summerland

________________________________________________
________________________________________________
THE EVENT:
Bread & Roses is the Fund for Santa Barbara's largest annual celebration. It is a time for community activists, donors, volunteers, elected leaders, and all supporters of progressive social change to gather, celebrate our work together and raise money for the Fund's grant-making and technical assistance programs. This year's event will once again feature a gourmet buffet-style dinner from our region's finest restaurants, wines from local vintners and both a live & silent auction...

---
30th Annual Santa Barbara Taste of the Town
ABOUT THE EVENT
Join us for an epicurean adventure! The Taste of the Town is Santa Barbara's original tasting event, featuring savory samples from many of Santa Barbara's finest restaurants and premiere wineries. All proceeds benefit the Arthritis Foundation.
Taste of the Town
Sunday, September 11, 2011
Riviera Park Gardens
2030 Alameda Padre Serra
12:00-3:00 PM

---