SANSUM DIABETES RESEARCH INSTITUTE BENEFIT
Presented by the Brightest and the Best
By Bonnie Carroll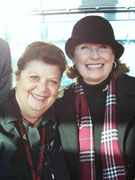 The "Cruise Around the World – Santa Barbara Style" inaugural fundraiser to benefit Sansum Diabetes Research Institute proved to be the high caliber party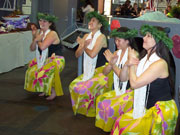 of the season. The Ty Warner Sea Center on Stern's Wharf was skillfully transformed by Santa Barbara's best event professionals into a cruise ship, complete with world theme décor, beautiful flower arrangements, live music, dancers, and a silent auction. Cuisine included dishes from Asia, Europe, South America, Polynesia and North Africa, along with a bevy of divine beverage options.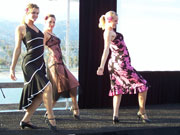 The Santa Barbara Event Professionals (SBEP) is a group of talented event production professionals and those participating included: Baron Spafford Photography; Bella Vista Designs; The Chocolate Guy; Creative Services Catering, Ernie Price Catering, Events by Philippe; Events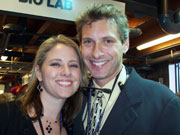 of Santa Barbara; Fire and Ice Events; Kaleidoscope Flowers; Luners Pro Lighting and Sound; Martin David Design; Melissa Musgrove Photography; Nico Cervantes; Scott Topper Productions; You're The Star Video Productions; Parties a la Carte; Pure Joy Catering; Rincon Beach Club & Catering; Rincon Floral; Suger, Smiling Garden; The Tent Merchant; and The Vegetarian Gourmet. The 'Goddess of Public Relations' Mo Mc Fadden pulled all the strings for this world-class event. For (SBEF) information visit: www.sbep.com.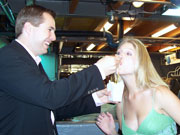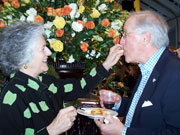 SDRI is at the forefront of research in the prevention, treatment and most of all finding a cure for diabetes, The Institute has been serving the Santa Barbara community, and saving lives since Dr. Sansum founded the non-profit organization in 1994. For information visit: www.sansum.org.
---
10 Fun Coffee Facts
The first coffee shop opened in 15th-century Constantinople, where the
Turks thought the drink was an aphrodisiac.
James Mason patented the first American coffee percolator in 1865.
The term "Cuppa Joe" came from "G.I. Joe," who always had his coffee.
Coffee is the most popular beverage worldwide with over 400 billion cups consumed each year
It is estimated that 100 million Americans drink a total of 350 million cups of coffee a day
52% of the American adult population (age 18+) drink some type of coffee beverage on a daily basis, averaging about 3.2 cups per day
79% of coffee drinkers consume their coffee at home.
91% of coffee drinkers consume their coffee at breakfast
The workplace is the second most prominent location where people drink coffee
The number of cups of gourmet coffee beverages consumed per drinker per day.

History of the Office Coffee Break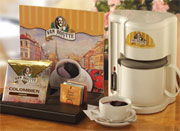 America invented the "Coffee Break" as we know it today. The practice began during WW II. Factories wanted to give workers a brief rest and a jolt of caffeine. It may not actually have been called a coffee break until 1952. That year, a Pan-American Coffee Bureau ad campaign urged consumers, "Give yourself a Coffee-Break -- and Get What Coffee Gives to You." After that, 70-80% of American workers were taking coffee breaks - both factory and office workers. General Eisenhower even used the coffee break idea for "Operation Coffee Cup" during his presidential campaign. This was his way to meet with voters, and it continued to spread the social trend of the coffee break.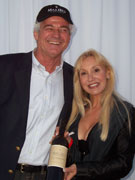 Owners of the Malibu Winery, who sponsored the recent Malibu Wine Festival, also provided wine for the 7th Malibu Film Awards on the beach. Visit: www.malibuwinery.com.