UNICEF WYNNS WITH CHEF DAVID WALZOG'S
"RECIPE FOR RELIEF"
11 Celebrity Chefs Raise Awareness, $50,000 for Idaho Potato Commission's International Year of the Potato "Recipes for Relief" UNICEF Fundraiser
Chefs David Walzog, David Burke and Nobu Matsuhisa are among 11 chefs sharing their favorite Idaho® Potato recipes in the Idaho Potato Commission's "Recipes for Relief" on-line program.  The goal of this unique program is to celebrate the United Nation's declaration of 2008 as the International Year of the Potato by raising awareness and $50,000 for UNICEF, an organization that provides lifesaving nutrition, clean water and education to children in more than 150 countries around the world. 
Every month in 2008, a chef and his/her potato recipe is featured on www.idahopotato2008.org.   When a visitor clicks on the recipe of the month, the Idaho Potato Commission will donate 10 cents to the U.S. Fund for UNICEF with a maximum donation of $50,000.  Funds will support UNICEF's programs for children around the world. For more information on UNICEF, please visit www.unicefusa.org. The Recipe for Relief program runs from
February - December 2008. 
David Walzog of SW Steakhouse at the Wynn Resort in Las Vegas, and his recipe, Salt Crusted Baked Idaho Potato, are being featured during the month of August on the "Recipes for Relief" Web site.  Walzog's recipe will appear on the homepage for the entire month and will be available all year long to view and download.
"We are very pleased the United Nations is recognizing the importance of the potato in helping end world hunger.  We know that children are particularly vulnerable to hunger and malnutrition which is why the U.S. Fund for UNIICEF is such a natural organization for us to work with," said Frank Muir, President & CEO, Idaho Potato Commission.  "We are especially appreciative to our chef friends who jumped at the opportunity to help us communicate the importance of America's favorite vegetable while raising awareness and funds for the U.S. Fund for UNICEF." 
Recipes for Relief Chefs
A total of 11 chefs will be featured in the Idaho Potato Commission's "Recipes for Relief" program.  These well-known chefs hail from cities across the country and many of their Idaho Potato recipes reflect the region's unique tastes and flavors.  
The chef line-up is: 
February: Michael Symon, Cleveland, OH Lolita
March: Tracy O'Grady, Washington DC, Willow
April: Susan Spicer, New Orleans, LA, Bayona
May: Todd Downs, Indianapolis, IN, Food Sense, Inc
June:  Jon Mortimer, Boise, ID, Mortimer's of Boise
July: Joachim Splichal, Los Angeles, CA, Patina
August: David Walzog, Las Vegas,  Steakhouse, Wynn
September: Frank Ostini, Buelton, CA, Hitching Post
October: Paul Prudhomme, New Orleans, LA, K-Paul
November: Nobu Matsuhisa, New York, Las Vegas, Los Angeles, Nobu
December: David Burke, New York, davidburke & donatellal.
International Year of the Potato
The United Nations' declaration of 2008 as the International Year of the Potato will raise awareness of the importance of the potato - and of agriculture in general - in addressing issues of global concern, including hunger, poverty and threats to the environment.
With the world population increasing by approximately, 100 million people a year, there is an urgent need to find and/or develop the resources needed to sustain this incredible growth.  The potato, which is the fourth largest food crop in the world, has been identified as part of the solution for many
reasons: 
Potatoes produce more nutritious food, more quickly, on less land, and in harsher climates than any other major crop.

Potatoes are a nutrient dense food containing protein, carbohydrates, vitamin C, potassium and many other micronutrients.

More and more people are relying on potatoes as a major part of their diets.  World potato production has increased at an annual average rate of

4.5 percent over the last 10 years, and exceeded the growth in production of many other major food commodities in developing countries, particularly in

Asia.

Potatoes are, or can be, grown in many countries around the world from China's Yunnan plateau and the subtropical lowlands of India, to Java's


equatorial highlands and the steppes of Ukraine.
"When compared to other foods, the potato provides one of the best nutrient density returns for the cost of production," stated Muir.  "The potato is rich in vitamin C, potassium, vitamin B6 and other important vitamins and minerals - and uses much less water to grow than rice." 
Helping Hunger Stateside
For many years the Idaho Potato Commission has been involved in several initiatives to promote potato consumption in developing nations.  The IPC has been working closely with the University of Idaho on developing a fortified dehydrated potato product that could potentially provide sustenance and nutrition to millions of adults and children in developing nations around the globe through US food aid programs.  The Commission has also actively been promoting Idaho Potato seed potatoes to countries in Asia and Central America. 
UNICEF
For more than 60 years, UNICEF has been the world's leading international children's organization, working in over 150 countries to address the ongoing issues that affect why kids are dying. UNICEF provides lifesaving nutrition, clean water, education, protection and emergency response, saving more young lives than any other humanitarian organization in the world.  While millions of children die every year of preventable causes like dehydration, upper respiratory infections and measles, UNICEF, with the support of partnering organizations and donors alike, has the global experience, resources and reach to give children the best hope of survival.  For more information about UNICEF, please visit www.unicefusa.org.
---
SHAMBALA GAME RESERVE
Super-Luxury in South Africa's Malaria-Free Waterberg Mountains Where Guests Enjoy a Picnic in Nelson Mandela's Private Residence
The Reserve, situated in a wildlife sanctuary of 12,000 hectares, is home to a rich diversity of magnificent wildlife and it is almost guaranteed that a visitor here will see the Big Five.  In addition to game drives in this malaria-free area, guests take walking safaris and elephant back safaris.  They discover the wonderful world of astronomy and the role that stars have played in destiny; take exciting earthbound rides on quad bikes; view the expanse of bushveld and game from the air in a gyrocopter; and enjoy gourmet picnics in the bush.
Everything at Shambala is done to preserve a well-balanced ecosystem.  They participate in an intensive breeding project for rare and valuable species such as the Cape hunting dog, cheetah and black rhino. The 30 hectare Douw Steyn Dam was constructed in 2001 following ecological and geological principles to improve the river flow conditions.  It features a wall with multiple arches to create the effect of a waterfall in a natural valley. Its construction offered employment opportunities for the local communities, an initiative that Shambala still practices. 
Shambala is the vision of Douw Steyn, whose genius created the acclaimed Saxon Hotel in Johannesburg.   The same superb design principles are used here.  The décor and furnishing of the Steyn House, the main facility, is designed in the French provincial style and accented with French antiques. Its scale is quite impressive and it is the centerpiece of the Reserve where guests are greeted when they arrive.
Douw Steyn also created The Nelson Mandela Centre for Reconciliation at Shambala, an exquisite four bedroom facility to provide Nelson Mandela with a tranquil setting in which to meet with world leaders and facilitate his considerable efforts toward reconciliation.  The Centre is his private residence but if he and Mrs. Machel are not on site, guests at Shambala may enjoy breakfast and lunch picnics there.
Dinners at Shambala are served in the Steyn House where they are lingered over and savored.  Guests discuss with the chef their preferences for dinner during the day and it could consist of as few as two courses or as many as eight.  The cuisine is considered African Fusion.  Full or Continental breakfasts are relished in the French country kitchen of the Steyn House as well.
Near the Steyn House, seven chalets are situated unobtrusively against the hillside, luxuriously appointed.  Each includes a bedroom with dressing area, en-suite bath with two showers, private boma, outside shower, and spectacular views of the Dam from the spacious balconies.  Molton Brown amenities, bathrobe and slippers, and delectable snacks are in found in each room
Zulu Camp, built in traditional Zulu style, is opening in the next few months at Shambala.  It holds eight chalets constructed of traditional materials that blend with the landscape and is designed to be a private and exclusive venue, ideal for honeymooners..
Rates at Shambala are $988* per person per night.  Rates include accommodations, meals, game drives, elephant-back rides, quad bikes, bush picnics, refreshments and local beverages, biking, sunset cruises and star gazing. A gyrocopter ride to view game and the Reserve from above is also available at an additional fee.   For more information on Shambala, visit www.shambalagamereserve.com or email tjsteyn@shambalagamereserve.com  The phone number is +27 11 292 6030 or email reservations@saxon.co.za
---
ADVENT IN VIENNA:
SEASONAL ROMANCE AND NOSTALGIA
During Advent, Vienna is at its most romantic with a host of atmospheric Christmas markets.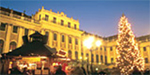 One of the main winter attractions, going back over two decades, is the Magic of Advent with its imaginative theme world in and around Vienna's City Hall. This year, the traditional Christmas market boasts in the region of 140 booths to browse and purchase Christmas gifts. Meanwhile in Rathauspark, around the Christmas market, visitors can enjoy a romantic Advent stroll beneath the delightfully adorned trees, where the most popular rendezvous for lovers is the radiant "Heart Tree". Pavilions bearing names such as "Animals' Christmas Market" are further attractions that will appeal to old and young alike. (Nov 15 – Dec 24, www.christkindlmarkt.at)
---
THE ORIGINAL LONG BEACH LOBSTER FESTIVAL
COMES TO THE RAINBOW LAGOON SEPTEMBER 5-7
O Entertainment Brings Upscale Lobster Extravaganza to Long Beach 
 
Admission and Guaranteed Lobster Package discounts available online at: http://www.originallobsterfestival.com/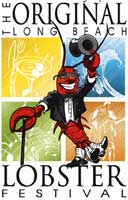 $13 General Admission (Does not include Lobster Feast. $15 onsite)
Children 12 and under are free when accompanied by an adult.
Regular Presale Guaranteed Lobster Package - $25 (Includes 1.25 lb. lobster feast, served by Bristol Farms, and admission) $35 onsite.
Jumbo Presale Guaranteed Lobster Package - for heartier appetites. $50 (Includes 2 lb. lobster feast, served by Bristol Farms, and admission) $55 onsite.
The Rainbow Lagoon is located at: [400-403] Shoreline Village Drive, Long Beach, CA 90802. Sponsors of the Original Long Beach Lobster Festival include: Charter Communications Long Beach Sea Festival, Bristol Farms, Sierra Nevada, Clear Channel, KKJZ, and Time Warner Cable.
Live Entertainment includes:
Friday, September 5th: Eric E. Ensemble, the TN Band and Eddie Baytos and the Nervis Bros. Parade.
Saturday, September 6th: Joe Houston performing with Eddie Estudillo & "Hush", Pamela Clay as "Edith Piaf", T Wisdom, Bobs Yer Uncle, and CalJam.
Sunday, September 7th: Brazilian Independence day- Lula Almeida & Afro Brazil, Eddie Baytos as the "CarnieGras", Decades 70s/80s dance band, Jumpin J Band, FT Swing Band, and the Bobby Matos Latin Jazz Band.
Learn more about all confirmed musical acts: http://www.originallobsterfestival.com/entertainment.php

---
ENJOY A TASTE OF TURKS & CAICOS AT THE
ISLANDS' FIFTH ANNUAL CONCH FESTIVAL
Competition Winners to Join Other World Class Chefs
Representing Turks and Caicos at South Beach Food and Wine Festival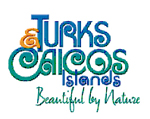 TURKS AND CAICOS, BWI (June 26, 2008) – The Turks and Caicos Islands, a burgeoning luxury destination best known for its world class beaches, is preparing for the Islands' most famous culinary extravaganza – the Fifth Annual Turks & Caicos Conch Festival.  Visitors are invited to join locals, Nov. 29, 2008, on Providenciales' (Provo) powdery white sand beach to indulge in Turks & Caicos' unique flavors.  The event, named one of the "Top 10 Festivals of the Year" by MSNBC in 2007, includes music, cultural activities and a cooking competition in honor of conch, a cultural icon and fundamental element of Caribbean cuisine.
"We are thrilled to bring this culinary celebration of Caribbean culture back for the fifth year," said Ralph Higgs, director of tourism marketing at the Turks & Caicos Tourist Board.  "The Conch Festival allows Turks and Caicos to showcase our culture and cuisine to visitors from around the world.  We look forward to seeing the winners represent Turks and Caicos in South Beach this winter."
Turks and Caicos is the world's second largest exporter of conch, and one of the few countries allowed to take conch directly from the sea thanks to its established Fisheries Division, which manages the process, and the Islands' strong conservation practices.  The Islands are also home to the world's only conch farm, Caicos Conch Farm, where Caribbean Queen Conch are raised from veliger to adult.  As such, conch is a specialty dish served countless ways in the Islands – cracked conch, conch fritters, conch chowder, conch salad, curry conch – at upscale establishments like Simba at Turks & Caicos Club and Grace Bay Club's Anacaona and local eateries including Da Conch Shack and Hole in the Wall, a past champion of the competition.  During the festival, chefs will prepare this protein-packed aphrodisiac using a variety of techniques in hopes of being awarded the winner in one of three categories: best conch salad, best conch chowder, and best specialty conch dish.
The full-day celebration, held in historic Blue Hills, one of Provo's original settlements and a quaint seaside throwback to earlier days in the Caribbean, will include a conch recipe contest, native boat races, live music, a conch treasure hunt and a conch blowing contest.
For those who can't get enough conch, the Caicos Conch Farm is open to visitors interested in learning how conch are raised, handpicking a pink conch pearl souvenir, purchasing fresh conch or conch shells to bring home, and watching a show with two trained and very friendly conchs.  Travelers can also embark on full-day or half-day conch cruises where boat captains will first take guests snorkeling along the Islands' world-renowned barrier reef and then teach visitors how to free dive for conch, get the conch out of its shell, and prepare fresh conch salads, to be enjoyed during a Caribbean BBQ on an uninhabited island.
Entrance to the Turks & Caicos Conch Festival costs $20, entitling attendees to a tasting of every conch dish entered in the competition.  Judges of the contest will include nationally-known chefs Clay Conley, head chef at Azul at Miami's Mandarin Oriental, and Dean Max, chef/owner of 3030 Ocean in Fort Lauderdale and Latitude 41 in Columbus, OH.
Winners of the contest will be invited to represent Turks & Caicos at The Food Network South Beach Wine & Food Festival, a national, star-studded, four-day destination event showcasing the talents of the world's most renowned wine and spirits producers, chefs and culinary personalities, taking place Feb. 19 –  Feb. 22, 2009.
Please visit the Turks & Caicos Conch Festival Web site at www.conchfestival.com for more information and a complete schedule of events.  For press inquiries, contact Jenn Myres at (619) 234-0345.

About Conch
Conch (pronounced "konk") is a common name for large marine snails, also known as gastropod mollusks, more specifically the queen, pink-lipped conch, which are found in the warmer waters of the Atlantic and the Caribbean.  The bright pink colored shells are 12 to 13 inches in length and have been a popular Caribbean treat since the 1400s.  Common conch creations are soup and salad, conch fritters, conch chowder, conch steaks and marinated raw conch salad. 
About Turks & Caicos
The 40 islands of the Turks & Caicos, of which eight are inhabited, are renowned for their award-winning beaches, diving and array of world-class resorts.  Additional activities include tennis, golf and horseback riding.  The islands feature a variety of spa and body treatment services and is home to the world's only conch farm.  There are three daily 90-minute direct flights from Miami, a US Airways direct flight from Charlotte, daily flights from New York and weekly flights from Boston, Philadelphia, Atlanta and Toronto.  For more information on travel, visit the Turks & Caicos Islands Tourist Board Web site at www.turksandcaicostourism.com or call (800) 241-0824.

---
WATERMARK RESTAURANT OPENS IN VENTURA
Restaurant in Iconic Historic Building to Take Seaside Community
Dining Scene to New Level
Housed in one of the most splendid buildings in all of Ventura, complete with a remarkable and intact 1920's interior, Watermark brings a sophisticated dining experience to the quintessential beach town of Ventura. 
After an 18 month-long meticulous restoration by the Hartley Family that restored the hand-painted plaster ceilings, original murals, arts-and-craft tile work and mahogany woodwork, the restaurant opened on Tuesday, August 12th.
Watermark may celebrate the past but it firmly embraces the future.  In addition to the main dining room on the ground floor and seating on the mezzanine level, the restaurant literally "raises the bar" with its rooftop, glass enclosed lounge and bar that features a retractable ceiling.  With spectacular ocean and mountain views, W20 will double as a unique open-air music venue thanks to a state-of-the-art sound system.
"The project, besides being a landmark in Ventura and one of the most beautiful buildings in the county, provides an opportunity to bring world-class dining and an exceptional experience to the Central Coast," states Mark Hartley, owner of Watermark. "Our hope and intention is that Watermark will attract people from out of the area to visit and discover Ventura." 
On the ground floor, booth and table seating is available beneath oversized windows and the beautifully preserved 1928 murals.  On the right side of the room, a mahogany bar wraps around into a separate bar area, and in the back, beyond extensive wine cabinets, the bank's original vault protects high-end spirits and liqueurs.
 
In addition to dining tables that overlook the main floor through the exquisite original wrought iron railings, the mezzanine level 'wine loft' has a fireplace and a private dining room suitable for wine tasting and special functions.  
Overall, the design of Watermark reflects its historical perspective – the color scheme is warm, golden and inviting, with rust and green walls and golden marble floors with copper inlays.  Iron and mica chandeliers, amber glass sconces and an under-lit gold onyx bar illuminate the room.  Booths are upholstered in rich brocade with cognac leather seats, and burgundy velveteen draperies soften the nine-foot high windows.
In contrast, the rooftop bar and lounge, is decidedly contemporary and a study in blues and silver, echoing the skies and ocean that surround the restaurant's 'aerie.'  W2O is certain to become a meeting place of choice, serving lunch, a small plate menu and late night dining from its dedicated kitchen.  Surrounded by water and fire features, guests are invited to relax in intimate seating areas - at both booths and tables. W2O also features a private dining room ideally suited for meetings, complete with a drop down flat screen and its own ocean view terrace.
"Watermark will allow us to provide a five-diamond experience in an unpretentious but elegant setting, combined with all the friendliness and warmth that defines the area," explains Jim Rice, Managing General Partner.  "This is an once-in-a-lifetime opportunity for a restaurant to be in a building like this in a community like Ventura, surrounded by the best ingredients in the country."
Executive Chef Greg Kurtz will head up the kitchen, coming from another of the group's Ventura restaurants, the popular Westside Cellar.  "Locally inspired cuisine will be the focal point of the menu – we can see the ocean from here and we are surrounded by small grower and sustainable farms.  What we can source locally will be a determining factor as to what appears on the menu and as a result, some items will change daily," explains Kurtz.  "Overall, the menu will be contemporary regional American cuisine, featuring a balance of fish, steaks and other meat dishes, along with the freshest seasonal vegetables."
Watermark Restaurant is housed in one of the most architecturally significant buildings in Ventura.  Originally built in 1907 to house the Ventura Power Company, the building was extensively remodeled in 1928 into the elegant brick building it is today. Combining Spanish Colonial Revival design with influences of Zig-Zag Art Deco, the stunning edifice artfully pairs terra cotta bricks with Malibu style ceramic tile.  Inside, the hand-stenciled ceilings and wood paneling are reminiscent of Hearst Castle. The murals, painted by renowned La Jolla based artist Norman Kennedy, depict early life at the Santa Buenaventura Mission. The architects responsible for the 1928 transformation were John C. Austin and Frederic M. Ashley, whose other work includes the Griffith Observatory, the Shrine Auditorium and the Los Angeles City Hall.
Open for lunch and dinner, Tuesday through Sunday, Watermark is located at 598 Main Street, at the corner of Chestnut Street, in Ventura's vibrant historic district.  www.watermarkonmain.com

---