TICKETS ON SALE NOW FOR THE 29TH ANNUAL FOOD & WINE CLASSIC IN ASPEN
June 17-19, 2011
Aspen, Colorado (December 7, 2010) – Tickets are on sale now for the 2011
FOOD & WINE Classic in Aspen, the nation's premier culinary festival, taking
place June 17-19, 2011. The three day weekend which brings the FOOD & WINE
brand to life with cooking demonstrations and wine tastings has a stellar line-up
featuring epicurean masters including Mario Batali, Bobby Flay, Tom Colicchio,
José Andrés, Danny Meyer, Tim Love, Michael Symon, Ming Tsai and many
more.
Celebrity chefs, renowned wine experts and the famed Grand Tasting Pavilion
converge in the breathtaking backdrop of Aspen, Colorado for this
unforgettable experience. Oenophiles and foodies alike can take advantage of
seminars serving up this year's hottest trends in gastronomy. Here are a few
highlights from this year's line-up:
• Salty & Sweet with Top Chef's Gail Simmons and Tom Colicchio
• Mario Batali's Seafood of the Adriatic
• FOOD & WINE's Ray Isle chats about why Old Wines are Awesome
• José Andrés creates Sexy Vegetable Dishes
• Ming Tsai teaches techniques for simple, healthy and affordable One Pot
Meals
• Sauce on the Side: Wine, Wieners & the Works with Danny Meyer
Plus, the highly anticipated Classic Quickfire challenge is back, pitting BRAVO's
Top Chef: D.C. winner Kevin Sbraga against the yet-unnamed winner of Top
Chef: All-Stars.
Tickets for the FOOD & WINE Classic in Aspen are $1,085 before March 15, 2011
and $1,185 thereafter. FOOD & WINE donates 2 percent of the net proceeds
from all Classic tickets sold to Grow for Good, benefiting Wholesome Wave
Foundation. Grow for Good is FOOD & WINE's national initiative dedicated to
supporting local farms and encouraging sustainable agriculture. To register, call
877-900-WINE or visit www.foodandwine.com/classic.

---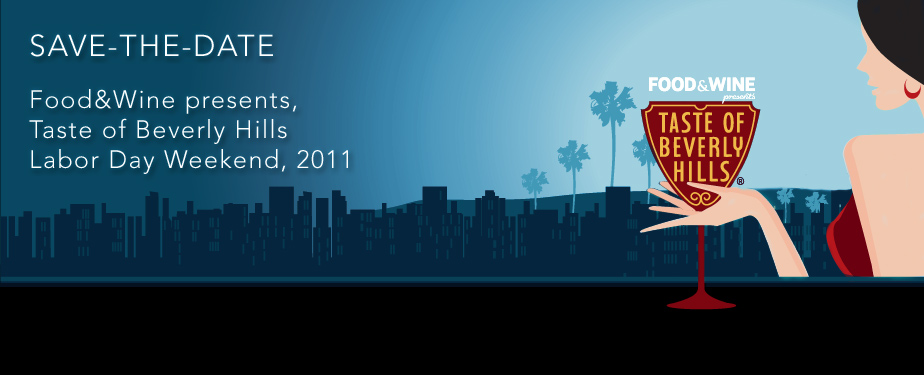 ---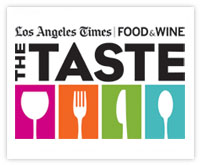 SEPTEMBER 2-5, 2011
---

Join Chef Eric Ripert for a weekend celebrating food, wine and the natural beauty of the Caribbean at the Ritz-Carlton, Grand Cayman. An incomparable roster of world famous chefs, sommeliers and spirits blenders will offer tastings, demonstrations, tours and dinners that celebrate the barefoot elegance that only the Cayman Islands can deliver.
 
---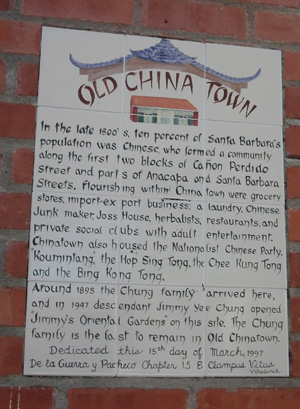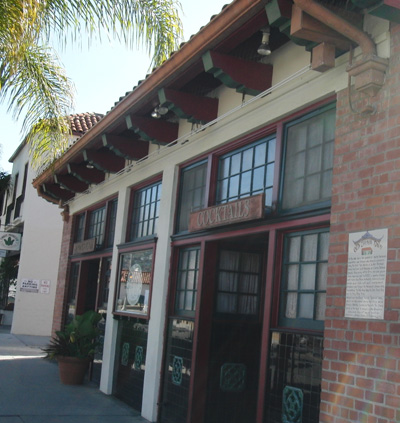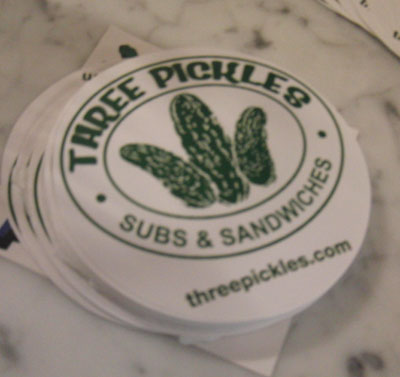 EAST MEETS EAST IN SANTA BARBARA                                          
 Historic Jimmy's Chinese Restaurant becomes Three Pickles Deli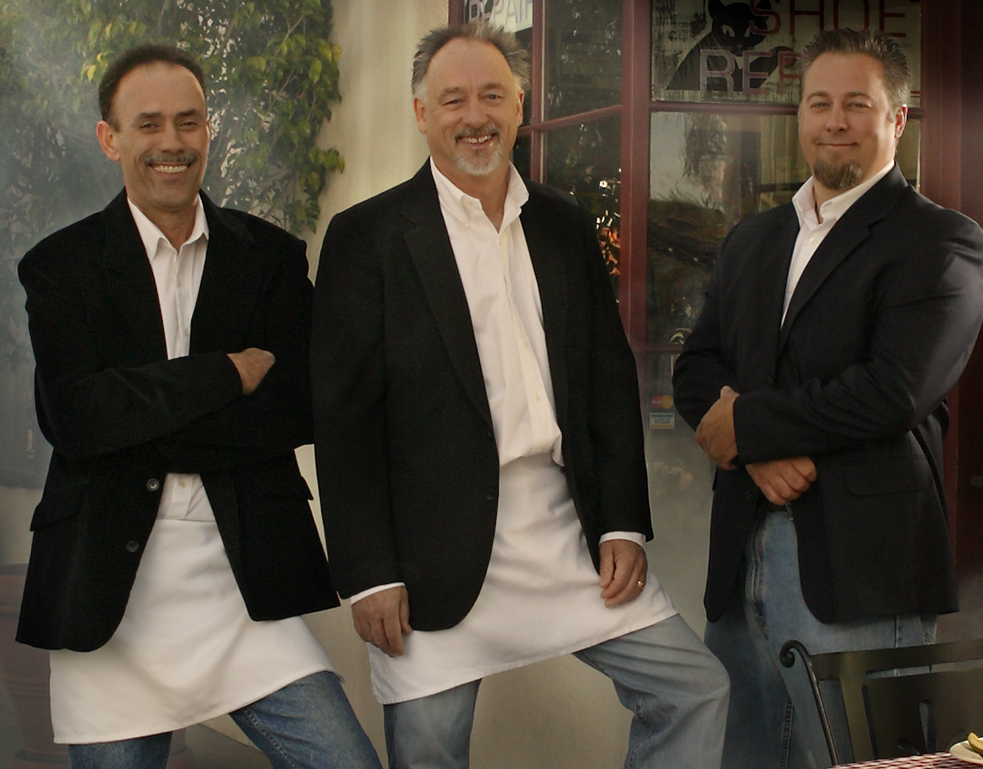 It was an exciting opening for Three Pickles Deli in what was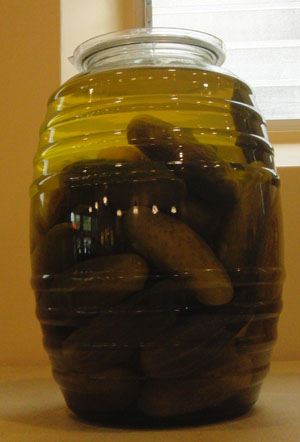 once the great Jimmy's Oriental Gardens, a popular Chinese restaurant that was a favorite of Santa Barbara families for years. The nostalgic property, located at 126 E. Canon Perdido Street, had been vacant for years and finally celebrates a vibration of new life with the introduction of delicious and authentic deli food, wine, beer, soft drinks and some light dinner fare that will be included on their menu soon.
Three Pickles is the brain child of Bob Lovejoy, his partner Bob Mc Court and his son Clay Lovejoy.  They have all worked well together for years in a location next door to Jimmy's. The industrious group also have a location at 420 Fairview in Goleta. The woman behind this creative culinary group of men is Bob's wife Dawn, who is thrilled with the rave reviews the new location is getting.
I personally attest to the fact that this is the only place in California where I have tasted a genuine Chicago style roast beef sandwich that can compete with the best in 'Chi Town'. The new pastrami sliders are fabulous and are served on fresh baked rolls from Ethnic Breads along with what else? Three pickles! The sliders come three for only $7, and for nostalgia's sake each luncheon guest is presented a fortune cookie as a fun and appropriate ending.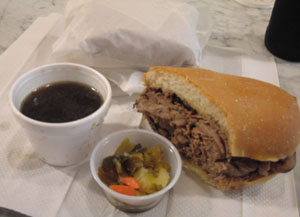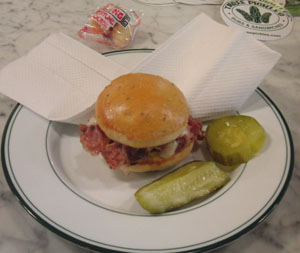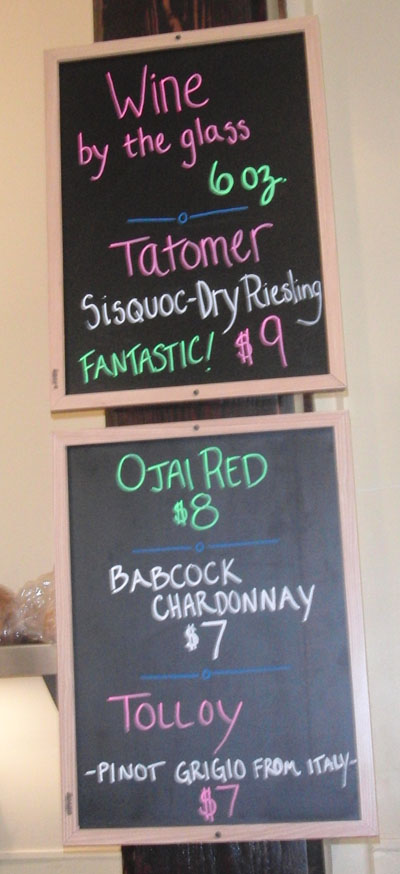 What is great about this comfortable operation is not only the authentic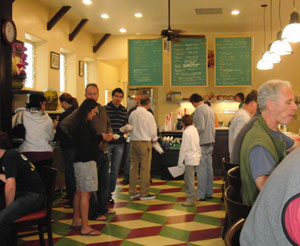 deli food they serve, but also their enthusiasm about what they are doing. According to the owners the new venture will also include the opening of the bar on the adjacent side of the property, where dinner fare will be served with a choice of six beers, including Stella Artois and wines by the glass by Tolloy, Babcock and Tatomer.
Some of us inquired if the new bar area might  be called Get Pickled? In any event, it is a great place where everyone is having a delicious time enjoying the best affordable NY style deli food with favorite beverages. I highly recommend lunch here, look forward to dinner and I wish them sensational success in 2011.  BC
---