SEAGRASS...FINE DINING IN SANTA BARBARA
by Bonnie Carroll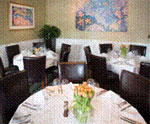 Seagrass opened on Christmas Day in Santa Barbara 2007, on the site of the old Sage & Onion Restaurant, and it came as an unexpected surprise to everyone, including Mitchell Sjerven, Josh Brown, and Leila Hamilton, who were anticipating an opening later in January 2008. I stopped by on Christmas morning to see how everything was going, and the venue was a hub of activity. The excitement and anticipation of the special evening to come was electric. The room was still being finished, and Mitchell Sjerven was smiling and said he was thrilled with the menu, room, and the support he was being given by his staff and Santa Barbara patrons. The restaurant was fully booked on opening night, and was fully booked on the night of my visit a month later.
Mitchell Sjervan, your host, is an amazing person who manages to make every person coming in the door feel welcome and familiar, and assists patrons with menu details and wine pairing suggestions.  He is like an encyclopedia of food and wine knowledge due to his long career in the industry. Mitchell is also the proprietor of Bouchon Restaurant, a favorite venue to local residents and vacationing visitors.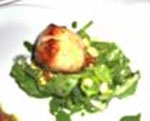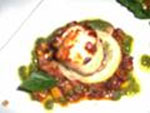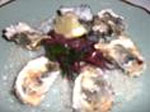 The menu offers the best of fresh seafood you will find anywhere, and the steak is superb as well. The restaurant boasts using only the best in products, including fruits, vegetables, cheese and dairy products. Josh Brown also has many years experience as a chef, and his flavor combinations are sensational.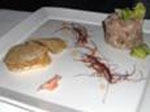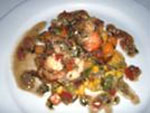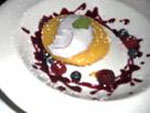 I would recommend the following for your dining enjoyment the Seared Giant Sea Scallop, which comes in a choice of Ratatouille, Thai basil, herb pesto & lemon confit; Coconut black rice, green curry & spiced apricot chutney or  'Sauce asperge', fennel oil, corn, watercress & lipstick pepper. They all melt in your mouth, and the unique flavor combinations are exciting. I adored the delicately prepared baked Littleneck Clams 'Casino' with spinach, chorizo that were stuffed with parmesian and served with béarnaise sauce. This was not only a sensational presentation, but an unforgettable seafood dish. Selections from the 'Four Fresh Fish' menu are all unusual and delightful dishes. For lobster or steak aficionados there is the steamed Santa Barbara Spiny Lobster Tail, served on butternut squash, fava bean, leek, corn & applewood-smoked bacon succotash, as well as the seven-say aged 9 oz. Filet Mignon with horseradish demiglace, saffron creamed corn and potatoes 'au gratin' are also extraordinary.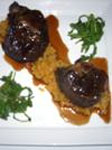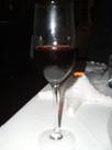 ---
A TASTE OF LIGURIA ITALY
Hosted by Italian Tourism Leaders
by Bonnie Carroll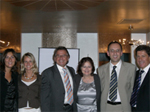 It was a delicious taste of Liguria dinner, held at Valentino Restaurant in Santa Monica and was hosted by Angelo Berlangeri, Director of the Regione Liguria Tourist Board, Pompilio Fabrizi, Director of the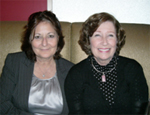 Italian Government Tourist Board, Western USA, Claudia Gori and members of the executive staff.
The tasting lunch included the delightful food of Piero Selvaggio and wines of the Liguria region. A presentation was given by Angelo Berlangeri of Liguria Tourist Board and the entertaining translation was made by Emanuela Boni, LA I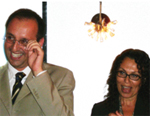 talian Government Tourist Board. The informational video was filled with inviting views of this beautiful seaside area, and provided historic and cultural details on the Italian riviera destination.
Regarding Piero Selvaggio's vision for Valentino, it was to bring Italian culture, food and wines to America, and his dream is now realty. His splendid restaurants include Valentino in Santa Monica; Valentino Las Vegas in the Venetian Hotel & Casino, and Giorgia Caffe & Restaurant in the Mandalay Place in Las Vegas. For Liguria information contact www.italiantourism.com,for restaurant information visit:
www.valentinorestaurants.com.
---
"CHEF'S TABLE"

From the 14th to the 25th of April 2008, every evening from Monday to Friday - a unique dining experience in the heart of the Ritz kitchens

We all wish for our happiest moments in life to remain unforgettable memories!
Chef Michel Roth invites you to a unique dining experience in the mythical kitchens of the Ritz.

As privileged guest of the Chef, you will be welcomed into the kitchens for an exceptional dinner where you will discover a magical universe; you could observe the preparation of the finest foods, watch the creation of the most surprising desserts accompanied by the graceful dance of the wait staff.

Seated in the heart of the kitchen, the Chef's Table is the perfect occasion to discover Michel Roth's latest creations through this menu - especially put together for the event:

Appetiser
Foie gras with apple and rhubarb
John Dory cooked in a beurre blanc with cockles
Sweet interlude
Lightly sweetened strawberries on a shortbread crust

The Chef's Table is available from Monday to Friday at 250 € per person, including a bottle of Ritz Brut Champagne as well as mineral water and coffee.
We will only be welcoming 2 guests per evening
---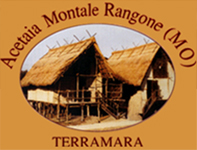 THE FINEST IN ITALIAN BALSAMIC
From Rimini Italy
For information visit: www.acetaiamontale.it


---