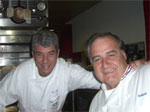 CAFE DES ARTISTES
The Best of Paris in Puerto Vallarta
by Bonnie Carroll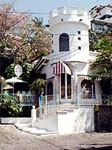 The reputation of Thierry Blouet's culinary talent is known far and wide, but upon entering the Café des Artistes you are face to face with walls full of accolades from international culinary organizations and professional gourmet associations that confirm his excellence in the world of sublime food preparation. Blouet is also one of the dynamic trio of chefs who have championed and produced the Festival Gourmet International in Puerto Vallarta that is in its XIII successful y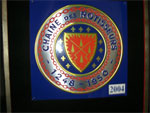 ear.
During the XIII Festival in November Blouet held master cooking classes with visiting chef Frederic Castan, Executive Chef of St. Regis Resort in Dana Point, California. Castan, an award winning chef of major renown presented his dishes in Blouet's open classroom at Café des Artistes, where it was standing room only. Recipes created included a modern red pe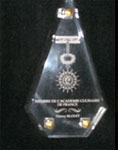 pper gazpacho and cucumber gelee, olive oil poached Hawaiian escolar citrus and chipotle chili sabayon, orange oil, and a hazelnut leaf dessert served with passion fruit sorbet.
The restaurant has many levels, and represents many art forms. Above the cooking gallery there is a magical white and silver dining room surrounded by glass, giving the feeling of dining in an atrium. The wall in front of the window's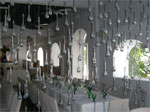 is a waterfall garden that takes patrons to a world of light and soothing music as they savor some of the finest food in the world. The front dining at the lower level is surrounded by strings of colored glass raindrops, and this room was the sparkling venue for a wine tasting hosted by Blouet during the festival. The outside garden is on the second level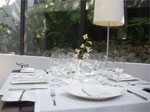 and is filled with colorful art, and has a jungle-like feeling. Every inch of this venue is filled with beautiful art, and the restaurant is actually located across the street from the art gallery owned by chef Blouet. There is also a clubby cigar bar where patrons can enjoy a fine cigar, wine and appetizers. The wine bar boasts 50 vintages by the glass. A trip to Puerto Vallarta without a visit to Café des Artistes would be such a sin. Bon Appetit!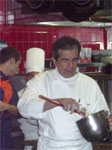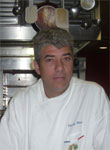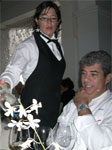 Cafe des Artistes
Guadalupe Sanches 740
Puerto Vallarta 48300 Mexico
www.cafedesartistes.com
---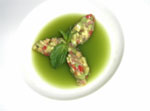 Executive Chef Frederic Cantan
St. Regis Resort, Monarch Beach
MODERN RED PEPPER GAZPACHO AND CUCUMBER GELEE
Ingredients:
4 red bell peppers, seeds removed
3 large red tomatoes, vine ripe & peeled
2 slices of white bread (crusts removed)
1 avocado
½ of a red onion
1 lemon (juice of)
1 cup extra virgin olive oil
Salt & pepper
2 tablespoons sherry vinegar
1 teaspoon cumin
1 garlic clove, chopped
¼ spoon of Tabasco
2 cucumbers, seeds removed (blended to make juice)
4 sheets of gelatin
1 cup extra virgin olive oil
1 bunch of fresh basil (leaves only)
Gazpacho
Cook the bell peppers in boiling water until very tender. In the meantime, remove skin from tomatoes by plunging in boiling water for 40 seconds, and then placing in ice water. Cut them in half and remove seeds
When the peppers are cooked, put them in blender with tomatoes, bread, cumin, garlic, vinegar, salt, pepper and Tabasco; blend well until smooth, slowly add some extra virgin olive oil while still blending.
Avaocado Tian
Dice avocados and onions as small as possible. Mix in a non-reactive b owl. Add some oil, lemon juices, salt and pepper and mix again

Basil Oil
Blanche gthe basil in boiling water for 2 minute4s than transfer into ice water. Squeeze all water out with paper towel. Transfer into the blender, add 1 cup of olive oil and blend for 1 minute.
Cucumber Gelee
Blend the cucumber, without seeds and skin on, until liquefied. Strain it into a very fine mesh, season with salt-pepper and lemon juice. Soak the gelatin in ice water to "bloom" it, strain and put into a smaller bowl over a double boiler until melted. Incorporate tha gelatin into the cucumber juice and pour into a soup bowl, about ½ inches. Refrigerate for three hours until gelled.
Assembly
Take avocado mix and make small spoonful or "quenelle" shape with a large teaspoon, put 3 of these over the cucumber gelee in a soup bowl. Pour the Gazpacho over the gelee. Finish with some basil oil.
It is a great presentation to bring the plate of gelee and Avocado Tian "quenelie" to your guest: then pour the gazpacho on top at the table.

---
THE ART AND PLEASURES OF TAKING TEA AT THE GRAND DEL MAR
Weekend Afternoon Repast: A Quintessential Delight
In the Library at The Grand Del Mar, there's a very special way to reward yourself and other worthy parties after a week of the usual stress, minutia, business and other weighty concerns. Taking tea conjures up sought after imagery of pampering, luxurious relaxation, delectable bites served on fine china, well-deserved service – all in a handsome, comforting environment. This is the way to enjoy a leisurely teatime…
WHAT: Afternoon Tea at The Grand Del Mar
Enjoy two-and three-course tea service, complete with Bernardaud china and Italian linens. Offerings include:
Tea Sandwiches, such as Egg Salad and Bacon; Smoked Chicken Salad; Smoked Salmon and Dill; Balsamic Mushroom Tarts
Scones – one traditional and one seasonally inspired flavor
Pastries, such as fruit tarts, orange madeleines, cherry bombs and éclairs
The menu also includes a selection of wines, including luxurious sips of Billecart-Salmon, Rosé, Brut, Mareuil-sur-Ay; Dow's Tawny 20 Yr. Port; as well as sherry and dessert wines such as A. Margaine, 'Demi-Sec', Villers Marmery.
When: Friday to Sunday – 2 to 4 p.m.
Where: The Grand Del Mar
In the Library (adjacent to the Lobby Lounge)
5300 Grand Del Mar Court, San Diego, CA 92130
Tel: 858-314-2000
www.thegranddelmar.com
HOW: Tea service starts at $28 for two courses and $36 for three courses. For reservations, please call (858) 314-1988.
About The Grand Del Mar
Situated amid a private preserve in Coastal North San Diego County, The Grand Del Mar opened its doors in October 2007. The luxury resort features: 249 elegantly appointed guestrooms and suites; San Diego's only Tom Fazio-designed championship golf course; two outdoor tennis courts; a 21,000-square-foot Renaissance-inspired spa; four swimming pools; regional dining, including Addison, the award-winning restaurant; and more than 20,000 square feet of indoor/outdoor meeting space.