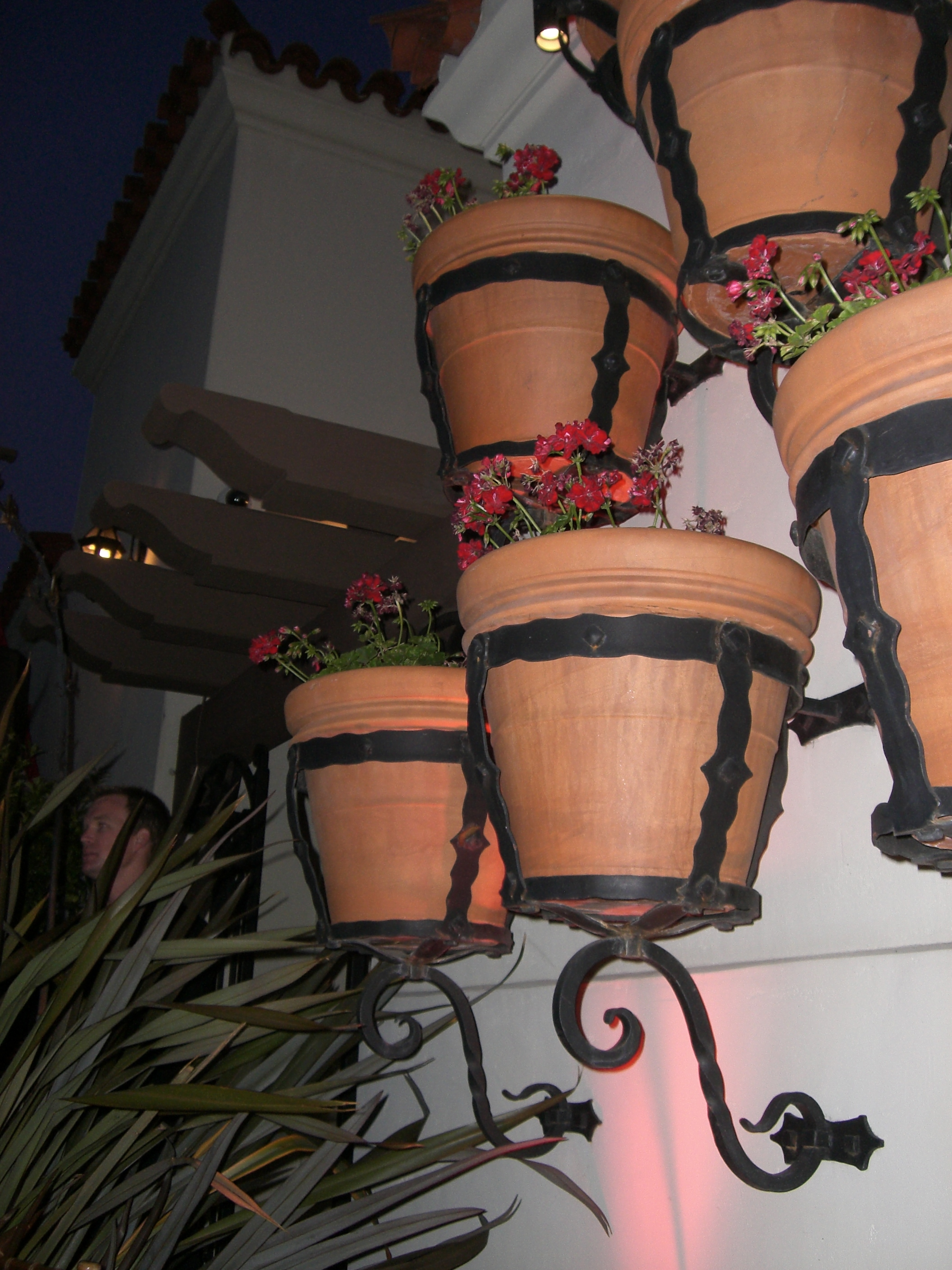 CANARY HOTEL HOSTS 4TH OF JULY BASH
by Bonnie  Carroll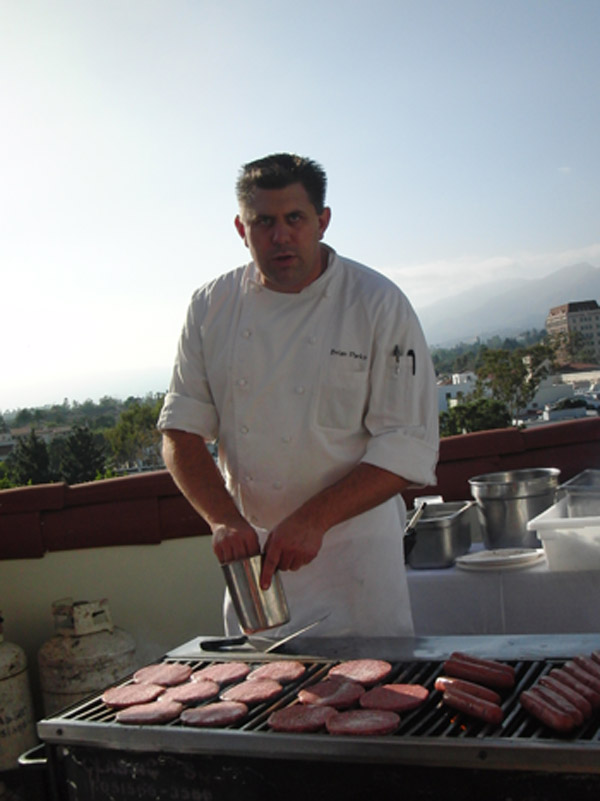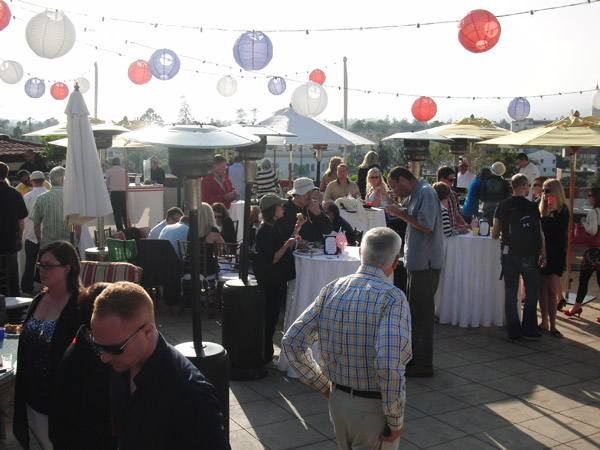 We all have memories from our childhood regarding family fun on the 4th of July, and it is a special treat when as an adult we experience something that brings all those good times of the heart to the surface. Well, that was the case at the Canary Hotel celebration. It was red, white, blue and wonderful on the rooftop of the Canary Hotel, located at 31 W. Carrillo in Santa Barbara, where attendees of America's birthday party enjoyed great music, American foods, and a fabulous fireworks display.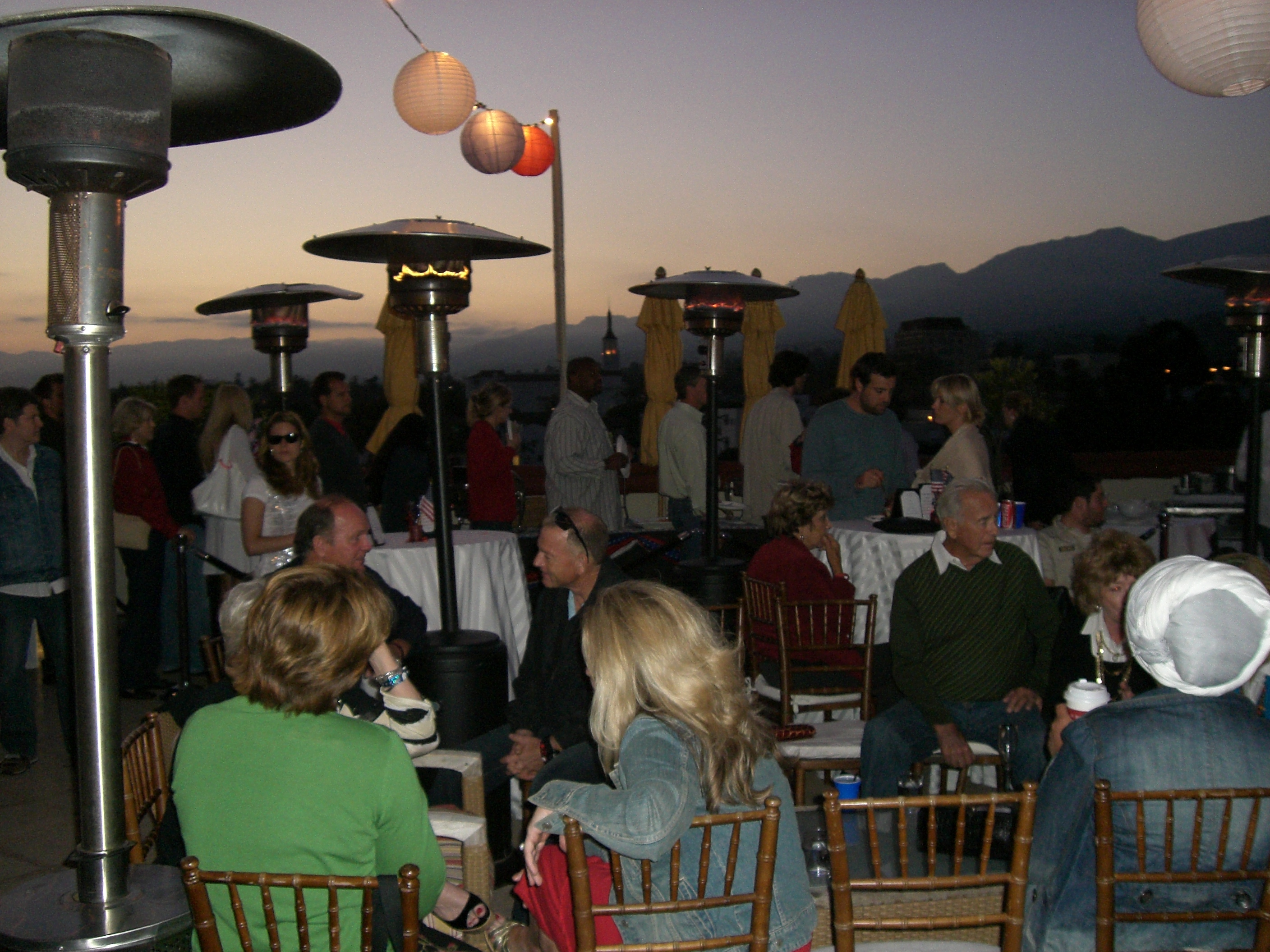 Executive Chef Brian Parks prepared a BBQ that included hamburgers, chicken, hot dogs, sausage, green salad, home style potato salad, baked
beans, watermelon and more. It was all delicious and enjoyed thoroughly by guests who included former UCSB graduates visiting for the weekend, families who were vacationing in Santa Barbara, and a bevy of locals who just wanted the best venue in town to view the July 4th fireworks display. Coast Restaurant in the hotel is open for breakfast, lunch and dinner where Chef Parks presents the best in farmer's market produce and the freshest seafood in delicious plates and appetizers daily, but the chef's party menu was an authentic Americana delight.
People were dancing in their seats and around the pool to great music, and the general feeling was one of family fun at its best. Guests enjoyed the food and beverage buffet and when the fireworks began it was standing room only on the ocean side. A day that began as June gloom ugly had turned out to be one of the clearest July 4th celebrations at the beach in years. The panoramic views from the hotel were picture perfect. It was obvious this American birthday party on the Rooftop in Santa Barbara was a night everyone will be happily to remember as the best, at least until there is a better party to top it next year. For hotel information visit: www.canarysantabarbara.com.
---
SANTA BARBARA FIESTA 2010 "CELEBRACION DE LAS DIGNITARIES
Presented jointly by Old Spanish Days and the Zoo, this event honors Santa Barbara's elected officials. The event features live entertainment, dancing, margaritas, and tempting treats from more than 20 local restaurants and 10 local wineries. It's Fiesta's wildest party! Food is served from 5:00-8:00 p.m.
This event is for guests 21 & over. If available, tickets will be sold at the door for $100.
NOTE: No one under 21 years old will be admitted.
500 Ninos Drive, Santa Barbara, CA 93103
$85.00 (805) 962-6339 http://www.sbzoo.org/events
For Fiesta Schedule visit: http://www.oldspanishdays-fiesta.com.
---
Bread & Roses 2010 is just 52 days away -
Sunday, September 19th, 2010
4:00 p.m. to 8:00 p.m.
QAD Headquarters on Ortega Hill in Summerland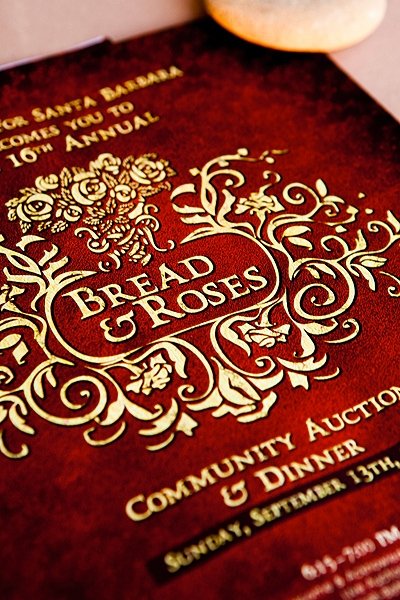 ---
The Culinary Institute of America's 13th Annual
Worlds of Flavor® Conference & Festival 2010
JAPAN: FLAVORS OF CULTURE Over 50 of Japan's Most Accomplished Chefs and Food Professionals
The Culinary Institute of America (CIA) announces that its 13th annual Worlds of Flavor

®

International Conference & Festival, (
www.worldsofflavor.com
), considered to be the premier professional event on global cuisines and flavor trends in the country, will be devoting its entire 2010 event to Japanese cuisine. From November 4th-6th, the aptly dubbed JAPAN: FLAVORS OF CULTURE—From Sushi and Soba to Kaiseki, A Global Celebration of Tradition, Art & Exchange will be held at the CIA's historic and scenic Napa Valley campus at Greystone, where California's mecca of wine and food culture will set the ideal trans-Pacific stage for industry icons, from Japan, the United States and all over the world.
More than 50 of Japan's most accomplished chefs and food professionals, from legendary three Michelin star kaiseki restaurants of Kyoto to the bustling noodle bars and yakitori places of Tokyo, will gather to lead conference sessions devoted to mastering Japanese food ingredients, beverages, techniques for flavor development, aesthetics of presentation, and more, with a balance struck between traditional and modern Japanese culinary styles.  Participating top American chefs and operators—including celebrated Japanese-American chefs—will discuss how they are translating Japanese flavors for a new-generation of U.S. foodservice concepts and menus.
Aimed at American foodservice professionals, the conference will feature a vast expanse of seminars and workshops, exploring everything from the mysterious, distinct flavors of dashi and umami, to the ultra-precise art of Japanese knife techniques, to different regional Japanese street foods. A few seminar and workshop titles include Soba: Mastering the Techniques of One of Asia's Great Noodle Traditions; Building Umami with the Japanese Market Basket; Bincho-tan: Japanese Grilling and the Artisinal Craft of Specialty Charcoal; Mastering Japanese Rice Cooking—and Exploring Innovative Whole Grain Blends; and Of Greens, Ginger, Shiso, and More: The Irresistible Worlds of Japanese Pickles.
There will be an impressive cast of Japanese celebrities and chefs leading conference sessions devoted to mastering Japanese food ingredients, beverages, techniques for flavor development, aesthetics of presentation, and cultural practices. Short of devoting your life to a multi-year culinary tour of Japan's various islands and sub-cultures, learning from all these masters under one roof is a once in a lifetime opportunity. Multiple Michelin Three-Star chefs including Yoshihiro Murata of Kikuno in Kyoto, 15th generation chef and owner Yoshihiro Takahashi of Hyotei in Kyoto, and seasonal locavore Kino Tokuoka of Kitcho Arashiyama Restaurant in Kyoto will be among more than 50 chefs and food experts presenting from Japan.
The monumental crowd of over 700 attending chefs, food professionals and journalists will be there to learn from stars like original Iron Chef and Asian-fusion icon, Masaharu Morimoto, and Chef David Chang of the unanimously coveted Momofuku group. Also attending will be Thomas Keller, considered by most to be the best American chef alive today along with José Andrés, unofficial Spanish ambassador to the United States and host of PBS' Made in Spain. In addition to chefs, other renowned food professionals such as Harold McGee, the food science pioneer, and author of renowned, award winning cookbook: On Food and Cooking will also be doing his part in the celebration of Japanese cuisine. Not to mention culinary wordsmiths like Ruth Reichl, former Editor-in-Chief at Gourmet magazine and high-profile New York Times food writer, Elizabeth Andoh, writer and lecturer specializing in Japanese food and culture, and Harris Salat, farmer turned journalist with multiple cookbooks and a wildly successful Japanese food blog.  With a growing cast of Japanese and American food celebrities, this year's Worlds of Flavor Conference will undoubtedly be remembered as the most expansive, substantial, and star-studded celebration of Japanese cuisine to take place in the United States. 
Tickets are still available for foodservice professionals and culinary educators. Tickets are $1,095 for Advanced Purchase Registration (through Aug 31) or $1,295 for General Registration (Sept 1-Nov 1). To access more information about this event, please visit
www.worldsofflavor.com
, where you can view a list of presenters and their biographies, check out an ever-expanding  glossary of Japanese foods and cooking techniques, read "Presenter Spotlights" and sign up to receive e-mail bulletins about the conference. To become a Fan of the conference's Facebook page, which posts interesting articles about Japanese food and culture, biographic sketches of presenting chefs and more, please visit CIA Worlds of Flavor on Facebook.
---
Market hall in a former railway viaduct in the trendy Zürich-West district

In Zürich's former industrial district, a viaduct conducts trains from the north into Zürich's Main Railway Station. A second viaduct, no longer in service, runs parallel providing a passageway for pedestrians and cyclists. The junction of the two viaducts provides room for Zürich's first covered market hall. Vendors offer fresh vegetables, meats and fish along 1600-ft market aisles. Thirty-six other viaduct arches house numerous shops, restaurants, studios and creative services. The two viaducts were built in 1894 and are important monuments of historical railway-building technology and the industrial development of Zürich.

Current dates
With the second stage finished, numerous shops have been open since July 2010, perfect for strolling and shopping.

On September 4th 2010, the market hall is opening its doors in a unique ambience and is sure to find fame as a place where you can find top-quality, gourmet products with a large selection of items from local producers. M-Sat 8am - 8pm.

Map of the viaduct with all shops
Journey information
Press release with more information

Address:
IM VIADUKT
Viaduktstrasse
8005 Zürich
www.im-viadukt.ch


---
You are invited to the 7th Annual
Paso Robles Olive Festival!
Olive Festival
Peruse Downtown Paso Robles City Park for a full day of Olive Inspired Fun!  Enjoy free olive oil and olive product sampling sure to delight the senses.  Experience Culinary Row where delicious food awaits your arrival.  Enjoy beer and wine tasting while watching an open olive dish cooking contest.  Your day is not complete until you try a free sample of olive oil ice cream!
Friday Night Pre-Olive Festival Social Mixer
Friday, August 20, 2010 6:00 pm - 8:00 pm
$25.00 person
Paso Robles Inn Ballroom
Call now to reserve your tickets at 805-238-4103
Serving: Hors d'oeuvres, Local Wine & Olive Oil Tasting Bar

Saturday's Olive Festival Events
Saturday, August 21, 2010 10:00 am - 5:00 pm
Festival is open to the public!
Wine Tasting is $15.00
Paso Robles Downtown City Park
Call now for questions 805-238-4103

OLIVE FUN FOR THE KIDS
Freckles the Clown
Native American Sand Painting
Rock Painting with Native American Designs
Olive Branch Wreath-making
Caterpillar Tunnel - for the toddlers
Jewelry making with beads
Bean Bag Toss (Ages Toddler to age 5)
Bag Decorating with Jewels
Decorate a Bug Jar
Guess the number of Olives in the Jar
OLIVE FUN FOR THE ADULTS
Olive Oil Tasting
Wine Tasting
Head to Head Chef Competition
Beer Tasting
Art Galleries
Olive Tasting
Cooking Contest
Recipes
Gourmet Food Vendors
Olive Trees and Garden Items
---
---