XIII FESTIVAL GOURMET INTERNATIONAL VALLARTA MEXICO
Classical Cuisine at its Finest
by Bonnie Carroll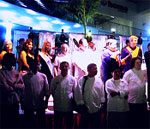 The 'Stars of the Culinary Kingdom' came out for the 13th Annual Gourmet Festival in Puerto Vallarta to celebrate the best in gourmet food, wine and friendship. Guest chefs from around the world joined host chefs form a bevy of hotel properties and award winning restaurants to wine and dine foodies, friends and family.
Guests were welcomed by Ney Manuel Gonzales Sanchez, Governor of the State of Nayarit, as well as representatives from Riviera Nayarit and Mexico Tourism. The committee for the festival is comprised of three dedicated chefs, co-founder Thierry Blouet, Heinz Reize, a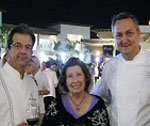 nd Roland Menetrey, who are an amazing triangle of talent and dedication to the art of food.
The Plaza Peninsula was the site for the welcome reception at Thierry's Prime Steak House. The evening was filled with awards, live music, fun and fireworks. Chef's from throughout the US and Europe were present, including Conny Andersson, Executive Chef of the Four Seasons Hotel, Beverly Hills, who's talent is being usurped to create new exotic flavors at the Punta Mita Resort. Chef Frederic Castan, St. Regis, Monarch Beach did a Master Cooking Class with Thierry Blouet at Café Des Artist that was astounding, and was followed by a wine tasting in their magical tasting room.
Dinner guests of Dennis Whitlaw, General Manager of Casamagna Marriott Puerto Vallarta Resort & Spa with Executive Chef Fred Ruiz and guest Chef Chris Borsi from Cleveland, Ohio, enjoyed a meal where seafood specialties with exciting flavors reig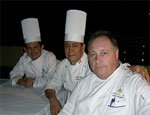 ned. A special Tequila tasting preceded the dinner at Las Casitas by the pool, where guests were given lessons in how to know the qualities of a fine tequila.
Dinner at Grand Velas, hosted by Oscar A. Cruces Gutierrez and Luis Angarita on the roof of the property,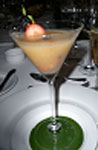 was an example of the best of everything. The table setting was only surpassed by a star filled night sky, and each course was better than the last, each paired with outstanding wine selections. The Casa Velas Boutique Hotel and the Grand Velas All Suites & Spa Resort are among the most beautiful in the City. The Grand Velas offers a milieu of restaurants featuring Gourmet French, Italian-Mediterranean, Mexican and International cuisine. The Spa offers treatments with wonderful names like "Diamond Body Scrub" and is renowned for healthful services.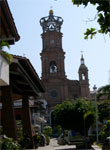 Puerto Vallarta, a sister city of Santa Barbara, is known for its art walk and historic church in the center of the city by the sea. The charming shopping mecca attracts tourists from throughout the world to enjoy a leisurely walk, while stopping to buy art and gifts.
The restaurants here are many and some are five star destinations. It is fun to watch food merchants cooking and selling food on the street, and a popular item there is fresh fruit on a stick. Although there are typical Mexican vendors everywhere, there is also Starbucks, and who among us does not enjoy a surprise coffee mocha.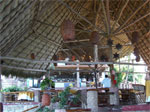 Le Kliff Restaurant & Bar is managed by Carlos Guzman, and the Executive Chef is Ciarin Duffy. Draped gracefully on the edge of a cliff, overlooking the ocean, this structure is an architectural fete by anyone's standards. The lower garden areXIII Festival Gourmet Internationala is a favorite venue for weddings, and the upper dining room is an unforgettable spot to enjoy lunch with friends. The menu offers very unique dishes, including a fantastic lobster bisque, and jelled coffee and milk dessert that looks as good as it tastes. The fresh seafood entrees are many and one is better than the next. Guzman is quite proud of his wine celler, which is filled with wines from around the world. Dining at Le Kliff is an experience that should not be missed when in Puerto Vallarta.
Mestizo Restaurant is a garden setting, and the chefs are young and highly creative. The family style seating and atmosphere make for a fun and lively place to enjoy friends, and experiment with new flavors and tastes. It was like dining in the private garden of relatives, and most enjoyable.
The Puerto Vallarta Film Festival is scheduled for December 5-9, and if you should be inclined to fly down to see the many great films competing, try some of the wonderful restaurants, café's and hotel dining rooms I have mentioned, as well as some I did not get to. You will not be disappointed. For tourism information
visit:www.visitpuertovallarta.com.
---
RECORD Number of Food & Beverage Professionals Convene at Diversified's Cultural Food New York Events
Kosherfest, All Asia Food, and Expo Comida Latina 2007
Attract More than 10,000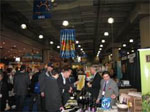 Natural, Organic, Upscale & Gourmet are New Trends in Kosher & Ethnic Foods
More than 10,000 professional attendees, exhibitors, and press converged on the collocated Cultural Food New York event featuring Kosherfest, Expo Comida Latina and All Asia Food. The events were held at the Jacob K. Javits Convention Center in New York City, November 11-12 downstairs from the International Hotel Motel Show.

"The surge of attendance confirms the ever-growing demand for these important categories of food and beverage for kosher, Hispanic, Asian and Organics," said Brian Randall, Show Director.
More than 700 exhibiting companies displayed the very latest in kosher, Asian and Hispanic food, wines, beverages and equipment showcasing thousands of products from more than 20 nations. This was the first time that all three shows exhibited together under its new brand name, Cultural Food Expo/New York. Cultural Food Expo also took place earlier this year in Los Angeles.
According to Adam Kaufman, a Kosherfest exhibitor and Best in Show winner of this year's New Kosher Product Competition for Mikee's Shiitake Teriyaki sauce, "Kosher consumers are looking for the same gourmet, new and exotic products that the non-kosher consumer enjoys. They want the ethnic foods and flavors, sauces and dips that are Asian, Hispanic and Italian. And, they want it healthier, with less sodium, no preservatives, and organic or all-natural, when possible. That's the new in kosher."
This was evidenced by the shear number of such products at Kosherfest, according to Menachem Lubinsky, co-producer and founder of Kosherfest. "If you walk into a supermarket store today you're likely to see hundreds of kosher products, from sushi to soy sauce, that you wouldn't normally associate with kosher," he said. The estimated number of kosher products available today numbers about 400,000. The number of people who purchase kosher, which encompasses observant and non-observant Jews, as well as non-Jews, is about 10 million.
Another important aspect to Kosherfest was the large representation of kosher companies and products from Israel, United Kingdom, Argentina and other countries, who are bringing the flavors and foods unique to their country to a broader market here in the USA. New items seeking to enter the U.S. market included healthy snacks, gluten-free pastas and snacks.
The excitement on the showfloor was high as Asian Restaurant News and Chinese Restaurant News presented the Top 100 Chinese Restaurant in the United States Awards ceremony. The awards honored the very best in Asian cuisine and more than 500 Asian foodservice operators were in attendance along with celebrity chef Martin Yan, who co-hosted the event. For a list of all winners go to:
www.top100chineserestaurants.com.
Next year Cultural Food New York, combining Kosherfest, All Asia Food and Expo Comida Latina, will move to the Meadowlands Convention Center in Secaucus, New Jersey on November 11-12, with new events and programs also in the works for 2008.

About Diversified Business Communications
Diversified Business Communications, a division of Diversified Communications, brings buyers and sellers together through award-winning publications and internationally acclaimed trade shows produced on four continents. Products in Diversified 's food portfolio include Kosherfest, All Asia Food Expo, Expo Comida Latina, the International Boston Seafood Show and Fine Food Australia. For more information, visit: http://www.divbusiness.com.

For a list of all Kosherfest New Product competition winners visit:
www.culturalfoodexpo.com/newyork.
---
EVIAN NATURAL SPRING WATER GOES HIGH FASHION WITH
THE LIMITED EDITION EVIAN BOTTLE BY CHRISTIAN LACROIX
World's Leading Bottled Water to Introduce
First in Line of High Fashion Creations

Evian® Natural Spring Water, the world's leading brand of bottled water, announced today that it will release the latest in its line of annual designer bottles. This bottle, designed by exhilarant French fashion designer Christian Lacroix, signifies the brand's dedication to chic sophistication, providing consumers with an epicurean experience in each of these limited edition bottles and commences a new annual tradition. Designer-developed bottles will now carry-on the legacy of the beloved holiday bottles, which have been viewed as collectibles since their inception.
Known for closing all of his haute couture fashion shows with a model dressed as a bride, Lacroix transfers this same desire of intricate elegance to the new Evian bottle. The Limited Edition Evian Bottle by Lacroix is adorned with a coppiced lace pattern, which provides the bottle with a classic frosted feel and is reminiscent of the flora that can be found at the French Alps. The curved lines within the design give the bottle a soft, inviting feel that is sure to entice all water drinkers.
"Christian Lacroix was selected to collaborate on this bottle because of his ability to break down doors in the fashion industry, creating masterpieces that are bold and daring, while maintaining an air of luxury," said Jeff Caswell, Vice President of Marketing for Evian North America. "His designs transcend the French fashion scene and have been accepted throughout the world, much like the path that Evian has followed throughout the years. Christian's knowledge of the human body plays perfectly with the curves of the classic Evian bottle and has provided the bottle with a look that is fitting for the runway."

The Limited Edition Evian Bottle by Lacroix is finding its way into the nation's most high-end restaurants, hotels and nightclubs and will also be available online at www.eviancouture.com. "Evian has always been favored by the trendsetting crowd, those that appreciate the finest things in life," said Caswell. "We are now excited to provide our loyal drinkers with not only the most premium water on the planet, but to also allow them the experience of a high-fashion designer without the high-fashion cost."

Creating new and innovative packaging is nothing new for Evian. The global bottled water leader has been involved in fashioning creative products and packaging for decades. Unique designs like the Nomad sports bottle, limited edition teardrop glass bottle, flip-cap bottle, 2007 French Alps bottle, hot pink label, the 2006 limited edition Romero Britto glass bottle, as well as the recently released fine dining-centric Palace Bottle prove that Evian is committed to packaging that is firmly rooted in ingenuity and imagination. The upcoming release of the Limited Edition Evian Bottle by Lacroix highlights the brand's commitment to providing creative appeal, premium style, and a luxurious experience to consumers.

About Evian
Bottled since 1826, Evian Natural Spring Water is the world's leading brand of bottled water. Every drop of Evian takes over 15 years to filter through mineral rich glacial sands in the pristine French Alps. Bottled at the source in a state of the art facility, Evian comes from the Cachat Spring located on the Southern shore of Lake Geneva, in the town of Evian-les-Bains. Evian provides a uniquely balanced mineral composition and subtle flavor as a product of its unhurried journey.
Today, Evian is a brand of Danone Group, a leader in the food industry and number one by volume in the world for packaged water and dairy products. Evian first entered the U.S. market in 1978, where it was served in the finest bars and restaurants in distinctive glass bottles, and is now accepted as the natural spring water for those, including many of Hollywood's elite, who like to treat themselves to the very best.