CRA BESTOWS 2005 HONORS
by Bonnie Carroll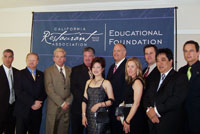 The California Restaurant Educational Foundation (CRAEF) board of directors honored Hall of Fame inductees Andrew & Peggy Cherng, Panda Restaurant Group, Inc.' Restaurant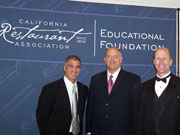 of the Year: Ralph Rubio, Rubio's Restaurants, Inc., Restaurateur of the Year and Mark Peel, Campanile Restaurant as Chef of the Year at the 2005 Hall of Fame receptions held on August 20 th at the Fairmont Miramar Hotel on Ocean Boulevard in Santa Monica.
Sponsors for the annual event included Tiffany & Company, and "California Grown." Cocktails and hors d'oeuvres were followed by a photo session, and everyone proceeded to the CRA Awards Dinner in the main dining room.
---
2005 WESTERN FOODSERVICE & HOSPITALITY EXPO
by Bonnie Carroll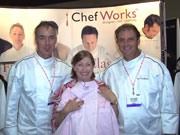 The 2005 show, presented by Reed Exhibitions, overflowed with visitors and exhibitors who enjoyed the new editions of The National Trophy of Cuisine et Patisserie shows, with the winners going to represent the U.S. at the 2006 International culinary & pastry trophy in Paris. The Culinary Institute of America (CIA) continuing education courses, the R&I New Product Tasting Arena, a bartending competition, along with the Brewery & Wine Gardens, International Tasting Arena, and the California Restaurant Association Conference Program.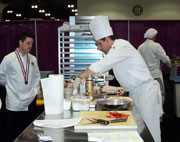 Everything from Gelato to Boggiatto baby lettuce was on display. The sweets and desserts were outstanding, as were the seafood nibbles, and visitors left well fed on samples, and well armed with new things in food & beverage to try at home. Many of the popular food publishers had a presence, but to my delight my old friend Ward Barbee, publisher of Fresh Cup Magazine and his staff were there showing off their slick looking latest issue, and talking up their new regional coffee show for 2005-2006.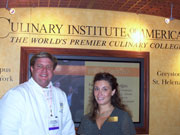 The final conference on Monday, which was attended by Governor Arnold Schwarzenegger, unfortunately crashed, or an attempt was made to crash it, by a group of hooligans who per portably represented California fire fighters. But, all in all, this was a wonderfully organized show that continues to be a mainstay in the foodservice & hospitality industry. For upcoming dates visit: www.westernfoodexpo.com.