COOKING FOR SOLUTIONS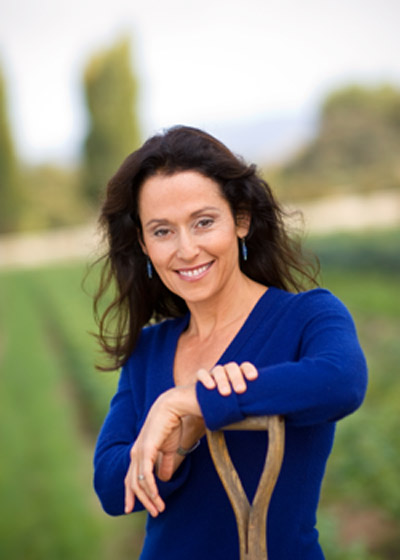 - ECO-FRIENDLY RECIPES
 Entrée salads from Chef Rick Moonen and
  Myra Goodman, co-founder, EarthBound Farm
TEQUILA FENNEL CEVICHE WITH MACKEREL
Tequila blends naturally with the lime and lemon juices and helps bring a creaminess to the mackerel.  Diced fennel adds crunch, which is always welcome.
Serves 4 as an appetizer
ACCEPT SUBSTITUTES
This ceviche also works very well with char, squid, or shrimp
 1 cup thinly sliced red onion
1/2 cup thinly sliced red bell pepper
1/2 cup diced fennel
1/2 cup chopped scallions
1/4 cup chopped fresh cilantro
1 tablespoon minced Serrano chile (with seeds)
1/2 cup fresh lime juice
1/4 cup fresh lemon juice
1/4 cup tequila
1/4 cup olive oil
1 pound mackerel fillet (Boston or
   Spanish), cut into 1/2-inch pieces
Coarse salt
Combine the onion, bell pepper, fennel, scallions, cilantro, chile, lime and lemon juices, tequila, and olive oil in a bowl. Stir to mix well.
Season the fish with salt and let sit at room temperature for 5 minutes.
Add the fish to the ceviche base and stir, making sure all the fish is covered by liquid. Cover and refrigerate for at least 2 hours, stirring occasionally, before serving.
Recipe from FISH WITHOUT A DOUBT by Rick Moonen & Roy Finamore, copyright @ 2008.   Reprinted by permission of Houghton Mifflin Harcourt Publishing Company.  All rights reserved.
BUTTER-BASTED SALMON WITH TEA
This is like a picnic at the dinner table. The salmon has the smokiness of a hot dog, the horseradish gives you the bite of mustard, and the cucumbers provide the sharpness of a pickle relish. That said, it is one elegant dish.
Serves 4
ACCEPT SUBSTITUTES
Char
4 (7-ounce) pieces wild salmon fillet, skin on coarse salt
2 teaspoons lapsang souchong tea powder (see note)
8 tablespoons (1 stick) unsalted butter
Mom's Cucumber Salad (see below)
Horseradish Cream (see below)
Season the fish on both sides with salt, then rub all over with the tea powder. Wrap the fish tightly in plastic and refrigerate for 2 hours.
Heat a 12-inch skillet over medium-high heat. Have a big spoon ready next to the stove as well as a few layers of paper towels. When the pan's good and hot, cut 4 tablespoons butter into pieces and add them to the skillet. When the butter has melted and stopped sizzling, add the fish, skin side down, putting it in the far side of the pan, leaving space in the part nearest you. Turn the heat down to medium and press down on the fish with a spatula; this helps set the skin, getting it started on its way to being crisp and delicious.
After about 2 minutes, cut the remaining 4 tablespoons butter into pieces and add them to the skillet. As the butter melts, tilt and pull the skillet toward you and start basting the fish, using that big spoon to pour the bubbling butter over the fish. You're pulling the skillet toward you so the fish will get the benefit of the heat, even thought you have the pan tilted; lower the pan once in a while as you're cooking the fish. As you cook and baste, the butter will brown and its nuttiness will flavor the fish. As the fish cooks, the flesh will turn milky pink. After 5 minutes, it should feel firm. If you have any doubts, use a knife to poke into your portion; the salmon should be rosy inside. Use a spatula to take the fish out of the skillet and set it on the paper towels. Use another paper towel to blot the salmon.
To serve, pile a mound of cucumber salad in the center of each dinner plate. Set a piece of salmon on top, skin side up, and spoon a ring of horseradish cream around the cucumber salad.
NOTE: I love the pure smoke flavor or lapsang souchong tea. To make the powder, just spoon some tea leaves into a spice grinder and process to a find dust. Keep it in a glass jar out of the light.
MOM'S CUCUMBER SALAD
My mom made something like this when I was growing up, though with red wine vinegar and no herbs.  I took her idea and played with it.  The cucumbers keep crisp, like a great dill pickle.
Serves 4
2 cucumbers, peeled, seeded, and cut into ¼-inch slices
Coarse salt
1 small red onion, cut into very thin slices
1 tablespoon sugar
1 tablespoon chopped fresh dill
About 1 cup rice vinegar
Put the cucumbers in a colander with a generous teaspoon of salt and toss.  Fill a sealable plastic bag with ice cubes and put it on top of the cukes to weight them and keep them very cold.  Put the colander in a bowl and refrigerate for 1 hour.
Take the colander out of the bowl and shake the cucumber well over the sink.  Don't do anything like blotting them or rinsing them.
Put the cakes into a bowl with the onion, sugar, and dill.  Toss to combine.  Pour in the vinegar; it should just cover the cucumbers.  Cover and refrigerate for at least 1 hour before serving.
This will keep for at least 5 days in the refrigerator. This is the sauce I want with anything smoked or with a cod boiled dinner, which has the smokiness of bacon.  Making it the day before gives the flavors time to ripen.
HORSERADISH CREAM
Makes about 1 1/2 cups
1 cup crème fraîche
½ cup grated horseradish (fresh or prepared), drained
1 teaspoon Dijon mustard
1teaspoon chopped fresh dill
1 teaspoon fresh lemon juice
Coarse salt and freshly ground white pepper
Whisk the crème fraîche, horseradish, mustard, dill, and lemon juice together in a bowl.  Season with salt and white pepper and whisk again.
Cover with plastic and refrigerate overnight, if you have time, or for at least 30 minutes.
Recipe from FISH WITHOUT A DOUBT by Rick Moonen & Roy Finamore, copyright @ 2008.   Reprinted by permission of Houghton Mifflin Harcourt Publishing Company.  All rights reserved.
LOUIS SALAD
I bet you're wondering why this isn't called by its traditional name, Crab Louis. Well, this salad is just too good to be limited. As you'll see, you can make a Louis salad with lobster, with shrimp, with poached tuna (yum), with poached salmon, and, yes, with crab meat.
Think of the dressing as a West coast version of Thousand Island. The recipe makes enough for 4, but it keeps for weeks in the refrigerator, so you may want to double or triple it and have on hand.
Serves 4 as a first course
FOR THE LOUIS DRESSING
1 cup mayonnaise
2 tablespoons chile sauce
2 tablespoons heavy cream
1 teaspoon fresh lemon juice
Tabasco sauce
Worcestershire sauce
2 tablespoons minced cornichons or dill pickle
FOR THE SALAD
4 handfuls mixed greens
Boiled lobster (see below), poached shrimp (see below), poached tuna (see below),                                       poached salmon (see below), or jumbo lump crab meat
2 avocados, peeled, pitted, and sliced
4 large hard-cooked eggs, sliced or quartered
Chopped tomatoes (ripe summer ones or grape tomatoes)
FOR THE LOUIS DRESSING: Combine the mayonnaise, chili sauce, heavy cream, and lemon juice in a bowl. Add 4 dashes of Tabasco and 3 dashes of Worcestershire and whisk until smooth. Stir in the pickle. Refrigerate the dressing for at least an hour before serving, or make it way in advance.
FOR THE SALAD: Pile some greens on each plate. Top with a generous mound of seafood, and arrange the avocado, egg, and tomatoes around. Serve the dressing on the side.
Note: If you want to gild the lily, top the seafood with a spoonful of paddlefish caviar or salmon roe.
BETTER BOILED LOBSTER
I've boiled lobsters for years and years, each time pulling them out of the pot and seeing all that white stuff that looks like albumen floating in the water, and I thought there had to be a better way.  There is.  Follow this technique for richer, more lobstery-tasting boiled lobster.
This is a basic technique, so I'm giving guidelines, not amounts.  I've based this on lobsters that weigh between 1 ¼ and 1 ½ pounds.  For larger ones, increase the sitting time by 5 minutes per half pound.
Coarse salt
Live lobsters
Bring a large pot of well-salted water to a boil – at least 3 quarts for 2 lobsters.  You want ocean saltiness here, so a good rule of thumb is ¼ cup of salt for each quart of water.
When the water is at a full boil, drop in the lobsters head first and cover the pot.  Bring back to a boil and boil for 1 minute.  Turn off the heat and leave the lobsters alone for 20 minutes.
If you're serving the lobsters hot, pull them out of the pot with tongs.  Crack the claws in the kitchen, drain the lobsters, and serve.
If you've boiled the lobsters for a salad, pick them out of the pot and put them in a big bowl of ice water for 10 minutes to set the meat.
POACHED SHRIMP
Shrimp cocktail is a classic, but so often it just isn't made well.  Do me a favor:  try my recipe, and make it as close to serving time as possible.  The results – crisp, flavorful shrimp – are very much worth the effort.
Serves 4 as an appetizer
Classic Court Bouillon (see below)
1 pound extra-large (16-20) shrimp in the shell
Have a bowl of ice water ready for the shrimp.
Bring the court bouillon to a full boil.  Add the shrimp, stir, and bring back to a boil.  Turn off the heat and let the shrimp steep for 8 to 10 minutes, until just cooked through.  Pull one of the shrimp out at 8 minutes to check.
Drain the shrimp in a strainer and run some cold water over them to cool them down enough for you to handle them.  Pick the shrimp out form the vegetables; the shrimp go into the ice water and the vegetables go into the trash.  Let the shrimp chill thoroughly.
CLASSIC COURT BOUILLON (for poaching)
This poaching medium has it all: aromatics, acidity, and salt, concentrated to infuse fish with flavor.  Salt's important here.  Think of ocean water when you taste it.
Makes about 6 cups
1 large onion, cut into very thin slices
1 celery rib, cut into very thin slices
An herb bouquet (a bay leaf, a few sprigs of thyme, and some parsley stems, tied together with kitchen string)
5 cups water
¾ cup white vinegar
¼ cup coarse salt
1 teaspoon white peppercorns
6 sprigs tarragon (or another soft herb)
Combine the onion, celery, herb bouquet, water, vinegar, salt, and peppercorns in a saucepan.  Bring to a simmer over medium heat and cook at an active simmer for 15 minutes.  Add the tarragon and simmer for another 5 minutes, then turn off the heat and let the court bouillon infuse for 30 minutes. 
It's ready to use.
POACHED SALMON
I love tuna poached in oil so much that I had to try the technique with other fish.  Salmon's the most successful; the fish becomes meltingly tender.  Here it's perfumed with bay.
Makes 1 pound
5 small bay leaves
Olive oil
2 (8-ounce) pieces skinless wild salmon fillet
Coarse Salt
Put the bay leaves in a saucepan big enough to hold the fish in one layer.  Pour in ¼ inch of oil and bring to a simmer over medium heat.  Remove from the heat and cool to room temperature.
Meanwhile, put the salmon on a plate and salt it generously on all sides.  Let it sit at room temperature for 20 minutes.
Set the salmon on the bay leaves and cover it with olive oil.  Set the pan over medium-low heat and cook for 15 minutes.  The oil should just start to bubble at the end of the cooking time.  Remove the salmon from the heat and let it cool completely in the oil.
Transfer the salmon to a large jar, making sure the salmon remains covered in oil.  Store in the refrigerator.  It keeps for weeks.
POACHED TUNA
You can't beat the fresh ocean flavor of albacore you've poached at home.   I call for albacore because it's the most economical, but you could use any tuna.
Start with a 6-ounce piece of albacore and a small skillet or saucepan that's just wide enough to hold the fish.  Pour about 1 inch of water into the pan – enough to just cover the fish – and salt it well.  Add the fish and bring the water to a simmer over medium-high heat.  Once you've got the water simmering, take the pan off the heat and let the tuna cool in the water for 30 minutes.  That's it – it's that simple.
Lift the tuna out with a slotted spoon and pat it dry with paper towels.
Recipe from FISH WITHOUT A DOUBT by Rick Moonen & Roy Finamore, copyright @ 2008.   Reprinted by permission of Houghton Mifflin Harcourt Publishing Company.  All rights reserved.
MEDITERRANEAN SPINACH AND ORZO SALAD
Serves 4-6 
1 cup orzo pasta
4 ounces organic baby spinach
1/3 cup oil-packed sun-dried tomatoes, chopped
½ cucumber, peeled, seeded and diced
¼ cup kalamata olives, pitted and chopped
2 teaspoons chopped fresh oregano or ¾ teaspoon dried
Salt and freshly ground pepper
3 ounces feta cheese
RED WINE VINAIGRETTE 
½ teaspoon chopped garlic
1 teaspoon chopped shallot
¼ teaspoon dried oregano
¼ teaspoon dried thyme
½ teaspoon sugar
¼ cup red wine vinegar
½ cup extra-virgin olive oil
¼ cup canola oil
To prepare the vinaigrette, combine all ingredients in a jar and shake to mix. Cook orzo according to package directions.  While the pasta is cooking, combine spinach with the sun-dried tomatoes, cucumber, olives and oregano in a large bowl.  When the pasta is cooked, drain and rinse under cold running water until room temperature. Toss pasta with mixed vinaigrette to taste and the other ingredients in the salad bowl. Season with salt and pepper, if needed.
Serve at room temperature, topped with crumbled feta cheese.
 .
Recipe from Food to Live By by Myra Goodman copyright @ 2006. Reprinted by permission of Workman Publishing Company. All rights reserved.
HEIRLOOM LETTUCE SALAD WITH STRAWBERRIES, WALNUTS, AND GOAT CHEESE
Sweet-tart and succulent, strawberries are a true joy of spring and summer. This light and delicious salad uses whole organic heirloom lettuce leaves as a beautiful and flavorful base for the delightful blending of sweet organic strawberries, creamy goat cheese and toasted walnuts.   The flavors are melded perfectly by a quick-to-make balsamic vinaigrette that features toasted walnut oil.
Serves 4
7 ounces of prewashed organic heirloom lettuce leaves, whole (or substitute 5 ounces of prewashed organic spring mix)
1 pint of fresh organic strawberries, rinsed, dried, and hulled
1/2 cup walnuts pieces, toasted
1/2 cup crumbled goat cheese (about 2 ounces)
Cut the strawberries in quarters and toss with about 2 tablespoons of the dressing in small bowl and set aside. Place all of the lettuce leaves into a large bowl and add 3 tablespoons of the Balsamic Vinaigrette. Toss to lightly coat the leaves, then taste and add more vinaigrette, if needed. Transfer the lettuce to individual salad plates. Top the lettuce with the strawberries, toasted walnuts, and crumbled goat cheese and serve immediately.
BALSAMIC VINAIGRETTE
Makes about ½ cup
2 tablespoons balsamic vinegar
1/2 teaspoon Dijon mustard
3 tablespoons toasted walnut oil
2 tablespoons extra virgin olive oil
Salt and freshly ground black pepper
Place the vinegar, mustard and oils in a glass jar and seal the lid tightly. Shake the jar vigorously to combine. Season the vinaigrette with salt and pepper to taste. The vinaigrette can be refrigerated, covered, for up to 1 month. Let it return to room temperature before using.
Recipe from Food to Live By by Myra Goodman copyright @ 2006. Reprinted by permission of Workman Publishing Company. All rights reserved.
---
Little Door Owners, Frederic and Nicolas Meschin,
continue to elevate French Gastronomy in
Los Angeles Restaurant Scene

Wine Wall



Marketplace Selection



Outdoor Patio
Bordeaux-born brothers and nightlife impresarios, Frederic and Nicolas Meschin, opened The Little Door 13 years ago in order to provide discerning guests with the essence of an authentic European dining experience. With an emphasis on "educating the palette, speaking to the soul and opening hearts around the table," the Meschin's quickly became recognized as Los Angeles' ambassadors to a quality lifestyle experience on bustling 3rd Street known for several other hip and chic environs.
In search of perfect setting, they transformed the converted old school house into one of the most ambient and romantic restaurants in Los Angeles. With European and Mediterranean motifs, the restaurant resembles and feels more like a private sanctuary underscored by its discrete little door entrance. The unique setting soon became a destination for Hollywood A-listers, celebrities and trend-setters from all types of vocations.
But people don't just flock to The Little Door for the gorgeous outdoor patio and flowing fountain, they come for the cuisine. The brothers' childhood culinary experience fused with the Mediterranean influences of Chef T. Nicholas Peter, bring a unique and worldly flavor to the menu. They were the first to use fresh organic ingredients sourced from local farmers. This became signature for the restaurant, setting the bar for other LA restaurants to reach.
Now over a decade later, The Little Door's Mediterranean-inspired ambiance, extensive wine list and seasonal menu, has remained true to the Meschin's vision. This has allowed the restaurant to flourish and maintain a secure place in Los Angeles's pantheon of great dining experiences.
In an effort to expand on their vision, the Meschins opened an extension to the restaurant, Little Next Door in late 2006. Little Next Door is a classic French prepared-foods establishment and artisan market offering breakfast, lunch and dinner. Here one can find all the French delicacies and quotidian staples of a European lifestyle: fresh baked breads and pastries, sandwiches, salads and their own line of condiments, salad dressings and gourmet foods such as figs poached with vanilla bean and sun-dried tomato tapenade, packaged in classic glass jars with charming hand-made labels.
The newest addition to Little Next Door is their full service delivery option. The Brothers desire to extend the quality lifestyle experience to homes and offices of busy Angelenos. So now, one can have breakfast, lunch and dinner accompanied with fresh made dessert and a bottle of wine delivered to their door.
For Information visit: www.labite.com.
---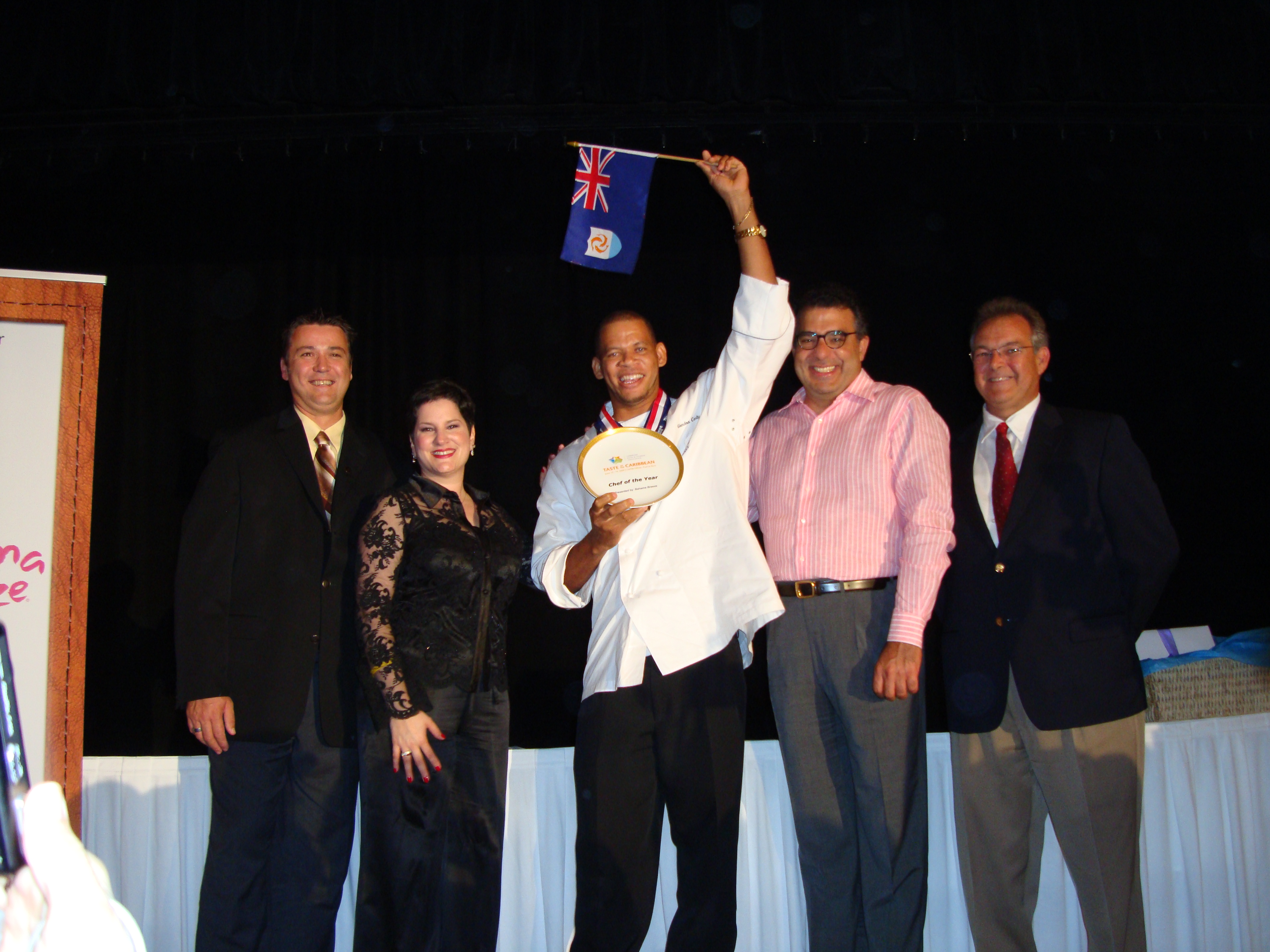 GLENDON CARTY CHEF OF THE YEAR!
---