Paradise Welcomes Four Celebrated Pinot Vintners to Four Seasons Resort Maui, June 7 – 9, 2012
Exclusive Event Features Wine Dinners, Gala Oceanfront Evening, Tastings, Seminars and Charity Golf Tournament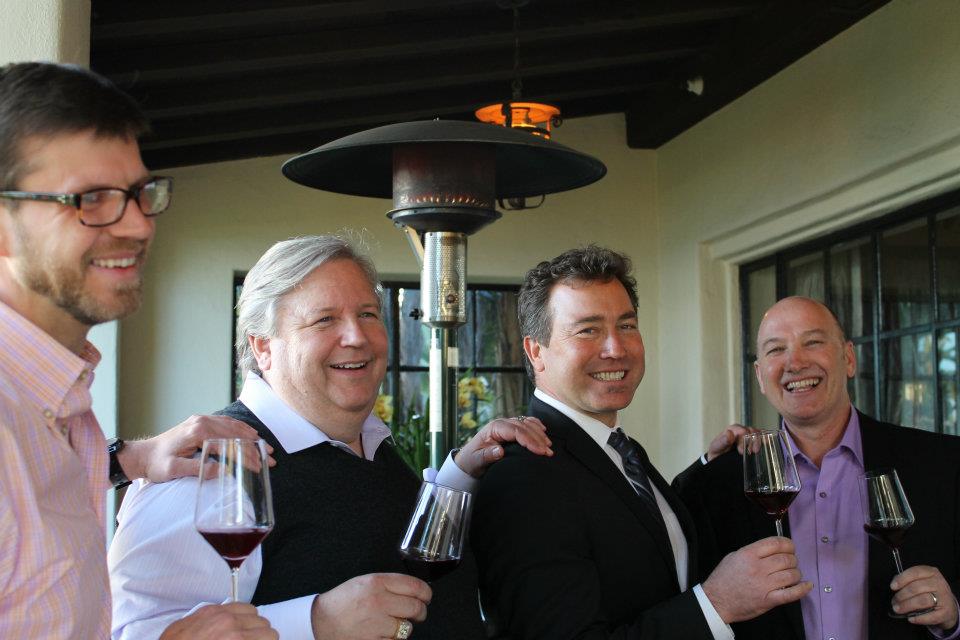 Vintners Webster Marquez of Anthill Farms, Donald Patz of Patz & Hall, Steve Clifton of Brewer-Clifton, Gary Burk of Costa de Oro at the kick-off event Monday, February 27 at Four Seasons Biltmore Santa Barbara
The richness and diversity of some of the best California Pinot Noirs will be featured when Four Seasons Resort Maui at Wailea hosts four top vintners from Anthill Farm Wineries, Brewer-Clifton, Costa de Oro and Patz & Hall at the June 7-9, 2012 weekend of palate-satisfying events at Maui's only AAA Five Diamond and Forbes Five Star resort.
The three-day event, "Four Pinots at Four Seasons Resort Maui," will include seminars hosted by Master Sommeliers Roberto Viernes and Chuck Furuya, with open format tastings of two wines from each winemaker each session; exclusive wine-pairing dinners, each featuring one winery held at each of the resort's award-winning restaurants—Ferraro's, Spago Maui and DUO, with a fourth dinner taking place locally.  Guest participants have a choice of dinners to attend. 
Guests also can take part in the Saturday golf tournament at the Wailea Emerald Course followed by lunch at Gannon's – a Pacific View restaurant.  The tournament will honor the Kimberly Project, a vineyard planted in honor of Vintner Greg Brewer's cousin, who lost her life at a young age.  All proceeds from the vineyard's production each year—and from tournaments like this one—benefit the North County Rape Crisis and Child Protection Center (Santa Barbara County).
The event culminates in a gala oceanfront wine dinner created by the resort's Master Executive Chef Roger Stettler, featuring 32 specially- selected Pinot Noirs and eight Chardonnays.  Local "farm to table" cuisine takes center stage with Maui local produce being displayed and personally presented by area farmers who will talk about their products and farming methods.  Fishermen will display and talk about their 'fresh catches' and the process of quickly going from sea to table. 
"We are pleased to offer guests—wine connoisseurs and enthusiasts alike--the opportunity to meet with and learn from four of California's premier winemakers about the heritage, traditions and production of many acclaimed Pinots and Chardonnays," says Mark Simon, marketing director, Four Seasons Resort Maui.  "We were also touched by how this close-knit group of winemakers has come together around the Kimberly Project; we're pleased to support this very worthy cause." 
Ticket prices for the various Four Pinots at Four Seasons Resort Maui Wine Events begin at $98 per person.  The resort concierge team will be able to discuss and customize a wine itinerary for attendees.  For information, call 808.874.2201.    
Unforgettable Events:  This event is one in a series of the resort's Unforgettable Events, hosted over the course of the year to provide guests with one-of-a-kind opportunities in the fields of sports, wellness, and culinary and wine.  Among the upcoming events are Fantasy Tennis Camp, Maui Cycling Camp, and the Wailea Food and Wine Festival during which the celebrated Red Violin – and its owner – will visit Four Seasons Resort Maui and perform a private concert.  For more information on these and future Unforgettable Events, view:   http://maui.enewsletters.fourseasons.com/unforgettableevents/
 
---
---