COASTAL UNCORKED FOOD AND WINE FESTIVAL TICKETS ON SALE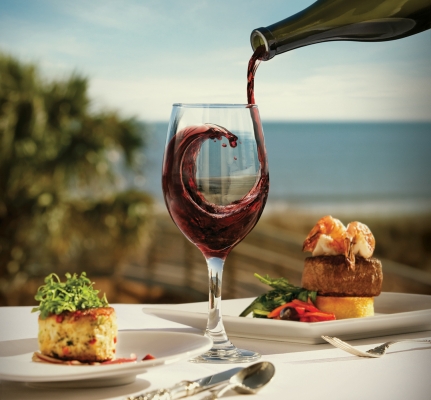 Tickets for the inaugural Coastal Uncorked Food and Wine Festival are now on sale. Tickets are available for purchase online at CoastalUncorked.com or by emailing events@CoastalUncorked.com. Ticket prices are as follows:
Restaurant Week – $20.10 per person
May 16-23, Various Times and Locations
Area restaurants will feature three course tasting menus throughout the week for $20.10 per person.
Cooking Demonstrations – $10 to $39 per person
May 16 – 23, Various Times and Locations
Hosted by some of the area's finest and most talented culinary experts, demonstrations will be offered in a variety of categories from wine pairing, to vegetable and ice carving, to Lowcountry cuisine.
Featured Wine and Beer Dinners – Pricing Varies Based on Location
May 16-23, Various Times and Locations
Throughout the event, various restaurants throughout the area will host themed wine and beer dinners featuring an array of culinary specialties as well as the finest wine and beer.
Myrtle Beach Pelicans Game and Picnic – Pricing TBD
Sunday, May 16, 3:05 p.m., BB&T Coastal Field
Guests are invited to enjoy a Pelicans baseball game as well as a gourmet hot dog picnic.
Coastal Uncorked Golf Tournament – $125 per person
Wednesday, May 19, 1:00 p.m., Pine Lakes Country Club
This all day golf tournament event will take place at Pine Lakes Country Club and will include beer tastings, as well as cuisine from several of the area's top restaurants.
Tasting Trolley – $50 per person for one day, $75 per person for two days
Friday, May 21 and Saturday, May 22, 12:00 to 5:00 p.m.
This culinary adventure will feature stops at 13 locations throughout the Myrtle Beach area, including area resorts, the Market Common and the new Boardwalk and Promenade. Each stop will feature themed cuisine as well as wine and beer tastings.
Food Fight Gala – $75 per person
Sunday, May 23, 6:00 p.m., Marina Inn at Grande Dunes
This fun-filled evening will feature an "Iron Chef" style competition between eight area chefs as well as beer and wine tastings and samplings from eight local restaurants.
"We are very excited to officially launch our ticket sales," said Heidi Vukov, owner of Croissants Bistro and Bakery and Coastal Uncorked spokesperson. "We have an amazing lineup of events scheduled for our inaugural festival and we are looking forward to a week filled with excellent cuisine, outstanding wine and phenomenal demonstrations."
Coastal Uncorked recently announced that Southern Living will be featured at the event in a variety of ways including providing a chef to present a cooking demonstration.
For more information, or to participate in Restaurant Week, email events@CoastalUncorked.com or visit CoastalUncorked.com to download the applications. 
About Coastal Uncorked
Coastal Uncorked Food and Wine Festival featuring Southern Living is the Myrtle Beach, S.C. area's premier food and wine festival planned for May 16-23, 2010. The festival will feature a restaurant week; a wine tasting trolley tour of Myrtle Beach; outdoor entertainment at Market Common, the Myrtle Beach Boardwalk and Promenade, and Broadway at the Beach; the Coastal Uncorked Golf Tournament; and the Coastal Uncorked Food Fight fundraiser. All funds raised during the festival will be used for future events and a portion will be donated to the Horry Georgetown Technical College Culinary School and the Clay Brittain Hospitality Program at Coastal Carolina University.
---

'LEGENDS IN THE KITCHEN' GIVES CHEFS STAR POWER
Portion of proceeds donated to Motion Picture & Television Fund
Chefs and novice cooks alike can impress friends and family with the very same dishes famous entertainers and dignitaries prepare and serve thanks to Legends in the Kitchen: Celebrity Recipes for a Cause, compiled by Mrs. Howard Keel & Linda F. Radke and published by Five Star Publications, Inc.

Dozens of celebrities have contributed their favorite recipes to this fabulous collector's cookbook--all for a good cause, as a percentage of proceeds from the sale of Legends in the Kitchen benefits the nonprofit Motion Picture & Television Fund, which has served the entertainment industry with a vast array of health, retirement, social and charitable services since 1921.

With Legends in the Kitchen, anyone can prepare the Beef Stew with Walnuts Betty Ford made for former President Gerald Ford, serve Beau Bridges Great Guac with corn chips at their next super bowl game, amaze friends with Ruth Buzzi's Cheese Blintzes or Dennis Weaver's Cheese Nut Loaf, or warm their families' tummies with Dick Clark's Cajun Corn Chowder, Victoria Principal's Jade Empress Chicken or Stefanie Powers' Pierogies.

Discover what Ruth Buzzi serves at dinner parties that are "always a big hit" and the story behind her Mystery Meat dish. Learn to make Pasta Fagioli from Michael Dante, who says it's the signature dish of his father who was born in Settefrati, Italy, and adds that it's one of the "favorite dishes of all Italians." Plus, find out what the Lone Ranger (played by John Hart) stuffed his chicken with.

In addition to being a source for interesting and creative recipes worth bragging about, Legends in the Kitchen is an ideal gift for someone special and a must-have for any serious cookbook collector.

Legends in the Kitchen: Celebrity Recipes for a Cause, (ISBN: 978-1-58985-054-5), retails for $17.95 USD or $18.95 CAN and can soon be purchased in bookstores and through BarnesandNoble.com, Borders.com, Amazon.com, Walmart.com, Target.com or indiebound.org. When purchased directly from the publisher at www.LegendsintheKitchen.com, all buyers receive a 24 percent discount in celebration of Five Star Publications' 24th year in business, and the first 100 orders receive a free copy of Only Make Believe: My Life in Show Business by Howard Keel. Visit www.FiveStarPublications.com for more info.
 "Legends In The Kitchen also donates a portion of the proceeds to the Motion Picture & TV Fund Foundation has some fun recipes..created by or favorites of some of my favorites like Betty White, Burt Reynolds, Debbie Reynolds, Beau Bridges & many other greats of the Screen."   Maria Liberati, Female Celebrity Chef and Best Selling Author.
---
The Food Network's Guy Fieri joins as a special guest emcee; great chefs, culinary gala, tours put spotlight on sustainable cuisine
Renowned chefs from across North America, including James Beard Award-winners Suzanne Goin of Lucques in Los Angeles and Rick Bayless of Topolobampo/Frontera Grill in Chicago will share their passion for fine dining and environmentally sustainable living when they're honored at the Monterey Bay Aquarium's "Cooking for Solutions 2010" on May 21-22, 2010.

The Food Network's Guy Fieri, host of four shows including Diners, Drive-ins and Dives, will participate for the first time as a special guest emcee for the Sustainable Seafood Challenge that concludes the two-day celebration.

At Cooking for Solutions, celebrity chefs – selected and recognized by the Monterey Bay Aquarium for their leadership in promoting food practices that protect the health of the ocean and the soil – will create gourmet dishes, host food and wine adventures, and offer cooking demonstrations that feature sustainable seafood and organic ingredients.

All proceeds support the nonprofit aquarium's Seafood Watch program, which has worked for the past decade to transform the seafood market in ways that preserve healthy ecosystems and sustain ocean wildlife.

Title sponsors of Cooking for Solutions 2010 are Bon Appétit Management Company, an award-winning food service company recognized internationally as a leader in promoting sustainable cuisine; and Coastal Living, a national magazine that celebrates life along the coast and serves as the source of inspiration and information for people who live or dream of living a coastal lifestyle.

Suzanne Goin, the influential founder of Lucques and two other acclaimed restaurants, will be recognized as Chef of the Year at the ninth annual "Cooking for Solutions" celebration.

Rick Bayless, the renowned chef, author and proponent of sustainable seafood and environmentally sound farming practices, will be honored as Educator of the Year – recognition that follows his earlier selection as a Cooking for Solutions Chef of the Year in 2006.

Seventeen other noted chefs from across the United States and Canada will also receive honors as Celebrity Chef Ambassadors.

New honorees include: François Blais (Panache Restaurant, Quebec City, Canada), Joanne Chang (Myers + Chang/Flour Bakery + Café, Boston), John Critchley (Area 31, Miami, Florida), Mark Dommen (One Market Restaurant, San Francisco), Anthony Fusco (formerly of Harbour, New York City), Kevin Gillespie (Woodfire Grill, Atlanta), Brandon Hill (Bamboo Sushi, Portland, Oregon), Gerald Hirgoyen (Piperade/Bocadillo, San Francisco), Brandon McGlamery (Luma on Park, Winter Park, Florida), Tim McKee (Sea Change/Solera/La Bell Vie, Minneapolis), Bruce Sherman (North Pond, Chicago) and Jason Wilson (Crush, Seattle).
They'll be joined by five renowned chefs who have been honored at past celebrations: John Ash (cookbook author/culinary educator, Fetzer Vineyards, Hopland, California), Sam Choy (Sam Choy's Breakfast, Lunch & Crab, and Big Aloha Brewery, Honolulu), Jesse Ziff Cool (Cool Eatz Restaurant and Catering/Flea St. Café, Menlo Park, California), Jim Dodge (Bon Appétit Management Company, Palo Alto) and Rick Moonen (Rick Moonen's rm seafood at Mandalay Bay, Las Vegas, Nevada).

The Friday gala on May 21 – the signature celebration at Cooking for Solutions and a sell-out event every year – offers gourmet dishes from appetizers to desserts, created by the celebrity chefs, notable presenting chefs who host them for the events, and 75 exceptional regional restaurants. In addition, 60 premium vintners from California and the western U.S. will pour organic and sustainable wines. Organic juices, coffee and tea will also be available.

The gala will be preceded by a wine and hors d'oeuvres reception with Suzanne Goin and Rick Bayless. Noted chefs will sign their cookbooks during the gala, which also features a sustainable sushi lounge and a Premium Access Lounge for aquarium members.

Saturday's lineup of Food and Wine Adventures includes culinary outings with several Cooking for Solutions chefs, including Suzanne Goin. Several chefs will also present morning cooking demonstrations at the aquarium featuring sustainable seafood and other ingredients.

Saturday evening brings the fifth Sustainable Seafood Challenge, an "Iron Chef"-like event in which four Cooking for Solutions chefs prepare tasty seafood dishes from the same sustainable ingredients in a tournament-style kitchen set-up. Guy Fieri and Sam Choy will provide lively commentary, before a judging panel recognizes the chefs in four fun categories.

The aquarium's Seafood Watch program, which inspired creation of Cooking for Solutions, gives consumers, chefs and major seafood buyers the tools and information they need to make seafood choices that help assure a future with abundant ocean wildlife.

In 2009, the aquarium published Turning the Tide: The State of Seafood, a benchmark research report documenting progress toward securing a sustainable seafood supply for the future.

At year's end, sustainable seafood – and sustainable dining in general – was identified as a top national culinary trend by influential publications and observers, including Nation's Restaurant News.

Seafood Watch creates regional and national pocket guides to sustainable seafood that consumers can use to guide their seafood buying decisions at the restaurant or market – including an iPhone app that debuted in 2009 and that has been downloaded by more than 175,000 people.

Since 1999, Seafood Watch has distributed more than 32 million pocket guides, all featuring seafood items popular in different regions of the United States. It also partners with zoos, aquarium, conservation organizations, national retailers, restaurateurs and seafood distributors – all to shift the seafood market in directions that reward fishing practices that protect ocean ecosystems and the marine animals that depend on them.

Seafood Watch recommendations are also available for internet-enabled mobile devices.

Tickets for Cooking for Solutions 2010 are available by calling the Monterey Bay Aquarium toll-free at 866-963-9645, beginning January 4 for aquarium members and January 18 for the general public.

Details are available online at
www.cookingforsolutions.org
. You can request event brochures by sending an email to
events@mbayaq.org
.
The mission of the nonprofit Monterey Bay Aquarium is to inspire conservation of the oceans. To learn more, visit
www.montereybayaquarium.org.
---
---