THE WRITER'S MUSEUM DUBLIN
Home of the Chapter One Restaurant
by Bonnie Carroll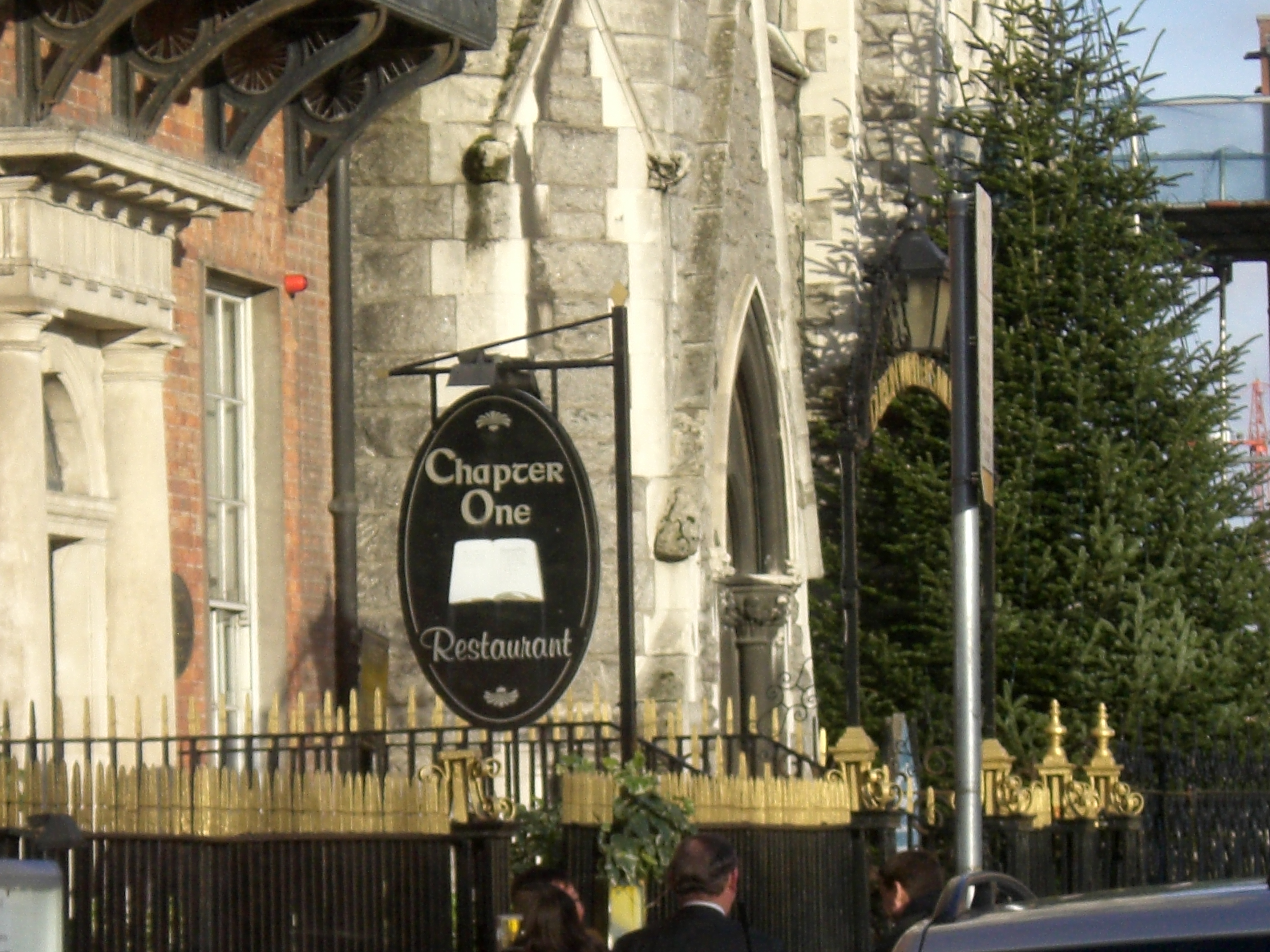 Well, what a delight it was to stroll through The Writer's Museum in Dublin, learning about the lives of these brilliant men and women who have captured so much of the human condition of the Irish with their pens. Joyce is one of my family names; therefore I found all the personal information and photographs relating to James Joyce of great interest.
The museum is a two story building filled with paintings, photographs, original writing manuscripts and personal belongings of great Irish writers including James Joyce, John Millington Synge, George Bernard Shaw, Oscar Wilde, Sean O'Casey, William Butler Yeats, and Samuel Beckett.. There is also a café and a gift shop, with copies of the author's published works and memorabilia on sale.
The Chapter One restaurant is located in the basement, and has a very fine reputation as a restaurant worth visiting while in Dublin. Chef Ross Lewis and partner Martin Corbett opened the restaurant in 1992, and have become renowned for their outstanding and original menu selections. Chapter One is also considered the premier pre-theatre restaurant in Dublin.
The menu is a pleasing marriage of French and authentic Irish faire, served in the Vault Room or John Jameson Room. A new addition is the Wine Vault, which holds wine selections from Latour to Tagnanello. The restaurant is open for lunch Tuesday to Friday 12:30 to 2:00 p.m, and for dinner Tuesday to Saturday from 6:00 p.m. to 11:00 p.m. Reservations in advance are required.
Chapter One Restaurant
18-19 Parnell Square (Basement of the Writers Museum)
Dublin 1, Ireland
353 1 8732266
www.chapteronerestaurant.com
                   Chapter One Recipe: Beetroot Soup
¼ cup duck fat
4 onions diced
4 sticks celery diced
4 cloves garlic
8 cups good chix stock
2 lb 8 oz raw grated beetroot
1 lb cooking apples peeled and finely chopped
5 teaspoons each lemon juice & white wine vinegar
Salt & Pepper to taste
Sweat onions, celery & garlic in duck fat for 15 minutes, add stock and simmer for 10 minutes, ad beetroot, apples, lemon juice and vinegar, simmer 15 minutes.
---
                            MARDI GRAS IN BRECKENRIDGE
Each year, New Orleans visitors and Mardi Gras lovers take over Breckenridge with masks, boas, beads, music and revelry to commemorate the carnival season.  Breckenridge will kick off Mardi Gras in style from 6 p.m. to 10 p.m. on Saturday, February 21, with its third annual Bacchus Ball at Beaver Run Resort. The masquerade themed ball, produced by the Breckenridge Resort Chamber, will light up the night with live music from Chris Daniels and the Kings, hurricanes, "N'awlins" cuisine, king cakes, prizes, multitudes of beads, a cash bar and the crowning of the 2009 Rex and Queen.
In the spirit of an authentic New Orleans masquerade ball, Breckenridge welcomes visitors and locals to celebrate Mardi Gras at the town's Bacchus Ball. The dress is mountain formal, but guests are encouraged to get into the masquerade carnival theme with costumes and masks. Beads, boas and masks will also be sold at the event. Tickets are available for $35 for a single ticket and $65 for a couples ticket, and they can be purchased online at gobreck.com or in-person at the Breckenridge Welcome Center.
The Bacchus Ball will be one in a series of Mardi Gras events in Breckenridge in 2009. In addition to the Ball, New Orleans' own Dirty Dozen Brass Band will perform a FREE Lunde Gras Concert at 4:30 p.m. on Monday, February 23 at the Riverwalk Center. The Dirty Dozen revolutionized the New Orleans brass band style by incorporating funk and bebop, and they will groove Breck into the Mardi Gras spirit.
Breckenridge's renowned Mardi Gras celebration will culminate with a festive Main Street procession at 4:30 p.m. on February 23 (Fat Tuesday) where procession-watchers will enjoy floats, costumed characters and a feast of beads for their evening festivities. Post-procession parties will be held at various restaurants and bars around town where party goers can kick off the night with drink specials, music and more.
Visit gobreck.com or call 877.593.5260 for more information on Breckenridge's Mardi Gras and to book a Mardi Gras vacation package for four people. The package includes five nights of lodging, Bacchus Ball tickets, snowmobiling, lift tickets and all the fun that comes with Mardi Gras for only $124 per person per night.
---
Win It! Bora Bora Pearl Beach Getaway!
Start planning your 2009 vacation with "Extra!" We're giving away a three-night stay for two at the Bora Bora Pearl Beach Resort and Spa! Plus, "Extra" wants you to look fabulous during your vacation -- so we're throwing in a Henri J. Sillam necklace and a Natura Bissé Diamond skin care kit! Sign up at extratv.com to be an "Extra" Friend for your chance to win!

Restrictions apply: Airfare to Bora Bora not included. This prize is vaild for two and non-transferable. Meals, beverages, activities, and access to the Manea Spa are not included. Must mention "Golden Globes 2009" at the time of booking. Blackout Dates: June 20 to Sept 1st and Dec. 22 to Dec. 31st 2009. Prize is valid until the end of 2009.
---
Food Festivals Fill Calendar, Plates in

            South Carolina in 2009

 

A smorgasbord of food festivals again highlight the calendar of "what to do" in South Carolina this year. The offerings range from local favorites such as Lowcountry oyster roasts, peach parties in the central part of the state and apples in the Upcountry to music, wine and gourmet gatherings in such hot spots as Hilton Head Island and Greenville's trendy Main Street. And that staple of staples, barbecue, gets a category of its own. Below is just a piece of the menu. A more complete list is at www.SavorSouthCarolina.com.

 

SEAFOOD

Lowcountry Oyster Festival – Mount Pleasant – Jan. 25

One of South Carolina's oldest known signs of human habitation is a 4,000-year-old mound of oyster shells on Edisto Island. Find out what the fuss is at the annual Lowcountry Oyster Festival on Jan. 25 at historic Boone Hall Plantation in Mount Pleasant. Along with about 65,000 pounds of oysters, the festival will offer a wide variety of activities, including live entertainment, contests for kids and oyster-shucking and oyster-eating contests, and even a best-dressed oyster contest for children.  www.charlestonlowcountry.com/specialpages/oysterfestival.html,

 

Blessing of the Fleet & Seafood Festival – Mount Pleasant – April 26

Each year, folks in Mount Pleasant and nearby Charleston gather to celebrate the thriving shrimping industry and ask for a "divine blessing" for the safety of those at sea and another prosperous year. The body also is nourished with a sampling of dishes from local seafood restaurants accompanied by live music.  A smaller stage hosts the actual blessing of the fleet at 1p.m. This traditional blessing includes two local clergymen who bless each individual boat as it passes down the creek to the harbor. www.charlestonlowcountry.com/specialpages/blessingfleet.html

 

Lobster Race – Aiken – May 1

It started in 1985 in downtown Aiken as a spoof of the Kentucky Derby, and now 24 years later the crustacean combatants still creep for glory in a race held each year as a benefit for local charities. www.discoversouthcarolina.com/products/1994.aspx.

 

Lowcountry Shrimp Festival – McClellanville – May 2

This charming old fishing village has been hosting its own Lowcountry Shrimp Festival since 1976. Sample selections of shrimp prepared in myriad ways. There is also a children's area and arts and crafts. www.discoversouthcarolina.com/products/887.aspx

 

Ware Shoals Catfish Feastival – Ware Shoals – May 22-23

Some 4,000 pounds of catfish go down the gullet – in the form of filets and stew – at this annual gathering in peaceful little Ware Shoals. Bluegrass, oldies and country music entertainers also are on hand, along with community booths and other offerings. A vintage car show also is a highlight each year. www.catfishfeastival.com

Yemassee Shrimp Festival – Yemassee – Sept. 17-20

A key community in the evolution of shrimp baiting, Yemassee invites visitors and locals alike to celebrate everything shrimp! Highlights include a lighted boat parade, mud run fireworks and, of course, local-caught shrimp. www.yemassee.net/festival.html

 

Beaufort Shrimp Festival – Beaufort – Oct. 2-3

Patrons find a big taste of the Lowcountry at this festival, which is set against a backdrop of lighted shrimp boats. There is a "Popcorn Shrimp Race" for children and a best recipe contest for adults. The setting is charming Beaufort, voted the "best small town in the South" recently by Southern Living readers.  www.discoversouthcarolina.com/products/2185.aspx.

 

Society Hill Catfish Festival – Society Hill – Nov. 7

Boasting fried catfish, arts & crafts, a parade and an auto show, this historic little community in northeast South Carolina puts on its best each year for this family friendly feast. www.discoversouthcarolina.com/products/3024.aspx

 

Elgin Catfish Stomp – Elgin – Dec. 5

A Christmas parade helps kick off the season each December at the Elgin Catfish Stomp, held in the town of the same name on U.S. 1 between Columbia and Camden. Another star of the show, of course, is the catfish stew. www.discoversouthcarolina.com/products/25825.aspx.

 

BBQ

South Carolina Festival of Discovery's BBQ and Hash Cookoff – Greenwood – July 9-11

One of the stops on the sanctioned Kansas City Barbeque and state barbecue organization competition trail, this annual party also features hash. While barbecue is relatively common, the culinary and historical origins of hash are lesser known.  Tracing back to slaves working as cooks in the kitchens of rice plantations in South Carolina, the recipe was devised by utilizing the less desirable parts of the hog such as the head, organs, feet and tail.  The meat was seasoned with spices and hot pepper and cooked for hours in a pot until it could be chopped or hashed into a gravy-like, meaty mixture. Serious blues musicians on five different stages also spice up the affair. www.festivalofdiscovery.com.

 

Beach, Boogie and BBQ at Sun Fun Festival – Myrtle Beach – Sept. 4-5

Fast becoming a favorite way to mark the end of summer on the Grand Strand, this festival hosts the International Federation of Competitive Eating BBQ Sandwich Eating Contest. Held at the former Air Force base in Myrtle Beach, a car show, kid's play zone, boat rides and live music add flavor to the food fun. www.sunfunfestival.com/beachboogiebbq/default.htm

 

Squealin' On The Square –– Laurens – Oct. 2-3

The 10th annual KCBS State Championship BBQ Cookoff and Festival will be held again in historic Laurens. Squealin' on the Square draws cook teams from across the Southeast gather to compete for cash and prizes. Besides great barbecue, the festival features arts and crafts, food vendors, live entertainment, a car show and cruise in, an antique tractor show, a kids area and fireworks. www.mainstreetlaurens.org

 

Kershaw Hog Jam – Kershaw – Oct. 12-13

Another stop on the South Carolina Barbeque Association circuit, this annual event also offers live music, arts and crafts, other food vendors and children's activities. www.hogjam.org

 

Piedmont Blues and Hash Bash – Abbeville – Oct. 12-13

Blues, slow-smoked barbecue and hash are the headlines at this community festival in historic downtown Abbeville, another of the state association's "Master Barbeque Award" events. www.bluesandhash.com

 

Kingstree Pig Pickin' – Kingstree – Oct. 20

Highlights of this year's event include the BBQ cook-off, tennis and golf tournaments, a car show, arts & crafts, food vendors, live bands, lancing tournament and children's activities. http://www.kingstreepigpickin.com/.

Pig on the Ridge – Ridgeway– Nov. 2-3

This is a barbecue showdown with more than 70 teams competing annually. Other attractions include a street party, a classic car show and of course, lots of food.  http://www.discoversouthcarolina.com/products/27051.aspx.

 FRUITS / VEGETABLES

 

Strawberry Festival at McLeod Farms – McBee – May 16

McLeod Farms celebrates its fresh crop of berries with a line up of events that boasts a strawberry recipe contest. www.macspride.com/event.asp

 

Ridge Peach Festival – Trenton – June 20

Smack in the middle of South Carolina peach country, this family festival includes arts and crafts, antiques, homemade peach desserts and preserves, peach ice cream, live music all day, children's areas, food vendors, a street dance and live music. www.ridgepeachfestival.com.

 

Watermelon Festival – Hampton – June 20-28

South Carolina's oldest continuous festival will be back this summer for its 67th annual celebration of all things watermelon in the inland reaches of South Carolina Lowcountry. A family fun day at Lake Warren State Park, pet shows, watermelon judging and eating contests, pageants and other events fill the week-long schedule. www.melonfest.org

 

Lexington County Peach Festival – Gilbert – July 4

Most Americans don't know that South Carolina is the second largest grower of peaches in the country, second behind California and ahead of Georgia.  The Lexington County Peach Festival boasts a peach of a party for all ages. Events include a parade, arts and crafts, entertainment, the Lexington County Peach Queen Contest and fireworks. And for refeshments? How about peach ice cream, peach slush, peach tea, peach parfaits and peach cobbler? A contest is held the morning of the event to determine the tastiest peach treat. www.midnet.sc.edu/peach

 

Peach Festival at McLeod Farms – McBee - July 11

Children will adore the opportunity to test the big peach farm's desserts, breads and ice cream or bite into a tree-ripe peach. Parents will enjoy the peach cook-off contest and shopping at the roadside market.  A tour of the S.C. Peach Museum or a horse-drawn wagon ride through the fields is an excellent way to top off a peachy day at McLeod Farms. www.macspride.com/event.asp

 

Pageland Watermelon Festival – Pageland – July 17-19

A watermelon-themed travels down Main Street in Pageland, a historic community in northeast South Carolina near the North Carolina border, as a highlight of this annual affair. Another highlight is cheering for the contestants as they vie for the title of Watermelon World Queen. Food, music, a car show and a rodeo fill out the schedule. www.pagelandchamber.com.

 

Pelion Peanut Party – Pelion – Aug. 7-8

The 29th annual edition of the Pelion Ruritan Club's annual peanut party celebrates the gift of goober to this farm community not far from Columbia. The Ruritans will not share the secret recipe for boiling the peanuts, but, they will let festival-goers feast on the little protein packers. Rides, booths, car show and other amusements also are part of the fun. www.scpeanutparty.com

 

Gaston Collard Festival – Gaston – Sept. 11-12

Lexington County is one of the nation's major producers of collard greens, a leafy favorite celebrated with a two-day family festival that includes a parade, beauty pageants, festival rides and games, live entertainment, crafters, vendors, and, of course, lots of collards. www.discoversouthcarolina.com/products/2877.aspx.

 

Irmo Okra Strut – Irmo – Sept. 25-26

The town of Irmo, a bustling Columbia suburb, hosts two days of all things okra. The strut began as a fundraiser by the Lake Murray-Irmo Women's Club in 1973 to raise money for a new library. The festival includes the Okra Strut street dance, a parade, a 10K run over the nearby Lake Murray Dam and more than 100 arts-and-crafts exhibitors. Green pod lovers of all ages will enjoy "Okryland" kids' area, okra-eating and -growing contests and musical entertainment. www.irmookrastrut.com

 

South Carolina Sweet Potato Festival – Darlington – Oct. 17

Festival goers savor a sweet time in Darlington with entertainment, amusements, arts and crafts, food booths, a balloon release, antique car show and fun for everyone.  www.discoversouthcarolina.com/products/2165.aspx.

 

Apple Harvest Festival – York – Oct. 17

In rural York County, apple lovers delight in this seasonal South Carolina festival. Patrons partake in apple picking, hay rides, cider making, pumpkin picking, apple peeling contests, Johnny Appleseed stories and delicious baked apple goods. www.windyhillorchard.com.Sweet Potato Festival – Langley – Oct. 18

An annual favorite in his Aiken County community, sweet potato treats and a variety of entertainment such as a carnival and a pie-eating contest are on tap and the Ms./Mr./Baby Sweet Potato Festival winners are crowned. www.midlandvalleyarea.com

 

SOUTHERN FAVORITES

 

World Grits Festival – St. George – April 17-19

Join in on this three-day celebration of that celebrated Southern icon: grits  Events includes a parade, rolling-in-the-grits contest, beauty queens, grits meals, crafts, grits grinding, art show, street dancing, clogging, gospel music, carnival, live bands, grits eating contest and more.  www.worldgritsfestival.com

 

Colleton County Rice Festival – Walterboro – April 24-25

From its first days as a colony, South Carolina once was the rice capital of the country, and through to the Civil War, rice was the main crop and economic mainstay of Colleton County in the Lowcountry.  The focus is family entertainment that includes a fireworks display, live entertainment, arts and crafts, food concessions, cultural displays and performances depicting local heritage. www.ricefestival.org

 

South Carolina Poultry Festival – Batesburg-Leesville - May 7-9

The Batesburg-Leesville area has long been a major poultry producer. Enjoy family entertainment and fun with a parade, five stages of live entertainment, contests, crafts, a street dance, fireworks and amusement rides. www.batesburg-leesville.org/poultry/indexp.htm

 

Loris Bog-Off Festival – Loris – Oct. 18

Chicken bog is a delicious mixture of rice, chicken and vegetables and a big favorite in the Pee Dee Region of northeast South Carolina. This annual festival features a parade, a chicken bog cooking contest, crafts, arts, games, bands, local entertainment and gospel singing.  www.travelsc.com/cities/405.aspx.

 

Chitlin' Strut – Salley – Nov. 28

It all started in 1966 as a gutsy attempt by the city mayor and his colleagues to raise money for new Christmas decorations for the town of Salley. Today the Chitlin Strut attracts more than 50,000 patrons to try chitlins, also known as "chitterlings" (pig intestines).  Activities also include a parade, hawg-calling and strut contests, food and craft vendors, beauty pageant, carnival rides, an antique tractor show and a car show. www.chitlinstrut.com

 

FOOD, BEER AND WINE FESTIVALS

2009 World Beer Festival – Columbia – Jan. 24

A celebration of the world beer culture, The World Beer Festival at the Columbia Metropolitan Convention Center provides attendees a broad sampling of hundreds of beers from over 100 breweries, food from a variety of local restaurants, educational sessions by industry experts, and entertainment by local musicians. www.allaboutbeer.com/wbfcolumbia/

BB&T Charleston Food + Wine Festival – Charleston – March 5-8
The culinary styles of top chefs and culinary experts from around the world are featured each year at the BB&T Charleston Food + Wine Festival, which also celebrates the renowned local dining scene. Food and wine tastings from dozens of vendors are just one of the highlights and this year's special celebrity chef guest is Bobby Flay. www.charlestonfoodandwine.com.

 

WineFest 2009 – Hilton Head – Feb. 4-March 14.

WineFest 2009 offers a wide variety of tasting and dining opportunities in this month-long series of events at some of Hilton Head Island's trendiest venues. www.hiltonheadhospitality.org/sections/wine-fest.

 International Festival of Wine and Foods – Columbia – Feb. 16

The Central Carolina Community Foundation will hold its 14th annual gala event at the Marriot Columbia to benefit nonprofit organizations in the Midlands. Attend and sample more than 300 domestic and international wines as well as delectable dishes from some two dozen Midland chefs. A gala would not be complete without a silent auction so bid on an assortment of extraordinary items including over 140 vintage wines and an original painting by local artist James Blackburn. For more information, visit www.yourfoundation.org.

 

Southern Exposure – Greenville – Sept. 18-20

Fusing the fine and culinary arts Southern Exposure showcases the treats true talents of Greenville.  The event also benefits local non-profit organizations. Come and join the celebrity chefs, master sommeliers and major musical acts for a weekend that will surely satisfy all five senses. For more information, visit www.southernexposuregreenville.com.

 

'TASTES OF' TOWNS, FOOD FAIRS OR FOOD EVENTS AS PART OF LARGER FESTIVALS

 

Key Ingredients, A Smithsonian Institute Exhibit – Jan. 9-May 9

With 2009 stops at the Edgefield County Peach Museum and the Edisto Island Museum, Key Ingredients is an exhibition hosted by Museum on Main Street (MOMS) that explores the relationship between Americans and the cultural and historical traditions of food. The project is a result of the collaboration between the state humanities councils, The Federation of State Humanities Councils and the Smithsonian Institution's Traveling Exhibition Services. For more information, visit http://www.schumanities.org/index.php?c=projects&s=keyingredients

 

Gourmet Gardens at Come-See-Me – Rock Hill - April 18-19

A focus on food and a taste of Rock Hill. For more information, visit www.comeseeme.rockhill.net/.

 

Taste of Darlington – Darlington – May 5

Famous for its fertile farmland, the Darlington area is also known for its traditional Southern hospitality (and, of course, NASCAR.)  The Taste of Darlington provides attendees the chance to embrace the cultural and culinary personality of this northeastern county. Enjoy the opportunity to sample different foods, beverages and desserts prepared by local chefs. For more information, visit www.visitdarlingtoncounty.org.

 

Taste Of Hartsville – Hartsville – May 21

Sample a variety of local foods and beverages on the grounds of beautiful Kalmia Gardens of Coker College, a 30-acre botanical garden. For more information, visit www.hartsvillechamber.org.

 

The Greek Festival - Greenville  - May 14-15

Experience the transformation from Greenville to "Greekville" this May with live music, traditional folk dancing, imported jewelry, food and fun. Take one of the hourly guided tours though the Greek Orthodox Cathedral. For more information, please visit http://www.stgeorgegreenville.org/GreekFestival.html.

 

Aiken's Makin'– Aiken – Sept. 11-12.

An annual display of juried arts and crafts from Aiken County and the Southeastern states. The festival also includes food vendors, baked goods, and entertainment.  For more information, visit http://www.discoversouthcarolina.com/products/25950.aspx.

 

International Festival - Spartanburg – Oct. 3

With a population hailing from more than 60 countries, Spartanburg has reason to celebrate! International festivities include music, food, activities, and exhibits. Don't forget to have your "passport" stamped after visiting each country. For more information, visit: http://www.cityofspartanburg.org/international-fest/

 

Fall For Greenville, a Taste of Our Town – Greenville – Oct. 10 - 12

The Fall for Greenville, A Taste of Our Town features 40 full-service restaurants and live musical entertainment on five stages--all along trendy, pedestrian-friendly Main Street. For more information, visit www.greenvilleevents.com.

 

Oktoberfest – Walhalla – Oct. 16-18

Paying homage to the world-renowned traditions of the German festival by the same name, Oktoberfest is a fun and festive celebration of German culture. From lederhosen to skydivers Oktoberfest has it all!  This fall, Walhalla invites locals and tourists to experience "Gemutlichkeit!" (good spirits, food times, laughter and goodwill) at Sertoma Field. For more information, visit www.walhallasc
---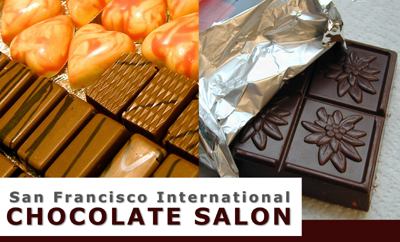 The 3rd Annual San Francisco International Chocolate Salon
March 21, 2009


10:00am - 6:00pm, Saturday
San Francisco, Fort Mason Center
Herbst Pavillion, 30,000 square feet of Chocolate, Wine and Confections
---
THE RITZ-CARLTON, SAN FRANCISCO UNVEILS MONTH-LONG FEBRUARY VALENTINE'S PACKAGE OFFERING LATE CHECK-OUT, SUNDAY BRUNCH AND A SAMPLING FROM THE RITZ-CARLTON BAR'S NEW HALF-BOTTLE COLLECTION

 

 

Valentine romantics can treat their loved ones to an extended February getaway at The Ritz-Carlton, San Francisco via a new month-long package that includes late checkout and a taste of San Francisco's newest half-bottle wine experience.

 

The Mobil Five-Star hotel has designed the package to take unique advantage of Valentine's Day, which lands on a Saturday in 2009. Offered for one or two nights over any Saturday in February, Valentine's Romance at The Ritz-Carlton, San Francisco features extended checkout until 2 p.m., Sunday Brunch in The Terrace Restaurant, and a choice of accommodations in a Deluxe Room, Ritz-Carlton Club Level® Room or luxurious Suite. The package also includes a half-bottle of wine at the hotel's popular Ritz-Carlton Bar, which in February will unveil a new small bites menu from Chef Ron Siegel of The Dining Room and an extensive half-bottle wine selection, all presented in the warmly casual setting of the Bar.

 

Priced from $529 per night, Valentine's Romance at The Ritz-Carlton, San Francisco includes:
Deluxe accommodations for one or two nights to include a Saturday (Club Level and suite options available). Offered throughout February 2009

Champagne and strawberries upon arrival

Pre-dinner half-bottle of wine at The Ritz-Carlton Bar

In-room breakfast or Sunday Brunch for two in the Terrace Restaurant

Valet parking

2 p.m. check-out
 

Valentine's Romance at The Ritz-Carlton, San Francisco may be booked online at www.ritzcarlton.com, by telephone toll-free at (800) 241-3333, or through a travel professional. Dining reservations may be made at (415) 773-6198.
---