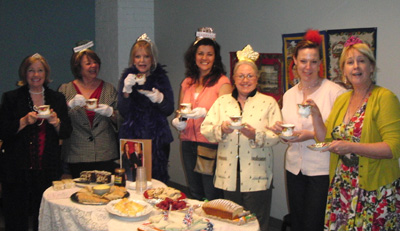 A ROYAL TEA TO CELEBRATE A ROYAL WEDDING
A Tiara & Tea Party in honor of the Royal Wedding of Prince William and Kate Middleton was on the agenda in Santa Barbara where celebrants Bonnie Carroll, Cherie Summers, Rosemary Creason, Lety Garcia, Jeanne Bacsi, Ann Mersmann and Georgia Mc Dermott prepared and enjoyed Prince William's chocolate biscuit cake, cucumber mint tea sandwiches, lavender cakes, lemon curd with shortbread cookies and a bevy of additional British inspired confections and savories during the high tea held in the Santa Barbara Museum of Art.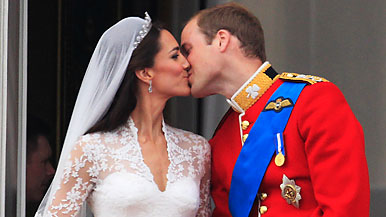 ---
Celebrates its 31st Annual Picnic des Chefs
 The Club Culinaire of French Cuisine will hold its annual Picnic des Chefs on Sunday, May 22 at Vasa Park in Agoura Hills at 2854 Triunfo Canyon Road, where 4 acres of lush mountain side awaits us.  LA's top chefs will create authentic dishes from various regions of France.  Participating chefs (partial list): Jean-Francois Meteigner (La Cachette); Sebastien Archambault (Andaz Hotel); Marius Blin (Hotel Sofitel); Michel Blanchet (Michel Cordon Bleu); Akira Hirose (Maison Akira); Joe Miller (Joe's Restaurant); Josie LeBalch (Josie Restaurant); Neal Fraser (BLVD); Yvan Valentin (Sweet Temptation); and Berty Siegels (Wine Bistro).
Chefs will cook up over 700 lb of meat, poultry and fish, 500 lb of vegetables, 200 lb of cheese and 500 baguettes, 50 artisan breads and much more.  Over 50 wineries will be pouring their favorite selections.
The event is extremely kid-friendly (including a moon bounce paradise, rock climbing wall, drawing competition, and games).  Adults can play petaque, (win your weight wine), soccer, volleyball and badminton.   Raffle prizes include two roundtrip tickets to Tahiti or Paris on Air France, a weekend at The Ritz Carlton Laguna Nigel, Porsche knives, gourmet dinners, and shopping certificates. Musical entertainment will be provided by a French DJ and four live bands.
Proceeds from the event will benefit the Concern Foundation and the HOPE Program of Childrens Hospital Los Angeles.
 Ticket price is inclusive of all food, beverages, entertainment and parking
$50 for adults; $20 for kids 10-21; $10 kids 3-10, free for kids under 3.
To order tickets go to www.clubculinaire.us or contact Kora Kroep at 949.295.0506 or kora@clubculinaire.us
Directions: Off 101 take Kanan West for 3.6 miles to Triunfo Canyon Road, turn right, Vasa Park is on the right.
APPETIZERS
Assorted Pates, Quiche Lorraine, Pissaladiere, Smoked Salmon, Mozzarella and Tapenade
Artisan Breads & Baguette
PROVENCE
Leg of Lamb, Tri Tip, Flageolets & Ratatouille
ALSACE
Potato Salad, Golden Beet Salad with Goat Cheese and Arugula,
 Alsatian Savory Tarts, Pretzel Rolls and Grilled Sausages
BRITANNY
Poached Cod, Macedoine, Artichoke Salad, Rice Pilaf and Contessa Shrimp
PARIS
Rotisserie Chicken, French Fries, Mesclun Salad
Frisee Salad with Duck, Bacon and Croutons
FROMAGES ET DESSERTS
Enormous Republica del Cacao Chocolate Cake
Gigantic French cheese platter
Waffles with Whipped Cream and Strawberries, 
Dandy Don's Ice Cream Bar and Sugar cones
BEVERAGES
Wine tasting with over 30 French and American Wines, Croft Pink, Alizé, St. Germain, Pernod-Ricard, Champagne, Hollywood Blonde Beer, Lemonade, Perrier, Eternal Water, Hansen Natural Beverages, Monin Syrups & Iced Tea,
Caffe Nico coffee
---
 SPANNOCCHIA FOUNDATION ANNOUNCEMENT
We are delighted to announce an exciting event that the Spannocchia Foundation is co-organizing with the Institute for Italian Studies.  The Italian Life Expo will bring together the best of artisan food and crafts from Italy with the best summer getaway location in the northeast, Portland, Maine!!
Savor and celebrate all things Italian at the first-ever Italian Life Expo. Join us for this unique event, showcasing exclusive and innovative vintners, food producers, chefs, travel specialists and artisans from Tuscany, Piemonte, Brescia, Friuli, Emilia-Romagna and more. Learn about the specialties of the regions, discover artisanal treasures and plan your next Italian trip.  We just returned from Italy, where we enjoyed the sun, food, wine — and the many delightful exhibitors we were fortunate to meet. They're a great group, with a passion for life and the products they produce.  The whole experience made us even more inspired and committed to bringing this same wonderful atmosphere back to Portland's Ocean Gateway for you to enjoy!
We are happy to announce that our updated Italian Life Expo site is ready for you.  Check out the Expo schedule, presentations, exhibitors and sponsors at http://www.Italianlifeexpo.com. Tickets officially go on sale today, April 15!  Current members of the Spannocchia Foundation will receive a 10% discount on ticket prices.  Bravissimo!!  Not sure about your membership status?  E-mail us and we'll let you know!  If your membership has lapsed, or you want to join the Spannocchia Foundation for the first time to take advantage of the Expo ticket discount, you can quickly and easily renew your membership here, and you will receive the discount code.
Tickets are available for individual sessions as well as our opening reception on Thursday, June 9, which will celebrate the 150th Anniversary of Italy's unification, and will be hosted by the Giuseppe Pastorelli, the Consul General at the Italian Consulate in Boston.  There are a limited number of day passes available for the Expo.  Can't decide on just one session to attend?  Get a day pass and come for the whole day! 
 Please share the information with your friends, and be sure to LIKE us on Facebook too!  http://www.facebook.com/italianlifeexpo
We hope to see you at the Expo in June!! 
---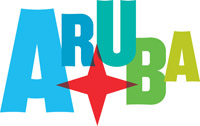 GET A TASTE OF ARUBA AT THE PEBBLE BEACH FOOD & WINE FESTIVAL
Chefs from the One happy island to Bring Authentic
Aruban Cuisine to Prestigious Event
Aruba is pleased to announce that it will once again be a sponsor at the Pebble Beach Food & Wine Festival, taking place April 28 through May 1 in Carmel by the Sea, California. Now in its fourth year, this prestigious event celebrates the finest of the culinary world, with 75 celebrity chefs and 250 wineries being featured at a series of luncheons, dinners, cooking demonstrations and wine tastings.

Executive Chef of the Occidental Grand Aruba and 26-year restaurant industry veteran, Miguel Garcia, will be representing the One happy island and dishing out up to 3,000 tastings each day! Garcia is known for melding his own techniques and influences with the regional cuisine of Aruba and demonstrating his versatility with dishes ranging from Italian classics to zingy Caribbean and elegant Japanese.
 
Joining Garcia at Aruba's booth will be Ever Alexander Mujica de Peña who is a culinary student from EPI Hospitality & Tourism unit on Aruba and the island's youngest executive chef, hailing from the prestigious Cooks Restaurant. De Peña was chosen to assist Garcia after winning Aruba's Chef and Student Culinary Competition as captain of his team.

The duo will be showcasing their culinary skills at the Lexus Grand Tasting on Saturday, April 30 and Sunday, May 1, where guests will have the opportunity to enjoy over 300 wines and sample decadent dishes from 25 celebrity chefs. They plan to serve Crispy Fried Chicken with Aruban Creole Sauce and Macadamia Nut Crusted Grouper with Tropical Relish to bring the flavors of Aruba to the more than 150,000 festival attendees.

For more information on Aruba, please visit online at www.ARUBA.com or call 1-800-TO-ARUBA.

---