BREAD & ROSES
Epicurean Experience at Fund for Santa Barbara 2008 Event
by Bonnie Carroll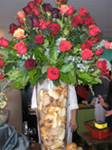 It was bread and roses for the attendees of the 15th Annual Bread & Roses event, held at the QAD in Montecito. Sponsors and visitors came hungry and left full. Local culinary stars presented their best to a huge crowd of supporters, which included Mayor Marty Blum, members of the City Council, sponsor members from Brownstein, Hyatt, Farber, Schreck, Mullen & Henzell, L.L.P, Cox Communications,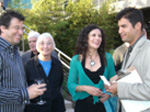 Amgen, Robobank, HuttonFoundation, Ameriprise Financial, Agilysys, and Walden Asset Management.  Live music and a magnificent setting made the gastronimique buffet dinner memorable. The silent and live auction raised a record dollar amount for the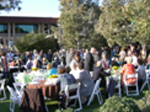 organization, and a great time was had by all.
Food and wine was provided by local chefs from Jade, Louie's, Marmalade Café, Matador, Omni Fresco Catering, Opal, Pascucci, Palace Grill/Café, Seasons Catering Soho, Jakes, The Secret Ingredie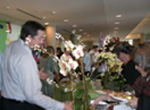 nt, and Via Maestra 42. Beverage sponsors included Buttonwood Farm Winery, Alama Rosa Winery, Hollister Brewing Company, Kalyra Winery, Pure Water Systems/Matillja Bottled Water and coffee by Muddy Waters. Desserts were from Jessica Foster Confections and Lindsay Gould C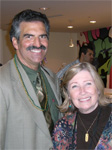 atering.
The Fund for Santa Barbara was formed in 1980, and invests in projects working for social, economic, environmental and political change by addressing the root causes at societal problems though community organizing, education and advocacy. They provide cash grants and technical assistance to community based organizations and others. They have granted more than $3 million over 700 grassroots projects since 1980.
For information visit:www.fundforsantabarbara.org.
---
"CHEF'S TABLE" - A TRUE SUCCESS
From September untill the end of the year, for one week a month from Monday to Friday, a unique dining experience in the heart of the Ritz Kitchens.

We all wish for our happiest moments in life to remain unforgettable memories!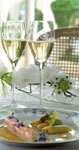 Chef Michel Roth invites you to a unique dining experience in the mythical kitchens of the Ritz.
As privileged guest of the Chef, he will welcome you into the kitchens to discover a magical universe and an exceptional dinner; you would be able observe the preparation of the finest foods, watch the creation of the most surprising desserts accompanied by the graceful dance of the wait staff.
Seated in the heart of the kitchen, the Chef's Table is the perfect place to discover Michel Roth's latest creations through this menu - especially put together for the event:
Appetiser

Foie gras with apple and rhubarb

John Dory cooked in a beurre blanc with cockles

Sweet interlude

Lightly sweetened strawberries with delicate shortcrust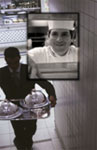 The Chef's Table is available from Monday to Friday at 280 € per person, including a bottle of Ritz Brut Champagne as well as mineral water and coffee.
We will only be welcoming 2 guests per evening.                  
Latest "à la carte" creations
Stracciatella and Heirloom tomatoes, in two servings

Shredded crab meat, smoked egg yolk, imperial French caviar

Pan roasted red mullet, consommé and paella garnish

Lobster with hyssop in a pot-roast, simmered vegetables

Quercy lamb, three ways, raw sautéed vegetables

Veal rib roast, golden chanterelles, asparagus and spelt risotto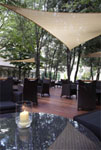 Réservations au  01 43 16 30 80  or  espadon@ritzparis
Crillon hôtel, followed by Maître d'Hôtel at the Plaza Athenée.                                   
In 2001, he joins Philippe Legendre's team at Le Cinq - restaurant of the Four Seasons George V and in 2003, becomes Food and Beverage manager at l'Elysée Vernet. Christophe Kelsch and his team will be very pleased to welcome you very soon in one of the most beautifull dinning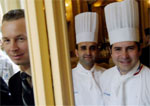 L'Espadon
Ritz Paris - 15, place Vendôme - 75041Paris Cedex 01
Tel: +33 (0)1 43 16 30 80 - Fax +33 (0)1 43 16 33 75
Email: espadon@ritzparis.com
Web site: http://www.ritzparis.com
---
DOVE THE CHOCOLATE OF CHAMPIONS
AT 60TH EMMY AWARDS
For the fourth consecutive year, DOVE® Chocolate is the official Chocolatier of the 60th Primetime Emmy® Awards and we will provide unique and indulgent table favors at this year's Creative Arts and Governors Ball.  As an added bonus to help celebrate the Primetime Emmys® monumental diamond anniversary, models dressed in fifties-inspired attire will pass a selection of new DOVE® Promises. A special keepsake box filled with four new indulgent DOVE® Chocolate Large Bar flavors including Cranberry Almond and Peanut Butter Toffee will be found at each place setting at the Governors Ball. The exclusive box will be covered with a "silky finish" fabric and tied with a pink satin ribbon so attendees can slip the keepsake into their purse or jacket pocket as a souvenir from the special evening or steal a small indulgent moment for themselves. Decadent DOVE® Dark Chocolate was also used to create the Governors Ball desserts for celebrities and attendees to indulge.

A DOVE® Chocolate Oasis, an ultimate chocolate experience, will be set up at the Performers Nominee Reception for attendees to indulge in DOVE® Chocolate.  Rotating platters will be with DOVE® Chocolate desserts; DOVE® Chocolate promises, NEW DOVE® large bars including Peanut Toffee Crunch, Cranberry Almond and Blueberry Almond and New DOVE® Desserts including two succulent flavors—Milk Chocolate Bananas Foster and Dark Chocolate Tiramisu will be flowing around a four-tier DOVE® Chocolate Fountain. Sherry Yard, Wolfgang Puck's Executive Pastry Chef at Spago Beverly Hills will be present creating decadent desserts featuring DOVE® Chocolate where guests will have the opportunity to take a moment and indulge in these tasty treats.  
---