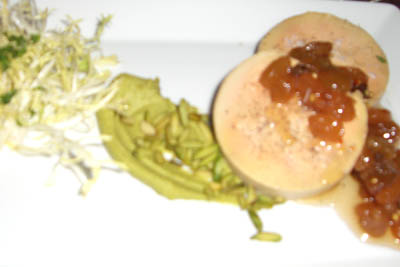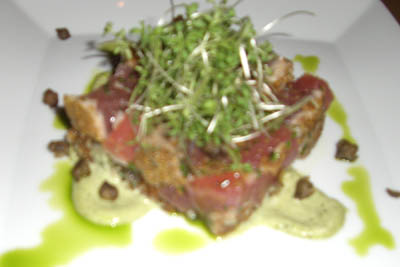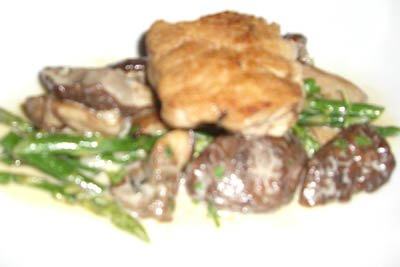 FOUR SEASONS NEW YORK . . . THE GARDEN
A Wine Tasting Worth the Trip
By Bonnie Carroll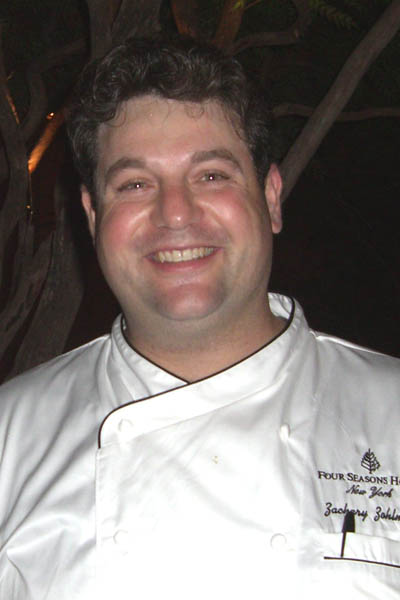 As well as L'Atelier de Joel Robuchon, the Four Seasons New York Hotel has The Garden Wine, a secret garden of wine tasting that is simply enchanting, but will delight any real wine connoisseurs stopping by. From the finest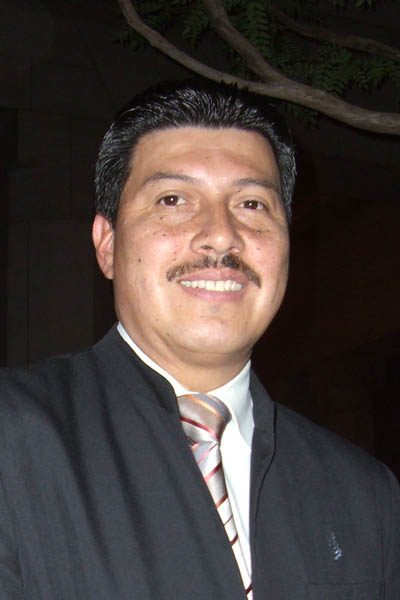 European reds, whites, merlots and rare ports to fine champagnes it is all excellent, and served with small plates of beautifully prepared and presented chartuterie, artisanal cheeses, shishito peppers with aged goat gouda; shrimp romesco with pepper and toasted almonds, zucchini blossoms with ricotta and tomatoes, seared ahi tuna tartar with basil, capers fennel pollen, heirloom tomato panzanella salad with 25-year old balsamic and country bread; sweetbreads, porcini and asparagus ragout as well as chicken liver pate and a wonderful Hudson Valley Foie Gras, which are perfectly paired with an outstanding wine list. These tasty little plates are served with crisps, and toasted baguettes and small salad touches.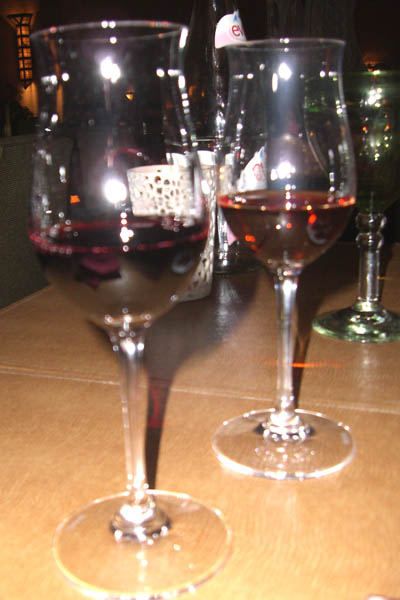 Located on the east side of the hotels monumental lobby,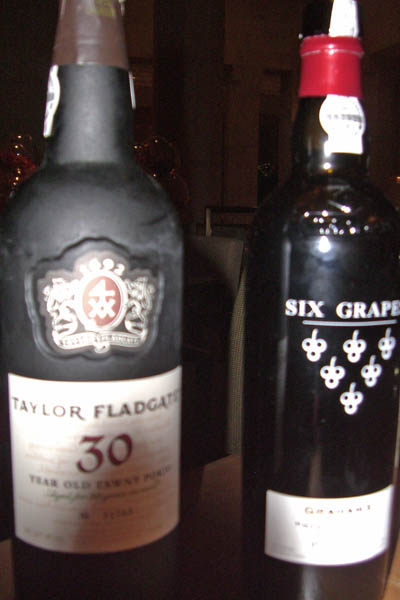 it is a magical spot for a light supper, and I do mean supper as the richness of the small plates will provide enough sustenance to completely fill you up. This combination of fine wine and small plates is the ideal compliment to any business meeting or a romantic evening with a special someone.
The ambiance is garden like, with lovely Acacia trees surrounding a semi-private, richly decorated area with a full wall of wines, where waiters tend to your every need with courtesy and competence. The Four Seasons New York is very centrally located, and a short walk or cab ride from most midtown locations.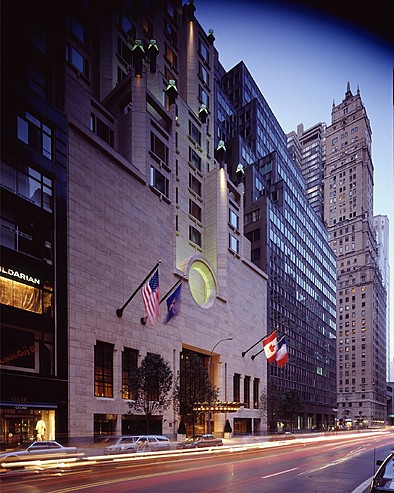 The Garden
Four Seasons New York
57 East 57th Street
New York, New York
---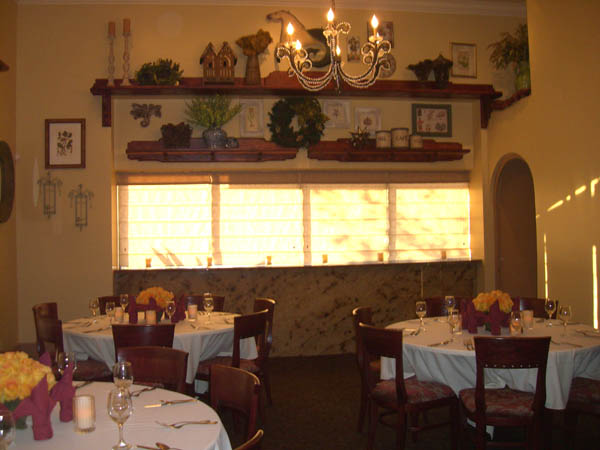 MARMALADE CAFÉ SANTA BARBARA OPENS PRIVATE DINING ROOM
ON TIME FOR HOLIDAY PARTIES & FAMILY CELEBRATIONS
State-of-the-Art Equipment will Enhance Business & Board Meetings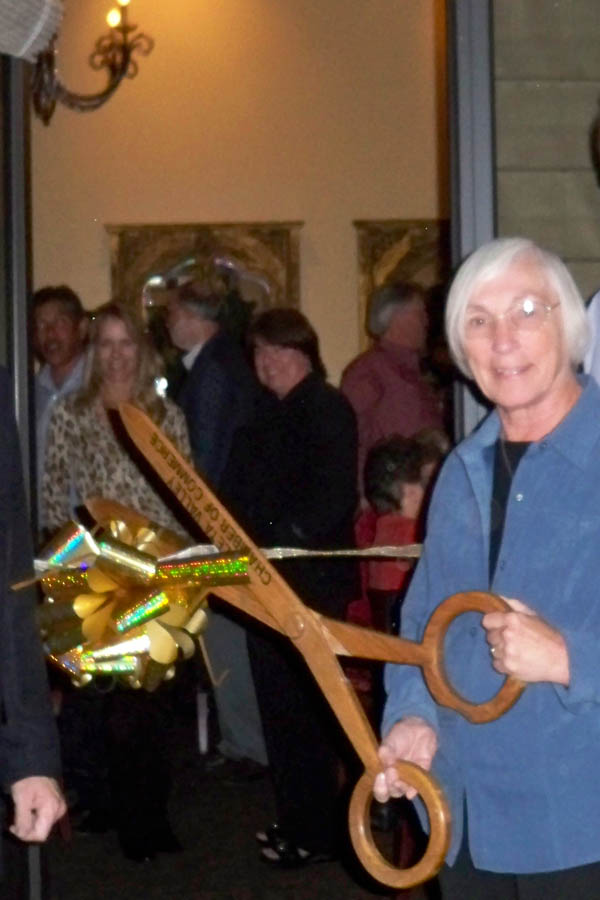 Marmalade Café, an Innovative California restaurant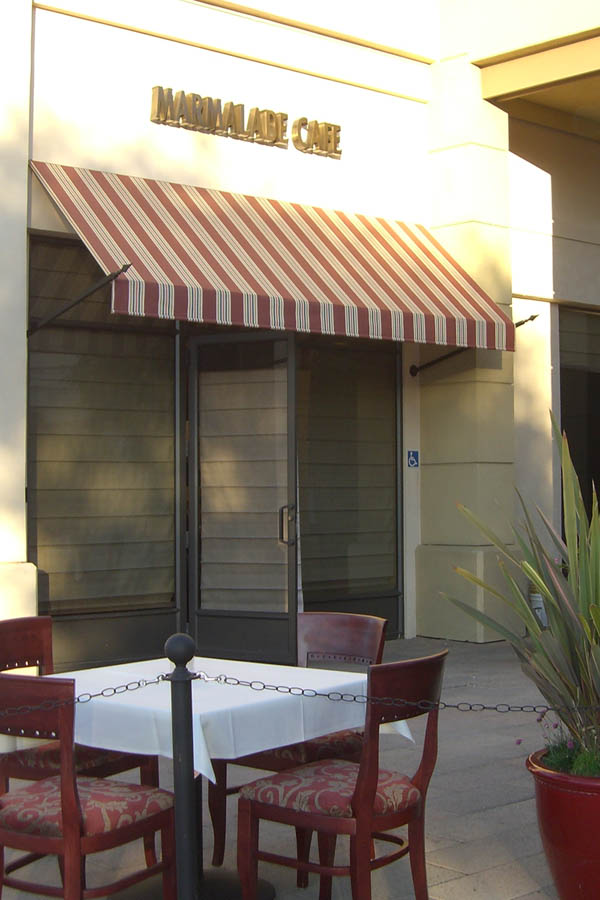 located in the La Cumbre Plaza, opened their new private dining room November 18th, just in time for the holiday season. An overflow crowed showed up for the preview, and to celebrate the Holiday Season with the Marmalade staff. Mayor Marty Blum officiated over the ribbon-cutting ceremony to kick-off the opening.
According to restaurant general manager Warren Butler, "The new private dining room will provide local business owners, corporations, nonprofit or private organizations, as well as families and social groups the perfect private room to celebrate the holidays, and book monthly business or board meetings. State-of-the-art equipment has been included in the room design for use at breakfast, lunch or dinner meetings, and will ensure the needed video and sound enhancements required by our guests for successful communication during their gatherings."
Executive Chef Romeo Garcia talked with guests and shared his experiences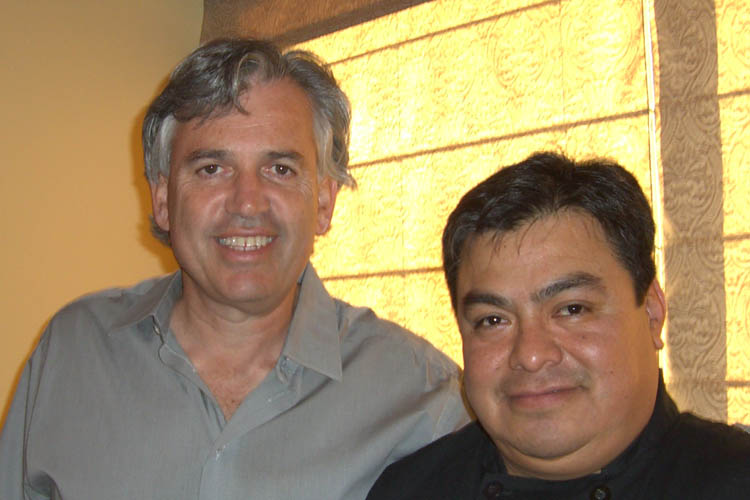 working for the Burns Family and Selwyn Yosslowitz for over twenty years. "Working with this family has been the greatest time of my life" said Garcia.
Marmalade Café was the brain child of Bobby and Bonnie Burns, along with marketing entrepreneur Selwyn Yosslowitz. The family founded business began in the early 90s and now has restaurants in Santa Barbara, El Segundo, Rolling Hills Estates, Santa Monica, Malibu, Los Angeles (Farmer's Market), Calabasas, Sherman Oaks, Westlake Village, and Tustin California.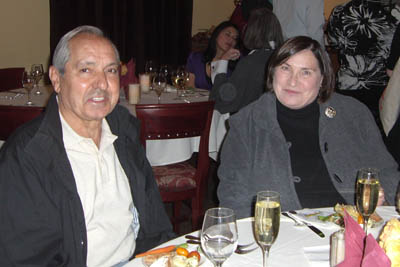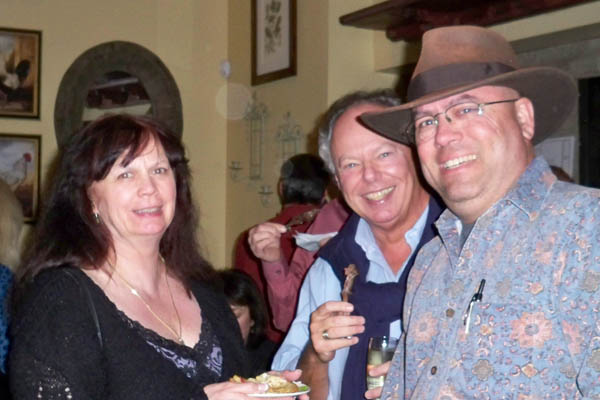 The dedicated staff at Marmalade Café is preparing to serve breakfast, lunch or dinner requests in the new room, offering food and beverage options for every taste at affordable prices. La Cumber Plaza provides easy parking for patrons, and Marmalade is open from 7:00 a.m. till 10:00 p.m. M-F; 7:00 a.m. till 11:00 p.m. S-S. For dining or private room reservations please call 805-682-5246. For additional information please visit: www.marmaladecafe.com.
---

Luscious Desserts Only Promotion
Experience a truly magical paring: dessert and Les Petits Grains! The Luscious Desserts Only promotion is taking place in six restaurants – in New York City; Albany, New York; and Connecticut - from October 15th to November 15th (see list of participating establishments below). The chefs at these restaurants, who are all members of Maîtres Cuisiniers de France, a prestigious international French culinary association, have created a special dessert menu to pair exclusively with Les Petits Grains from the renowned St. Jean de Minervois appellation. www.lespetitsgrains.com.
Les Petits Grains Makes Dessert Divine.
Participating Restaurants
---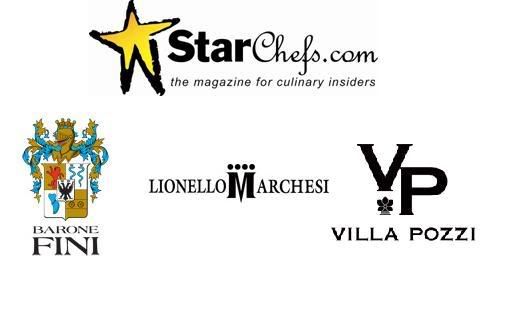 Starchefs.com celebrates World Pasta Day, Announcing Chef Tony Priolo of Piccolo
 Sogno in Chicago as Winner of National Italian Wine and Pasta Competition
(Winning Recipes Attached for Publication)


Starchefs.com today announced Tony Priolo, chef at Piccolo Sogno in Chicago, IL, as the winner of their first National Italian Wine and Pasta Pairing Competition, sponsored by renowned Italian wine estates Barone Fini, Poggio Alle Sughere and Villa Pozzi, in conjunction with World Pasta Day.
Barone Fini (Trentino), Poggio Alle Sughere (Tuscany) and Villa Pozzi (Sicily) worked with Starchefs.com to create a competition which would result in gourmet pasta recipes from top Chefs that could be easily recreated by home cooks for the coming season. "Lovers of Italian food and wine are spending more time entertaining at home, so we asked top Chefs from around the country to help us bring the fine Italian wining and dining experience into the home," said Barbara Scalera, spokesperson for the wineries. "Pasta is an inexpensive ingredient, yet one that can be used to create a delicious, upscale appetizer or main course. Similarly, the wines that we used for the competition – Barone Fini Pinot Grigio $11.99, Poggio Alle Sughere Morellino Di Scansano $17.99 and Villa Pozzi Nero D'Avola $9.99 - are all premium quality wines at affordable prices that can be found throughout the U.S. What better way to celebrate World Pasta Day then by offering a luxury dining experience that is accessible to everyone with a nearby kitchen and wine shop!"
Of the hundreds of Chefs throughout the U.S. who entered the competition, 104 finalists were invited to participate by sending in pasta recipes to pair with the three featured wines. The seven finalists, chosen for recipes that were creative, easy to prepare, and had great pairing potential with the wines were Chef Francesco Grosso, Marea Restaurant, New York, NY; Chef Rhys Lewis, Williamsburg Lodge, Williamsburg, VA; Chef Paul Player, Gaylord Palms, Orlando, Florida; Chef Giancarla Bodini, Escopazzo, Miami Beach, FL; Chef Tony Priolo, Picollo Sogno, Chicago, IL; Chef Rino Baglio, Ireland Sandrock, St Paul, MN and Chef Dave Remias, Capital Club, Columbus, OH.
Finalists recipes were prepared by Chef Bradford Thompson (winner of numerous accolades including the James Beard Award for Best Chef Southwest in 2006 and Food & Wine Magazine's Best New Chefs of 2004) and taste tested by a jury of independent chefs at the French Culinary Institute in New York City. "Tony Priolo of Piccolo Sogno was chosen as the overall winner of the competition because his dishes were well executed, paired beautifully with the wines, and paid attention to seasonally available ingredients," said Chef Bradford. "With made-from-scratch pastas, yet easily interchangeable with dried, the judges were impressed with the approachability of the recipes, as well as Tony's ambition and originality."
Tony is known for his rustic, clean cooking style at Piccolo Sogno, sourcing artisanal ingredients from throughout Italy in order to provide customers with a true Italian dining experience. The restaurants all-Italian wine list has been the recipient of a 2009 Wine Spectator Award of Excellence and a Santé Wine Hospitality Award.
Francesco Grosso of Marea Restaurant in New York came in second place for his Rigatoni con Ragu di Maiale paired with the Poggio Alle Sughere Morellino di Scansano, and Dave Remias of the Capital Club in Columbus, OH came in third for his Fennel & Sage Gnocchi with the Barone Pinot Grigio. 
 All recipes by Tony Priolo of Piccolo Sogno, 464 N. Halsted ave. Chgo Il 60642 www.piccolosognorestaurant.com 312.421.0077
Ravioli Quattro Formaggi"
Four cheese ravioli
(Barone Fini Pinot Grigio)
(Serves 4 People) Recipe by Tony Priolo-Piccolo Sogno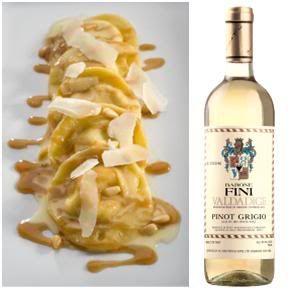 Filling:
1 cup Fresh ricotta cheese
1/8 cup freshly grated Reggiano Parmesan
1/8 cup Capriole Farms Goat Cheese
1/8 cup chopped gorgonzola dolce latte cheese
1 teaspoon chopped Italian parsley
Sicilian sea salt to taste
Fresh ground black pepper to taste 

Method:
Mix all ingredients together and adjust the seasoning
Pasta Dough:
1 teaspoon Sicilian Sea Salt
2 & ¾ cups Semolina Flour
1 & ¼ cup all purpose flour
Method:
(Method 1)In a food processor, add all ingredients, Pulse until a ball forms and then take out and knead by hand until dough is slightly firm or (Method 2) In a large bowl add all dry ingredients into center of the bowl. Make a small well in the center of the dry ingredients and add the remaining ingredients. With a fork beat the liquid until smooth, slowly touching the sides incorporating the dry ingredients. Keep mixing until a ball is formed. Take the ball out and then kneed by hand until the dough is slightly firm (Texture should be slightly firmer than your ear lobe.) You may need to adjust the water amount due to the humidity in the air. 
After the dough has rested, roll out the pasta dough progressively with a pasta machine until the dough is thin enough that you can see your hand through it. Brush the dough with egg yolk and add the filling on half of the dough with a spoon (the size of a
Quarter) with the other half of the dough, place over the side with the filling so that you form ravioli. With a small shot glass form the center of the ravioli and press all the air out. Cut with a circle cutter so there is a small edge around the center. Press the sides gently pushing the air out and set aside. Cook in boiling salted water about 2 minutes and then toss into the sauce. 
For the Sauce:
½ cup fresh chicken broth
Sicilian sea salt to taste
*Marsala Glaze-1 cup Marsala wine cooked down by ¾ until it is thick, or you can use a corn starch slurry to thicken.
*Shavings of Reggiano Parmesan- using a potato peeler lightly shave off curls of cheese from a solid piece for the garnish 


Method: In a sauce pan, reduce the chicken broth down by half. Add the butter and bring to a boil then take the sauce off the heat. Stir quickly so the sauce does not break. Add the cooked ravioli and toasted pine nuts. Adjust the seasoning and serve. Arrange the ravioli on the plate (about 6 pieces) like a flower overlapping only on one side. When you get the sixth ravioli slip it under the first. Drizzle the sauce and pine nuts over the ravioli adding a little extra sauce. Garnish with the Marsala glaze (using a squirt bottle, make sure the glaze is warm not hot, drizzle the ravioli's like it was a zigzag line)
Add the shavings of parmesan cheese over the ravioli and serve immediately 


Stracci di Farro con Asparagi e Funghi
(Irregular farro pasta with asparagus and mushrooms)
Poggio alle Sughere Morellino di Scansano
(Serves 4 people) Recipes by Tony Priolo-Piccolo Sogno
For the pasta dough:
1/4 cup All-purpose flour
Method: In a food processor add all the ingredients and pulse until little balls form. Take the dough out and knead by hand. Let the dough rest, roll out into thin sheets, and cut into irregular size pieces(similar to triangles). Cook in boiling salted water for one and a half minutes and toss into sauce.
For the Sauce:
1 bunch Asparagus-cut into slices
1 cup Mixed mushroom-cut into slices (cremini, shitake, oyster, chanterelle, etc)
1 clove garlic-cut into thin slices
1/2 cup porcini broth (1 tablespoon dry porcini steeped into hot water for 10 minutes)
1 drizzle white truffle oil (optional)
1 wedge parmesan cheese-(preferable Reggiano Parmigana or Grana Padano)-sliced into curls with peeler
1 tablespoon unsalted butter
Sea salt and black pepper to taste
Method: In hot sauté pan, add the olive oil and lightly brown the sliced garlic, add the asparagus and mushrooms, season with salt and pepper and sauté 3-4 minutes or until they are soft. De glaze with the white wine and cook down by half. Add the porcini broth and cook down by half, adjust the seasoning. Add the butter and the cooked pasta. Toss together and adjust the seasoning. Drizzle with truffle oil and serve, garnish with parmesan curls
Cappellacci di Zucca
(Priest hats stuffed with squash)
Villa Pozzi Nero D'Avola
(Serves 4 people) Recipes by Tony Priolo-Piccolo Sogno
For the pasta: 3/4 cup Semolina flour 1/4 cup All purpose flour 1 T Olive oil 1 Egg 1 Egg yolk 1 pinch Sea salt
For the filling: filling 1/2 Cup Squash puree-cooked, and drained (can use butternut, pumpkin or kabocha squash) 1/8 cup Amaretto cookies-crushed 1/8 cup ricotta cheese-drained 1 pinch nutmeg 1 pinch all spice 1 pinch Sea salt 1 pinch Black Pepper
1 T Fruit mustard (optional)
For the Cappellacci:
Method: In a mixing bowl, add all ingredients together and mix together until smooth. Adjust the seasoning.. Roll out the pasta dough skipping a number each time until the dough is thin enough for the filling (usually the last number on the pasta roller) Place a small amount of semolina onto the table so the pasta does not stick. Lay out the pasta sheets and cut into two down the center of the pasta sheet. Brush off excess flour, with a brush coat lightly both sides of the pasta with an egg wash (egg mixed with water). Place a small dollop of squash filling 1 inch away from each other until one of the pasta sheets is covered completely. Cut the pasta into squares with the dollop in the center. Fold over into a triangle and cut the edges to equal out the pasta. Squeeze the end together so it forms a priest hat. 

For the Sauce: 
2 T unsalted butter 1/8 cup walnuts-shelled 12 Sage leaves 1 cup Chicken broth-(can substitute vegetable broth)
Method: In a large sauté pan, heat the half of the butter with the walnuts and sage until the butter becomes lightly brown. Add the chicken broth and remaining butter and cook down by half. Add the cooked Cappellacci to the sauce and add the salt and pepper. Toss and serve immediately


About Barone Fini
Barone Fini's history dates back to 1497 when the two noble Venetian families of Barone and Fini united in marriage and began to produce wine in northeastern Italy. Today, the Bonmartini family, direct descendants of the Barone Finis, continues to manage this venerable property. Focusing on only two wines – Pinot Grigio and Merlot, Barone Fini sources its grapes from old vines in the Trentino region. With attention to quality at every turn, grapes are hand harvested and carefully selected before being brought to a state-of-the-art winery nearby. The winery's close proximity to the Instituto Agrario Provinciale at San Michele al Adige, a top viticultural research center initially established in 1847, serves as an additional resource in the family's quest for quality wine.
About Lionello Marchesi
Industrialist, inventor and winemaker Lionello Marchesi owns three unique Tuscan properties planted to the best traditional (Sangiovese, Malvasia and Trebbiano) as well as international (Cabernet Sauvignon, Merlot and Chardonnay) varieties. His achievements in viticulture, enology and agro-turism began in 1984 with the purchase of a medieval village in the noble Montepulciano region. Today, Marchesi continues to develop new technological advances to benefit his wines such as one-of-a-kind stainless steel fermentors. He brings this knowledge and enthusiasm to all of his current properties: Castello di Monastero, Coldisole and Poggio alle Sughere.
·         Castello di Monastero, founded in 1994, produces wines from 168 acres planted in the classified areas of Chianti and Chianti Classico, along with Chardonnay, Vin Santo del Chianti Lunanuova and the acclaimed Super Tuscan, Infinito,
·         Coldisole, which means "Hill of the Sun," includes 15 acres in Montalcino vineyards, producing Rossi di Montalcino, Brunello di Montalcino and Brunello di Montalcino Riserva.
·         In Magliano, Poggio alle Sughere explores the Sangiovese grape with Morellino di Scansano and Splendido, a Super Tuscan blend.
About Villa Pozzi
Villa Pozzi was launched in 2006 by the Pozzi family, a fourth generation wine producing family. Located in Sicily, the company's winery was originally constructed in 1860, but was completely rebuilt in 2000. Villa Pozzi produces four popular varietal wines: Pinot Grigio, Merlot, Cabernet Sauvignon and the indigenous Nero d'Avola. All of the grapes are harvested by hand and at night or in the early morning to avoid any negative influence from the phenolics, which could lead to bitterness or "off" flavors. The red varieties are grown in Sicily, while the Pinot Grigio is sourced from vineyards in the Veneto. Produced in a ripe, fruit-forward style and intended to be enjoyed upon release, the wines have good aromatic profiles, with balanced flavors, nice varietal character and long length and are.
Barone Fini, Lionello Marchesi, and Villa Pozzi are imported and sold nationally by W.J. Deutsch & Sons, Ltd.
www.wjdeutsch.com
Starchefs.com™ is an award-winning online culinary magazine, serving the foodservice industry and food aficionados since 1995. Featuring the world's top celebrity chefs, Starchefs.com.com has become the most influential destination for original culinary content on the Web. Its Board of Advisors is made up of 20 of the country's most influential chefs, including Jean-Georges Vongerichten, Daniel Boulud, Norman Van Aken, Todd English, and Bobby Flay. Starchefs.com JobFinder is the premier employment classifieds destination for the hospitality industry.
www.starchefs.com.com
---
COUNTDOWN TO THE 2010 FRENCH QUARTER FESTIVAL

27th Anniversary Celebration

Mark your calendars for festival fun!  April 9 - 11, 2009

Preparations are now underway for French Quarter Festival 2010!  As the largest free music festival in the South, French Quarter Festivals, Inc. is proud to showcase the finest music, food and culture that are uniquely New Orleans.  

 

This year's festival will feature over 250 hours of free music across 17 stages throughout the historic French Quarter.   With over 700 local musicians, every genre is represented. From traditional and contemporary jazz, to rhythm and blues, New Orleans funk, Zydeco, to brass bands, folk, opera and gospel, there is truly something for everyone.

 

Festival-goers are also invited to participate in other free activities throughout the three-day weekend and are encouraged to explore all that French Quarter Festival has to offer.  Special events within the festival include the opening parade, the World Championship Oyster Eating Contest, Battle of the Bands, Dancing at Dusk, historic courtyard tours, the International Music Colloquium, family-fun activities at Children's Headquarters, the World's Largest Jazz Brunch, and free admission all weekend long at Preservation Hall – the newest stage of French Quarter Festival.  In addition, the kickoff party and fundraiser 'TGIF' (Thank Goodness it's Festival!) party takes place the evening of Thursday, April 8th.  Tickets are only $50 and the event is open to the public.

 

Attendees can also expect to see more great food and drinks, as there will be over 70 food and beverage booths located in Jackson Square, Woldenberg Riverfront Park and the Louisiana State Museum's Old U.S. Mint.  Participants in 'The World's Largest Jazz Brunch" will be showcasing local cuisine from the area's finest restaurants, some of which have been loyal vendors since the festival's inception 26 years ago.

Out-of-town festival goers are encouraged to book their travel accommodations now; as many area hotels have reported that they are enjoying strong reservations. As always, there is no finer time to visit New Orleans as the spring, especially during the weekend of French Quarter Festival – the largest free music festival in the South.  April marks the start of the festival season in New Orleans and a month of beautiful weather.  

The 2010 French Quarter Festival is produced by French Quarter Festivals, Inc., (FQFI) the 501(c)3 nonprofit organization, which also produces Satchmo SummerFest and Christmas New Orleans Style.  For more information on French Quarter Festival, call 504-522-5730 or visit online at www.fqfi.org.
---
Meet The Star Student Of Bravo's Hot New Series
"Chef Academy" – Leonard Goodloe
Don't miss another entertaining episode
Monday night at 11:00 p.m.!
TV's newest cooking school is heating up already, thanks to one student – Leonard Goodloe. In Bravo's Chef Academy, which premiered last Monday, November 16th, celebrity chef Jean-Christophe Novelli comes to America to set up shop and try out a new brand of cooking school. Already, in the first episode, Leonard is making sure this Academy serves up its great dishes with a heaping side of drama.
This likeable food enthusiast and military child was born in Germany, where his love affair with food began at an early age. His interest in food developed through years of cooking and gardening with his beloved grandmother. After attending high college at San Antonio College in San Antonio, Texas, Leo relocated to New York to follow his passion as an Event Planner and Private Chef – building his recipe development skills and gaining high-profile experience.
In 2007, after being cut from a possible season of Hell's Kitchen, Leo packed up and moved to Italy where he attended Apicius the Culinary Institute of Florence and obtained his Professional Culinary Degree. It was there that he found his niche – international cuisine and the cultures and lifestyles associated with it. Afterwards, he heard about the opportunity to become a student at Bravo's Chef Academy and jumped at the chance to further his knowledge.
With his legitimate culinary school background and crazy mo-hawked hair, Leo is a charmer and seems to have a leg up on the competition. Despite his failing grade in the first challenge, Leo will definitely be a force to be reckoned with in the kitchen.
For more information about Leonard, visit his website at www.leonardgoodloe.com.
Chef Academy airs on Bravo, Monday nights at 11:00 p.m.
To watch full-episodes or learn more about Bravo's Chef Academy, go to www.bravotv.com/chef-academy.
Leonard is available for interviews.
---