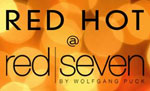 PRESENTED BY LEXUS
AMERICAN WINE & FOOD FESTIVAL ADDS
NEW "RED HOT" EVENT TO SPECTACULAR LINEUP!
Wolfgang Puck's Newest Restaurant to
Host Red Hot @ Red Seven
In celebration of its 25th Anniversary, the American Wine & Food Festival has added a new, searing hot event to its lineup. Red Hot @ Red Seven will be held on Friday, September 28 from 7:00-11:00 pm at Wolfgang Puck's newest restaurant in West Hollywood, Red Seven.
The hottest new spot in Los Angeles, Red Seven is the perfect chic locale to kick off this exciting weekend, hosted by Wolfgang Puck and Barbara Lazaroff. The evening's celebration will be filled with bubbles by Moet & Chandon, including Moët & Chandon White Star, Moët & Chandon Rose, and Moët & Chandon Nectar Imperial, Newton Vineyard wines, Patron Tequila, music and spectacular beef.
The Pacific Design Center's famous fountains just outside Red Seven's door will be blazing red, beckoning guests to dance to a sizzling Los Angeles DJ. Red Hot @ Red Seven will feature an alluring Cigar Lounge, compliments of Cigar Aficionado Magazine, where soothing Johnnie Walker Scotch will perfectly complement the evening.
Taste delicious morsels and mouth-watering beef served by:

Craftsteak

CUT and sidebar

Katana

Lawry's The Prime Rib

Red Seven

Shake Shack New York

SW Steakhouse Wynn, Las Vegas

Enjoy libations compliments of:Moet & Chandon Champagne
Newton Vineyard

Patron Tequila

Johnnie Walker Scotch

Red Seven is located at the Pacific Design Center, 700 N. San Vicente Boulevard, West Hollywood, Entry Level – Blue Building.
Ticket Availability
Red Hot @ Red Seven tickets are available through the Puck-Lazaroff Charitable Foundation for $150 per person, parking is included. For more information and to purchase tickets, visit www.awff.org or call (310) 777-3707.
About the American Wine & Food Festival
Since its inception in 1982, the Puck-Lazaroff Charitable Foundation has supported the American Wine & Food Festival, raising more than $13 million for the Los Angeles Chapters of Meals on Wheels. This organization serves thousands of meals each day to Los Angeles' homebound senior and disabled citizens.
As a result of their efforts on behalf of Meals on Wheels, the Austrian-born Puck, renowned for feeding Hollywood Glamour at the annual post-Oscar extravaganza, and leading restaurant designer Lazaroff, are also celebrated for their philanthropic spirit.
Red Hot @ Red Seven is the newest addition to the American Wine & Food Festival's world-renowned lineup.
---

This November, All Asia Food, Expo Comida Latina and Kosherfest will come together under one roof at the Jacob Javits Convention Center in NYC to bring the newest and best ethnic food, beverage and wine & spirits to buyers and other food professionals from around the world. This multi-ethnic food show, now being called under the umbrella name CULTURAL FOOD NEW YORK, will be the first of it's kind, produced by Diversified Business Communications. A new organic pavilion will highlight organic and natural foods and beverages from all three shows.
In addition to a vast array of food products, there will be demonstrations of ethnic cooking, ethnic chefs and caterers, ethnic cookbooks, ethnic beverages and wines and spirits, foodservice ingredients and manufacturing information featured from around the globe.
The latest statistics confirm that $1 out of every $7 spent by consumers on food and beverage is spent on ethnic items. Cultural Food New York will offer the single largest marketplace for ethnic food and beverages (www.culturalfood.com) at its Cultural Food New York (NOV 11-12, 2007) and Cultural Food Los Angeles (SEPT 10-11, 2007) events.
We offer the media many opportunities for pre-show, on-site and post show coverage of Cultural Food New York. We have CHEFS available for cooking demos (health, thanksgiving, Hanukkah, kosher, lactose free, fast and easy for busy moms, Hispanic and Asian are among the angles for cooking demos); a line up of new ethnic products/trends; business experts available for interview on-site or in-studio; products/foods just for kids, hottest ethnic food companies today, and much more.

---
A TREAT FROM THE EAT WELL GUIDED TOUR OF AMERICA
The tour began Aug. 2 in West Hollywood and will travel to 25 towns on its way to the Farm Aid Concert in New York City on Sept. 9.
CLICK HERE for Mom's Apple Pie.

---
Lights, Curtain, Fusion!
Barcelona's Mexiterranée celebrates three culinary heritages …
with theatrical flair
Catalan? Mexican? Mediterranean? The answer to all three is a resounding si, si, and yes. When Mexiterranée opens in October 2007, Barcelona's sizzling restaurant scene will experience a fusion cuisine like none other … with an only-in-Catalonia theatrical wow. As the brainchild of Samir Saab, concept designer and President of Prohotel International, Mexiterranée promises not only a fresh new culinary concept, but also a memorably complete sensory dining experience.
To marry the best of Catalan, Mexican and Mediterranean flavors into fresh, dazzling dishes, Catalan chef Jaume Brichs and Mexican chef Eric Anguiano, Prohotel Corporate Chef and formerly of the Mayan Riviera's Ikal del Mar, blend ingredients from each culinary heritage. From Mexico: chiles, exotic fruits and herbs; from the Mediterranean: abundant seafood, lush tomatoes and Arbequina extra virgin olive oil; and from Barcelona's Catalan kitchen, an array of local meats and cheeses. The result? A flavorful, light and fresh cuisine reflecting Barcelona's global sophistication and emergence as a cosmopolitan dining destination.
Signature dishes prove the point: steamed lamb with chiles and garlic; olive oil-poached cod in habanero sauce; and veal sirloin in tamarind sauce with eggplant and zucchini are highlights. For dessert, Chef Brichs -- whose background includes stints at the Hotel Arts in Barcelona and the Michelin-starred Koldo Royo in Palma de Mallorca – will continue the theme, using his skills as an accomplished pastry chef to create delicious Banana Tatin Tart with bourbon vanilla ice-cream and warm bitter Chocolate Cake with strawberries and raspberries sauce.
Mexiterranée celebrates Barcelona's rich artistic and architectural heritage with a cutting-edge cultural fusion décor of magenta, fuchsia and mustard tones reflective of Mexican textiles, black Oaxacan ceramic vessels and versatile gauze curtains around each seating area for guests to create their own private spaces. And -- in what is surely a dining first – Mexiterranée's on-site choreographer will orchestrate the ambiance throughout each evening with ever-changing lighting, fragrances and special music, ensuring that each visit will be as different and memorable as the previous one.
With a solid gastronomic pedigree, creative cuisine and theatrical flair both on and off the plate, Mexiterranée is destined to become Europe's most talked-about dining destination. Dining as theater is coming to Barcelona. Curtain up!
Mexiterranée is located on Gran Via de les Corts, 559B in the Casanova Hotel.
For reservations, please call +34 933 640 800.

---
RAW & REFINED MENU NOW SERVED
AT AWARD-WINNING AERIE RESORT
Menus featuring exclusively raw food bring to mind hippies, health food aficionados and the odd Hollywood starlet, but the trend is moving to the mainstream and award-winning Aerie Resort's executive chef Christophe Letard is one of the converts.
An elegant five-course meal, available with wine pairings and served nightly, has been created by Letard, who once sliced off chunks of butter to swirl around the sauté pan. His seasonal raw menu is delicious – and definitely healthy! And, for dubious diners thinking that means nothing more than crunching on fruits and nuts, a tasty surprise awaits.
The current menu starts with an amuse bouche with fresh seaweed and daikon rice sushi, followed with a chilled ancient grains and soya bean tartare with wasabi vinaigrette. A warm asparagus and morel salad with almond coulis precedes the raw black truffle soup splashed with black truffle oil, and then a palate-cleansing sour cherry and green tea sorbet. The entrée consists of cashew-crusted tofu accompanied by lemon grass infused sake marinade soba noodles and coconut curry sauce, and a chocolate tart dessert with cocoa and maple ganache completes the dining experience. The table d'hote offering is priced at $75 per person with an optional wine pairing available for an additional $55, and in keeping with the Aerie's food philosophy, the menus change seasonally to take advantage of local fruits and vegetables.
What is a raw menu? According to epicurious.com, "a raw menu is a doctrine of cooking that dictates not heating ingredients above 118 degrees Fahrenheit (48 degrees Celsius)." Pasta, potatoes, and pizza don't make the menu, and alternatives to protein, such as legumes, replace meat. Low in carbs and sugar, a raw menu is packed with natural enzymes and vitamins, reputed to provide optimum nutritional value and health benefits such as more energy, less disease, and a slower aging process.
"It's ideal for anyone who has been restricted to dining experiences due to allergies," explains Chef Letard. "But we're finding that it also has great appeal to the adventurous diner who is looking for new taste sensations, as well as the consumer who is looking for an alternative to a heavy, rich meal."
For more information, or reservations call 800-518-1933 or go to www.aerie.bc.ca.
About the Aerie:
Located just 35 minutes from downtown Victoria, BC, The Aerie is a member of the Relais & Chateaux collection of inns & hotels. Relais & Châteaux is the prestigious global association of 460 privately owned hotels and acclaimed restaurants of charm and prestige in 50 countries around the world. Founded in France and headquartered in Paris, the association serves as an ambassador for the French "art de vivre" and the highest culinary standards. Each establishment embodies the association's quality charter of the five "C's" - Courtesy, Charm, Character, Calm and Cuisine.