PETER MONDAVI JR. TO HOST
FOOD AND WINE WEEK IN TUSCANY
 Historic Villa Il Salviatino offers luxurious location in hills of Florence
Few places in the world offer as rich an experience for wine lovers as does Florence.  Club Salviatino, based at Villa il Salviatino, one of Italy's newest and finest resort properties just outside this city steeped in history and art, has invited Peter Mondavi Jr. of Napa Valley's Charles Krug Winery to lead a week's wine experience in the Tuscan countryside.
Peter Mondavi Jr.'s Club Salviatino program will include an intimate and personal salon-style discussion and sampling of his family's Reserve and Limited Release wines on Tuesday, March 23, and Thursday, March 25, 2010, for guests of the Villa and Club.  On Wednesday, March 24, he will lead a wine tour to the nearby estate of the Principe Corsini family, royalty dating to the 12th century Florence.
Club Salviatino Firenze (Florence) was created by Stanford alumnus Jeff Burton to celebrate the 50th anniversary of Stanford's Overseas Study Program.  The Stanford-in-Italy program was housed at Villa Il Salviatino from 1973 to 1988.  The purpose of Club Salviatino and this, its first annual "Festivale," is to gather Stanford and associated university alumni, faculty and their families together to enjoy intimate presentations by accomplished experts from the worlds of politics, film, food and wine, all in a spectacular location.  The "Festivale" runs February through April, 2010. 
Activities are open to Club Salviatino members and Villa guests, allow for ample free time to explore, and participation can be tailored to suit guests' desires. Most participants will arrive at Il Salviatino on Monday morning; Tuesday afternoon through Thursday will comprise activities hosted by Peter Mondavi Jr., including a gala dinner on Thursday evening. 
Situated on the slope of Fiesole's elegant hillsides, Il Salviatino offers stunning views of Florence and the surrounding countryside. The aristocratic villa was built by a Florentine banking family among the vineyards of Tuscany in the 15th century and has undergone renovation after grand renovation over the last five centuries.  During the most recent and extensive restoration, the property revealed extraordinary frescoes hidden underneath false ceilings, a sarcophagus belonging to a previous owner born again as a spectacular bath, and an intricate network of old pathways through the estate buried beneath years of undergrowth. Acclaimed Italian architect Luciano Colombo has finished the restored villa with impeccable art and furnishings.
As one of only three (among 400+) Napa wineries from the early post-prohibition era still in the hands of the same family, Peter Mondavi family's Charles Krug Winery has pioneered many of the groundbreaking techniques embraced by the American wine industry today.   Peter Mondavi Jr. proudly extends his family's winemaking legacy by employing the latest strategies in sustainable agriculture while constantly enhancing the superb quality of his family's wines. Charles Krug Winery will celebrate its 150th anniversary next summer, and Peter seeks to ensure that his family's winery will endure 900 years, like the family wine estates of Tuscany.
Il Salviatino is located at Via del Salviatino 21, Florence 50137, Italy, telephone: +39 055 9041111.  To reserve for the Peter Mondavi Jr.-Charles Krug Winery experience at Il Salviatino, and for more information, contact Jeff Burton at jeff.burton@clubsalviatino.com, or by telephone at (U.S.) 650.868.5437.
---
MICHELIN-STAR RATED HAKUBAI RESTAURANT TO OFFER EXCLUSIVE SAKE PAIRING FEATURING AKIRA SAKE FROM THE KANAZAWA DAICHI ORGANIC FARM IN JAPAN THROUGH MARCH 12, 2010 FOR JUST $30 PER PERSON
The critically-acclaimed Hakubai Restaurant at The Kitano New York Hotel will offer an exclusive Sake Pairing in the recently redesigned restaurant through March 12, 2010.  The Sake pairing will feature Akira Sake imported for the occasion from the Kanazawa Daichi organic farm in Japan along with a special tasting menu created by Executive Chef Sato.  Akira Sake was specially selected for the occasion by Sake Sommelier Chizuko Niikawa, known for her extensive knowledge of Sake and pairing expertise.   
The Sake Pairing menu will feature Akira Sake served warm and presented in a traditional Tokkuri Japanese decanter.  The menu will consist of three tasting portions of Ika Syuto Ae (squid marinated in Bonito liver), Alaskan King Crab Kani Miso Ae (Alaskan King Crab Marinated in Crab Brain) and Tako Wakame Kyurisu (Octopus, seaweed and cucumber marinated in Japanese rice vinegar).   Complimenting the menu will be the pairing of Akira Sake traditionally served warm and presented tableside in a Japanese Tokkuri.  The cost is just $30 per person and includes complimentary Sake; exclusive of tax and gratuities.  For reservations call Hakubai Restaurant at (212) 885-7111 or e-mail Hakubai@kitano.com.
Sake Pairing Menu - $30 per person                 Japanese Tokkuri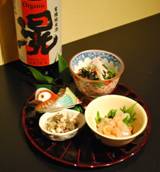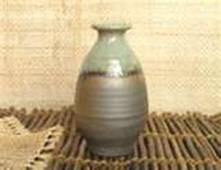 Ika Syuto Ae
Squid marinated in Bonito Liver
Alaskan King Crab Kani Miso Ae
Alaskan king crab Marinated in Crab Brain
Tako Wakame Kyurisu
Octopus, Seaweed and Cucumber Marinated in Japanese Rice Vinegar
Hakubai Restaurant is considered one of the finest Japanese restaurants in the United States.  Hakubai specializes in Kaiseki, a distinctive and delicate cuisine with roots in Zen Buddhism and the traditional Japanese tea ceremony.  The multi-course dinner, which The New York Times has described as "rarified," is served on an exquisite array of porcelain, pottery and lacquer dishware at carefully timed intervals.   Presiding over Hakubai for the past 15 years is Executive Chef Yukihiro Sato.  The new menu will feature traditional Japanese fare such as Kobe Beef Toban Yaki with Apple Sauce (Kobe Beef grilled on a hot ceramic plate cooked tableside), Kaisen Nabe (Seafood with lobster cooked at your table in a pot of soy milk broth) and Ton Toro Shio Yaki (salt-grilled fatty pork).  The restaurant is open daily from 11:45 a.m. until 2:30 p.m. for lunch and from 6 p.m. until 10 p.m. for dinner.  For reservations call Hakubai Restaurant at (212) 885-7111 or e-mail Hakubai@kitano.com.
v
---