CITY OF SANTA CLARITA 12th ANNUAL COWBOY FESTIVAL
by Bonnie Carroll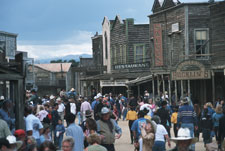 Mayor Cameron Smyth welcomed everyone to the magical Cowboy Festival in Santa Clarita, California, which honors the history of the great American Cowboy, and everything associated with it. The event is held at Melody Ranch Motion Picture Studio, where many of the wonderful old Cowboy movies were made. A "Go on Location Tour" was given by Dave Holland and Mike Royer, who took visitors to some of the most memorable location sites in Hollywood movie making, where John Wayne, Errol Flynn, Hop-a-long Cassidy, Gene Autry, and Roy Rogers created Western movie history.

An Artists' Quick Draw contest was held at the William S. Hart Mansion, where Western artists created works of art in one hour, in a historic building where they were surrounded by priceless art and artifacts from the collection of Mr. Hart. All the works of art created were auctioned off at the end of the event.

A highlight of the four day festival was the Walk of Western Stars Gala, which was held on the streets of downtown Newhall, where their Western heritage began, The star-studded event forever immortalizes Western stars of the silver screen who have bronze plaques in the sidewalks of downtown Newhall, and at 7:00 the dinner and awards ceremony began in the Hyatt Valencia Grand Ballroom.

Locals come to this event decked out in full period costumes, and of course, authentic Western gear. Riders on horses and ladies with sun umbrellas and big hats are many. The food scene is so much fun, with real Cowboy coffee, cooked over a fire; homemade apple cobbler (the kind your grandma made); chuck wagon steak and a variety of fun foods for kids. A spaghetti Western dinner was served on the Fillmore & Western Railway Company train, where actors in Cowboy costumes shared history about train travel in the Old West.

Music and poetry stages dotted the festival grounds at the Wells Fargo sponsored event, where outstanding musicians/song writers and poets performed for visitors throughout the day. I was delighted with poet Baxter Black, a Cowboy poet who is referred to at the 'Mark Twain of our generation,' who recited moving poems about the life of a Cowboy, and then would suddenly burst into song. I found this simple, but beautiful form of telling a story so interesting and very entertaining. The Hot Club of Cowtown band gave a great performance; the group had previously been on the road with Willie Nelson and Bob Dylan.

The Western town movie set was filled with gift venues selling every kind of memorabilia. I bought a Cowboy hat from a young man who was visiting from Driggs, Idaho, and found out I had worked with him promoting SpudFest, a film festival sponsored by the Idaho Potato Commission, when he was working as a newspaper writer for the Teton Valley News. 'It's a small world after all' does not only apply at Disneyland!

This amazing four day event is real Americana at it's very best, and I highly recommend this event for families who want to experience a feeling of the Old West, and enjoy a great time together learning about Cowboy history, listening to great country music, and eating good Western grub. "Happy Trails to You"! For upcoming festival information go to www.cowboyfestival.org.

COOKBOOKS FOR COWBOYS
THE ALL AMERICAN
COWBOY GRILL
By Cheryl Rogers-Barnett, Ken Beck, & Jim Clark
If you are from a Cowboy family or just love the great grilled food they are known for don't miss The All American Cowboy Grill, a great book filled with sizzlin' recipes from the worlds greatest cowboys, which is available at www.thomasnelson.com or by emailing specialmarkets@thomasnelson.com

COWBOY VEGETARIAN COOKBOOK
By Baster Black
What, A Vegetarian Cowboy Cookbook? Yes, Baxter Black, a renowned cowboy poet, humorist, and writer, who performs at the Cowboy Festival in Santa Clarita, California, was formerly a rodeo bull rider, currently entertains regularly on National Public Radio's Morning Edition, and he wrote the Cowboy Vegetarian Cookbook, filled with great recipes that have names like "Rawhide Stew" and "Seed Corn Cap Pizza." According to the author "when beef gets short the cook must come up with meatless meals." Copyright 1996 Baxter Black. Contact at www.baxterblack.com.