CALIFORNIA CHEF NEWS
Mimosa Celebrates 25th anniversary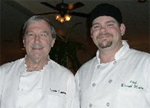 Camille Schwartz, former owner and creator of award winning French cuisine at Mimosa Restaurant, was on hand to celebrate the 25th Anniversary of the French Mediterranean inspired restaurant with owner Derrick Melton and Chris Melton.  Executive chef/owner Derrick Melton and his wife Chris have been working together for thirteen years, Derrick as the chef and Chris as the pastry chef. They are a dynamic duo at Mimosa, and combine their talents to create unique menu combinations.
Chef Schwartz's career in gastronomique has taken him around the world and prior to opening Mimosa on De La Vina and Alamar he was a chef in many fine international kitchens, including San Ysidro Ranch. Today he owns and
operates Mirabelle, an award winning French restaurant in Lake Tahoe.
SAY CHEESE PLEASE AT PIERRE LA FOND BISTRO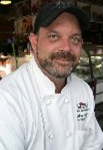 Grilled cheese sandwiches are generally seen as a comfort food we all so enjoyed as kids, but Chef Josh Keating at the Pierre La Fond Bistro Restaurant & Wine Bar on lower State Street has dreamed up a petit gourmet version of the familiar favorite that comes in four delicious presentations, and they are paired with salad or tomato bisque. Options include Gruyere with grilled peppers; Fontina with proscuitto; Humbold Fog with pear Irish Porter, and smoked Mozzarella with tomato and basil. The wine lists features local favorites and special offerings from Pierre La Fond Winery. Grilled Cheese Night at the Bistro is every Thursday from 4-7 p.m. Patrons may also want to check out their Friday night dinner with live Flamenco music.
---
REJUVENATE AT SPA LUCE IN LA
This Summer, SpaLuce invites you to give your body the gift of relaxation from head to toe. SpaLuce's funky-fresh lunch menu adds the perfect finishing touch to a luxurious day at the top-of-the-line, sleek new spa. This unique selection of delicious, eclectic, good-for-you cuisine compliments the spa's philosophy of maintaining balance and harmony as well as nurturing the body and soul from the inside out.
Executive Chef and Partner for Wolfgang Puck Catering and Events, Matt Bencivenga, graces SpaLuce with his culinary artistry and thorough attention to detail. He offers an array of fresh, delectable delicacies, including the cool and smooth Twin Melon Soup, a healthy and refreshing treat that is low in calories and high in beauty boosting antioxidants. For other fruitful delights, guests can savor the protein-rich Poached Pear Salad or the SpaLuce Fruit Plate with Mango sorbet. In addition, spa goers can enjoy the Ahi Spring Rolls, Crudites with non-fat Kiwi Dressing, and Shrimp Salad with Honey Lime Soy Vinaigrette.
Crudités
carrot, zucchini, yellow squash, seedless cucumber, jicama, and bell peppers served with our non-fat kiwi dressing
 
Ahi Spring Roll
seared sushi grade ahi with Asian inspired vegetables wrapped in rice paper, accompanied by soy honey & lime vinaigrette
 
Poached Pear Salad
flavorful pear slices with red endive, field greens, fresh mozzarella pearls, tear drop tomatoes dressed with basil emulsion
 
Grilled Shrimp Martini
lightly spiced grilled shrimp served atop yellow gazpacho salsa
Quinoa Salad
portobello mushroom cap topped with roasted beets, carrots, celery root, quinoa and Italian parsley finished with balsamic reduction
 
Spa Luce fruit plate
seasonal sliced fresh fruit and berries with mango sorbet
 
Twin Melon Soup
chilled soups of cantaloupe and honeydew with citrus essence
---