ANDALUCIA HOTEL
The Jewel Box of Downtown Santa Barbara
By Bonnie Carroll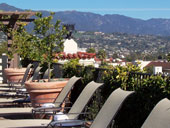 Finally, a star quality hotel in the hub of the worlds most beautiful beach city! The Hotel Andalucia offers European elegance, impeccable service, unending fine amenities, magnificent food, and memorable hospitality in a venue that is just footsteps from the Santa Barbara Court House, Santa Barbara Museum of Art and Paseo Nuevo shops.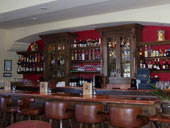 It is obvious that Manfred Timmel, General Manager of Hotel Andalucia has served at the helm of some of the finest properties in the world, and has a keen eye for the attention to detail that makes everything move gracefully in this intimate and elegant luxury property. The Santa Barbara architectural firm of Bria Cearnal and JG Johnson of Denver created an exquisite hotel addition to the city, and Isabel Griswold, Beverly Hills designer, filled it with style. From check-in to dining, to relaxing on the rooftop garden patio, to sleeping in the most comfortable beds in the world, it's all good!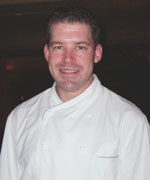 31 West, the inviting hotel restaurant, offers a menu that is classically delicious. Chef Michael Riordan's culinary skill is combined with Santa Barbara's freshest seafood, vegetables, and produce to present spectacular plates that are perfect. The restaurant wine list is superb, and the staff is amazingly knowledgeable in pairing wines with specific dishes. Chef Riordan's culinary career included a stint at Le Bernardin, and it shows in his dishes; especially the lobster and braised beef selections. The Ahi tuna and beef carpaccio appetizers were so original in presentation and simply divine. My dessert was a petite dark chocolate morsel, sitting on lemon crème, topped with pistachios; a perfect ending to a delightful culinary adventure.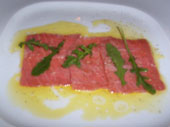 Hotel guests are welcomed to enjoy a rotating art exhibit that is on display in the hotel, and the Spanish tiled pool- Jacuzzi on the rooftop, where the view of Santa Barbara is one of the most beautiful I have ever seen. If one had the time, this would be the ideal location to simply merge with the natural beauty of their surroundings. In the evening the large fireplace on the rooftop attracts guest who enjoy sipping espresso and conversing by the fire. Mr. Timmel told me that this area is now a favorite for corporate and private social functions.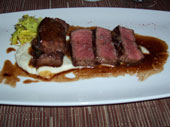 The Andalacia is managed by the Edward Thomas Hospitality Corporation, which also owns Shutters on the Beach and the Casa del Mar Hotel in Santa Monica. They are all very different, but they all offer their own elegance and guest services specific to their location. If you are at the beach or in the heart of the city of Santa Barbara you will find elegance, comfort and breathtaking views, along with anything else your heart may desire. For information call 805-884-0300 or visit www.andaluciasb.com.
---
ENTERTAINMENT AND EPICUREAN WORLDS COLLIDE AT THE BOGART PEDIATRIC CANCER RESEARCH PROGRAM "L'AFFAIRE DIVINE" WINE AFICIONADO DINNER MAY 15th AT
DISNEY CONCERT HALL Cult-Cab Vintner Ann Colgin Auctions Lots, While the Who's-Who of the Entertainment World Feasts on Fine and Rare Wines as the Sun Sets Over Downtown Los Angeles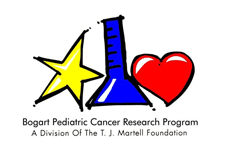 The much anticipated Fourth Annual Wine Aficionado Dinner benefiting the Bogart Pediatric Cancer Research Program will take place on Monday, May 15th at the Disney Concert Hall. "Each year, media moguls, financiers, socialites, entrepreneurs and creative artists have a chance to get up close and personal with the chefs and wine experts whose crafts are on display at their highest levels," comments board member and committee co-chair Sandi Rapke. "This is our most efficient and most profitable fundraising event each year, and it is always a sell-out affair." Tickets for the dinner are $1,000 per person and are available for purchase by calling (323) 330.0520.The intimate fundraiser—which for wine lovers is the téte-de-cuvée of charity events in Los Angeles—aims to provide donors with the ultimate food and wine experience. The evening, aptly called "L'Affaire Divine," begins with a champagne reception at 6:30 p.m. in the atrium of the private gardens of the concert hall as the sun sets over the city, followed by a sumptuous four-course dinner at 7:30 p.m. in the BP Hall prepared by Celebrity Chef Joachim Splichal of Patina. Each dish is paired to perfection with highly collectible wines from some of the finest producers, carefully selected and sourced by cult-cabernet vintner and board member, Ann Colgin, Creative Artist Agency's Robert Bookman, restaurateur Pamela Morton, Wally's Christian Navarro, KCRW's Stacie Hunt and Carte Du Vin's Jeff Smith. A celebrity host is yet-to-be-announced.
The wine selections for this year's dinner will feature a flight of rare 1985 Bordeaux (three selections, including 1985 Mouton Rothschild), a flight of 1999 red Burgundy (three selections), a flight of 2002 white Burgundy (two selections, including Alex Gambal Chassagne-Montrachet "La Maltroie" 2002) and Colgin's own Jubilation Merlot with dessert. All selections are from the finest chateaus and are considered by experts to be fine and rare. The highlight of the dinner is a live auction with several extraordinary and unique packages, auctioned off by Ann Colgin. Auction items include an all-expense paid "Vegas High Roller Package," impossible-to-get VIP floor seats with a "Lakers #1 Fan Package," premium and rare wines provided by LA's premier wine consultant Jeff Smith of Carte du Vin, and more. The motivation for this high class revelry is the children of the pediatric cancer section at Children's Hospital Los Angeles, for which the Bogart Program is the main funding source of early stage research that cannot otherwise receive support from traditional means like federal grants. The Wine Aficionado dinner has raised nearly $500,000 in the past three years for the Bogart Research Program.
About Bogart Pediatric Cancer Research Program,
A Division of the T.J. Martell Foundation


Founded in 1984, the Bogart Pediatric Cancer Research Program, a division of the T.J. Martell Foundation, supports research in children's cancer, leukemia, and AIDS at five dedicated laboratories and Children's Hospital in Los Angeles. To date, Bogart has helped to raise over $190 million towards the treatment and cure of these terrible diseases. Bogart researchers are continuously making landmark discoveries in many fields: In Gene Therapy, Bogart Laboratories have recently performed the first trials on children with HIV infection, showing feasibility and safety. A "second generation" trial is now underway. In Developmental Therapeutics, resedarchers have proven that a vitamin A-like drug is able to kill cancer cells and have completed initial testing of an oral form for children. In Molecular Biology, the survival rate for neuroblastoma, one of the most deadly childhood cancers, has been raised from 16% to 55%. For more information about The Bogart Cancer Research program, please check out www.tjmartellfoundation.org.