SIMPSON HOUSE INN - THE BEST IN OLD WORLD ELEGANCE
by Bonnie Carroll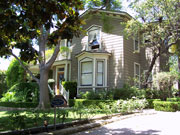 The Simpson House Inn, built in 1874, is a magical visit to the past of Santa Barbara. Guests are amazed by what they find behind the tall hedges that surround the beautifully manicured garden and grounds. The main house contains the lovely living room and dining room where guests gather for afternoon tea, a buffet breakfast or the complimentary wine and hors d' oeuvres party in the evening, featuring delicious local wines. The delicious food and baked goods served at the Inn are all home-made on the premises. Comfortable seating areas throughout the property provide perfect little venues to enjoy tea, read a favorite book, or just meditate on the beauty of the unusual plants, flowers and trees that surround the historic house.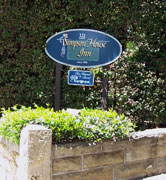 The main house, built in 1874, contains 7 of the 14 guest venues, and withstood the earthquake of the 1920s. This house is the central activity area of the Inn, where guests enjoy numerous complimentary food and beverage gatherings, as well as obtain information to fill their visit with a variety of activities and tourist attractions to enhance their stay in Santa Barbara.

The rooms and cottages are a combination of antiques and state-of-the-art accouterments, beds with designer linens, along with amenity options to meet specific individual needs of every guest. Each room or cottage has a beautiful view, with one overlooking the lovely flower and herb garden, and cottages provide views of the house, croquet area, and gazebo. The library in the house offers a fine selection of movies on CD, and a collection of best sellers, along with historic photos and travel information to enjoy. The personal touches and attention here are simply amazing, they have thought of everything!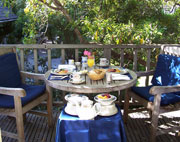 Breakfast is served under the eves of the elegant front porch, and can be enjoyed at antique wicker tables with Cape Cod style table linens. The staff will happily deliver breakfast to your room, to be enjoyed on your own patio, and what a delicious menu they offer. Poached eggs on toast, with fresh fruit and yogurt, along with your choice of juice and delicious coffee, as well as additional standard breakfast selections to provide a great start for a day of touring. Silver, English china, fresh cut flowers, and antique crystal add an element of historic style to all your food & beverage experiences at the Inn. My favorite touch, which I have never seen anywhere else, was a bowl of popcorn delivered on a silver tray, atop a lace doilie…what fun!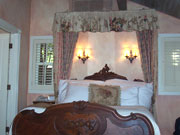 Located walking distance from many of the renowned historic sites in the city, The Simpson House Inn offers a convenient home base to study the most interesting sites in Santa Barbara, and each guest is given a ticket for a free Santa Barbara Trolley ride. The antique trolley travels throughout the city during the day. From the Wharf to the Santa Barbara Mission to a bevy of trendy shopping venues, it is all good for visitors. There are also numerous area festivals and musical performances, as well as art shows that tourists will enjoy. All city activity information can all be found in the house living room.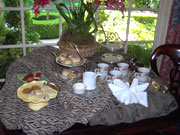 Spa amenities are available through nearby businesses, and massage therapists will come to the property to give guests treatments. This is a very quiet and peaceful venue, perfect for a delightful escape for those of us who live hectic lives. The property is dotted with fountains that not only give a cooling effect, but also resonate a feeling of contentment. The Inn also recommends area restaurants to guests, and below please see a review on the WineCask restaurant, a favorite haunt of the late Julia Child, who had resided in Santa Barbara. This is one of the many dining spots in Santa Barbara that is known for including locally grown farm produce and excellent Santa Barbara wines on their menus.

For a unique weekend or vacation in Santa Barbara do not miss this lovely respite. The service, facilities and one-on-one attention given here surpasses that of any major hotel. They are a Five Diamond AAA rated venue, and fully deserve it! For reservation information call 1-800-676-1280 or visit www.simpsonhouseinn.com.
---
WINE CASK RESTAURANT
Where Local Produce & Wines Are Abundant
by Bonnie Carroll

Executive Chef Alex Castillo
Chef de Cuisine, Robert Lopez
Pastry Chef, Sascha Galkin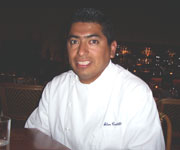 The Wine Cask Restaurant and Wine Store has been a favorite haunt of locals and tourists visiting Santa Barbara for many years. Located in a charming Spanish Center near the historic Santa Barbara Court House, it offers a variety of dining adventures. The main dining room is centered by a huge fireplace, where evening diners may enjoy a feeling of warm hospitality and elegance. The outer area is a graceful patio, where dining under the stars is an option. This is a venue where home grown produce and excellent local wines prevail.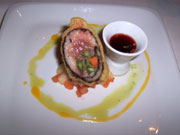 Executive Chef Alex Castillo is a hometown success story in the art of culinary style. He attended the Santa Barbara Culinary School and worked with many great chefs before taking charge of the Wine Cask kitchen nearly seven years ago. The late Julia Child, who was a Santa Barbara resident, was a frequent visitor at the Wine Cask, especially on New Year's Eve, when she would bring family and friends together for a huge celebration. Alex said she had favorite dishes that he would prepare for her, and he said "it was very sad when she became ill, but on her last New Years Eve she called and requested her favorite dinner be delivered to her, and we boxed it all up and delivered it to her home." "We really miss seeing her at her regular table (he pointed to a small table for two against the wall). She was such a gracious lady, who so enjoyed good food and wine," he said.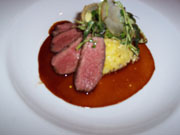 A few divine First items on this menu that delighted me were the pan seared Hudson Valley foie gras, with sun dried fig tart and local sweet wine jelly, and the Chardonnay poached lobster medallion, with daikon and carrot spaghetti and saffron-chive nage. The Diver scallop ceviche salad with hearts of romaine, pico de gallo and crispy tortillas with cilantro-lime coulis is exciting. Our Main favorites included seared peppercorn crusted Ahi with ginger risotto, stir fried vegetables and ponzu sauce with spicy sesame seed oil drops, and the roasted rack of lamb with sweet corn risotto, farmers market vegetables and mosto d'uva cotto glaze. A sweet finish includes desserts by Sascha Galkin, and they are amazing.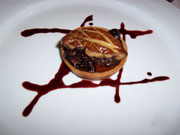 The Santa Barbara chocolate pot de crème with vanilla chantilly is outstanding, and the cheese plate with toast points, nuts and fruits is quite nice. Naturally, the wine list at a place called the Wine Cask is outstanding, with wine from around the world, as well as exceptional local wine selections that are perfectly paired with menu items, either by the bottle or the glass.

The Wine Cask is located at 813 Anacapa Street, Santa Barbara, California. For reservations call 800-436-9463 or visit www.winerack.com.
---
BASTILLE DAY CELEBRATIONS IN CALIFORNIA
July 14, 6 :30pm-9pm
Bastille Day San Diego with the Alliance française de San Diego Location: St Tropez Bakery at 4S Ranch16625 Dove Canyon Rd, San Diego 92127
Info: www.afusa.org/af/afSanDiego/ ; (858) 673-6824
Bastille Day Dinner with the Alliance française de Pasadena
Location: Café Bizou91 North Raymond Avenue – Pasadena 91103
Info: www.afdepasadena.org
July 16, 9am-11am
Matinée bleu blanc rouge with the Alliance française de Tucson
Location: Belle Provence Atelier ; Interior Design & Vintage Goods, 2855 East Grant Road - Tucson 85716
Info: www.belleprovence.net

July 16 & 17, from 11am to 7pm
17th Annual Santa Barbara French Festival
Join the fun at the Santa Barbara French Festival ( Bastille Day Weekend, July 16 & 17, 11am-7pm, FREE admission). Great food. Over 40 great acts on 3 stages: cancan, folkdance, Poodle Parade, Femmes Fatales Drag Review, Moroccan bellydance, Napoleon, Maurice Chevalier, Edith Piaf, Hot Jazz a la Django, accordeons galore, and much more. Huge Eiffel Tower. Lots for the kids.
Location: Oak Park - Santa Barbara
Info: www.frenchfestival.com. It's where AMERICA celebrates FRANCE! Oo la la!

July 17, from 12 noon to 8pm
Fourth Bastille Day Los Angeles Festival: All Day Free Celebration in the Gradens of the Page Museum. Bastille Day Los Angeles Festival, a fun-filled, all-day event celebrates the undying ties between the French and American peoples. This international free celebration will take place in the beautiful gardens of the Page Museum in the heart of Miracle Mile. Under the auspices of the Consulate General of France in Los Angeles, the Festival is co-hosted by Consul General Philippe Larrieu, and showcases international culture through non-stop entertainment in dance, music, theatre, folkloric acts and yes.of course, French food! From a Provencal "petanque" tournament to a Parisian waiters' race, Tahitian dancers, street performers, and more, there's fun for everyone. Visitors can stroll through the French vendor marketplace whilst delighting their taste buds with gastronomic specialties from all over France. There will also be a beer and wine garden for Festival goers over the age of 21.
The event is FREE to the public and is produced by Passions Productions.
Location: Gardens of the Page Museum in the heart of Miracle Mile on Wilshire Blvd, just East of LACMA.
Info: (323) 656-6083 ; (323) 957-2326 ; www.bastilledaylosangeles.com
---
EXTRAVAGANZA OF THE SENSES - July 16th
The Los Angeles Free Clinic will hold it's 8th Annual Extravaganza for the Senses on Saturday, July 16th at Fox Studios on Pico Boulevard in Los Angeles, from 7:00-10:00 p.m.

The Annual Extravaganza for the Senses is the best-attended event for The Los Angeles Free Clinic. This year, actor Jason Bateman ("Arrested Development") will serve as honorary chair of the event. The event is one of the largest wine and food tastings in Los Angeles. More than 2,000 people enjoy wine, cocktails, beer and food from over 120 participating wineries and 40 of the best restaurants in the city! Produced by the New Friends, a young professional group raising money and awareness for the Clinic, the event has benefited from its long-term partnership with The Wine House. Extravaganza was listed as "one of the top ten coolest things to do in July" by L.A. Magazine and "Pick of the Week" by LA Weekly. For information visit www.lafreeclinic.com.