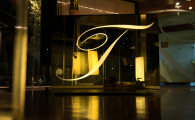 TRISTAN
Majorca Michelin Restaurant a Star in Puerto Portals
by Bonnie Carroll
Arriving at the harbor of Puerto Portals it is difficult not to be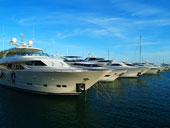 impressed by the priceless and beautiful yachts lining the waters edge. The entrance to the elegant Tristan Restaurant is the essence of subtle sophistication, and the interior of the dining establishment is the essence of understated elegance, with memorable views of the harbor. The Group Tristan includes the Restaurante Tristan, El Bistro del Tristan, El Bar del Bistro, Tristan Catering and Formula Schwaiger, where the secrets of Majorcan taste are revealed by Chef Schwaiger.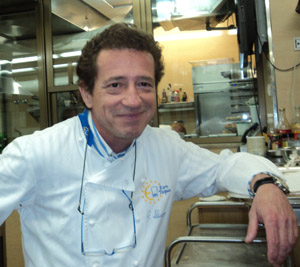 Chef Gerhard Schwaiger, who I viewed as the Wolfgang Puck of Majorca, was born in Bavaria and worked in some of the finest kitchens in Europe before his successful opening of Tristan. The restaurant was renovated in 2010 and celebrated its 25th anniversary on July 4th. Recently Chef Schwaiger cooked for Angela Merkel and government chefs during the EU summit in Brussels. He holds countless culinary awards for his outstanding gastronimique expertise. His newest offering is called the "Tasting Tapas Menu" and is true to his motto of "Just Enjoy"!
The rooftop is an ideal place to meet for hors d'oeuvre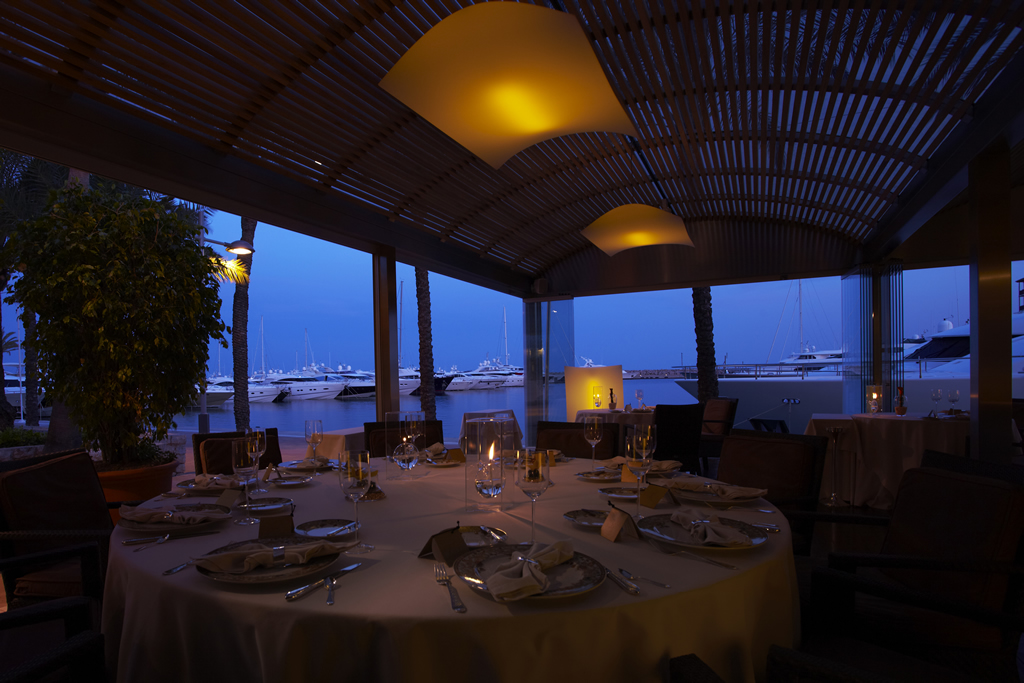 creations and champagne before moving to the main dining room for dinner. The Tristan staff is so efficient and charming that they are a major element in the total dining experience at Tristan, with Claudio Marini, Tristan partner and Maitre Juan Luis Biedma leading this dream team with true European experience and style.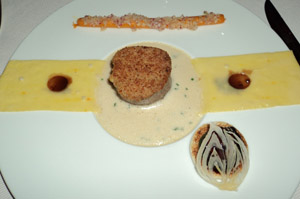 Beginning dinner as the sun is setting is the

ultimate opportunity to watch the lighting in the restaurant turn it into a room filled with candles, warmth and everything nurturing the palate could desire. Our "On the Trail of Juniper Serra" dinner included scallops and caviar, salad and sugar-snap peas,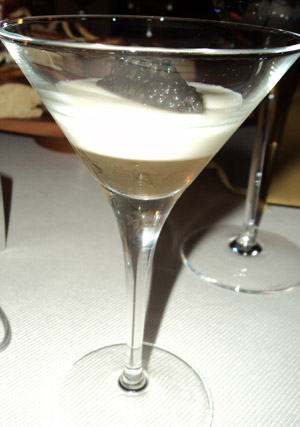 consommé of jellied turbot with asparagus mousse and caviar to start, and entrees of lasagna of soller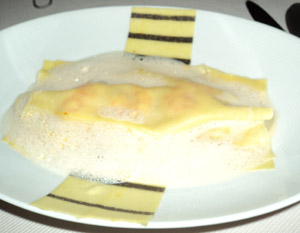 prawn with white asparagus tomatoes and basil, angler fish with cream spinach, potato spaghetti and soufflé potatoes; jellied gazpacho of beetroot with tomatoes and caviar; fried veal filet with pasta "aglio-olio", carrot-ginger vegetables and chives sauce. The delicious ending included a selection of the

finest European cheeses, and a dessert of crème caramel of "Blue Mountain coffee", coffee oil and amaretto ice cream. The dessert presentation was such a sweet ending to an unforgetable evening.
Our dinner was in honor of the

upcoming 300th anniversary event to celebrate the birthday of Father Juniper Serra on November 24, 2013. Father Serra was born in Petra, and traveled to America to become the founder of the California Missions. In 2013 a huge celebration is being planned in honor of Father  Serra's birthday and it is expected that thousands of visitors will be traveling to the island of Mallorca to participate in a pilgrimage. For information contact Consell de Mallorca.

A sommelier and the staff carefully selected and served perfect wines with this dinner that included Saint Claire Sauvignon Blanc 2009, Marlborough, New Zealand; Torre des Canonge MG 2009, Vins Toni Gelabert, Vi de taula (Mallorca) Espana; Chardonnay "Method Ancienne 2006, Springfield State, Robertson South Africa; Brunus Rosado 2010, portal del montsant, D.O. Monstant Espana; Gran Veran Seleccionado 2007, Bodegas Biniagual, D.O. Binissalem (Mallorca) Espana; Pedro Ximenez Antique, Bodegas Fernando de Castilla, D.O. Jerez Espania. South African and New Zealand wines have become quite popular in Spain and Germany and are offered on most wine lists in these destinations.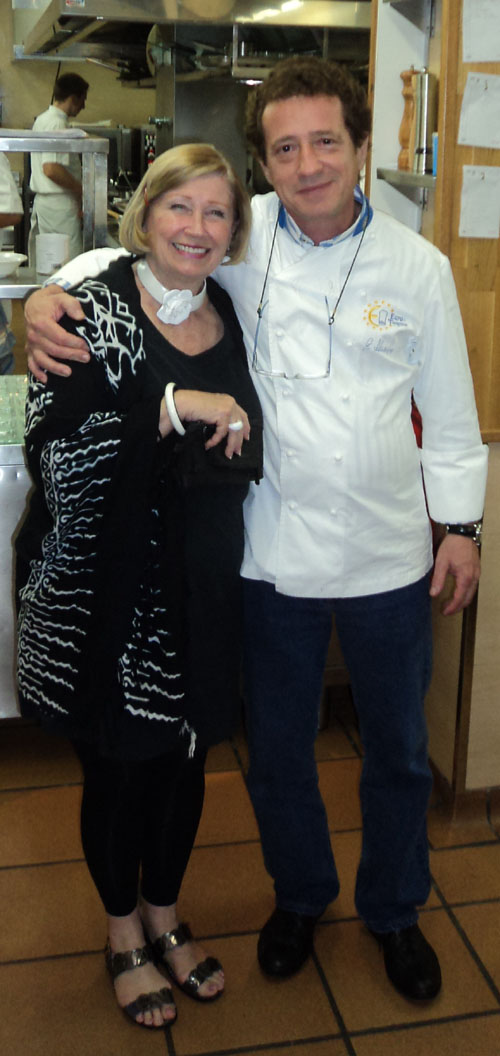 Needless to say, the imaginative preparation and uniquely artistic presentation of this dinner was beyond outstanding. Chef Schwaiger not only knows his food, but is a master artist in the visuals of the plates he is creating. To say I loved this restaurant would be an understatement. Anyone planning a trip to this Spanish a-list island must include a visit to dine with Chef Schwaiger at Tristan, which is considered by experts to be the best dining in Majorca. For reservations or inquiries please use the contact information below. Reservations in advance are recommended at this gourmet food afficionado's haunt. Bon Appetit!
Grupo Tristan
Local No1
07181 Puerto Portals
Mallorca
Tel. 0034 971 677 277
www.formulaschwaiger.com
---
                                              Imperial No. Nine
Sam Talbot first made waves as a contestant on Top Chef, and he's been cooking up a seafood-laced storm at his Hamptons haunt Surf Lodge. His first NYC opening was bound to attract a lot of attention, and not just because he's widely considered to be a hunk. His menu focuses on sustainable seafood, and the fans he's accumulated from his stint in the Hamptons have kept the place busy from opening day.
Imperial is in the spankin' new Mondrian SoHo Hotel – which is positioning itself as a draw for city-dwelling trendoids with a space that's prettier than the sultry chef. The garden room has a lively bar scene, while a quieter dining area keeps things sparkly with gold banquettes and a communal table.
---
Old Spanish Days in Santa Barbara Fiesta 2011

"Celebrate Santa Barbara"
Introducing Joanne Funari, La Presidenta 2011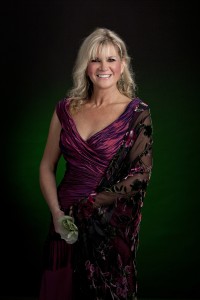 2011 Proclamación
"Celebrate Santa Barbara"
¡Viva La Fiesta!  ¡Viva Santa Barbara!  As La Presidenta 2011, I am honored to invite you to enjoy Santa Barbara's richest tradition - FIESTA!  2011 is a notable year for many reasons, two of which are key milestones in our very own backyard. 
In 2011 we will celebrate the 225th anniversary of our very own magnificent Santa Barbara Mission.  I can think of nothing richer in tradition than this historic landmark, Old Spanish Days' loyal partner since the beginning.  We all have fond memories of our Mission and perhaps my most vivid memory is that of our beloved Father Virgil Cordano overseeing our official Fiesta kick-off every year, Fiesta Pequeña.  Father Virgil left an indelible mark on the citizens of Santa Barbara – his Spirit will live on forever.  He often reminded us that as life becomes increasingly hectic; we must take the time to reflect on how fortunate we are to live in this amazing community.  Santa Barbara is truly the American Riviera – with its favorable climate, breathtaking landscapes, vibrant lifestyle, and most importantly the character and perseverance of its citizens.  
2011 also marks the 87th year of Old Spanish Days, bringing joy to the hearts of young and old alike.  Oh…the excitement of Fiesta – the stages filled with whirling dancers in beautiful costumes, the sound of mariachis strolling the streets, the smells of authentic food and the lively entertainment of the Mercados, the dangerous tests of courage and skill in the rodeo, the floats and equestrian teams – the grandeur of the parade.  It is a celebration of Life, History, Community, and Cultural Diversity – A Celebration of Santa Barbara. 
My theme, "Celebrate Santa Barbara," is inspired by the resilience, camaraderie, and strength of our community.  This is a community that will rally around a cause like no other.  In recent memory - nothing demonstrated the strength and character of our citizens more than our response to a series of devastating wildfires that occurred over a 12-month period.  We witnessed extraordinary acts of kindness and a tremendous outpouring of generosity from many local companies – profit and non-profit.  We found that a hero can be, and often is, an average citizen.  The efforts of the individuals and organizations involved in our emergency response were awe-inspiring.  We watched as firefighters and law enforcement put their lives on the line to save our city, our families, and our properties; an unwavering call to protect and serve – a profound motto that defines the character and dedication of our local law enforcement and firefighters.  This "thank you" may fall onto thousands of others, but from this Santa Barbara resident to our local heroes – THANK YOU. 
I am enormously proud and honored to call Santa Barbara my home.  Please join me at FIESTA 2011 to honor the heroes of Santa Barbara and celebrate the enduring spirit that is Santa Barbara – ¡Viva La Fiesta!!!!!!! www.fiesta.com for event information and ticket purchase.
---
Bread and Roses Event

SAVE THE DATE!

BREAD & ROSES 2011
Saturday, September 17th
4:00 p.m. until 8:00 p.m.
@ QAD in Summerland Visit:www.fundforsantabarbara.org
For information call (805) 962-9164
VENUE
QAD Campus
2111 Ortega Hill Road
Summerland,
TICKETING
Ticket Pricing:  $75.00   
  Tickets ONLY in advance & ONLY thru Sept 9th
Phone:  (805) 962-9164
  - Fund for Santa Barbara Office
Internet:  www.fundforsantabarbara.org
DESCRIPTION
   Join hundreds of your friends & neighbors including local activists, donors and community leaders in celebration progressive social change! The Annual Bread & Roses celebration will include fabulous local food, wine, and both a live and silent auction.
   Over 500 people attend Bread & Roses, making it the largest progressive fund-raiser in Santa Barbara County. This year's event promises to be another fabulous success.
   *THE EVENT WILL SELL OUT QUICKLY! Tickets are ONLY available in advance and ONLY through September 9th. This can be done by credit card over the phone or by email. Or, if you are on the Fund's mailing list - look for your invitation in August.
   The money raised at Bread & Roses provides critical support for the Fund for Santa Barbara's grant-making and technical assistance programs.
Event Category & Type:
    Gala( Social Events, Openings, Mixers)
Year Event Founded:
   1994

We Need Volunteers for this Event:
   The event is made possible thanks to the dedication of dozens of volunteers. For information on volunteering, please call 962-9164


---