MONTEREY AQUARIUM COOKING
FOR SOLUTIONS 2008
Irish Cooking Celeb Darina Allen Honored
by Bonnie Carroll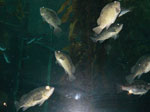 Cooking for Solutions 2008 celebration of sustainable cuisine was once again an outstanding and inspiring effort of chefs, corporations, and food industry specialists, along with the sea of foodies who support the integrity that this annual event represents.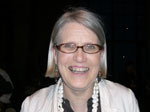 Darina Allen, renowned cooking teacher, author of 15 books and a culinary television host described as the 'Julia Child of Ireland' was honored with the Conservation Leadership Award - Chef of the Year for her commitment and leadership in furthering the cause of sustainable cuisine . From her home base at the Ballymaloe Cooking School in County Cork, Ireland she fosters food in all its dimensions; growing it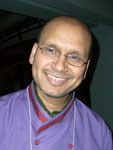 , preparing it, cooking it, and crucially enjoying it. She draws inspiration from the farms bounty, and believes that the best cooking comes from using the best ingredients.
Participating celebrity chefs included John Ash, Tony Baker, Michelle  Bernstein, Cal Stamenov, Stuart Brioza, Anthony Keene, Andrew Brown, Terry Teplitzky, Joel Chenet, Kurt Graxing, Sam Choy, Jim Dodge, James Waller, Clark Frasier and Mark Gaier, Jeff Rogers, Raghavan Iyer, Mary pagan, Douglas Katz, Alessio Giannuzzi, Michael Nischan, Patrick Mullin, Barton Seaver, Dory Ford, Rick Moonen, Thom Fox, Phillip Dedlow, Wendy Brodie, Peter Pahk. Participating chefs from local restaurants included Paul Lee, Deric Weruzler, Michael Gibson, Jon Kasky and Nancy Rohan, Preeti Mistry, Robert Madrid, Matt Bolton, Earthbound Farm Organic Kitchen, Matt Glazer,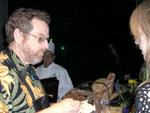 Christophe Gerard, Mohamed Tabib, Kenny Belov, Denise Wyer, Quentin Topping, Hog Island Oyster Company, Jerry Regester, Il Fornaio, Jason Giles, Mark Ayers, Rober Sapirman, Anne Parker and Yann Lusseuau, Ted and Cindy Walter, Gerard Bechler, Rodney Worth, Tim Fisher and Francisco Mellado, Yoichi Saito, Mark Ainsworth, Jacques Wilson, Forrest Cook, Willi Franz, Tsar Nicoutal Cavier, Mark Ayers, and Gene Moana,
Fred Kirschenmann a senior fellow from the Leopold Center for Sustainable Agriculture lead a panel of sustainable food leaders at the Monterey Plaza Hotel, where representatives from farming, dairy, seafood, bison, and the American Humane Associations discussed achievements and challenges they are facing.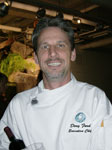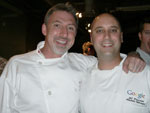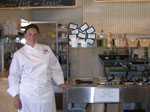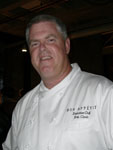 Cooking Classes were held in the Monterey Aquarium auditorium, where celebrity chefs John Ash, Stuart Brioza and Reghavan Iyer, along with celebrity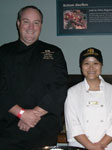 emcee Jim Dodge provided cooking demonstgrations and take-home recipes to attendees.
The Gala was presented by Bon Appetit Management Company, and took tasting and sipping to new heights. This was a dream come true for foodies and epicureans who delight in sampling seafood dishes from a bevy of international chefs, and tasting the best in  wine from California and around the world. The entire Aquarium was filled with happy smiling people holding out their plates for chefs to fill up. According to the event coordinators the event was more than double the size of last years event, with more than 2,300 attendees, and 2 to 3 times the participating chefs and vintners in 2007.     
---
LEARN TO COOK LIKE A TUSCAN,
AND WALK LIKE ONE, TOO, ON NEW CULINARY
ADVENTURE FROM COUNTRY WALKERS 
Ten-day tour of ancient Italian region includes cooking classes,
created in partnership with The International Kitchen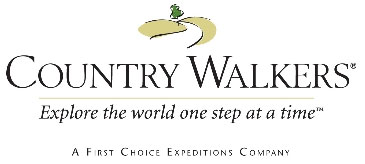 Through a new partnership with The International Kitchen, Country Walkers will be welcoming gourmet chefs and beginners alike on Italy: Tuscany Fall Harvest & Tuscan Cooking with Chef Claudio, a NEW cooking class-infused walking adventure, launching September 2008.
Country Walkers, the premier purveyor of small group walking tours has teamed up with The International Kitchen, the leading provider of cooking school vacations in Europe, to create a delectable amble through the hills of central Tuscany. The ten-day tour leads guests through Tuscany's best preserved medieval towns, including Siena, San Gimignano and Volterra – each rife with ancient architecture and artwork, as well as rustic ambiance and historic accommodations for which the region is so renowned.
Then turn your attention to the kitchen – and the table – as Chef Claudio Piantini brings equal doses of generosity, patience and skill to conduct hands-on cooking lessons of favorite Italian dishes. Piantini's distinguished career has included formal culinary training, a stint as a restaurant sommelier, and his current position as owner and chef of Torre Guelfa Restaurant in Figline Valdarno.
Chef Piantini will lead tour guests in the creation of traditional dishes such as ribollita (Tuscan vegetable and bread soup) and crostini (grilled bread typically served with chicken liver or fresh tomatoes and olive oil), as well as less traditional fare like castagnaccio (chestnut flour cake enriched with nuts). Beginner and advanced cooks alike will have much to glean from Chef Piantini's craft, and every appetite is certain to be satiated. Walking is the perfect complement to cooking, and this itinerary invites guests to explore the region by foot before sampling its culinary bounty in the kitchen with Chef Piantini.
Italy: Tuscany Fall Harvest & Tuscan Cooking with Chef Claudio, 10 days, 9 nights, starting at $4,898; departure September 14, 2008, with more tours to come in 2009.
---
SALZBURG: FIVE REMARKABLE RESTAURANTS

Salzburg is Mozart's birthplace; but it is also a hot spot for night owls, with a cache of pubs, bars, clubs, and microbreweries.

Hangar-7 is not just an event venue and art gallery; it also houses one of the most fascinating gourmet restaurants, the Ikarus, where a different star chef from the best restaurants around the globe is flown into Salzburg every month. www.hangar-7.com

Atelier zu Hellbrunn at the Pleasure Palace of Hellbrunn combines traditional and modern fare. It is renowned for elaborate dinners with up to ten miniature courses, the so-called amuse-gueule menu. www.taste-gassner.com

Die Weisse has always had cult status for people of all ages. The historic brewery, whose name denotes a smooth wheat beer, has the right "Stüberl" (room) for every taste: traditional with old wood or ultracool in the "Sudwerk" – the bar with the demonstration brewery styled in modern industrial architecture. www.dieweisse.at

Regulars at the Steinterrasse appreciate the unique atmosphere at the seventh floor of Hotel Stein – it features a breathtaking panoramic view of Salzburg's city center and is decorated in the 1950s style with a newly designed spacious bar and lounge. www.hotelstein.at

Any extensive night of partying should include the extremely charming Steingasse, whose historic buildings housing a number of pubs and bars. The chef at the Shrimps Bar lets guests watch while he prepares delicious fish dishes. www.shrimps.at

A few steps further take you to the Saitensprung, a bar and disco with fantastic drinks and a broad selection of music styles.
---