BREAKFAST ABROAD
Delightful Beginnings While Traveling Through Europe
by Bonnie Carroll
How you begin your days while traveling through Europe is of paramount importance, and the service varies from 'fit for a queen' presentations to a 'feeding the masses' scene in various hotels throughout Italy, Switzerland and France. Below you will see what's on the menu at some of the most popular breakfast venues.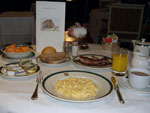 The Westin Excelsior on Piazza Ognissanti in Florence is under the direction of General Manager Antonello de' Medici, and offers the finest in service, and a menu at Restaurant Il Cestello with specific combinations to please every guests, as well as a sumptuous serve yourself breakfast buffet. The American breakfast here is my favorite; a tasty combination of bacon, eggs, toast, juice and coffee that is served so elegantly that I forget it is my American breakfast special. I also enjoybeing given and English newspaper to read without having to ask. The hotel is a sister to The Grand Hotel, located just across the courtyard, and they both are walking distance from the renowned Ponte Vecchio.

The enchanting Villa d'Este Verandah Restaurant and patio provide a panoramic view of mystical Lake Como, where guests may enjoy a magnificent breakfast buffet, filled with culinary surprises from renowned Chef Luciano Parolari and his staff. Chef Parolari will soon be celebrating forty years at the helm of the Villa d'Este kitchen. Every possible breakfast food known to woman, and then some, can be found at the buffet or on the formal menu. The unique peace associated with this venerable place of rest offers a pleasant way to begin the day, while planning your touring agenda. Service here is always impeccable.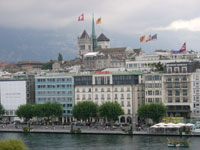 Four Seasons Hotel Des Bergues, a neo-classical jewel-box, located on the shore of Lake Geneva and the Rhone River in Geneva Switzerland, offers an elegant breakfast experience in their newly renovated Il Lago Restaurant, where Italian Chef Marco Garfagnini provides a variety of specialty options, including unique combinations of fresh squeezed juices, and a menu containing samples of wonderful Swiss and Italian specialties, along with classical breakfast favorites. The breads and rolls served are all baked in the hotel kitchens. This elegant room offers an interesting view of Lake Geneva, and the bridge leading to the 'Old Town' area.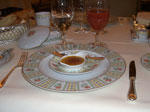 There is, however, no more beautiful formal room to enjoy breakfast than Le Cirq Restaurant at the Four Seasons Hotel George V in Paris, which begins with a tiny and perfect crème brule, and a menu that includes anything a spoiled little heart desires. This is a room that is filled with French history, and would make anyone feel they belong to a royal family. The servers are so eager to please, and the welcome is warm and accommodating. According to the hotel staff, the hotel was closed for two years to be renovated and the décor was completed by world renowned designer Pierre-Yves Rochon, who has skillfully preserved the French historic integrity of the hotel, but subtly merged its classically French style with the utmost in modern technology. What a gift to the French people and to the world!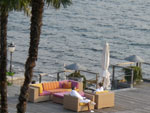 The Hotel Eden Roc, located in Ascona, Switzerland, is another property that went through a recent renovation and offers the best of stylish resort dining at either waters edge or in their beautiful Eden Roc Restaurant (14 points in the Gault Milau rating). The breakfast buffet is spectacular, and offers more wonderful juice varieties than I knew existed, as well as fresh baked breads, cheese, fruits and healthful cereals with yogurt. The room offers a panoramic view of the lake. The La Casetta, located on the waters edge is also a venue of choice. The five-star hotel is happy to arrange a champagne breakfast on board a luxury yacht if requested or breakfast may simply be enjoyed on the patio of your own white marble suite, overlooking the entire resort. General Manager Daniel Zeigler and his staff are superb. This hotel is five-star heaven!

The Westin Excelsior Hotel in Rome gives you a tastefully presented buffet breakfast, as well as select menu items, and provides guests a convenient exit to the lively Via Vittorio Veneto, one of the most renowned shopping areas in the world. The hotel chef offers a beautiful buffet in their newly renovated Doney Restaurant, one of the most historic dining establishments in Europe; at the location where La Dolce Vita was filmed. This elegant hotel is made to order for sightseeing or world-class shopping.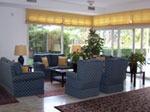 Hotel Villa Sassa in Ticino, Switzerland is a modern hotel with privacy and charm. The buffet breakfast is filled with products made in Switzerland, and it is an adventure trying new yogurts, grain cereals and cheese products. The new spa director also suggests healthy items available on the menu. The views from this hotel of the lake are so outstanding, and the service is the best. Each room has a patio overlooking the lake and the beautiful hotel pool, where room service will happily deliver a tasty breakfast.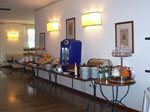 The healthy and delicious breakfast buffet at Hotel Villa Undulna in Cinquale, Italy is a peaceful beginning to your vacation of relaxation, to renowned Terme Della Virsila spa treatments, and to floating in the Olympic sized mineral spring pool. All of the breakfast food prepared here is designed to keep off the pounds, and provide maximum energy. away. It is very deliciously prepared and served in a lovely room overlooking the garden and pool area. Guest often take their early morning walk to the nearby ocean, located just a few blocks from the hotel.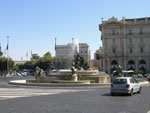 Last but not least is the Mediterraneo Hotel, one of the Bettojas Hotels, located one block from the Rome train station, and home of the Rooftop Restaurant, a secret haven from the busy city where guests enjoy lunch, afternoon tea or cocktails. This is a pleasant respite in the busy city center, and offers one of the most spectacular views of the eternal city. If you are traveling by train this is a very convenient venue; featuring rooms that are comfortable, clean and have every amenity. The breakfast buffet is a crowd pleaser, offering a huge variety of favorites. The staff and concierge at Meditteraneo Hotel are simply outstanding in customer service.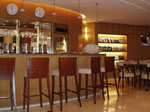 If you are catching a plane at De Gaulle airport, the light breakfast buffet served in the American Airlines Ambassador Club Paris was a wonderful surprise, and included a variety of sweet rolls, biscuits, condiments, fruit juices, coffee and selections of fresh fruit and cheese. This beautiful waiting place can make traveling quite nice and civilized.
For information please find all these venues listed on the world web.
---
CRANBERRIES GO HOLLYWOOD WITH OCEAN SPRAY'S
"RED CARPET BOG" NOVEMBER 14-16
The breath-taking beauty of the cranberry harvest will come to Hollywood when 2,000 pounds of cranberries and cranberry vines from Ocean Spray bogs arrive at the Hollywood & Highland Center to create a 1,800 square foot free-standing bog. A beautiful cranberry red carpet will greet visitors to the exhibit and will extend up the staircase from the Hollywood Walk of Fame to the "Red Carpet Bog" event. Members of the media are invited to visit this visually spectacular event—a cranberry red carpet leading up to a beautiful sea of red cranberries floating in a watery bog against the backdrop of the iconic Hollywood sign—from Tuesday, November 14 through Thursday, November 16, from 10AM - 4PM daily at Hollywood & Highland Center, Hollywood. The "Red Carpet Bog" is free and open to the public from 9 AM to 5 PM for consumers to learn first-hand about the taste, health, and heritage of the cranberry from third- and fourth-generation cranberry growers. Ocean Spray growers will be showing off the fruits of their labor during the harvest season and will be available to explain how cranberries are harvested, their own growing history, as well as general cranberry information.
Renowned Pastry Chef Sherry Yard of Spago Hollywood will be available for bog-side and in-studio cooking demonstrations, showcasing a variety of cranberry dessert recipes. Yard has created show-stopping desserts for the Grammy® and Emmy® Awards and for the last eight Governors Ball dinners that follow the Academy Awards® broadcast. Visitors to the "Red Carpet Bog" are also invited to lend a helping hand to those in need of a Thanksgiving meal by helping string together America's longest Cranberry Garland. Donations can be made to America's Second Harvest – The Nation's Food Bank Network, the largest charitable hunger-relief organization in the U.S. Donors will receive a faux cranberry to string on the garland, and proceeds will benefit the Los Angeles Regional Food Bank.
WHAT: Ocean Spray's "Red Carpet Bog"
WHEN: Tuesday, November 14 to Thursday, November 16 10AM- 4PM
WHERE: Hollywood & Highland Center 6801 Hollywood Blvd.
DETAILS: On-site interviews with Ocean Spray cranberry growers
(November 14-16) Cooking demonstrations/interviews with Pastry Chef Sherry Yard