SANTA BARBARA ART & JAZZ FESTIVAL - A FAMILY AFFAIR
by Bonnie Carroll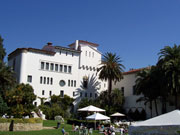 Renowned Jazz musician Peter Clark was the master of ceremonies for the fantastic Jazz presentations at the 8th Annual Santa Barbara Art & Jazz Festival, held in the garden of the Santa Barbara Courthouse, where music, art and fine food converged to create a delightful weekend for locals and tourists.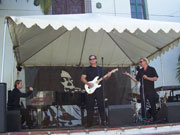 The judged art show attracts talented contestants from around California, who show their works in a variety of expressions. Laura Inks, owner of ARTS ALIVE!, a creativity center for children, provided an art craft tent that was jammed with children expressing themselves in chalk, paints and sculptor. Two young dancers from the group gave a memorable performance on the steps of the courthouse, and a bevy of musicians also performed.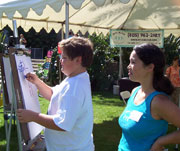 The Concours d'Elegance folks, of Rodeo Drive fame, held a minute classic car show, featuring a limited amount of lovely autos, that was a new addition to the annual event. The Santa Barbara Concours has in the past been held in the Goleta area, but according to one of the show producers, they were happy to be a part of the prestigious art and jazz event.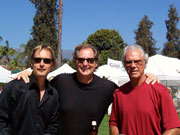 There were notable wineries and food vendors who kept the hungry crowd happy, and the weather was Santa Barbara heavenly. Clark provided a wonderful lineup of everything from full orchestra's to Jazz trios, all wonderful to watch and listen to, including a performance by the talented Milani brothers, who are the children of the renowned opera singer. For information on upcoming Jazz events go to www.SantaBarbaraJazzSociety.com.
---
TRAVEL NEWS ALERT:
CANCUN VISITS BEVERLY HILLS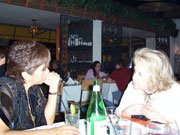 Patricia Lopez Mancera, Director of Public Relations for the Visitors & Convention Center of Cancun, in cooperation with the Mexican Tourism Board, hosted a special event to introduce the hot vacations destinations upcoming campaign.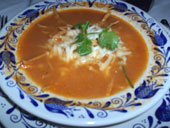 Freda's Restaurant in Beverly Hills presented an outstanding Mexican dinner to travel writers and tourism experts to kick-off the season, which includes a Cancun Gastronomic Festival, Oct 29 - Nov. 15. Andrea Rademan, VP of a local womens travel and food writers group enjoyed visiting with Patricia during dinner. Visit www.Cancun.info for details.