The Hautes Etudes du Goût with the University of
Reims Champagne - Ardenne and Le Cordon Bleu,
welcome their 3rd class
November 12 to 24, 2007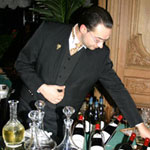 The vocation of the Hautes Etudes du Goût, created in 2004, under the auspices of the University of Reims Champagne-Ardenne, is to provide a deeper understanding and global vision of the complex world of gastronomy and fine living. Over the past 2 years, the Institute for Advanced Studies in Taste, Gastronomy and the Arts of the Table has tested the relevance of this original concept.
The Hautes Etudes du Goût delivers a humanistic and multi-disciplined program with a sensorial approach. By focusing on existing knowledge on tas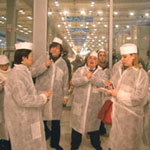 te, gastronomy and fine living, students reassess their own specialty within the current global context of gastronomy, but also have doors opened to new horizons.
To satisfy the demands of an international market, the program takes place over two intensive weeks: one week at Le Cordon Bleu Paris and one week at the University of Reims Champagne-Ardenne.
The program consists of a triple approach: historical, economic and sociological, and is aimed at:
Professionals from around the world: chefs, sommeliers, executives from hotels and restaurants, training consultants, PR and marketing, etc.
Post-graduate students who want to develop their career in the world of Taste and Gastronomy.
Food and wine lovers and those wishing to acquire a new culture or increase their knowledge of gastronomy.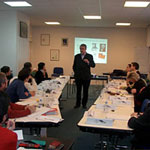 The classes are given in French with simultaneous translation in English. A conference given by Le Cordon Bleu entitled « Gastronomy of the 21st Century » and pedagogical meals directly linked to the syllabus are also part of the program.
An official diploma (D.U.G.G.A.T. – Diplôme Universitaire du Goût, de la Gastronomie et des Arts de la Table) will be awarded by the University of Reims Champagne –Ardenne to those who obtain the required level after the final exams, as well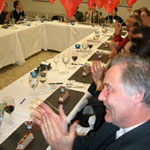 as a Le Cordon Bleu Certificate.
The Selection Committee is currently examining applications for November 2007.
NOTE:
Created in 2004, the mission of the Hautes Etudes du Goût is the preservation and development of culinary arts and French fine living. Due to the worldwide increase in demand and interest in gastronomy, the Hautes Etudes du Goût embodies a strategic and essential vision for France.
The University of Reims Champagne –Ardenne (www.univ-reims.fr) is honored to welcome this program, complementing its strategy of developing partnerships for specialized programs.
Since its creation in 1895, Le Cordon Bleu has constantly developed, to become one of the leaders in culinary and hospitality education. Today, present in 15 countries (Latin America, Asia, Australia, USA, Middle East and Europe) with 30 international schools, Le Cordon Bleu has developed without modifying its tradition of excellence and its fundamental values. Through the influence of president André Cointreau and in perfect harmony with the Hautes Etudes du Goût, Le Cordon Bleu is dedicated to the protection of French culinary, educational and cultural values.
Contact:
Hautes Etudes du Gout
BP 183
51686 Reims Cedex 2 (France)
www.heg-gastronomy.com
Le Cordon Bleu
8 rue Léon Delhomme
www.cordonbleu.edu

Information and applications:
Edwige Sibille, Project Manager
contact@heg-gastronomy.com

---
THE GRAND DEL MAR ADDS TO GROWING
TEAM OF CULINARY PROFESSIONALS
New Executive Chef and Executive Pastry Chef Join Luxury Resort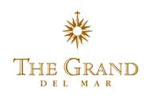 The Grand Del Mar, the much-anticipated 249-room luxury resort slated to open this October, has added a talented duo to its growing culinary team, with Jason McLeod taking charge as the new executive chef and Thierry Delourneaux as executive pastry chef.
As executive chef for The Grand Del Mar, owned and operated by Manchester Grand Resorts, McLeod will oversee all culinary operations – including the stand-alone Clubhouse Grill; Amaya, the all-day Mediterranean bistro-style restaurant within the resort; the Lobby Lounge; a casual venue at the main pool; in-room dining; and a gourmet shop with specialty items and sandwiches.
"We are honored to have these experienced professionals join our growing team," said Thomas Voss, president of Manchester Grand Resorts. "Our food and beverage program already has a proven track record with our signature restaurant, Addison, which opened nearly a year ago to much critical acclaim. We are confident that both Jason and Thierry will help take our already stellar culinary operations to even higher standards of excellence."
Previously with Four Seasons Resorts for seven years, McLeod was most recently executive chef for the Four Seasons Resort in Great Exuma, Bahamas, where he was in charge of three dining venues and a staff of 65 cooks. He was also the opening executive chef for the Four Seasons Resort in Whistler, British Columbia and helped open Four Seasons properties in Costa Rica, Miami and Toronto. Prior to that, he worked for the Fairmont Chateau Whistler Resort in British Columbia, and gained experience in London, England, where he worked at several one- and two-star Michelin restaurants. He has received numerous honors and accolades throughout his career, including several Four Seasons' "Manager of the Quarter" awards and the USA Rice Federation "Chef of the Year" achievement. In his new role at The Grand Del Mar, McLeod says he will take "full advantage of the region's abundance of local farms, cheese makers, wineries and fisheries." The Vancouver, Canada native now lives in La Jolla.
Working closely with McLeod, Delourneaux, the resort's accomplished new European-trained pastry chef, has been tapped to take charge of bakery operations throughout the resort, including the signature fine dining venue, Addison. He will also collaborate with the entire food and beverage team to develop an inventive line-up of pastries, confections, breads, in-room amenities and other items.
Delourneaux was most recently the acclaimed executive pastry chef at The Beverly Hilton in Los Angeles, and while there, he was recruited to develop the dessert menu for the 2007 Golden Globe Awards event. He was also the executive chef for The Ritz Carlton Hotel in Tyson's Corner, VA, and executive pastry chef at Park Avenue Catering and Food Attitude – upscale catering companies in New York City. A native of Guadeloupe, he trained as a pastry cook in Montreal and Paris, and completed a Pastry Chef certification from the French Chamber of Trade.
About The Grand Del Mar
Situated amid a pristine private reserve in Coastal North San Diego County, The Grand Del Mar is slated to open October 6, 2007.
When complete, the luxury resort will feature: 249 elegantly appointed guestrooms and suites; San Diego's only Tom Fazio-designed championship golf course; two outdoor, lighted tennis courts; a 21,000-square-foot Renaissance-inspired spa; four swimming pools; regional dining, including Addison, the signature restaurant which is now open; an enclave of residential Villas; and more than 20,000 square feet of indoor/outdoor meeting space.
For more information, call 858-314-2000 or visit the website at
www.TheGrandDelMar.com
About Manchester Grand Resorts
Founded in 1970 by Douglas "Papa Doug" F. Manchester, Manchester Financial Group, the parent company of Manchester Grand Resorts, selectively invests in technology, communications, and health and human services companies. Since its inception, the company has designed, developed and managed high quality commercial properties throughout the Western United States and has played an integral role in the dramatic metamorphosis of San Diego's urban landscape – developing such landmark properties as the San Diego Marriott Hotel & Marina and the Manchester Grand Hyatt. Manchester Grand Resorts also owns and operates Whitetail Club & Resort on Payette Lake in McCall, Idaho.
---
NAPA VALLEY'S HOLIDAY CELEBRATION KICKS OFF WITH
YOUNTVILLE'S 19TH ANNUAL FESTIVAL OF LIGHTS
- Month-Long Event Rings the Holiday Bell with Food, Arts and the Big Guy in Red -


Forget the town's five Michelin stars and 24+ wineries tucked within four square miles and slip into something a bit more seasonal: Yountville's 19th Annual Festival of Lights. Kicking off Friday, November 23, 2007 with events spanning the month of December, the Festival of Lights is a true taste of hometown holiday fun. The season hits a high note with a procession of thousands of twinkling lights transcending the town into a show-stopping winter wonderland complete with carolers, elves, horse-drawn carriage rides and a visit from the big guy in Red. Info: www.yountville.com; all events are free.
Visitors can tap into a variety of activities and off-season hotel rates starting November 23 with a block party certain to pique all of the senses. At 2:00 p.m., a parade ushers Santa into his West Pole post where children can mix, mingle and pose for posterity. Street side, 20+ wineries and the region's top tables (French Laundry, Bouchon Bakery, étoile, Redd, Brix, Bistro Jeanty, Hurley's Restaurant & Bar, Bouchon, Pacific Blues, Napa Valley Grille) serve up tastes along Washington Street while galleries, boutiques and restaurants open their doors for late night shopping and dining.
Like a sparkling saphire, Yountville's annual holiday celebration is a magnet for visitors seeking the real deal. The town's charming European ambiance mixed with a classic California wine country beat is a perfect ticket for urbanites seeking an escape from the hectic shopping season. Throughout December carriage rides (weekends), late-night shopping and festive events round out the seasonal salute. For the avid oenophile, go green and grab a bike for a tasty trek of the area's wineries meriting Napa Valley's official 11th AVA. Key stops include Cliff Lede Vineyards, Domaine Chandon, Goosecross Cellars, Bell Wine Cellars and newcomers Tamber Bey, Keever Vineyards, Kapcsandy Family Winery, Gemstone and Chanticleer.
Other options abound including caroling above the clouds on a hot air balloon adventure, barrel tasting, touring the Napa Museum, gallery hopping or enjoy a live performance at the newly-renovated Lincoln Theater.
Visitor Information
Site of Napa Valley's first planted vines (1838), Yountville sits at the epicenter of the region's culinary scene sporting the top-ranked restaurants, 24+ wineries and 10 lodging properties. An ideal base for the avid oenophile, Yountville offers the county's only hot air ballooning launch, five National Register of Historic Places sites, a microclimate pedigree with its own AVA and 60+ wine growers, world-class shopping and performing arts. Located 55 mi./88 km. north of San Francisco, travelers can arrive via scenic Highway 101 or via Napa County Airport, Sacramento (SMF), Oakland (OAK) or San Francisco (SFO) international airports. For more information and travel inquiries, contact the Yountville Chamber of Commerce at 707.944.0904 or www.yountville.com.