The history of asparagus goes right back to 2000 BC. It was cultivated by the Ancient Egyptians, the Greeks and the Romans. During the Middle Ages asparagus was a highly prized herbal remedy for gout. It was then rediscovered for the modern world by the French Sun King, Louis XIV. In the 17th century the "royal vegetable" was grown for Elector Palatine Karl Theodor in the palace garden of his summer residence in Schwetzingen, and during the 18th century its popularity gradually spread to the royal kitchens of neighbouring princedoms. For much of its history asparagus was the preserve of the privileged few within the church and society. More recently it has come to be recognised as a very healthy vegetable which has purifying benefits for the body. An asparagus cure is one of the most pleasurable ways to care for your health. And who can resist the taste of this "royal vegetable"? The asparagus season is as eagerly awaited by gourmets as the new crop of sweet, juicy strawberries.
The Baden Asparagus Route and parallel cycle trail cover around 136 kilometres from Schwetzingen, the famous asparagus-producing town, to Scherzheim via Reilingen, Karlsruhe and Rastatt. The white asparagus spears are harvested between the middle of April and 24 June. Visitors can watch the harvesters at work and even join in and help. During these weeks there are asparagus festivals all along the Asparagus Route and plenty of opportunity to taste delicious fresh asparagus specialities served by hospitable landlords. Once the harvest is over, the green plants and red berries mean the asparagus fields are still easily recognisable well into the autumn. Besides asparagus fields, there are other attractions along this gourmet route, including flower-filled meadows, beautifully laid-out parks and gardens, places of cultural interest, lakes suitable for bathing, museums and historical sites.
---
FOOD NETWORK STAR PAULA DEEN JOINS THE NEW ORLEANS WINE & FOOD EXPERIENCE IN A "GRAND" CELEBRATION OF LOUISIANA SEAFOOD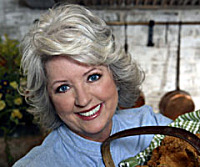 The New Orleans Wine & Food Experience (NOWFE) is responding in earnest to the situation Louisiana fishermen are facing in the Gulf waters by dedicating the Saturday Grand Tasting to a "Celebration of Louisiana Seafood" and offering a special fundraising dinner at Restaurant August later that evening. Proceeds from these events will be dedicated to the Louisiana Wildlife and Fisheries Foundation in partnership with the Louisiana Seafood Board. Food Network's reigning Southern Belle, Paula Deen, will highlight this year's revelry with a special appearance on Saturday, May 29. Louisiana's own "bayou boy," and TLC celebrity chef John Besh will join Deen in a cooking demonstration on the Main Stage at 3:15pm. "I am so excited to be a part of a celebration of Louisiana seafood," states Deen. "To me Louisiana seafood is just divine, and we need to pay tribute to that." The Friday and Saturday Grand Tastings are the culminating events of NOWFE's 4-day extravaganza and are truly "Grand" experiences for both foodies and wine connoisseurs, pairing extensive offerings from 75 of New Orleans' finest chefs and a selection of more than 1000 wines from around the world. (To purchase tickets visit www.nowfe.com)

Celebrity chef Aaron Sanchez will also join in the festivities by presenting a cooking demonstration of his own during the Saturday Grand Tasting at 2:00pm. In addition to the special cooking demonstrations, eleven Louisiana chefs will participate in the third annual Louisiana Seafood Cook-Off hosted by the Louisiana Seafood Board. The winning chef, crowned the "King or Queen of Louisiana Seafood," will represent Louisiana in the seventh annual Great American Seafood Cook-Off. "It is vitally important for us to remind consumers that Louisiana seafood is still readily available and safe for consumption," states Ewell Smith, Executive Director of the Louisiana Seafood Board. "Louisiana produces one-third of the seafood for the continental US, and 70% of the seafood from the Gulf of Mexico, creating a $2.4 billion industry that supports over 27,000 jobs."

"The response from these chefs is overwhelming," states Octavio Mantilla, 2010 NOWFE Board President. "Their efforts will enable us make a substantial contribution that will support our local fishermen and help us to preserve these national treasures-- our Louisiana Coastline and Fisheries." To continue the celebration, Deen, her husband Captain Michael Groover, and her brother Earl 'Bubba Hiers of Bubba's Oyster House, will be joined by chefs Besh, and Sanchez in their support of Louisiana fishermen with a fundraising dinner at Besh's flagship restaurant, August, on Saturday night at 7pm. Restaurant August will generously donate 100% of the proceeds from this dinner to the Louisiana Wildlife and Fisheries Foundation. Reservations for the six-course dinner, paired with exceptional wines, showcasing Gulf Coast seafood specialties are $300 per person; event sponsorships that include a table of ten, V.I.P reception, and commemorative photograph are available for $5,000. To reserve a seat or sponsor the event, contact Christy Bradley at 504.565.5482 or cbradley@chefjohnbesh.com.
---