ANTIGUA BEACH ADVENTURES                   by Bonnie Carroll
O.J's Beach Bar & Restaurant
A Seaside Dining Fantasy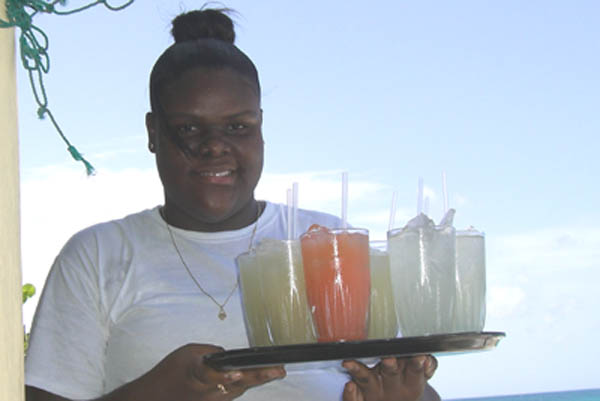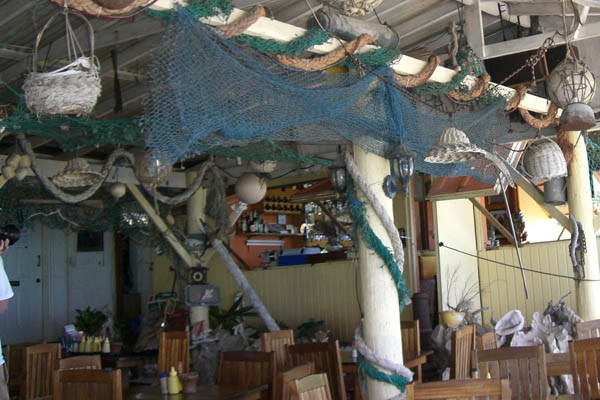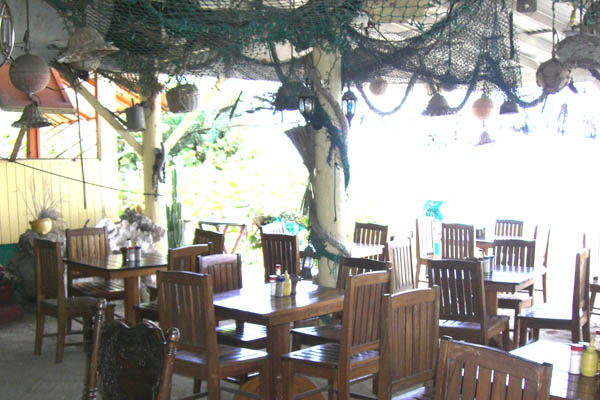 There have always been 'dining on the beach' spots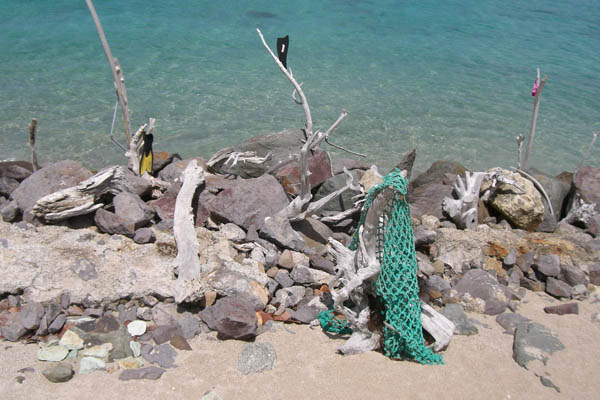 dotted throughout the islands, including Foxy's, a once trendy night club in the Netherland Antilles that I especially liked, but, O.J.'s in Antigua is a magical dining venue that is literally on the beach, you are sitting on chairs in the sand, with a lovely breeze gently blowing as you enjoy authentic island recipes. The whole experience has a dream-like feeling about it. The owner is a charming gentleman named Oliver, and he thanked us for visiting his place.
The artistic design at O.J.'s is endless and very beautiful. Colorful ocean glass and shells are draped across the ceiling with fishnet, and a seawall of beautifully painted ocean objects in sea hues provides a lovely view to the ocean during lunch or dinner.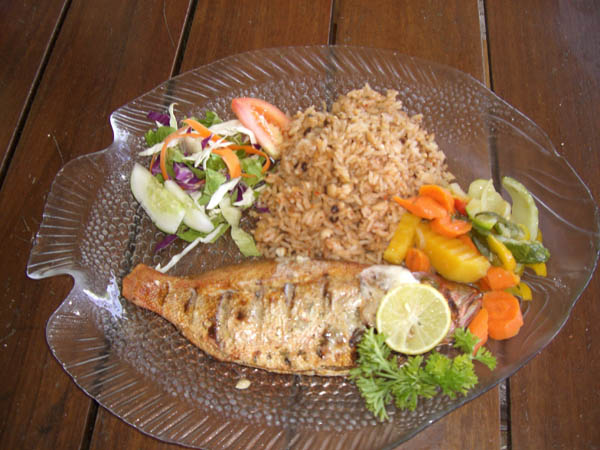 Entrees are served on individual plates; if you have chicken, it's a chicken plate or if you have fish, it's a fish plate. The fish was fresh and deliciously prepared. The local beverages are all colorful and inviting, and can be enjoyed with or without liquor; however, the Antigua Rum pairs perfectly with the fresh fruit punch. Fried plantains, and fresh slaw or salad accompany luncheon selections, and the desserts are amazing in preparation and presentation. From cheese cake to banana crème pie it's all good.
DENNIS Bar & Restaurant
BBQ with a View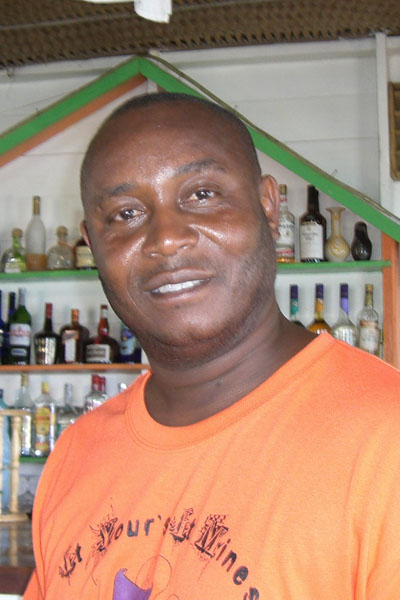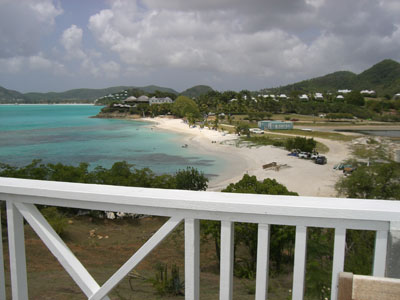 Located on exquisite Ffryes Beach, It is considered by Dennis the owner to be 'the hottest place on the beach in Antigua' and with the amazing views surrounding the cliff top venue, coupled with the wonderful BBQ they serve, it's no small wonder that people agree with him.
Phone (261) 728-5086 for reservations.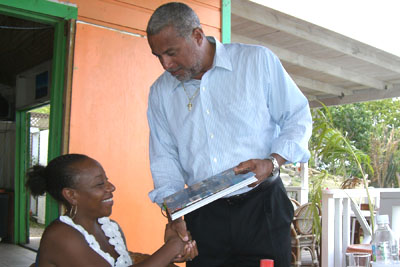 My visit to Dennis' was a luncheon attended by invited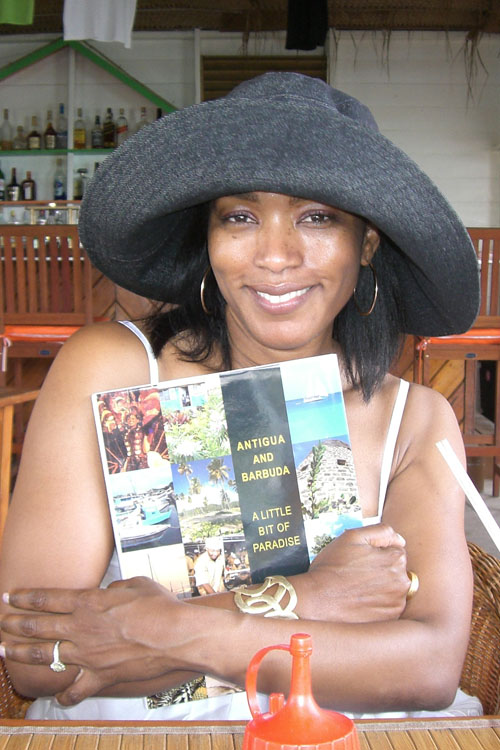 guests of the Mount Obama dedication, and the members of the Antigua – Barbuda Tourism group, including the newly elected president Mr. McGinley, who presented attendees, including Antiguan born actress Marianne Jean-Baptiste, with beautiful books on the history of the island. The open air patio is such a memorable place for a party, and the buffet lunch makes it easy to go back for seconds. Pictured is American Actress Angela Basset holding the commemorative book on Antigua.
LYDIA'S AT JOLLY BEACH RESORT
Sensational Sunset Supper Spot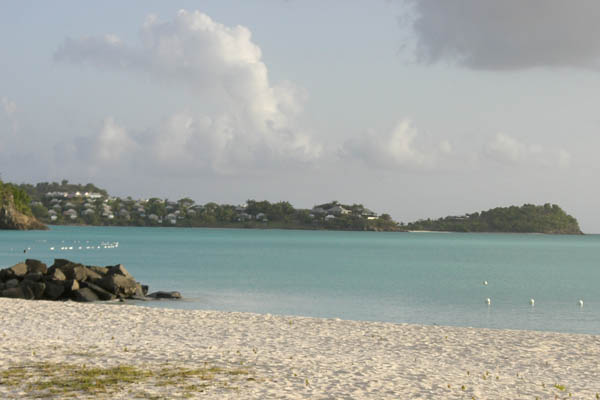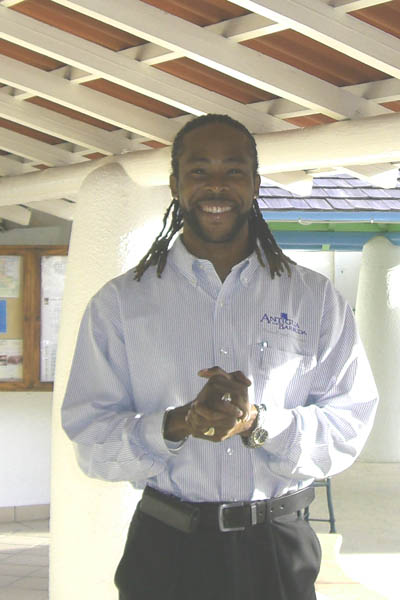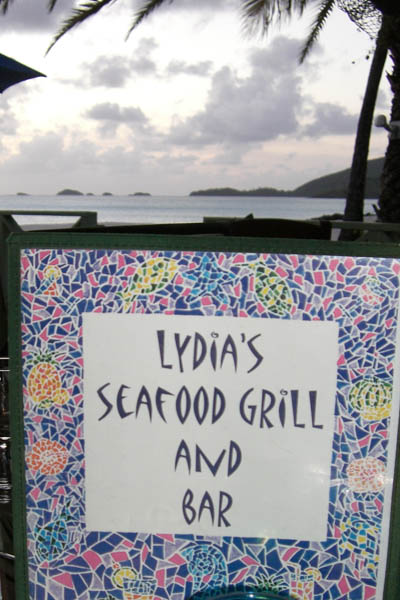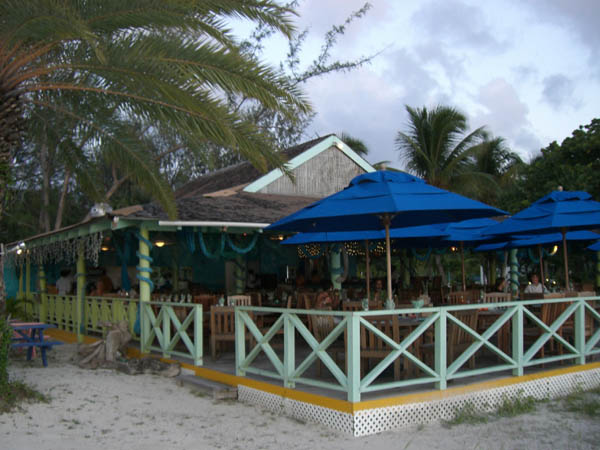 This is a divine spot at sunset. The open patio style dining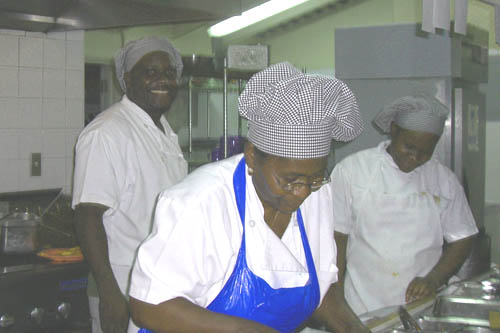 room offers breathtaking views of the beach and also an open kitchen, where you can watch their talented chefs preparing items from a scrumptious menu. If you like lobster, this is the place! The spiny lobster is served with melted butter and fresh vegetables; it is as sweet as you will ever taste. Lydia's menu includes everything from steak to fresh fish of the day, lovely salads with light island dressings, and locally inspired desserts. Don't miss the 'goat water' it is a delicious island stew that has a slight bite, but is delicious!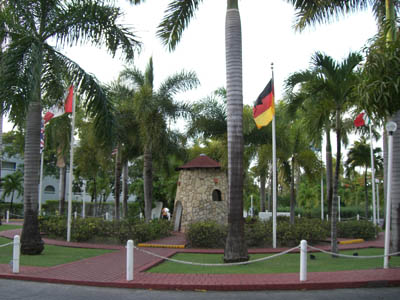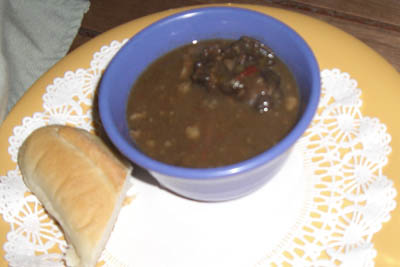 This resort is designed for family vacationing, with all inclusive plans, four restaurants, three pools, and an endless variety of activities for guests and especially children staying at the resort. The resort also offers outstanding wedding packages, and they will prepare beachside receptions that include décor and food service to please any couple and  their invited guests. A wedding was taking place on the property while we were there, and I took a photo of the reception area, which was so beautiful. For information visit: www.jollybeachresort.com.
MARIO'S
SANDALS GRAND ANTIGUA RESORT & SPA
A Taste of Italy in Antigua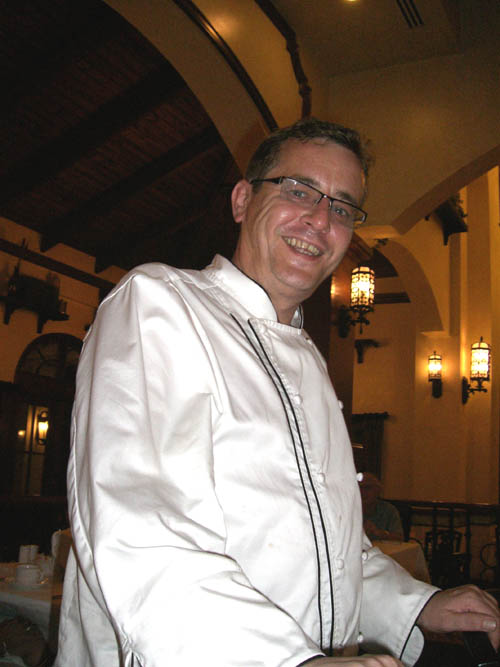 This delightful Italian restaurant came as a surprise,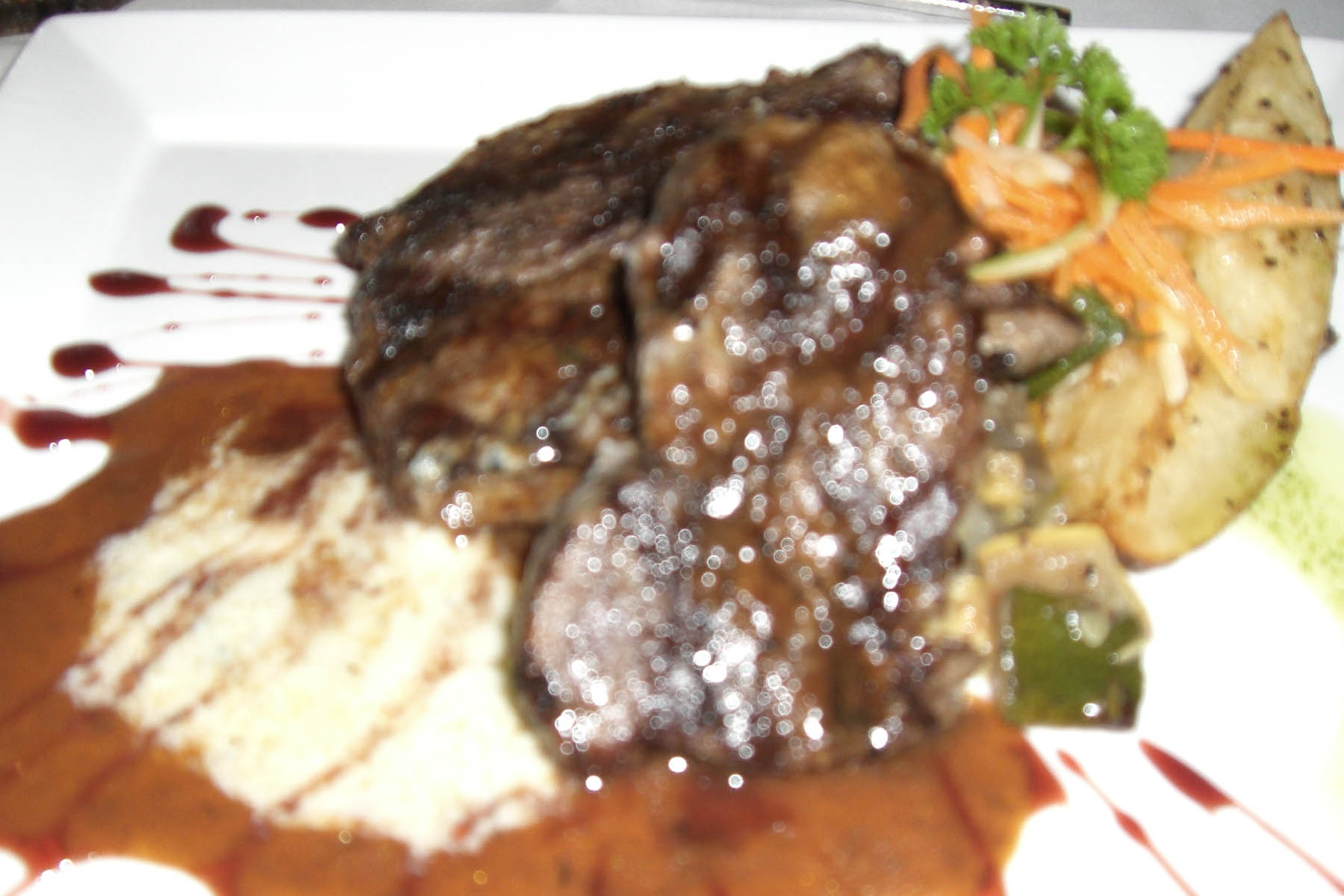 but a very nice change. The menu offers a variety of pasta, chicken, beef and affordable specials of the day. The salads, soups and anti-pasta were authentic and delicious, and the service was outstanding as well. Don't miss the Tiramisu!  The chef is welcoming, and spent a few minutes discussing his menu options with us. The ambiance of Mario's is very charming and can accommodate large groups or couples easily.
Sandals Grand Antigua Resort & Spa offers five restaurants for their guests to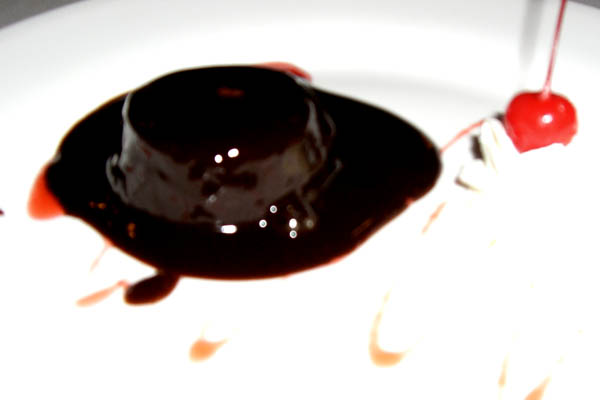 choose from, and is a huge resort that provides lovely suites and rooms for every budget. The beach is one of the best on the island of Antigua and the resort offers a variety of popular water activities for guests to enjoy. This resort appears to be a great place to experience a needed get-a-way or to select as a corporate meeting destination. For information visit: www.sandals.com
VERANDAH Resort & Spa . . . Eco Friendly Resort Dining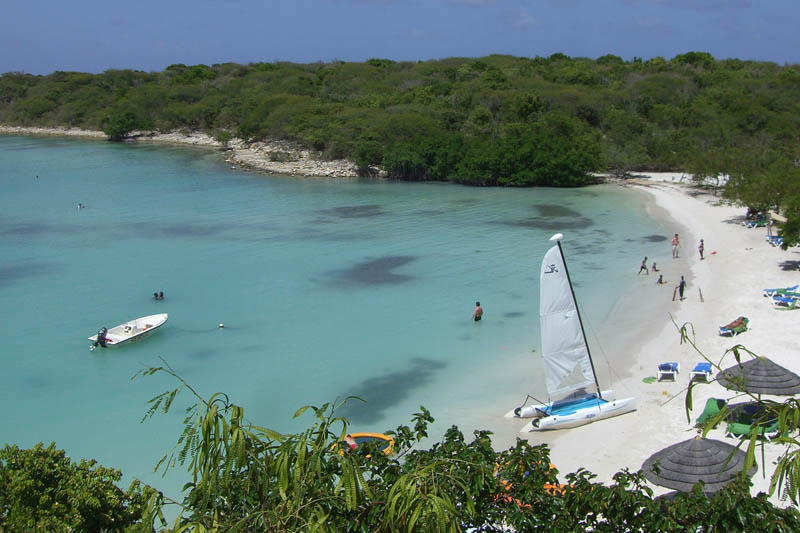 The Spa at Verandah is beautiful and offers a full menu of delightful services to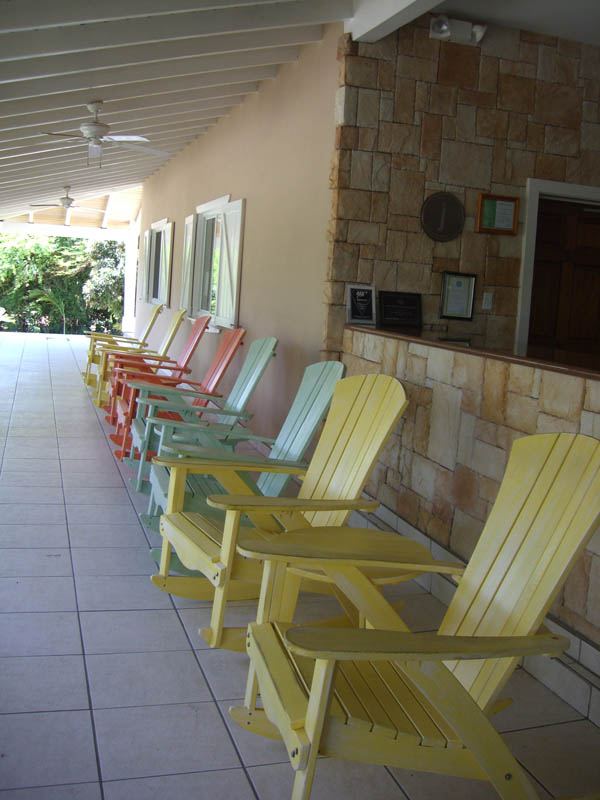 keep guests coming back. It is beautifully appointed with a comfortable waiting room and state-of-the-art treatment rooms.
I loved the colorful chairs lined on the verandah as we arrived. It is a visual 'hello' to arriving guests. For information visit: www.verandahresorandspa.com.
NELSON'S DOCKYARD
"The Copper & Lumber Hotel" Historic Landmark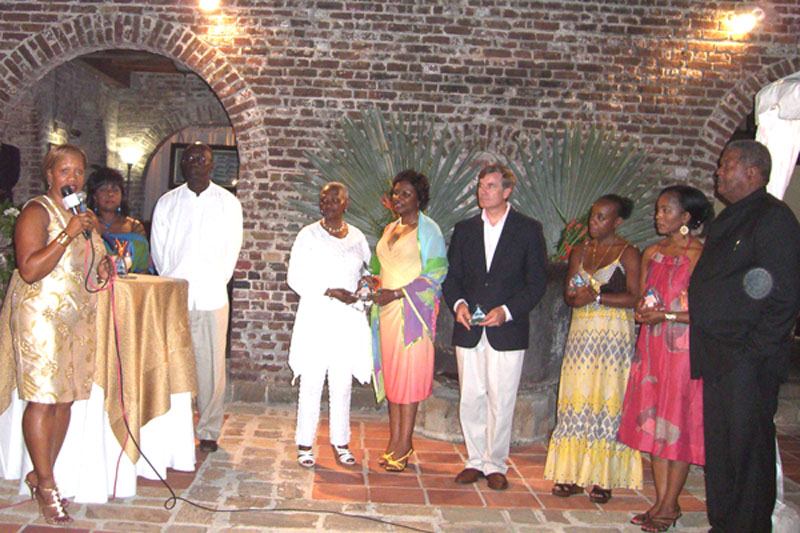 This was the venue selected for the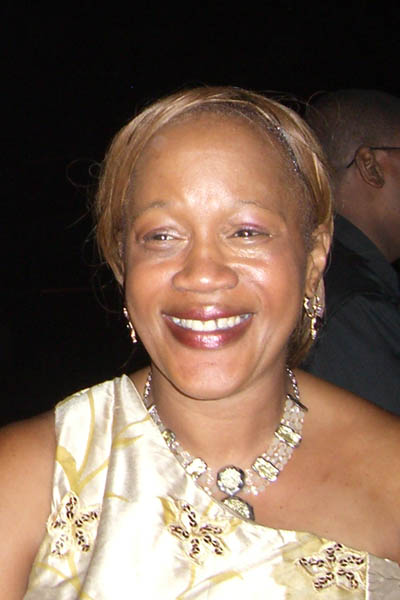 cocktail reception preceding the Mount Obama dedication, where Prime Minister Spencer thanked dignitaries, celebrities and officials of the historic event for their participation. The stone buildings on this property are from the 17th century.
The history of this hotel goes back to Admiral Nelson's days when it was actually a barrack's for his soldiers, and today it is a charming small hotel filled with antiques and historic secrets. If you love feeling the spirit of good times past this is the hotel for you.
THE BEACH Restaurant – Bar – Lounge
by Big Banana – Beach Ease at its Best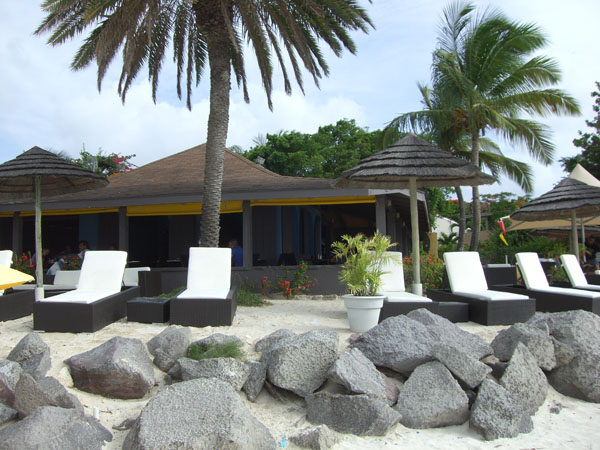 This is a perfect spot to chill out and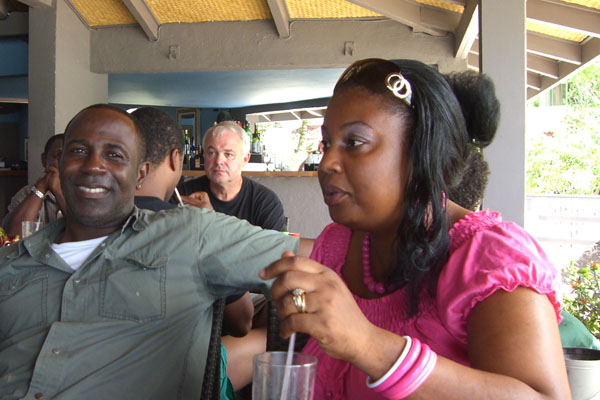 enjoy lunch, while watching people enjoy the ocean, or a place to just enjoy the beach with friends. What a beautiful venue, and the food is excellent. The bar servers here get very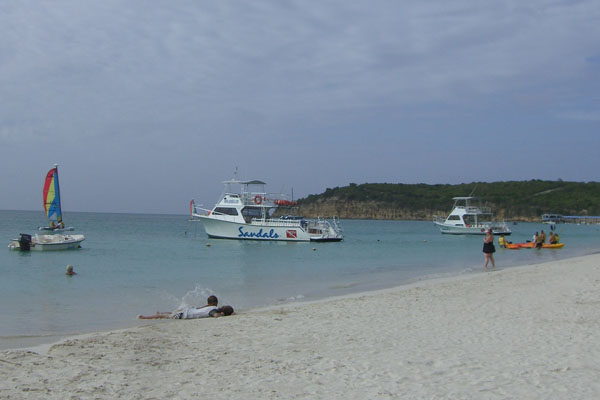 creative and concoct colorful cocktails with secret ingredients. The fish or pasta entrees are light and refreshing, perfect for lunch before playing on the beach.
The staff make themselves known, and really aim to please. This restaurant is located on the same beach as Sandals Grand Antigua Resort and once I went in the water, it was torture to leave…simply blissful swimming.
     Look for more great Antiguan Restaurants in our October Issue.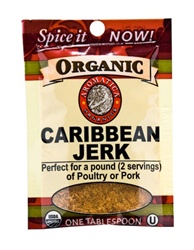 A new organic addition to all your caribbean party menus!
---
            AUDI & MASTERCARD® PRESENT
THE 27th ANNUAL AMERICAN WINE & FOOD FESTIVAL
BENEFITING LOS ANGELES CHAPTERS OF MEALS ON WHEELS

Tickets Now on Sale! Friday Night Sizzles with Return of "Red Hot @ Red Seven" For its 27th year, the American Wine & Food Festival, hosted by the Puck-Lazaroff Charitable Foundation, is serving up a world-class culinary celebration benefiting Los Angeles Chapters of Meals On Wheels.  With generous contributions from our returning top sponsors Audi and MasterCard®, AWFF is delighted to deliver a weekend of feasting and fundraising.  This star-studded food Festival taking place October 2 - 4, 2009, in Los Angeles, features world-renowned chefs, vintners and spirit purveyors at the most anticipated epicurean event of the year.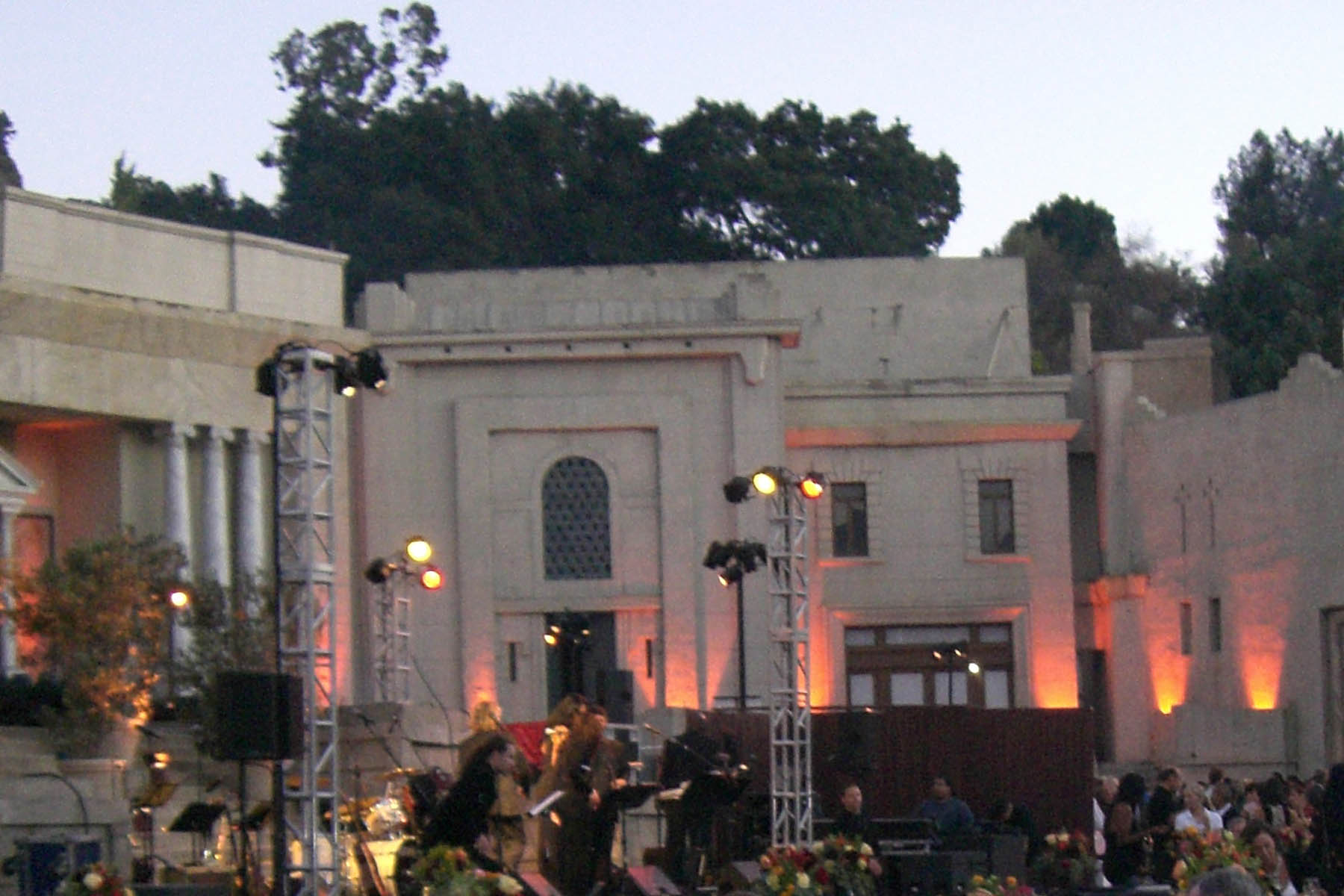 The Festival features a spectacular spread of delectable dishes, superb libations, fantasy auction items and amazing entertainment in three events - each offering a different level of participation for culinary connoisseurs to contribute to the cause.   
  
Red Hot @ Red Seven Kickoff Event
Date: Friday, October 2, 2009 - 7 p.m.
Location: Red Seven by Wolfgang Puck at the Pacific Design Center in West Hollywood
Designed to whet the appetites of Festival first-timers and alums alike, this party offers chic eats and innovative libations in an intimate lounge setting.  Mingle with philanthropists and foodies who are newcomers and well-knowns on the Los Angeles scene.
Friday Evening Event tickets are available for $150 per person.  For more information and to purchase tickets, visit
www.AWFF.org
.

Saturday Evening Event at Universal Studios Backlot
Date: Saturday, October 3, 2009 - 5-11 p.m.
 *5:00 PM Wolfgang Puck VIP Cooking Demonstration
*VIP entrance available only with tickets purchased through Festival Patron and MasterCard promotions.
  6:00 PM Festival Opens
Location: Universal Studios Back Lot
Staged against the backdrop of movie sets, the signature Saturday night event returns, once again, to Universal Studios Back Lot.  As dusk falls, a spectacularly lit movie set provides the stage for a culinary scene like none other: An unrivaled epicurean feast prepared by world-renowned chefs, superb libations including fine wines and smooth spirits, and a silent auction filled with luxury items - all set to swinging sounds of live bands. 
Saturday Evening Event tickets are available for $300 per person.  Table reservations are available from $3,500.  For more information and to purchase tickets, visit
www.AWFF.org
.

Chefs Grand Tasting Dinner
Date: Sunday, October 4, 2009 - 6:00 p.m.
Location: Spago Beverly Hills
Wolfgang Puck, Lee Hefter & Barbara Lazaroff with Chef de Cuisine Thomas Boyce & Executive Pastry Chef Sherry Yard welcome several of the world's finest chefs to prepare an elegant six-course dinner at the 10th Annual Chefs Grand Tasting Dinner.  This limited-seating event at Spago Beverly Hills is filled with exquisite dishes paired with select wines and a live auction featuring one-of-a-kind items and experiences.  Celebrity chefs Thomas Keller of Bouchon; Dean Fearing of Fearing's at The Ritz-Carlton, Dallas; Jereme Leung of Jereme Leung Creative Concepts Pte Ltd; Laurent Gras of L2O; Nobu Matsuhisa of Matsuhisa & Nobu LA; Gina DePalma of Ristorante Babbo.pair up, each preparing one course, for the grand gala dinner.
Reservations for the Chefs Grand Tasting Dinner are available for $750 per person or $7,000 per table.  Please contact Ellen Farentino, Spago, at (310) 385-0880.
In addition to the spectacular Festival line up, AWFF is pleased to announce special events and perks.
For a second year, Audi's charitable support will help set the scene for an unforgettable Festival.  In addition, Audi will host a special wine tasting in the month of September featuring distinguished sommelier Christopher Miller of Spago Beverly Hills.  Sommelier Miller has been dubbed "2008 Best Young Sommelier in the World," "2007 Best Young Sommelier in the U.S." (both Chaine des Rotisseurs International and National Competitions), and Wine & Spirits magazine's "Best New Sommelier of 2008."  Miller's expertly executed, yet approachable, wine tasting is the perfect entrée into wine season.  Stay tuned for more details in early August.
We are also honored to have MasterCard

®

return for a third year as the preferred card of the American Wine & Food Festival.  In addition to its philanthropic presence making for a memorable weekend, MasterCard

®

is serving up palate-pleasing perks to its cardholders.  World and World Elite MasterCard

®

cardholders can savor the full weekend of festivities with VIP packages and ticket purchase perks customized for the culinary connoisseur.  Please contact MasterCard at 1-800-964-4742 or
offers@octagon.com
to purchase special packages and tickets.  Reservations are limited in number and subject to availability, and are only valid if purchased via MasterCard using your World and World Elite MasterCard

®

.
Saturday Participating Chefs & Restaurants (to date):
Alan Wong of Alan Wong's; Alex Stratta of ALEX, Wynn Las Vegas; Larry Forgione of An American Place; Mark Gaier and Clark Frasier of Arrows Restaurant; Jonathan Waxman of Barbuto; Paul Bartolotta of Bartolotta Ristorante di Mare; Laurent Tourondel of BLT; Thomas Keller of Bouchon; Robert Del Grande of Café Annie; Rene Mata of Chinois; Walter Manzke of Church & State; Mark Miller of Coyote Café; Ken Oringer of Clio; Tom Colicchio of Craftsteak Restaurants; Ari Rosenson & Matt Hurley  of CUT Las Vegas and Beverly Hills; Roger Stettler of Four Seasons Resort Maui, Hawaii; Ilan Hall of Gorbals; Frank Ostini of The Hitching Post; Richard Sandoval of Ketsi, Four Seasons Resort Punta Mita; Lydia Shire, Mario Capone & Simon Restrepo of Scampo; Traci Des Jardins of Manzanita Lake Tahoe; Cal Stamenov of Marinus Restaurant at Bernardus Lodge; Nobu Matsuhisa of Matsuhisa & Nobu LA; Gino Angelini of Minestraio Trattoria; John Cuevas of Montage Beverly Hills; Nancy Silverton of Mozza; Octavio Becerra of Palate Food + Wine; Joachim Splichal of Patina; Francois Payard of Payard Patisserie & Bistro; Julian Serrano of Picasso; Jimmy Schmidt of Rattlesnake Club; Richard Reddington of Redd; Sam Choy of Sam Choy's; Charles Phan of Slanted Door; Kerry Heffernan of South Gate; Mark Ferguson of Spago Bachelor Gulch; Wolfgang Puck of Spago Beverly Hills; Sherry Yard of Spago Beverly Hills; Lee Hefter and Thomas Boyce of Spago Beverly Hills; David Robins and Eric Klein of Spago Las Vegas; Cameron Lewark of Spago Maui; Stephan Pyles of Stephan Pyles Restaurant; Lissa Doumani and Hiro Sone of Terra, St. Helena, and AME, San Francisco; David Walzog of SW Steakhouse, Wynn Las Vegas; Tommaso Tarantino, Luciano Pellegrini and Nicola Chessa of The Valentino Restaurant Group: Santa Monica, Las Vegas and Houston; Yuji Wakiya of Wakiya Ichiemicharo, Tokyo; Marc Djozlija, Aram Mardigian, John Lechleidner and Dustin Lewandowski of WP Bar & Grill; Mat Bencivenga, Yoshi Kojima, Scott Drewno Ben Hong & Sara Johannes of Red Seven, Source, Jai and Five Sixty.
Sunday Participating Chefs & Restaurants (to date):
Thomas Keller of Bouchon; Dean Fearing of Fearing's at The Ritz-Carlton, Dallas; Jereme Leung of Jereme Leung Creative Concepts Pte Ltd; Laurent Gras of L2O; Nobu Matsuhisa of Matsuhisa & Nobu LA; Gina DePalma of Ristorante Babbo.
Participating Vintners (to date):
Baker Lane Vineyards; Beckmen Vineyards; Beringer Vineyards; Bernardus Winery; Betts and Scholl; BISOL Prosecco; Bonaccorsi Wine Company; Bouchaine Vineyards; Chappellet Winery; Charles Krug Winery; Chateau St. Jean; Cielo Malibu Estate Wineyards; Crimson Wine Group; Domaine Drouhin Oregon; Domaine Serene; Dreyfus, Ashby & Co.; Duckhorn Wine Company; Ferrari-Carano Vineyards & Winery; Flowers Vineyard & Winery; FOXEN; Francis Ford Coppola Winery; Frank Family Vineyards; Frog's Leap Winery; Gramercy Cellars; Grgich Hills Estate; Gridley Family Cellars; J Vineyards & Winery; Joseph Carr; JUSTIN Winery; Laetitia Vineyard & Winery; Lancaster Estate; Layer Cake; Loire Valley Wine Bureau; Long Shadows Vintners; Luna Vineyards; Malibu Family Wines; Malibu Vineyards; Mason Cellars; Melville; Miner Family; Morgan Winery; Ortman Family Vineyards; O'Shaughnessy Winery; Paradigm Winery; PEJU; Rosenthal-The Malibu Estate/Surfrider; Semler & Saddlerock; Silver Oak Wine Cellars; Tantara Winery; Topanga "TV" Vineyards; Waters Winery; Whitcraft Winery.
Participating Spirits (to date):
Ultimate Vodka, Patron Tequila, PAMA Pomegranate Liqueur, Ventura Limoncello.
Event Sponsors (to date):
Audi, MasterCard, Fiji Water, Campbell Soup, Southern California Gas, Pure Blue Meat Australian, Tillamook Cheese, Solaire Wines by Robert Mondavi, Ultimate Vodka, Patron Tequila, Loire Valley Wine Bureau, Idaho Potato Commission, EvansHardy+Young, Mansour Travel Company, American Airlines, Wynn Encore Las Vegas, PAMA Pomegranate Liqueur, Ventura Limoncello, Wolfgang Puck Bistro, Wolfgang Puck Catering, Wolfgang Puck Coffee, Wolfgang Puck Culinary Coffees, La Brea Bakery, Integrated Transportation Services, Republic Master Chefs, Universal Studios, Acteva, Mighty Leaf Tea, Oikos Yogurt, L.A. Specialty Produce, Knork Flatwear, Southern California Wine & Spirits, Tsar Nicoulai Caviar, SYSCO Los Angeles, Miele, Urbani Tartufi, US Foodservice Los Angeles Division,  Classic Party Rentals, Clear Channel Outdoor, Jacob Maarse, Renaissance Hotels, The Tasting Panel, SingularCity.com.
About Audi
Audi of America Inc. and its 270 dealers offer a full line of German-engineered luxury vehicles. The Audi lineup is one of the freshest in the industry with 23 models, including 12 models launched during model years 2008 and 2009. Audi is among the most successful luxury automotive brands globally. In selling one million vehicles worldwide in 2008, AUDI AG recorded its 13th consecutive record year for sales growth. Visit
www.audiusa.com
or
www.audiusanews.com
for more information regarding Audi vehicle and business issues.
About World MasterCard

®


MasterCard understands that consumers have re-evaluated what's important in life, so MasterCard has provided a card program that delivers personalized value - World MasterCard

®

.
In these current economic times, it's important to have a card that gives you value beyond your purchases.  In addition to delivering a diverse collection of premium offers, special amenities and great customer service, World MasterCard

®

also gives you personalized features to manage your account.  Visit
www.priceless.com/world
to start experiencing your value and rewarding journey with World MasterCard

®

.
About the American Wine & Food Festival
Since its inception in 1982, the Puck-Lazaroff Charitable Foundation has supported the American Wine & Food Festival, raising more than $15 million for Los Angeles Chapters of Meals On Wheels.  This organization serves thousands of meals each day to Los Angeles' homebound senior and disabled citizens.
As a result of their efforts on behalf of Meals On Wheels, the Austrian-born Puck, renowned for feeding Hollywood glamour at the annual post-Oscar extravaganza, and leading restaurant designer Lazaroff, are also celebrated for their philanthropic spirit.
---
September 25-27, 2009 - Redondo Beach Chamber & VB 
Present 14th Annual Dive N' Surf Redondo Beach Lobster Festival
12,000 LOBSTER LOVERS VISIT CALIFORNIA'S PACIFIC SHORES
FOR A ROCK N' LOBSTER WEEKEND OF "MUSIC, FOOD, FUN & SUN"
HIGHLIGHTING DIVE N' SURF BEACH WEAR, BODY GLOVE WAKE SHOW
& FIRE DANCING
Visit: www.LobsterFestival.com  for information.
---
TASTEMAKERS APPLAUD A SYMPHONY OF FOOD AND WINE AT THE BRITISH VIRGIN ISLANDS WINEMAKERS DINNERS JULY 2009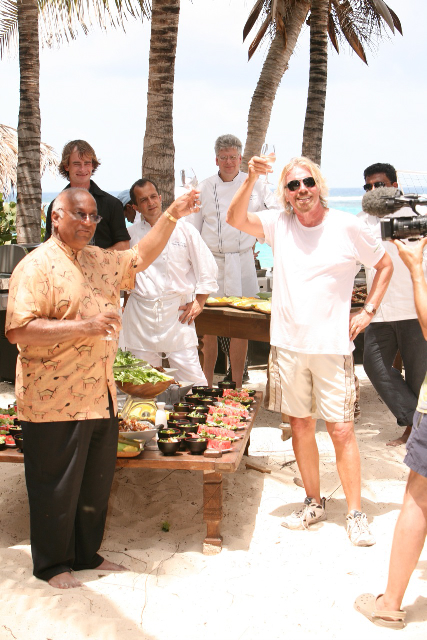 The British Virgin Islands Tourist Board and the BVI Charitable Fund welcomed international tastemakers, seasoned gourmands, travelers and media from throughout the world including Brazil, Czech Republic, France, Germany, India, Italy, Korea, Portugal, Puerto Rico, Slovakia, Spain, United Kingdom and the United States of America to the 2009 Virgin Islands Winemakers Dinners series from July 15 through 19, 2009; more than $100,000 USD was raised from the July series.

The gourmet lunches and dinners were held at a collection of exclusive BVI villas on four islands and featured flavorful cuisine and wine, helmed by the expertise of some of the world's celebrated chefs and winemakers. Over 1,000 people in total attended the four dinners, seven luncheons and the VIP Reception, which featured 78 separate courses of food, and 87 different wines that were paired with these courses.

The Virgin Islands Winemakers Dinners kicked off with a private opening reception on July 15 at the Sugar Mill Ruins at Nail Bay Resort featuring 22 different dishes prepared by local chefs and four different wines.  Dinners respectively followed at Necker Island, Sir Richard Branson's private island; Falcon's Nest on Peter Island; Jost House on Guana Island; and at Mooney Bay Estate on Virgin Gorda. The BVI Charitable Fund organized a culinary degustation of seven course dinners over four nights. The seven courses were paired with 14 renowned wines, personally poured by the vintners. Each dinner was preceded by a reception at sunset featuring a Riesling and a Pinot Noir Sekt Brut from Weingut Kirsten in Germany.  Gourmet dishes were presented by seven international visiting chefs and four of the BVI's best chefs.

Visiting chefs and culinary personalities include Vikram Garg, Executive Chef at Halekulani Resort in Waikiki, Hawaii; Rachel Yang, of the Seattle restaurant Joule; Bill Fuller, corporate chef for Big Burrito Restaurant Group; Certified Executive Chef Thomas Hannum, Wilmington, Delaware; Carla Pernambuco, owner of Carlota in São Paulo, Brazil; Chef Alain Ivaldi, professor at Lycée Hôtelier in Marseille, France; and Executive Pastry Chef Michelle Mitchell, Wilmington, Delaware. All the chefs volunteered their time and talent.

Exceptional vintners include Pio Boffa of Pio Cesare, Italy; Jorge Borges of Quinta do Passadouro and wife Sandra Tavares da Silva of Wine&Soul, Portugal; Wilhem Haag of Weingut Fritz Haag and Schloss Lieser, Germany; Bernhard Kirsten of Weingut Kirsten, Germany; Manuel Muga Pena of Bodegas Muga, Spain; and Jon Priest of Etude, California. All the winemakers contributed the wines, time and insight at no cost.

Mr. Ajit Mathew George, co-chair of the BVI Charitable Fund and Managing Director of Nail Bay Resort reported that even though the economic climate was very challenging, the first part of the 2009 Winemakers Dinners attracted 29% more sponsorship revenue than all of the 2008 Winemakers Dinners. He added that the July series of the Winemakers Dinners was completely sold out in advance with a long waiting list for each dinner and lunch.

Martin Dindos, owner of OHMS, a company that imports premium white wines from Germany's Mosel Valley and fine champagnes and a founder sponsor, helped convince the German winemakers to donate rare and exclusive wines for the event and the silent wine auctions, and fly to BVI for the dinners. Wine and food pairings were made by Richard Grosche, wine journalist from German wine magazine Weinwelt and Manager of the International wine academy MUNDUS vini. OHMS – which stands for On Her Majesty Services - also donated the fine Czech porcelain and glasses for the seven course place settings each evening.

Every night guests mingled amidst panoramic sunset views of surrounding islands and shimmied under the stars to live music and entertainment by BVI's "Lady of Soul" Malcia Smith Hamilton. Guests also had the chance to bid on one of famed artist Romero Britto's original giclees entitled 'Wine Wine Yellow' which was donated by the artist and presented by April Bolet, Britto's charities and donations liaison. A simultaneous silent auction also included special bottles of wine donated by the winemakers, many of very limited production.

The second part of the 2009 Winemakers Dinners series will be held from December 3rd to the 6th with an opening reception at the Pirates Bight on Norman Island on December 2nd followed by the dinners on Virgin Gorda and Tortola, including Baraka Point at Nail Bay, Virgin Gorda on December 3; Frenchmans Lookout, Tortola on December 4; Paradisi, Virgin Gorda on December 5; and the Golden Pavilion Villa, Tortola on December 6. 

The BVI Tourist Board is the Presenting Sponsor of the 2009 and 2010 Winemakers Dinners.
For additional information and to become a sponsor of the December series of the Virgin Islands Winemakers Dinners, visit www.winemakersdinners.com.

---
                     KOSHERFEST – WHERE TRENDS EMERGE

                           AND TRADITIONS  CONTINUE

 OCT 27-28, 2009

MEADOWLANDS EXPOSITION CENTER, SECAUCUS, NJ

CALLING ALL NEW KOSHER PRODUCT MANUFACTURERS TO ENTER THE KOSHERFEST NEW PRODUCTS COMPETITION – OCT 15, 2009

 

New trends emerge at the #1 kosher food and beverage trade event serving the retail, foodservice, manufacturing and distribution industries.  Once again, Kosherfest will take place at the Meadowlands Exposition Center in Secaucus, NJ October 27 – 28, 2009 (www.kosherfest.com). The show will give visitors a taste of the latest & greatest in the kosher food & beverage industry from around the globe, with more than 13 countries represented.  According to research by the Mintel organization, kosher was the leading claim on new products in 2007 and 2009.
---
Halloween isn't the Only way to Get Chocolate this October.
Sylvie Douce & François Jeantet, Founders and Executive Producers of the International Chocolate Show (New York, Paris, Tokyo, Beijing, Moscow, Madrid, Shanghai) will be hosting the 12th Annual Chocolate Show in New York which will be held at the Metropolitan Pavilion (125 West 18th Street) for a full three days from October 30th to November 1st, 2009.

The Chocolate Show began 15 years ago in Paris, and has since grown tremendously to become the world's largest event dedicated entirely to chocolate. A combined sum from all of the shows each year boast over 800 exhibitors who participate in worldly chocolate events where almost 1 million visitors attend, to see hundreds of thousands of square feet worth of chocolate exhibition.
 
The 12th Annual Chocolate Show in New York will, as years past, feature some of the most world renowned pastry chefs and chocolate makers from all over the world.  As such, this show is one of the most exciting gastronomic events, enticing visitors from the entire United States to get a taste of their favorite sweet.  In addition to showcasing culinary talent, the show will provide:
 
Two CULINARY THEATRES provided by Viking for cooking demonstrations, and interactive Chocolate Cooking Techniques.  Demonstrations from 2008 included Jacques Torres (Jacques Torres Chocolates), Rich Capizzi (Per Se & Bouchon Bakery), Zac Young (Butter), Derek Poirier (Valrhona), Martin Howard (Brasserie 8 ½), and Ann Czaja (Lindt).
A CHOCOLATE BOOKSTORE provided by Barnes & Noble, featuring Chocolates from around the world, chocolate cooking and dessert specialties.  Book Signings and appearances by notable Pastry Chefs.
A KIDZONE with chocolate child-friendly activities for the entire family, Choc-Art and back by popular demand Cindy's Sous Chefs *LIVE*
A CHOCOLATE LOUNGE & CAFE for guests to rest and relax featuring chocolate flavored liquors, coffees and snacks.
The CHOCOLATE BEAUTY PAVILION will highlight Chocolate within the Beauty Industry.  The Pavilion will feature a wide range of products that are either Chocolate based or Chocolate flavored products ranging from Soaps, Lotins, LipGlosses, Perfumes, Scrubs, Shampoos and Cocoa Butters.  The Pavilion will also feature Chocolate Body Treatments such as Mini Facials, Masks, Wraps even Chocolate Bean Nail Polish.  
For more information on the chocolate show and ticket sales please visit www.chocolateshow.com <http://www.chocolateshow.com> <http://www.chocolateshow.com> .
---
dineLA Restaurant Week Returns For First-Ever Fall Serving This October;
Dates set for October 4th - 9th/October 11th - 16th.
LA's 498 Sq. Miles Of Culinary Sensations Ready To Be Explored And Tasted.
Culinary, geographical and ethnic diversity will take center stage when dineLA Restaurant Week returns for the first-ever fall run October 4-9, 2009 and October 11-16, 2009.  Following the immense success of last winter's event, foodies of every sort have spoken with their forks and dineLA Restaurant Week is ready to showcase the great chefs and restaurants throughout Los Angeles for a two-week run this fall. 
Presented by LA INC. The Los Angeles Convention and Visitors Bureau in partnership with American Express, dineLA Restaurant Week presents the diverse and extraordinary talent that exists in Los Angeles.  From local neighborhood family-owned eateries to upscale celebrity chef restaurants, dineLA Restaurant Week unites cafes, restaurants and bistros from all corners of the county.  This unique gastronomic celebration provides local Angelenos and visitors alike the opportunity to treat themselves to a selection of specially priced three-course menus from a variety of LA's best establishments. 
There is no membership, no credentials and no exclusivity; customers can simply make reservations as they would for any other night to take advantage of the special three-course menus.  dineLA Restaurant Week is good for the local economy, good for the participating restaurants stretching from Long Beach to Sherman Oaks, and it is a great value for the customer.
"LA is already known as the 'entertainment capital of the world,' and with dineLA Restaurant Week we are able to showcase our incredible chefs, our regional fresh and ethnically diverse cuisine and some of the most beautifully designed restaurants and outdoor bistros," said Mark Liberman, president and CEO of LA INC.  "Los Angeles has quickly become one of the premiere dining destinations in the world, and a Fall 2009 dineLA Restaurant Week helps us expand the platform to highlight LA's unique and ever-changing culinary spin.  dineLA Restaurant Week has far exceeded expectations and it continues to grow with more than 150,000 consumers that dined out at the 175 participating restaurants during the last event."
Taking place over two consecutive weeks in October before returning again for its two week winter run (January 24-29 and January 31-February 5, 2010), dineLA Restaurant Week is the largest county-wide food experience of the year; it allows diners of all types to get out of their comfort zones and sample the many different types of cuisine, dining neighborhoods and restaurants the city has to offer.  Featuring amazing limited-time offers, dineLA Restaurant Week aims to challenge dining habits, encourage people to try new places, and help them explore new neighborhoods. 
Dining menus during the Fall 2009 dineLA Restaurant Week will be available in three price categories: Deluxe Dining is $16 for lunch and $26 for dinner; Premier Dining is $22 for lunch and $34 for dinner, and Fine Dining is $28 for lunch and $44 for dinner (beverages, tax and gratuity are not included; participating meal periods vary by restaurant).  Also, many of the participating restaurants will be offering wine pairings along with their special three-course dineLA Restaurant Week menu for an additional charge.
"dineLA Restaurant Week is a fantastic opportunity to introduce Los Angeles to what I'm doing at the new Caché," explains Executive Chef Josiah Citrin.  "We have created an entirely new restaurant that exemplifies the rich and diverse Los Angeles culture, and participating in dineLA Restaurant Week gives the public an opportunity to discover the menu at a terrific value.  We are excited to present a modern, yet cozy dining setting at the beach--something that is distinctive to the LA dining experience."
"American Express is pleased to help showcase the tremendous culinary talent of Los Angeles," said Tom Mullen, vice president of, American Express Merchant Services.  "This is a great opportunity to sample the many excellent restaurants of the Los Angeles area, and we are delighted to continue our support of dineLA Restaurant Week."
American Express® Cardmembers will be able to register their American Express® Card to receive a $20 statement credit when they dine three or more times during dineLA Restaurant Week at participating restaurants.  This exclusive promotion is designed to encourage Cardmembers to take full advantage of the special three-course meals offered at some of LA's best restaurants.  Cardmembers can register beginning September 15, 2009 by going to dineLA.com/RestaurantWeek.
Watch for the list of participating restaurants coming soon to dineLA.com/RestaurantWeek. 
---
For the past 17 years the Lemon Festival has been the biggest celebration in the Goleta area, and it keeps getting better each year. Be sure to join us on October 17th & 18th, 2009 for the 18th Annual California Lemon Festival in Goleta.
You'll find wonderful food, a fantastic family atmosphere, and variety of entertainment and activities that have made this event the most anticipated in the Goleta Valley. This weekend also includes the Goleta Fall Classic Car and Street Rod Show and the ever-popular 'Safety Street'. Don't miss our pie-eating contests, the arts and crafts vendors and our new Green Business trade show.
Questions? Email us, or call us at 800-646-5382 or  805-967-2500 ext. 2.
---
---