BEST OF THE BEST CHEFS HIGHLIGHTED AT 2004 PIER DEL SOL
'JUNGLE MANIA' TO BENEFIT SPECIAL OLYMPICS OF SOUTHERN CALIFORNIA
Story and photographs by Bonnie Carroll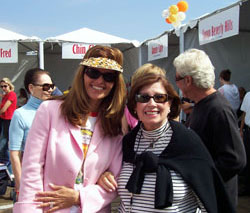 35 star chefs from LA fed a brunch feast to family and friends of Special Olympics Southern California at 2004 Pier Del Sol 'Jungle Mania.' The eighth annual event honored Anne Sweeney, co-chairman, Media Networks, The Walt Disney Company & President, Disney ABC Television Group, for her 15 years of dedicated support to Special Olympics. California First Lady Maria Shriver, Honorary Chair for the event presented Sweeney, and her family with the 2004 award.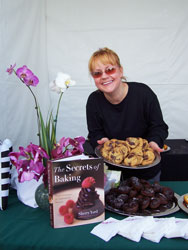 Guest enjoyed live music, and awards presentation, dancing with the jungle bear, carnival rides, and a brunch feast of mouthwatering specialties from an army of chefs representing the best of L.A.'s restaurants including Alain Girard, Angelini Osteria, Cicada, The Getty, Hollywood Park Casino, Amuse, Chin Chin, El Cholo Café, Granita in Malibu, The Grill, Josu, Josie, Pink's, Maple Drive, Jiraffe, Mako, Max, Milisse, Michi, Mistrael, Mimosa, Moonshadows, Inn of the 7 th Rey, Patina. Spago, Beverly Hills, Poquito Mas, Sona, Valentino, and Villa Dolce. Additional food related sponsors included Sweet Lady Jane, Mrs. Beasley's, La Brea Bakery, Melissa's, The Coffee Bean, Coco Cola, The Cheese Store, Dandy Don's Ice Cream, Westfield Shoppingtowns, Walt Disney Company, Staples and Cingular Wireless.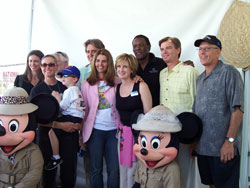 Some memorable and popular taste sensations included Pink's hot dogs. This world renowned business is celebrating 75 years in Los Angeles this year. Sherry Yard's diminutive pastries, Patina's divine duck appetizers, Mistral's braised beef, Valentino's Ahi tuna bites, Alan Girard's cold avocado soup, and the list goes on infinitum. What a magnificent group of talented and generous food masters they are to have contributed so much to the success of this (SOSC) event. Bravo to the chefs! For information email sosc@sosc.org.