SAPPHIRE LAGUNA UNVEILS GLOBAL MENU,
EARTHY, LOCALLY INSPIRED DÉCOR
Restaurant and Gourmet Shop Open on Site of The Old Pottery Shack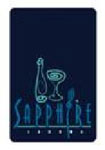 Sapphire Laguna – a much-anticipated new Laguna Beach restaurant featuring locally-inspired design and innovative global cuisine with fresh California ingredients – opens today on the site of the landmark Pottery Shack.
Sapphire Laguna is the brainchild of globally-recognized chef Azmin Ghahreman, who was most recently the acclaimed executive chef of the St. Regis Monarch Beach Resort & Spa in Dana Point.
As the new restaurant's owner, Ghahreman has masterminded a wildly inventive menu distinguished by his trademark international style and the freshest local produce and other ingredients.
Ghahreman – a versatile culinarian who has worked as a chef for high-end resorts in exotic locales such as Kuala Lumpur, Malaysia, Istanbul, Australia and Singapore – says his globally-inspired tastes and talents are aptly reflected at Sapphire Laguna, which occupies a prime site overlooking the Pacific Ocean.
Also reflecting Ghahreman's international bent is Sapphire Pantry, the adjacent 930-square-foot gourmet shop featuring savory and sweet packaged delicacies from all over the world, fine wines, artisan cheeses and local produce, plus freshly-made food for take-home meals, parties or picnics.
"Both venues bring all of my favorite international flavors to the Laguna Beach community, as well as to travelers visiting and vacationing in Southern California," Ghahreman said. "Our goal here is to offer a full sensual experience – an innovative menu, a lively cocktail scene, beautiful patio with an ocean view, stunning art displays, special events and always a sense of conviviality."
Dinner, lunch, brunch and intermezzo menus at Sapphire Laguna will change seasonally and often daily, depending on what is freshly caught and available from small farms, nearby markets and artisan suppliers. To that end, the restaurant offers an array of exquisitely fresh entrées – among the more intriguing options are: Wok-Fried Baby Thai Snapper with a Chili-Lemongrass Vinaigrette; Braised Prime Short Ribs with Creamy Parisian Mashed Potatoes; Black Cod with "Banana Curry," Ginger-Scented Jasmine Rice and Stone Fruit Chutney; Jumbo Shrimp with Handmade Spinach Ricotta Tortelloni Pasta, Fresh Artichoke and Rosemary Milk; and Kalua Pulled Pork Quesadilla with Oaxaca Cheese and Avocado Tomatiillo Sauce..
According to Ghahreman, his restaurant is an integral part of The Old Pottery Place, a new 16,500-square-foot complex that also includes an art gallery with an outdoor glassblowing demonstration area, a bookstore and other boutiques, along with a reinstalled statue of Eiler Larsen – one of Laguna's historically-famous "greeters."
With this in mind, the 2,900-square-foot restaurant pays homage to both nature and art, with parts of the original building incorporated into its design, and fine art pieces by local artisans on display, including famed Laguna Beach glass artist John Barber.
To achieve an artsy, dynamic ambiance designed to foster conversation and camaraderie, Ghahreman tapped noted Laguna Beach architect Si Teller of Teller Architects. Teller's design inspiration was derived from the original Pottery Shack, an example of the "early California fruit Stand architecture" prevalent along the coast until the mid-60s. Interior highlights include: simple organic materials such as distressed wood furniture and flooring, a muted color palette of subtle blue hues, sweeping ocean vistas, an open kitchen, an eight-person round communal table as the restaurant's core, and walk-in wine vaults – with actual wine barrels for storage and display – holding more than 900 bottles. The main dining room seats 58 and the bi-level outdoor terrace seats 42 diners who can enjoy the warmth of a sit-around fire pit on the bottom level.
A bar area – anchored by a bar counter made of root wood from a redwood tree dating back to the 1700s – features 12 bar stools and two banquette-style areas, and was designed as an intimate retreat to enjoy tantalizing cocktails and wines, small or large plates, and always good conversation and laughter with friends.
Located at 1200 South Coast Highway, Sapphire Laguna is open for lunch Monday through Friday from 11 a.m. to 2:30 p.m.; for intermezzo from 2:30 to 5:30 p.m. and open for dinner nightly from 5:30 to 10:30 p.m. weekdays, and until 11 p.m. on weekends. Brunch is served from 10 a.m. to 2:30 p.m. on Saturdays and Sundays. Sapphire Pantry is open daily from 7 a.m. to 9 p.m. Ample free parking is available on site at the back of the complex and accessible from Brooks Street or Glenneyre.
For reservations and more information, please call (949) 715-9888.
---
HOW SWEET IT IS
U.S. finals for World Chocolate Masters 2007
competition to be held in Chicago May 19-20
The 2nd World Chocolate Masters Competition has begun! Hundreds of culinary professionals will participate in this world-class event, which will culminate with the 22 national winners competing for the title of World Chocolate Master 2007 at the Salon du Chocolate in Porte de Versailles, Paris from October 20-22, 2007. Created and organized by Barry-Callebaut, the world's leading manufacturer of chocolate and confectionary products, the competition draws from a diverse pool of professional talents, with participants from award winning restaurants and hotels, as well as those in the pastry and confectioners business. It is truly a gathering some of the most brilliant chocolate aficionados and artisans that the gourmet world has to offer.
"It is very exciting to support the World Chocolate Masters competition," said Eric Martinet, Vice President Gourmet and Specialties, Barry Callebaut, North America. "To have so many talented participants from so many different countries vying for a spot in the finals makes this the Super Bowl of chocolate. We are thrilled to be the founders of such a prestigious event."
The preliminary competitions in all of the 22 countries (such as Switzerland, Belgium, Germany, United Kingdom, and Italy), produce one winner to be jetted off to the finals in France for the final show down of Chocolate Masters. In each of these national rounds, a jury of well-known professionals gathers together to judge the contestants on their creations in several categories, which include pralines, pastry, the mystery dessert, as well as the spectacular showpiece presentation. These awe inspiring chocolate "sculptures" are based on a predetermined theme; National Myths & Legends; and truly highlight the amazing artistic abilities of each chef, as well as the unbelievable use of
chocolate as an artistic medium. The competition has also added an element of surprise with a "mystery ingredient" grab bag for each chef to whip up into deliciously delightful dessert.
The United States national competition will be held in Chicago on May 19, 2007 at the esteemed French Pastry School. The competition will run Saturday morning, with the event culminating in the awards presentation that evening.
In addition to several well-respected culinary notables serving on the jury, the U.S. competition brings together a few other experts to liven up the festivities. Celebrity judges for this competition include Art Smith, best known for his foray into cookbooks, and subsequent James Beard Award in 2002, as well as his stint as Oprah's personal chef, and now as a contributing editor to her namesake magazine. Also on board is Food Network's Gail Gand, who, in addition to also being a James Beard nominee for her cookbooks, is considered one of America's top pastry chefs.
---
New Organic Coffee Blends and Brands
Keep You Cool on Hot Summer Days
Organic Coffee Tasting in NYC June 5 - World Environment Day
Photo: DaSilva Fine Brazilian Coffee
New organic coffee brands as well as new blends from long-established brands will more than satisfy coffee drinkers looking for a refreshing cup of cold coffee during the upcoming hot summer months, according to the Organic Coffee Collaboration - a project of the Organic Trade Association (OTA).
To help coffee aficionados enjoy cold organic coffee, Collaboration participants are providing seven delicious cold organic coffee beverage recipes. These include a Neapolitan, a malted, and a Toddy method recipe. The drinks can be made with organic decaffeinated, caffeinated, flavored and instant coffees widely available at retail outlets nationwide and direct from roasters via the Internet.
"The wide variety of new brands and blends makes it possible for coffee lovers to enjoy a delicious, high-quality summertime treat while supporting organic agriculture in the United States and around the world," said Caren Wilcox, OTA's executive director.
Members of the media will be able to sample Collaboration participants' organic coffee at a tasting June 5 at Josie's East* in New York City June 5 to commemorate "World Environment Day." Please mark your calendar now!
Data from the Organic Trade Association's 2006 Manufacturer Survey indicate that U.S. organic coffee sales totaled $89 million in 2005, up 40 percent from the previous year.
Organic coffee is grown using methods and materials that have a low impact on the environment. Organic production systems replenish and maintain soil fertility, avoid the use of toxic and persistent pesticides and fertilizers, and build biologically diverse agriculture. Third-party certification organizations verify that organic farmers use only methods and materials allowed in organic production. Organic coffee is grown in more than 30 countries, including the United States.
The Organic Coffee Collaboration is a project of the Organic Trade Association, the business association for the North American organic industry. The Collaboration includes:
Café Bom Dia (Coral Gables, FL) – Family-owned and operated coffee producer based in Brazil providing Marques de Paiva® premium organic coffee and other sustainable coffee products at a fair price through Sam's Clubs nationwide and select Wal-Mart stores.
Dallis Coffee (New York, NY) – A leading provider of organic and Fair Trade Certified™ coffees, selling to Whole Foods, universities and top cafés and restaurants across the country.
DaSilva Fine Brazilian Coffee® (Greensboro, NC) – Provides organic ultra-premium single-estate coffee directly from Espírito Santo, Brazil, hand-selected and picked only from the most recent crops.
Elan Organic Coffees (San Diego, CA) - Coffee developer and importer offering certified organic socially responsible coffees it develops through partnerships with village co-ops.
Equal Exchange (West Bridgewater, MA) - Worker-owned, Fair Trade Certified™ cooperative and one of the largest U.S. organic coffee roasters.
F. Gaviña & Sons (Vernon, CA) – A family-owned and operated specialty coffee roaster with over 135 years' experience as growers, traders and roasters of fine coffees. The Gaviña family is committed to producing high quality 100% organic coffees for its Gaviña Gourmet Coffee and Don Francisco's Specialty Coffee brands.
Fresh Harvest Products, Inc. (New York, NY) - Its Wings of Nature® brand coffees are small-batch roasted to a temperature that peaks the flavor and aroma of each bean, and then custom blended after roasting to provide unique and flavorful varieties.
Green Mountain Coffee Roasters (Waterbury, VT) - One of the leading U.S. organic coffee roasters and number one on Business Ethics magazine's 2006 list of "100 Best Corporate Citizens."
S&C Naturals/Rocamojo, Inc. (Los Angeles, CA) - Manufacturer of the sole organic coffee/soy blend sold by retailers nationwide and winner of Gourmet Retailer's "Best Products of Show" award at the 2004 Fancy Food Show.
Swiss Water Decaffeinated Coffee Company (Vancouver, BC, Canada) - North America's leading certified organic coffee decaffeinator, which decaffeinates coffee for three other Organic Coffee Collaboration participants: Café Bom Dia, Elan Organic Coffees, and Green Mountain Coffee Roasters.
See http://www.ota.com/organic_and_you/coffee_collaboration.html for further information on the Collaboration, including both cold and hot organic coffee recipes, purchase locations and fact sheets.
*Josie's East is located at 565 Third Avenue at 37th Street, New York City, NY 10016. Tel: 212-490-1558.
COLD Organic Coffee Recipes for a HOT Summer
(each recipe yields one serving)
Night and Day Ice Cream Espresso – Dallis Coffee, New York, NY
2 shots (1 ounce each) of a dark roasted organic espresso
½ pint (8 ounces) vanilla ice cream
Splash of whole organic milk
Blend the espresso into the rich organic vanilla ice cream and add a splash of whole milk. Serve in a 16-ounce cup or glass and garnish with dark chocolate shavings.
Neapolitan - DaSilva Fine Brazilian Coffee®, Greensboro, NC
3 scoops Neapolitan ice cream
3 ice cubes
1 shot chocolate liquor
¼ cup organic coffee, brewed
Mix all ingredients in blender. Pour into tall glass and top with chocolate sauce and whipped cream.
The Toddy method – Equal Exchange, West Bridgewater, MA
[With the toddy method you are making a super smooth, filtered concentrate that you can store for up to two weeks in the refrigerator. Blend it, shake it or pour it over ice. The easiest, most convenient method requires a small investment - the purchase of the toddy maker, cost $35. More information is available at http://www.toddycafe.com/shop/product.php?productId=67. Alternatively, you can rig up your own system with pots or kettles and strain the concentrate through cheesecloth.]
Make a very strong mix of ground coffee and cold water (Suggestion: Start with ¾ of cup of ground coffee for every 1 cup of water, and adjust to taste), and let it set for 12 hours. Pour the mix through the toddy filter. The result is a concentrate of "cold-brewed." And it's versatile, too. You can mix it to taste with either hot or cold water, as suits your mood. Note: According to the manufacturer, cold brewed coffee contains 67% less acid, so this might be popular with those with sensitive stomachs.
Organic Hazelnut Blend – F. Gaviña & Sons, Vernon, CA
2 ounces strong organic coffee
1 ounces organic hazelnut syrup
3 ounces organic milk
6 ounces ice
Organic whipped cream
Organic dark chocolate
Chopped organic hazelnuts
Blend coffee, syrup, milk and ice on high for 45 seconds. Pour into 16-ounce cup or glass. Top with whipped cream, chunks of dark chocolate and chopped hazelnuts.
Iced Mochaccino - Fresh Harvest Products, Inc., New York, NY
2 ounces organic espresso (double shot)
1 ounces chocolate syrup
5 ounces steamed organic milk
Ice
Fill glass with ice, and then add steamed milk. Mix the espresso with syrup, then pour slowly down side of the glass.
Coffee Chocolate Malted – Green Mountain Coffee Roasters, Waterbury, VT
8 ounces of cold organic milk
5 tablespoons chocolate malt drink mix
Stir together
Combine with 1 shot of organic espresso
Top with a small scoop of frozen organic vanilla ice cream and a sprinkle of the chocolate malt.
Organic Icy Mocha Rocaccino – Rocamojo, Los Angeles, CA
1 tablespoon organic chocolate syrup
1 tablespoon of chopped mocha chocolate
1 cup strongly brewed Rocamojo Blend
1 scoop of organic vanilla or chocolate soy ice cream
4 ice cubes
Stir the chocolate syrup into the hot coffee until melted. In a blender, combine the coffee with the ice cream and the ice cubes. Blend at high speed for 2 to 3 minutes. Sprinkle the Mocha Chocolate over the top. Serve immediately in a tall, cold glass on a warm day. Enjoy!
Helpful Hint: Coffee Iced Cubes
Brew regular fresh coffee, let it cool and pour into ice cube trays. Let freeze. Make coffee just the way you like it, chill it, then pour it over the cubes. This keeps the coffee strong even as the ice melts.