THE ART OF TEA
Good Health for the New Year at the Tea Garden & Herbal Emporium
by Bonnie Carroll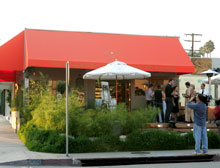 Over a six month period of time I have watched a lovely lotus open at 9001 Beverly Boulevard, just doors away from the former Chasen's Restaurant location in West Hollywood; a rather sedate Chinese tea shop was gradually transformed into a magnificent visual jewel of a Tea Garden & Herbal Emporium that is filled with all aspects of good health, along with some of the most beautiful Asian art I have ever seen.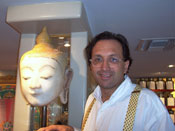 My first visit to meet with owner Mark Ukra was a blissful surprise that included, not only a personal instruction on the philosophy behind the creation of TG, but a personal tour of the entire facility, along with a sampling of the contemporary macrobiotic cuisine, considered by many to be a secret to long life, from M Café de Chaya, which is being served on the inviting outdoor Zen garden patio. The menu is based on a diet that refines their philosophy of a peaceful, mindful and purposeful existence into an elegant and simple cuisine, one that is seasonally appropriate, and relies on whole and natural foods chosen and cooked according to the needs and desires of the individual.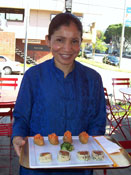 The wonderful M Café menu items include breakfast pastries; hearts of romaine, tuna tataki, and M chopped salad; seafood inari & sushi combination, and vegetable sushi. Sandwiches include M muffaletta, hummus & falafel wrap, and a dilled tofu salad sandwich with multi-grain bread. The desserts are outstanding, and include chocolate tart, banana chocolate millefeuille, apple kanten, a selection of delicious cookies, and amazing truffles. Of course, there is a divine tea to pair with any or all of these scrumptious healthy bites, and a pot of GT tea or a glass of iced tea is a perfect compliment. I loved the dilled tofu salad, filled with avocado, carrot, cucumber, sprouts, and soy-mayonnaise. The house-baked multi-grain bread was outstanding, and the M chopped salad is really a flavorful meal for two. If you associate healthy food with boring tastes you will be amazed by the TG menu items, especially the outstanding desserts.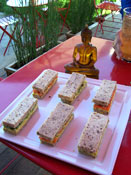 TG's tea menu includes rare and extensive collections of white tea, green tea, oolong tea, pu-erh tea, and a charming collection of tea just for kid's. We all know that "tea time" enjoyed by the English, which creates a time in the day when there is a pause to refresh body and spirit, as well as the pleasure of a Japanese tea ceremony in Japan has played an important role in the history of countless people through the ages. For centuries the Zen monks have developed rituals for tea service to enhance meditation, and in China, tea is served with a refinement reminiscent of wine tasting in America. During my visit I enjoyed a tea tasting with Mark Ukra, using similar techniques to those used by fine wine tasters, and was amazed at the difference in the smooth taste from a tea that had been "washed" several times. It is much like a bottle of fine wine that has settled and gives a completely different taste and experience.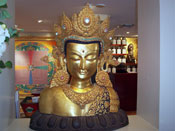 The Tea Garden herbal tonic bar is a great place to pamper your spirit and your body, and according to Ukra they are the premier purveyor of high-potency herbal products. Tonic is considered by most health aficionado's as the path to radiant health, and this beautiful tonic bar is a bevy of activity at all times, with patrons stopping by to enjoy their favorite herbal drink. According to Taoist tradition, herbal tonics are an important method of cultivating and nourishing the inner wellspring of vitality. It is believed that in the process of daily life and in the accomplishment of our greatest aspirations, the energetic wellspring becomes depleted; and poor health and aging are the result. These incomparable, legendary herbal teas have stood the test of time as remarkable life-enhancing Tonics.
It is obvious by the visual impression and attraction you feel when driving by the Tea Garden that there is something new and special going on there. Bring in the New Year by treating yourself to a special escape to a magical oasis that is filled with ancient art, informative reading material, and a large collection of the finest gift items in Los Angeles, along with healthful tonics, healing herbs, teas and M Café favorites. Monthly activities at the TG include Tai Chi, Mah Jonng, Breathing & Mantra, Meditation, and Numerology. For a schedule of activities and classes see www.teagarden.com.
---
FOUR SEASONS TENTED CAMP GOLDEN TRIANGLE
NOW ACCEPTING RESERVATIONS
by Bonnie Carroll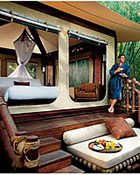 Unparalleled comfort and uncompromising service arrive in the mythical valleys of Northern Thailand. With just 15 luxurious tent accommodations, guests will enjoy one-of-a-kind experiences and exemplary service in an all-inclusive, uniquely social atmosphere.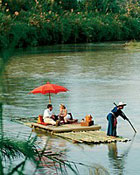 Learn how to command and drive an elephant through the jungle. Explore the diversity of this exotic land on a Mekong River Safari. Share stories during a campfire dinner. At Four Seasons Tented Camp Golden Triangle, your exotic adventure awaits.
To learn more about this exciting new Four Seasons experience, visit their web site.
To make a reservation:
Contact your travel consultant
Contact our worldwide reservations office
Call the property directly at 66 (0) 53 652 191
---
SAN DIEGO BAY WINE & FOOD FESTIVAL
Olive Oil Winners Announced
by Bonnie Carroll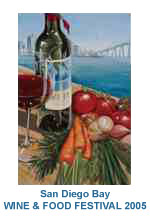 The San Diego Bay Wine & Food Festival is pleased to announce the results of its inaugural olive oil judging for both People's Choice and Chef's Selections. The judging is a result of ballots cast from over 600 tasting participants. Olive oil producers were able to enter their product in three categories: Single Olive Oils, Blended Olive Oils, and Infused Olive Oils.
Please join us in congratulating this year's winners:
Single Olive Oils:
1st Place - Artajo;
2nd Place (Tied) - Organic Olive Oil Petrou Organics, Temecula Olive Oil Company's Le Caprice de nature unfiltered early harvest;
3rd Place - Olio Santo.
CHEF'S CHOICE WINNERS:
1st Place - Artajo;
2nd Place - Temecula Fall;
3rd Place- Temecula Early
Blended Olive Oils:
1st Place - Parqueolivia;
2nd Place - Vea L'Estornell;
3rd Place - Joelle Mission & Manzanillo Blend.
CHEF'S CHOICE:
1st Place - Vea L'Estornell; 2nd Place - Parqueoliva;
3rd Place - Joelle Mission & ManzanilloInfused
Olive Oils:
1st Place (Tied) - Temecula Fresh Basil Reserve Late Harvest 2005, Temecula Roasted Garlic Reserve Late Harvest 2005;
2nd Place - Stonewall Kitchen Scallion Oil;
3rd Place - Cooperative Probuttori White Truffle Flavored Oil
CHEFS CHOICE:
1st Place - Temecula Roasted Garlic;
2nd Place - Stonewall Scallion;
3rd Place - Argrumato Orange
---
Jean-Michel Cousteau Fiji Islands Resort Wins
World Travel Award, Third Honor in Four Months
Jean-Michel Cousteau Fiji Islands Resort, a renowned luxury destination, announced today it received the honor of "Fiji's Leading Resort" by the World Travel Awards at a ceremony held recently in London, England. In this 12th annual tabulation of the World Travel Awards, 156,000 travel agencies and professionals from over 140 countries voted for travel destinations, airlines, hotels, personalities and companies.
This acclaim follows two other prestigious honors awarded this fall. The resort was the #4 resort in the Pacific Rim and received the highest ranking of any Fiji property by the Condé Nast Traveler Readers' Choice Awards. The resort also received the #1 ranking in Condé Nast Traveler's Green List, which recognizes outstanding examples of ecotourism.
"We're thrilled to wrap up 2005 with an incredible line-up of awards, now capped off with the prestigious World Travel Award. This honor is particularly gratifying because it comes from industry colleagues and travel professionals," said Mike Freed, managing partner of Passport Resorts LLC, which oversees the management of the Jean-Michel Cousteau Fiji Islands Resort. "Over the past few years, our team has diligently pursued enhancements to the entire spectrum of the guest experience, from activities and dining to service and accommodations. We're proud of the recognition our resort has achieved under the direction of General Managers Karen and Greg Taylor. Special thanks go to Karen, whose sense of design and style has brought the resort to a whole new level."
Jean-Michel Cousteau Fiji Islands Resort draws couples, families, water enthusiasts and beachcombers alike. Guests can indulge with a traditional Fijian massage treatment, escape to a private island or pick up the pace with one of the many activities such as kayaking, sailing or hiking in the rainforest. As its name suggests, guests have access to one of the world's top dive operations, one dedicated to preserving the delicate reefs and their inhabitants.
At the end of the day, guests can sit down to the resort's own Kava ceremony, followed by an exceptional dining experience. Chef Vijendra Kumar uses fresh ingredients, including local seafood and produce from the resort's organic garden, to create award-winning cuisine served in the restaurant, by the pool, at pier's end, or at private dine-out bures on the beach.
The Jean-Michel Cousteau Fiji Islands Resort, recognized as one of the top resorts in Fiji, and is managed by Passport Resorts, recognized for its management of internationally acclaimed, small, luxury destinations that are operated in an environmentally and socially responsible manner. Sister resorts include Post Ranch Inn, Big Sur, Calif., and the Hotel Hana-Maui, Maui, Hawaii.