37th Winter Fancy Food Show - San Francisco - January 15 - 17, 2012
Moscone Center, 747 Howard Street, San Francisco, CA 94103
---
Taste Awards - January 12 at the Egyptian Theatre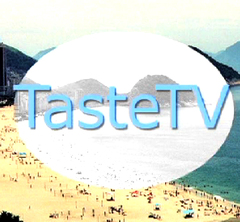 The 3rd Annual TASTE AWARDS, the premier awards show celebrating the year's best in Food, Fashion, and Home Lifestyle programs on Television, in Film, Online, and on Radio has announced that the upcoming awards show celebration will take place on January 12, 2012 at the Egyptian Theatre in Hollywood.

The final Nominees for the TASTE AWARDS were announced on November 2nd in San Francisco. Viewers Choice voting for radio, film, and specific web categories also begins on November 2nd.

The Estonian Consulate is sponsoring a Foodie Travel Trip to Estonia for two for the TASTE AWARDS Winner of the "Best Food Travel Program on the Web" category.

Additional Official Partners include the AmericaOne television network, PR Newswire, TasteTV, Cuisine Noir Magazine, Ferrara Flame, SummerJasmines, Schiltz Foods, Peju Winery, Raymond Vineyards, R&B Cellars, Ecogenics, Jenuinely Pure, Sella All Natural Skincare, Deep River Snacks, Food Should Taste Good, Mediterranean Snacks, Cinda's Toffee, Toffee Break, Toffee Talk, and Eventbrite. More partners can be seen on the TASTE AWARDS website.

The viewer appetite and response to food and style programs has surged over the last decade, making them some of the highest watched and sponsored video content. The Annual TASTE AWARDS (also known as the TASTY Awards) in Hollywood celebrate the year's best in food, fashion, and home lifestyle programs on Television, in Film, Online, and on Radio.

It has included appearances by stars, celebrities, producers and executives from networks and platforms such as the Food Network, the Style Network, Bravo, the Cooking Channel, TLC, Discovery, Lifetime, E! Entertainment Television, PBS, NBC, ABC, the CW, HGTV, the Travel Channel, HD Net, Hulu, YouTube, Sony Pictures, and more.

For more information, go to www.TheTasteAwards.com or www.TastyAwards.com, as well as get updates on Twitter at www.Twitter.com/TastyAwards, or on Facebook at www.Facebook.com/TastyAwards
---
HOTEL HASSLER ROMA OFFERS GOURMET 
CHRISTMAS AND NEW YEAR'S PACKAGES  
This holiday season, Hotel Hassler Roma invites guests to soak in the Eternal City's festive spirit with a selection of Christmas and New Year's packages highlighting its Michelin-starred Imágo restaurant (pictured, below). The packages, which can be viewed in full on the Hotel Hassler Roma's website, include: 
Christmas Celebration Package at Imágo
Three-night stay in a Deluxe Double or Twin room
Daily buffet breakfast
Six-course Christmas Eve dinner at the Michelin-starred Imágo
Afternoon Christmas tea at Salone Eva with live musical performance (5pm-7pm)
Special Christmas surprise prepared by Imágo Chef Francesco Apreda
New Year's Celebration Package at Imágo
Three-night stay in Deluxe or Grand Deluxe room 
Daily buffet breakfast 

Bottle of the Hassler's

Franciacorta Storica 61

sparkling wine

 

Afternoon tea at Salone Eva
New Year's Eve dinner at the Michelin-starred Imágo
Dancing at Salone Medici
Priced from €3,270-€3,570 (approximately US$4,530-US$4,950), the package is valid for arrivals from December 29-31, 2011.
For more information on the Hotel Hassler Roma, visit www.hotelhasslerroma.com.
ABOUT HOTEL HASSLER ROMA: 
Set atop the Spanish Steps and featuring a panoramic view of the entire city, the Hotel Hassler Roma, owned by President and Managing Director Roberto E. Wirth, has been Rome's five-star lodging of choice for the world's elite for more than a century. Each of the 95 rooms (of which 13 are suites) are individually designed and adorned in authentic Italian accents and contemporary touches. Highlights include the Michelin-starred panoramic restaurant, Imàgo, the Salone Eva, and the neighboring, Hassler-owned Il Palazzetto (
www.ilpalazzettoroma.com
), a charming 16-century, five-story palazzo with four hotel rooms overlooking the Spanish Steps.

---
EMANUEL ANDREN CHOCOLATES
THE PERFECT LUXURY HOLIDAY GIFT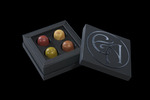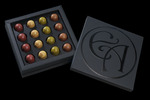 Tis the season to giving and receiving extraordinary gifts!  It's the time of year to celebrate with style and to indulge with flare.  We can't think of a better way to show someone how much you care than to give them Emanuel Andren Chocolates, one of the world's most luxurious and delectable chocolates.
 
The Emanuel Andren Chocolates 2011 holiday gift guide special includes the Passion and Glamour chocolate collection. The collection will retail at $69(regular price $98) for the 4 pc box and $230 (regular price $328) for their 16 pc box. This special price will be valid from November 1 to December 31st, 2011.  Made in Sweden, these chocolates are all individually handmade by Emanuel Andren himself using the finest and freshest ingredients available. Each piece is a work of art and each bite is truly unique experience. 
 
Passion and Glamour: The Perfect Holiday Box of Chocolates
 
Champagne and Strawberries:Sparkles of effervescent Bollinger Champagne in creamy white chocolate truffle surround an intoxicating fruit jelly center made with strawberries.
Orange and Vanilla:Juicy orange flavors of this liqueur mingle with Tahitian vanilla, fresh orange zest and smooth white chocolate in a heavenly medley of flavors
Xante: The smooth sweetness of ripe pears together with the charisma and intensity of a full-bodied cognac are combined with milk and dark chocolate to a luxurious truffle.
Passion Fruit: Ripe and succulent passion fruit makes this luscious milk chocolate truffle fresh and fruity. The flavors are complimented by the chocolates' vanilla and sweet character
 
The chocolates are available for private orders only via their website, www.emanuelandren.com. For more information please email me at Sophia.Paliov@bg2pr.com or call at 949 525 5022.                                    

---
---