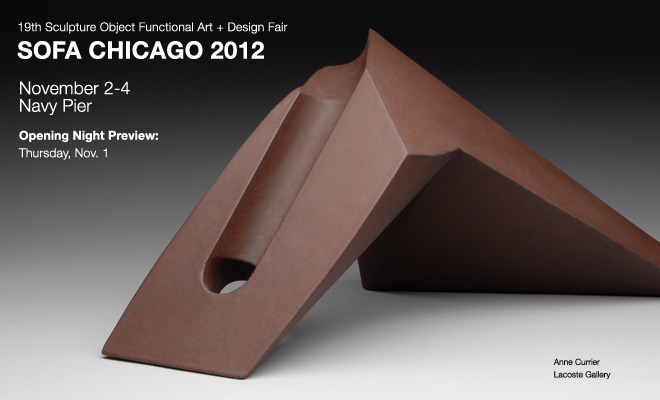 THE ART FAIR COMPANY PRESENTS
19TH ANNUAL SOFA CHICAGO 2012 IN NAVY PIER'S FESTIVAL HALL
NOV. 2 - 4, 2012
Special Celebrations Mark 50th Anniversary of Studio Glass Movement
One Ticket Admits Attendees to Fair, Lecture Series, Special Exhibits and Events

VIP Opening Night Preview Thursday, Nov. 1
The Art Fair Company, based in Chicago, presents the critically acclaimed international art fair SOFA CHICAGO 2012 at Navy Pier (600 E. Grand Avenue) Friday, Nov. 2 through Sunday, Nov. 4. The highly anticipated three-day event features masterworks of contemporary and modern art and design, sculpture, functional art, non-traditional and visionary art, plus related special exhibits and a lecture series.
Now celebrating its 19th year, the international Sculpture Objects & Functional Art + Design Fair (SOFA) is the largest and longest continually running art fair in Chicago, attracting art and design lovers from throughout the country and adding an element of global flair to the city's cultural and social calendar.
For the eighth straight year, SOFA CHICAGO is sponsored in part by Chubb Personal Insurance, one of the world's preeminent insurers of fine homes, art, antiques, jewelry, automobiles, yachts and other prized possessions. The Art Fair Company is pleased to announce that for first time, Audi, one of the most respected makers of luxury cars, will also be a sponsor of SOFA CHICAGO.
SOFA CHICAGO 2012 will feature nearly 70 art galleries and dealers from 10 countries along with special exhibits by renowned museums, universities and arts organizations, and an extensive lecture series, all included in the admission price.
_________________________________________________________________
"Susan Claassen is simply amazing as Edith Head! It's as if I picked up the phone, called Edith and asked her to return to Paramount for one last, great chat." Randall Thropp, Paramount Production Archives

WHAT:           
 "A CONVERSATION WITH EDITH HEAD," written by Susan Claassen and Paddy Calistro will run at                                    Center Stage Theater in Santa Barbara, November 2 – 4.  Based on EDITH HEAD'S HOLLYWOOD                                     by Edith Head & Paddy Calistro, this one woman show is a feast of delicious behind-the-                                    scenes stories about Hollywood's greatest stars, providing an intimate portrait of Hollywood's                                     legendary costume designer. In her six decades of costume design, Edith Head worked on over                                     eleven hundred films; dressed the greatest stars of Hollywood; received 35 Academy Award®                                     nominations, and won an unprecedented eight Oscars®. Edith Head's story is as fascinating as the                                     history of the film industry itself, filled with humor, frustration and, above all, glamour. 
WHERE:            
Center Stage Theater
751 Paseo Nuevo, Santa Barbara, CA 93101
www.centerstagetheater.org <http://www.centerstagetheater.org>

WHEN:                   
Friday, November 2 at 8:00 pm  
Saturday, November 3 8:00 pm
Sunday, November 4 at 2:00 pm  
 
PRICES:            
General Admission - $30.00
Students - $25.00
 
TICKETS:            
available 24/7
Online sales: www.centerstagetheater.org
Phone and box office sales Wednesday – Friday 12-5 and one hour prior to each performance
 (805) 963-0408
Group Sales: tourdirector@edithhead.biz <director@edithhead.biz>

________________________________________________________________________
STATE STREET BALLET'S 2012-2013 SEASON, THE MOST AMBITIOUS IN ITS HISTORY, WILL INCLUDE MAJOR WORLD PREMIERES, DISTINGUISHED ARTISTIC COLLABORATIONS, AND PASSIONATELY RE-IMAGED CLASSICS
THE NEW SEASON will include important world premieres by choreographers William Soleau (An American Tango) and Peter Pucci (Dream On By), new choreography by William Soleau for Stravinsky's "Firebird" in an exciting artistic collaboration with the Santa Barbara Symphony, a reprise of choreographer Robert Sund's popular "Beauty and the Beast," a New York City debut by the company, and the first State Street Ballet "Nutcracker" with full orchestra.
·         SEPTEMBER 30, 2012: TANGO ON THE RIVIERA. State Street Ballet's kick-off party, at the FOUR SEASONS BILTMORE HOTEL: (805) 563-3262 – www.statestreetballet.com. Tickets: $250.    
·         OCTOBER 27, 28, 2012: AN AMERICAN TANGO (World Premiere). LOBERO THEATRE BOX OFFICE: (805) 963-0761 - www.lobero.com.
·         NOVEMBER 14, 2012: State Street Ballet New York City debut at Manhattan Movement and Arts Center.
·         DECEMBER 22, 23, 2012: THE NUTCRACKER with Opera San Luis Obispo Orchestra. GRANADA THEATRE BOX OFFICE: (805) 899-2222 - www.granadasb.org. Tickets: $21-$103.                                                                                                             
·         FEBRUARY 9, 10, 2013: THE FIREBIRD (World Premiere) with the Santa Barbara Symphony. GRANADA THEATRE BOX OFFICE: (805) 899-2222 – www.granadasb.org. Tickets: $42-$130.                                                                                                                              
·         MARCH 9, 10, 2013: BEAUTY AND THE BEAST. LOBERO THEATRE BOX OFFICE: (805) 963-0761 – www.lobero.com. Tickets:
·         APRIL 27, 2013: PAUL SIMON BALLET - DREAM ON BY (World Premiere). LOBERO THEATRE BOX OFFICE: (805) 963-0761 – www.lobero.com.
SANTA BARBARA, CA – State Street Ballet has announced the most ambitious season of professional dance in its 18-year history: three significant world premieres, a Santa Barbara reprise of one of the most popular works from the company's touring repertory, and two important artistic collaborations with professional orchestras in the region.
Pre-season kicks off elegantly, with a tango-themed benefit for the company on September 30, 2012 in the Loggia Ballroom of Santa Barbara's historic Four Seasons Biltmore Hotel, in Montecito. Tango on the Riviera will honor Margo Cohen-Feinberg, President's Circle Gold Donor, & Ballet Board Member for her continuing support of State Street Ballet. The gala event will also feature a live auction, dinner and dancing. Tickets, which will sell quickly at $250 may be purchased by calling State Street Ballet, 563-3262.
AN AMERICAN TANGO - October 27, 28, 2012
State Street Ballet's 2012-2013 season launches officially on October 27 and 28 at the Lobero Theatre in downtown Santa Barbara with the World Premiere of New York City-based choreographer William Soleau's AN AMERICAN TANGO. The ballet is based on the life, and true love story, of Frank and Yolanda Veloz, considered the greatest ballroom dance duo of the 1930s and 40s. Their passionate romance and notorious friends catapulted them from the steamy clubs of Havana and Miami, to Broadway, and finally, Beverly Hills, and the world of Hollywood films. Mr. Soleau has created a touching tribute to the Frank and Yolanda's love affair with their art, their many colorful friends, including Dutch Schultz, Walter Winchell, and Florenz Ziegfeld, and most importantly, each other. The October 27 performance of AN AMERICAN TANGO is at 7:30pm, and the October 28 performance is at 2pm. Call the Lobero Theatre Box Office for tickets: (805) 963-0761 – www.lobero.com.
THE NUTCRACKER – December 22, 23, 2012
State Street Ballet's production of Tchaikovsky's holiday masterpiece has become a popular staple of the company's increasingly busy national touring schedule. Last year, the company performed THE NUTCRACKER with the Spokane Symphony, and this year, for the first time, the company will present THE NUTCRACKER in Santa Barbara in collaboration with the Opera San Luis Obispo Orchestra, conducted by Brian Asher Alhadeff. A live orchestra in the Granada Theatre pit will bring this season's NUTCRACKER to life, as never before. Performances on December 22 are at 2pm and 7:30pm and on December 23 at 2pm. Call the Granada Theatre Box Office for tickets: (805) 899-2222 – www.granadasb.org.
THE FIREBIRD – February 9, 10, 2013
New York City-based choreographer William Soleau has been a friend of State Street Ballet since it's inception in 1994 creating imaginative new work for Artistic Director Rodney Gustafson and the company on a regular basis. Last season, Mr. Soleau revised his passionately original take on the life of Vincent van Gogh, the unforgettable STARRY NIGHT, and Santa Barbara audiences will not soon forget Soleau's choreography for Carl Orff's CARMINA BURANA presented at the Granada Theatre in 2008 in a magnificent collaborative effort between State Street Ballet, the Santa Barbara Symphony, and Santa Barbara Choral Society. State Street Ballet's 2012-2013 season is no exception, as Mr. Soleau premieres his newest work AN AMERICAN TANGO on October 27, 28, 2012, and creates an entirely fresh choreographic vision for Igor Stravinsky's 1910 ballet THE FIREBIRD on February 9, 10, 2013 in another historic collaboration between State Street Ballet and the Santa Barbara Symphony Orchestra, Nir Kabaretti, conductor.
Michel Fokine's choreography for the original production, commissioned by Sergei Diaghilev for the short-lived but legendary Ballets Russes, is considered somewhat of a sacred cow. Mr. Soleau's new choreography to Stravinsky's soaring score, will be a must see event for dance lovers. The performance on February 9 is at 8pm, and on February 10 at 3pm, part of the Santa Barbara Symphony's 2012-2013 subscription season. THE FIREBIRD will sell-out quickly. Call the Granada Theatre Box Office for tickets: (805) 899-2222 – www.granadasb.org.
BEAUTY AND THE BEAST – March 9, 10, 2013 
Emmy Award winning choreographer Robert Sund, inspired by the 1925 Jean Cocteau film, created BEAUTY AND THE BEAST for State Street Ballet in ------.  This classic love story, to a beautiful Tchaikovsky score, and with lavish costumes, masks and sets, has become a favorite of audiences young and old throughout the United States, and was a particular favorite of audiences in Taiwan and China, during the company's international tour in 2002. BEAUTY AND THE BEAST is now a standard part of State Street Ballet's touring repertory. Santa Barbara families last saw BEAUTY AND THE BEAST in 2002. The March 9 performance is at 7:30pm and the March 10 performance is at 2pm. Call the Lobero Theatre Box Office for tickets: (805) 963-0761 – www.lobero.com.  
PAUL SIMON BALLET - DREAM ON BY – April 27, 2013
American choreographer Peter Pucci's new work for State Street Ballet was conceived some months ago, after seeing a live concert by singer-songwriter Paul Simon. "I started to think what a complete joy it would be to choreograph to his music." Mr. Pucci hopes, through dance, to tap into the emotional essence of Paul Simon's music in a non-narrative form, and to bring to life, Mr. Simon's moving poetry. "So much of it is iconic, recognizable, and infectious: full of youthful longing and self-exploration." What better definition for State Street Ballet!
State Street Ballet is a vibrant, innovative professional dance company based in Santa Barbara, California. Known for combining the rigors and timeless beauty of classical technique with updated looks, special effects and digital technology, the company produces original works that captivate today's diverse audiences. Founded in 1994 as a nonprofit organization, the group remains dedicated to promoting original dance through public performances and educational outreach. The company tours domestically and internationally. Original touring productions from State Street Ballet currently include Cinderella, The Nutcracker and The Jungle Book.
Tickets: The Granada Box Office / 805.899.2222 / www.granadasb.org  1216 State Street, Santa Barbara; Lobero Box Office, 33 E. Canon Perdido/805.963.0761/www.lobero.com/contact/boxoffice
Tickets are priced from $28 to $48 (plus facility fee), with discounts for students and seniors.  Children under 12 are $18
For Group sales, contact the ballet office 805-563-3262 ext 105.  For more details visit www.statestreetballet.com 
---