DUBLIN ART HISTORY
Dublin's Municipal Art Gallery & The Hugh Lane Gallelry
By Bonnie Carroll
The Hugh Lane, located at Claremont House, Parnell Square North in Dublin, is an amazing venue to investigate the life and style of renowned artist Frances Bacon. Bacon's attachment to Reece Mews, the modest place where he lived and worked for the last thirty years of his life, is renowned, as was the chaotic nature of the studio. The studio was located on a cobbled laneway in South Kensington, London, whre he lived and worked from 1961 until his death in 1992.
Bacon was photographed in his studio on a number of occasions offering a glimpse into a legendary space that few were ever allowed to enter. The studio is now on view at the Hugh Lane, and can be studied through a glass wall. There are over 7,500 items in the studio, including photographic items. Bacon worked from photographs he had commissioned of friends to use as working documents while painting them. These photographs are seen in the studio and also hanging on the gallery walls. They include many images of the artist.
A visit to this wonderful gallery should include lunch at their delightful museum Café and a stroll through the bookshop. The museum is open Tuesday to Thursday 10:00 a.m. to 6:00 p.m. Friday & Saturday from 10:00 a.m. to 5:00 p.m. and Saturday 11:0 a.m. to 5:00 p.m. For information visit: www.hughline.ie.
The Municipal Gallery of Modern Art is located in Charlemont House, Parnell Square North in Dublin, and was the brainchild of Sir Hugh Lane (1875-1915), who was born in County Cork. He was a successful art dealer in London, but traveled to Cork often. He formed a museum for the permanent collection of Irish artists and campaigned to establish a Gallery of Modern Art in Dublin. He also is known to have established a distinctive school of Irish painting. He believed the works of Irish artists should be seen side by side with European artists. He included in the museum a collection of impressionist works and encouraged Irish artists to donate their work. Works were donated by the Prince of Whales.
The impressionist paintings in this gallery are fantastic, and come as a surprise. It is always wonderful to recognize an the work of an artist, but realize this is a first for your art loving eyes. For additional information visit www.municipalgallerydublin.ie.
---
Pierre Bonnard The Late Interiors
                  The Metropolitan Museum of Art
January 27 – April 19, 2009
---
Exhibition: FAST FORWARD 2009: Selections from The Berkus Family Collection

Dates: February 2 – June 19, 2009

Hours: Mon. – Friday, 8am – 6pm, Free to the PublicLocation: Channing Peake Gallery, 1st floor County Administration Building, 105 E. Anapamu Street, Santa Barbara, CA opening Reception: 1st Thursday, February 5, 5 – 8pmFree Gallery talks: 1st Thursday, March 5, 5:30pm, Heather Jeno Silva, curator, walk-thru gallery talk

 

The Santa Barbara County Arts Commission presents FAST FORWARD 2009: Selections from The Berkus Family Collection, curated by Heather Jeno Silva, which revisits a selection of contemporary artists in the County's Barry Berkus and Family Collection, in honor of Gail Berkus. The exhibition features current works juxtaposed with earlier works from the collection to reveal surprising insights about the process of artistic evolution.

Silva, whose professional experience includes arts writer, arts columnist, and Public Programs Curator for the Santa Barbara Contemporary Arts Forum, said, "The Berkus Collection is an extraordinary representation of Santa Barbara's rich visual arts legacy," says Silva. "Since many of the artists featured have not shown locally in recent history, it was my intent to evoke a sense of rediscovery and renewed enthusiasm about Santa Barbara's local arts treasures."

Among artists highlighted in this exhibition Lawrence Argent, Sky Bergman, Ginny Brush, Jeff Brouws, Dan Connally, Sam Erenberg, Rollin Fortier, Timothy Hearsum, Ken Hendrickson, Dimitri Kozyrev, and Harry Reese. The types of media used by these artists mirror the diversity of the collection itself: sculpture, painting, drawing, mixed media printmaking, collage, photography, ceramics, and digital media.

The Barry Berkus and Family Art Collection in memory of Gail Berkus, first debuted on March 24, 2006, at the Channing Peake Gallery in the County Administration Building. Barry Berkus, noted Santa Barbara architect, art collector, and philanthropist, donated a large number of artworks from his collection to the County of Santa Barbara, through the County Arts Commission. All of the works given are by artists who live, or lived for an extended period, in the Santa Barbara area. This gift represents over 70 art works and span 25 years of collecting work by area artists.

Mr. Berkus and his late wife, Gail, were recognized by Art News magazine as among the top 200 art collectors in the world. Their modern and contemporary collection was noted for its diversity and for large scale artworks by such well known artists as Alexander Calder, Andy Warhol, James Rosenquist, Frank Stella, Nancy Graves, Roy Lichtenstein, Richard Diebenkorn and Ed Ruscha.

While recognized for their collection of internationally and nationally known artists' artworks, the Berkus' were also keenly interested in and supportive of Santa Barbara area artists. They bought work from the artists' studios, galleries, and auctions and Berkus remains committed to art of the region.

FAST FORWARD 2009: Selections from The Berkus Family Collection, will be on view at the Channing Peake Gallery, February 2 – June 19, 2009. The original Berkus catalog with essay by Josef Woodard, and designed by Lily Guild, is available for purchase from the County Arts Commission; call 568-3990 to order. A gallery talk will take place at the Channing Peake Gallery on: 1st Thursday, March 5, 5:30pm, Heather Jeno Silva, curator, will conduct a walk-thru gallery talk on the 1st floor of the Santa Barbara County Administration Building, 105 E. Anapamu St., Santa Barbara, CA 93101. Gallery Hours: Mon.-Fri., 8am-5pm.

T

his exhibition is a project of the County Arts in Public Places (CAPP) Committee of the Santa Barbara County Arts Commission with generous funding support provided by the following: Esther J. Bates, Susan Bower, Charles L. Bloom Foundation, Teen Conlon, Joan Cyr, Joan Davidson, 7 Day Nursery, Phyllis De. Picciotto, Jacqueline Dyson, Mary Heebner, Joanne Holderman, Betty and Bob Klausner, Elaine LeVasseur, The Mammel Foundation, Palm Loft Gallery, Will Prindle, Frances Puccinelli, Rick and Ro Sanders, C. Dana White, Jana Zimmer

 

 

Brilliant Chinese Paintings and Calligraphies of Ming

Dynasty in New Exhibition at Metropolitan Museum

 

The Metropolitan Museum of Art

Exhibition dates: January 23 – September 13, 2009
---
The LA Phil 09/10 - Better Buy Your Tickets Today!
By Laurence Vittes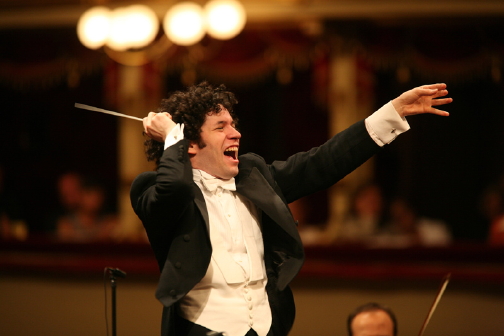 The lovefest between LAPO LA and GD reached the orgasmic stage when the LAPO held a January press conference announcing details of the 09-10 season.
New Music Director Gustavo Dudamel's arrival on stage was preceded by a slick 2-minute marketing film in which the city's main demographic groups were prominently represented. Among the celebrity types were Placido Domingo (with a score of Wagner's heavy-duty opera "Parsifal" standing on the piano conspicuously behind him), outgoing music director Esa-Pekka Salonen and the inevitable Elvis impersonator.
The season will kick off with a free Hollywood Bowl Dudamel/LAPO performance of Beethoven's 9th, certain to be a total mob scene, and an Inaugural Gala at Walt Disney Concert Hall, to be telecast internationally, highlighted by the world premiere of trendy composer John Adams' tribute to Los Angeles, "City Noir."
The usual LA Phil diversity of wonderful conceptual themes and visiting performers seems stepped up, with the kind of results-oriented careful attention finally being paid to the musical tastes and spending habits of Angelenos.
Dudamel himself will take charge of an "Americas and Americans" festival. Adams will take charge of a "West Coast: Left Coast" festival that will feature a residency by the edgy Kronos Quartet. It's time, however, to tell the marketing department that "the true California spirit" ain't reflected by the cute but patronizing "left coast" moniker.
Among the season's other high points:
The premieres of nine commissioned works, the U.S. premiere of Louis Andriessen's opera "La Commedia," a residency by composer Thomas Adès, and Dudamel's debut on the super fun Green Umbrella new music series.
The debuts of YOLA! (Youth Orchestra Los Angeles) and the EXPO Center Youth Orchestra.
Asked about the possible impact of the deepening financial crisis, Borda gave a rosy, Pollyannish response which everybody was delighted to hear. She might also have said that there may be lessons to be learned from Obama's success in terms of outreach and educational programs.
Another important development in 2009-2010 will be a procession of music directors from other US orchestras serving as the Phil's primary guest conductors instead of a collection of nonentities. This will give Phil audiences an opportunity to clearly hear the effect of top conductors on the orchestra's sound and range of interpretative approach. It will also bring in a succession of experienced leaders who can keep the Phil in shape while Dudamel continues to mature as an orchestra leader and, perhaps more important, builder.
These conductors all have a compelling story to tell, which should make them pretty hot tickets for the limited-seating concerts they will be conducting. Hearing such a line-up as Edo de Waart, Charles Dutoit, Christoph Eschenbach, Lorin Maazel, Leonard Slatkin (Detroit) and Jaap van Sweden (Houston) will be a real treat. Meanwhile, the great orchestras of Berlin, Dresden and Saint Louis will perform at Frank Gehry's superb hall to show L.A. audiences how other orchestras do it.
And this is all before the excitement of Dudamel starts to make Los Angeles come classically alive.
There are some concerts in which he will bring down the house without fail: Latin programs with big percussion pieces and cries by the suppressed for liberty and humanity; Verdi's Requiem, Schubert's Unfinished, and Beethoven's Ninth.
Aficionados will be interested to check out how the Venezuelan Kid fares with offbeat challenges like  "Rendering," Luciano Berio's spectacular transformation of Schubert, and how quickly he can find the heart of and successfully champion new compositions like the world premiere of Stephen Hartke's "Organ Symphony."
And then there's the touring. Not Europe or Asia this time, thanks goodness, but the good old U.S.A. Eight cities, coast-to-coast from San Francisco to New York, with stops in Chicago, Washington, DC, Philadelphia, Phoenix and Nashville. What a road trip that's going to be!
Clearly, if all this works out, Los Angeles, perhaps again or perhaps for the first time in its history, will have an orchestra and conductor that can make the city rock big time.
---
NATIONAL GALLERY OF ART CELEBRATION
On the occasion of the 200th anniversary celebration of President Abraham Lincoln's birthday, the National Gallery of Art will present a one-year focus exhibition, Designing the Lincoln Memorial: Daniel Chester French and Henry Bacon, on view in the West Building, Main Floor, starting February 12, 2009. The installation features the six-foot-high plaster final model of the most renowned Lincoln statue by American sculptor Daniel Chester French (1850–1931), as designed for the Lincoln Memorial on the National Mall, and the original wood model of the Lincoln Memorial by American architect Henry Bacon (1866–1924).
The works will be accompanied by life-size photobanners of the final Lincoln sculpture and a watercolor of the East Elevation of the Lincoln Memorial by Jules Guerin (who executed the murals in the Memorial), as well as informative, illustrated text panels addressing the making of the statue and the memorial, the careers of French and Bacon, and the role the Lincoln Memorial has played in American life. Nearby, Augustus Saint-Gaudens' Memorial to Robert Gould Shaw and the Massachusetts Fifty-fourth Regiment and the American paintings galleries are returning to public view after nearly two years of Gallery renovation.
---
SANTA BARBARA MUSEUM OF ART
Exhibitions On View
 Of Life and Loss: The Polish Photographs of Roman Vishniac and Jeffrey Gusky
October 25, 2008 – March 15, 2009  (Exhibition extended!)
This exhibition brings together the photographs of Roman Vishniac, made in Poland in the mid 1930s, and the images of Jeffrey Gusky, made six decades later in many of the same areas. Vishniac's forty-four photographs portray the crowded, vibrant communities, pulsing with life: men, women and children in their homes and schools, at their trades and in their streets, in markets and at prayer. Gusky's images, in equal number, capture the austere landscapes and vestigial remains – the markets stilled and the streets empty.
Ten: Gifts of SBMA PhotoFutures
September 27, 2008 – April 5, 2009 (Exhibition extended!)
 SBMA celebrates the gifts made possible by PhotoFutures - now celebrating their tenth year. 
Showcased in this exhibition are important areas of focus within the photography collection – the intersection of art and science, California masters, Western Pacific Rim artists, and the 19th century American West, among others.  PhotoFutures collectors have made many of these acquisitions possible.  With the generous, informed, and enthusiastic support of our committed members, the permanent photography collection is now richer than ever…and the legacy continues.
Picasso on Paper: Drawings and Prints from the Permanent Collection (1899-1967)
September 6, 2008 – February 22, 2009 (Exhibition extended!)
 Every now and then a museum enjoys nothing more than showing off its collection and displaying the work of the most important artists.  By any reckoning, Pablo Picasso was one of a small handful of the most important artists of the last 100 years.  The Santa Barbara Museum of Art owns some spectacular drawings and prints by Picasso that represent his career, from beginning to end.  With this exhibition of 25 exceptional drawings and prints, we're taking the opportunity to present this rich material in its complete form.
Events
Thursday, February 12, 7:30 pm
The Penderecki String Quartet
This quartet returns to SBMA performing Beethoven's String Quartet in B flat major, op.18,
no.6; Andrzej Panufnik's "Wycinanki" String Quartet no. 3 (1991); and Piotr Tchaikovsky's
String Quartet no.1 in D major, op.11. Mary Craig Auditorium.
$15 SBMA Members, $19 Non-Members
Tickets may be purchased at the Visitors Services Desks in person, or by credit card call 884.6423. 
---
Vercelli - November 21st 2008 – March 1st 2009
\
---