FALLEN TOWERS
Internation Dairy Cooperative
by Bonnie Carroll


The Internation Dairy Cooperative held an open house for Santa Barbara locals and special art guests. The coalition of talented artists are located off Orgega Street, where the group displayed a collection of very interesting American inspired art. The evening included live music, food, dancing and most of all wonderful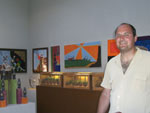 artists showing their work.
Mayor Marty Blum and her husband talked with artists. "We used to have art groups like this in the City, and I think it is a fine thing they are doing" said the Mayor. Dante Sigismondi's studio was alive with Italian friends and relatives who had come to see his latest creations, and I enjoyed visiting with them all.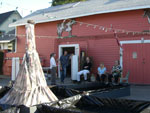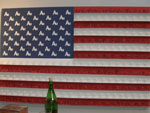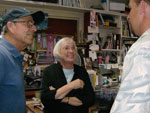 For additional information visit www.desigismondi.com.
---
SANTA FE CHAMBER MUSIC FESTIVAL JULY 22 TO JULY 28, 2007
FROM BACH TO BACH BY WAY OF MESSIAEN AND KURT WEILL –
WITH HK GRUBER, THE JOHANNES STRING QUARTET,
JOHN O'CONOR, AND DAVID LEISNER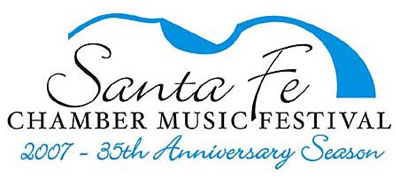 Santa Fe, NM – Second week programs of the Santa Fe Chamber Music Festival's 2007 season begin and end with Bach and are highlighted by the Santa Fe debut of HK Gruber; Messiaen's Quartet for the End of Time; performances by the Johannes String Quartet, cellist Zuill Bailey, and guitarist David Leisner; a concert of Mozart, Giuliani and Elgar at Los Alamos; two Noon Concerts; a Youth Concert; and a classic Bach Plus program of Bach, Boccherini and Vivaldi.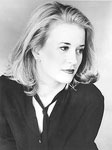 The concerts at 6 p.m. on both Sunday, July 22 and Monday, July 23 at St. Francis Auditorium start with Bach's Trio Sonata in C Major for Oboe, Violin & Continuo, performed by Allan Vogel, oboe; Soovin Kim, violin; Peter Stumpf, cello; and Kathleen McIntosh, harpsichord. Schubert's Der hirt auf dem felsen will be sung by soprano Courtenay Budd, with Todd Levy, clarinet, and John O'Conor, piano. Ms. Budd has appeared with the Chamber Music Society of Lincoln Center, the National Symphony, and repeatedly at Carnegie Hall and Spoleto USA. The noted Irish pianist, John O'Conor, is critically acclaimed as a masterful interpreter of the Classic and Early Romantic piano repertoires and has performed with the leading orchestras of the world. Mr. Levy is Principal Clarinet of the Milwaukee Symphony and Santa Fe Opera orchestras. Concluding the program, Messiaen's Quartet for the End of Time will be performed by pianist Yuja Wang and Messrs. Kim, Levy and Stumpf. Messiaen's own words about the Quartet attest to the work's intensity and grandeur; he said the instruments in unison in Dance of Fury for the Seven Trumpets "give the effect of Apocalypse gongs and trumpets…Music of stone, formidable sonority; movement as irresistible as steel, as huge blocks of livid fury or icelike frenzy."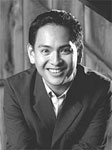 The Noon Concert at St. Francis Auditorium on Tuesday, July 24 includes Ravel's Gaspard de la nuit, played by pianist Victor Santiago Asuncion, whose superb technique has made him a Festival regular. Mozart's Divertimento No. 17 in D Major features horn players Julie Landsman and William Barnewitz, violinists Giora Schmidt and L. P. How; violist CarlaMaria Rodrigues, cellist Zuill Bailey, and double bassist Marji Danilow.
The Noon Concert on Thursday, July 26 features Mr. Bailey and Artistic Director Marc Neikrug in Beethoven's Sonata No. 3 in A Major for Cello and Piano and guitarist David Leisner in Wenzeslaus Matiegka's Sonata in B Minor and Villa-Lobos' Five Preludes.
Mr. Leisner will also present a Youth Concert at 10:00 a.m. Wednesday, July 25 at St. Francis Auditorium. A highly respected composer and distinguished teacher -- as well as an electrifying performer -- he is currently co-chair of the guitar department at the Manhattan School of Music.
The Los Alamos concert at 7 p.m. Wednesday, July 25 features Mozart's String Quartet in D Minor and Elgar's Piano Quintet in A Minor, both performed by the Johannes String Quartet - Soovin Kim and Jessica Lee, violin; Choong-Jin Chang, viola; and Peter Stumpf, cello. The Quartet will be joined by John O'Conor for the Elgar. Giuliani's Serenade in A Major will be performed by Mr. Schmidt, Mr. Bailey, and Mr. Leisner. This program will be repeated at 6 p.m. Thursday, July 26 at St. Francis Auditorium.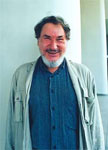 The concert at 6 p.m. Friday, July 27 at St. Francis Auditorium brings composer and chansonnier HK Gruber to Santa Fe for the first time in an imaginative mix of songs by Weill and Eisler plus Gruber's own Three Songs from Gomorra. Joining Gruber in his Three Songs… will be Mr. Levy, clarinet; Stefanie Przybylska, bassoon; Charley Lea, trumpet; Mark Fisher, trombone; Mr. Asuncion, piano; Mr. Schmidt, violin; Ms. Danilow, double bass; and Jeffrey Milarsky, conductor. Mr. Neikrug will accompany Mr. Gruber in three songs by Eisler: Wohltätigkeit, Ballade von den Sackeschmeissern, and Ballade vom Neger Jim from "Four Ballads;" and in six songs by Kurt Weill: Song of the Rhineland from "Where Do We Go From Here,' Der Bäcker bäckt ums morgenrot from "Der Silbersee," Die Ballade von der Hollenlili and Das Lied von der harten Nuss from "Happy End," September Song from "Knickerbocker Holiday," and Tschaikowsky (and other Russians) from "Lady in the Dark." The program also includes Detlev Glanert's Five Chansons for Woodwind Quintet played by Carol Redman, flute; Melissa Peña, oboe, Lori Lovato, clarinet; Peter Ulffers, horn; and Leslie Nelson Shultis, bassoon.
Mr. Neikrug said he had always heard the Gruber work as "a big orchestra piece" but "knew a small version was out there" -- and he enthusiastically welcomes Mr. Gruber and his direct and forceful style to the Festival. "The whole Frankenstein thing, which will be presented next week, is an offshoot of Cabaret, so it's appropriate to perform the Weill songs first," Neikrug said. "Chansonniers are not shy."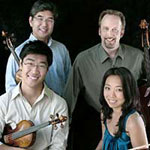 Concluding the Festival's second week, the Bach Plus program at 5 p.m. Saturday, July 28 features Mr. Bailey in Bach's Cello Suite No 3 in C Major followed by Mr. Leisner and the Johannes String Quartet performing Boccherini's Guitar Quintet No. 7 in E Minor. Vivaldi's Guitar Concerto in D Major will be played by Mr. Leisner, Mr. Schmidt, Ms. Rodrigues, Mr. Bailey, Ms. Danilow, and Ms. McIntosh.
This week's Festival debut artists are: John O'Conor, HK Gruber, Melissa Peña, Peter Ulffers, and Leslie Nelson Shultis.
The Saturday Bach Plus concerts are sponsored by Thornburg Mortgage; Monday concerts are sponsored by Omaha Steaks; and Thursday concerts are sponsored by Thornburg Investment Management. Noon Concerts are sponsored by the Edgar Foster Daniels Foundation; and Youth Concerts are sponsored by Community Bank.
For tickets and further information, visit http://www.santafemusic.org , or call 505.982.1890 or toll-free 888.221.9836.
The Santa Fe Chamber Music Festival is funded in part by the City of Santa Fe Arts Commission and the 1% Lodgers' Tax; the New Mexico Tourism Department; New Mexico Arts, a division of the Office of Cultural Affairs; and the National Endowment for the Arts.
---
Hot Town, Summer in the City:
MADRID'S "Veranos de la Villa 2007"
120 Concerts, Plays, Ballets, Operas in July & August – Many Free
Minelli, Marsalis, Youssou N'Dour
Rolling Stones and Van Gogh
Madrid's going to be a non-stop party this summer. Europride kicks off this Wednesday, June 27. Billed as Europe's premier gay and lesbian event, over 2.5 million people are expected to celebrate in Spain's capital. The Rolling Stones are playing the next day at Vicente Calderon stadium. Then on July 2, Veranos de la Villa, an international celebration of music, dance and theatre begins. "Summer in the City" will present 120 concerts, ballets, operas, and flamenco shows in 20 venues through August 26. Now in its 22nd year, the summer festival includes many free events, and invites some of the world's most renowned artists to perform jazz, blues, classical and world music, opera, ballet, flamenco and zarzuela, Spain's version of lyric opera.
Spanish sensation Antonio Carmona will open the festival on July 2 at the Conde Duque Cultural Center, originally built in 1730 for the Spanish king's royal guards. Performer extraordinaire Liza Minnelli will take the stage on August 12. In between, such internationally-renowned artists as Paulina Rubio (7/12), Youssou N'Dour (7/16), Laurie Anderson (7/17), Wynton Marsalis and the Lincoln Center Orchestra (7/19), George Benson and Al Jarreau (7/23), Chucho Valdes (7/26), and Kool & the Gang (7/28) will be performing.
The Sabatini Gardens will host a star-studded lineup of jazz, flamenco, and zarzuela that includes: jazz veterans Donna Hightower (8/1), Pedro Iturralde (8/2) and Israel 'Cachao' López and the Mambo Masters (8/3), flamenco greats Manuel Molina with Esperanza Fernandez and La Negra (8/8), José Mercé (8/10), Carmen Linares (8/11), Jose Menese (8/18), Rafaela Carrasco (8/19), and three zarzuelas in 19 performances between July 11 and August 26.
Taking the floor of the Conde Duque's central patio will be the Boston Ballet (8/1-8/2), New York Harlem Theater (8/7-8/10), the Legend Lin Dance Theater (8/16-8/19), and the Chinese Zunyi Acrobatic Troupe (8/21-8/25). Five other dance companies will perform at the Centro Cultural de la Villa.
There will even be dancing in the streets right in front of the Museo Nacional Reina Sofía with the "Danzacalles" program (7/11-7/13), performed by four dance companies.
The city's former slaughterhouse, Matadero Madrid, will host the premiere of Bertol Brecht and Kurt Weill's famed "Rise and Fall of Mahagonny" (6/28-8/5). Plays by Calderón de la Barca (7/5-8/26) and Shakespeare (7/19-7/28) will be staged at the Galileo Gardens and the Teatro Español.
The private theater of Alcázar will showcase flamenco dancer Rafael Amargo in "Tiempo Muerto" (6/27-7/29). The Gran Vía Theater will feature a program of 56 ballet and zarzuela performances from July 3 through September 2.
Italian director Giancarlo Sepe is reinventing classic opera with a new interactive version of "La Traviata" at the Palacio Vistalegre (7/29-7/30). During key moments, the audience of 14,000 is invited to participate.
Many shows and events are free of charge. For the fourth year, the city's 17th century Plaza Mayor will be the setting for a concert of Beethoven and Tchaikovsky, performed by the West-Eastern Orchestra Divan, with Daniel Barenboim conducting (8/5). "Summer in the Street" will showcase 24 events in four of Madrid's plazas and the Temple of Debod, including "Music for the Sunset," (7/17 and 7/24) which will feature free concerts by orchestra ensembles and string quartets. The Sabatini Gardens will stage free open-air concerts of classical and world music with sounds from Cuba, Iran, Poland, Lebanon, Equatorial Guinea and El Salvador.
Don't leave the kids at home; there's plenty to keep them occupied in Madrid with free puppet shows in Retiro Park (Friday, Saturday and Sunday from 7/7-9/2), the circus (8/21-8/25) and movies in the open air in Parque de la Bombilla (6/28-9/1).
For art lovers, the Thyssen-Bornemisza Museum is presenting 30 works from Vincent Van Gogh's Auvers period through September 16. Compiled from museums and private collections from around the world, this exhibition includes his famed "Les Vessenots," and paintings from Daubigny, Pissarro, and Cézanne who also painted in Auvers. The museum is open Tuesday through Sunday from 10am to 7pm, and closed Mondays.
In the fall, visitors will be able to see the Prado Museum's long-awaited expansion that opens in October. By then, the last of Madrid's three leading museums will have doubled in size.
Prices and times for "Summer in the City" vary by venue and performance. Admission ranges from about $16 for some shows to $135 for operas such as La Traviata. Tickets average about $27 and youth and senior discounts are available. Go to http://www.esmadrid.com/veranosdelavilla or http://www.munimadrid.es.
For information about Spain, contact your travel provider or the Tourist Office of Spain in New York (212-265-8822); Miami (305-358-1992); Chicago (312-642-1992) or Los Angeles (323-658-7188) or go to www.spain.info
---
CLASSICAL FAVORITES FILL THE AIR AT THIS SUMMER'S
LAKE TAHOE MUSIC FESTIVAL
Classical music is defined when the 2007 Lake Tahoe Music Festival returns to North Lake Tahoe July 14 – Aug. 4, 2007. The annual summer Festival presents an impressive menu of classical performances from some of the genre's most acclaimed talent as part of its "Season of Classics." And classical renditions are just one of the musical varieties headlining the 25th anniversary season of the Festival that features a remarkable lineup of classic rock, classic Broadway, opera and classic jazz for nine concerts at five venues throughout North Lake Tahoe.
Monday, July 23: "One of America's finest artists and singers," as touted by the New York Times, Frederica von Stade headlines a special fund-raiser performance at Granlibakken with proceeds benefiting the Festival's Educational Outreach Program. The world renowned mezzo-soprano and opera star, known by fans as "Flicka," will entertain the crowd alongside several of her students from the Young Musicians Program at the University of California, Berkeley, which identifies musically gifted students who cannot afford specialized training and provides them with a comprehensive music education, academic reinforcement and personal guidance, on a full scholarship basis.
Thursday, July 26: Homewood Mountain Resort, the Festival's new home theater locale, hosts Maestro Timm Rolek and the Lake Tahoe Music Festival Orchestra for a performance of "Mozart in the Mountains" featuring musical selections such as "Sinfonia Concertante" and "Symphony No. 40." The evening will officially open with a guest appearance from Hannah Canty, the 2006 Rotary Club Competition winner. Also featured will be soloists Ruth Lenz, violin and Igor Veligan, viola.
Tuesday, July 31: The Lake Tahoe Music Festival Orchestra returns to the Homewood stage for a tribute to the Festival's 25th anniversary and its founding conductor, Edgar Braun. A plethora of favorite classical pieces including Handel's "Water Music," Mendelssohn's "Violin Concerto" featuring Axel Strauss from the San Francisco Conservatory and Dvorak's "New World Symphony" will be performed.
Saturday, Aug. 4: The season finale at Homewood Mountain Resort is a special performance of Beethoven's "Ninth Symphony," one of the best known works of romantic music and one of Beethoven's greatest masterpieces, performed by the Festival Orchestra along with members of the Sacramento Opera chorus and special serenades from surprise soloists.
Tickets and season passes are now available for the 25th Anniversary season of the Lake Tahoe Music Festival. For concert times and locations, to purchase tickets or for more information about the Festival, log on to www.TahoeMusic.org or call 530-581-1184.
The Lake Tahoe Music Festival celebrates 25 years of timeless masterpieces during its "Season of Classics," July 14 – Aug. 4, 2007. Founded in 1982 by Edgar Braun, conductor of the San Francisco Chamber Orchestra, the Lake Tahoe Music Festival presents nine concerts at five scenic venues throughout North Lake Tahoe including historic Donner Lake, Tahoe City's Commons Beach, Granlibakken Resort in Tahoe City, Tahoe Donner in Truckee and its new home venue, Homewood Mountain Resort. The Lake Tahoe Music Festival is a 501(c)(3) non-profit organization that presents quality, diverse musical experiences and creates educational and performance opportunities for aspiring young musicians. Funds for the Festival are raised through individual memberships, corporate sponsorships, grants and advertising revenues from its Festival program.