SANTA BARBARA MUSEUM OF ART
Delacroix to Monet: Masterpieces of 19th-Century Painting from the Walters Art Museum
1130 State Street, Santa Barbara,California  www.sbma.net
January 30 - May 30, 2010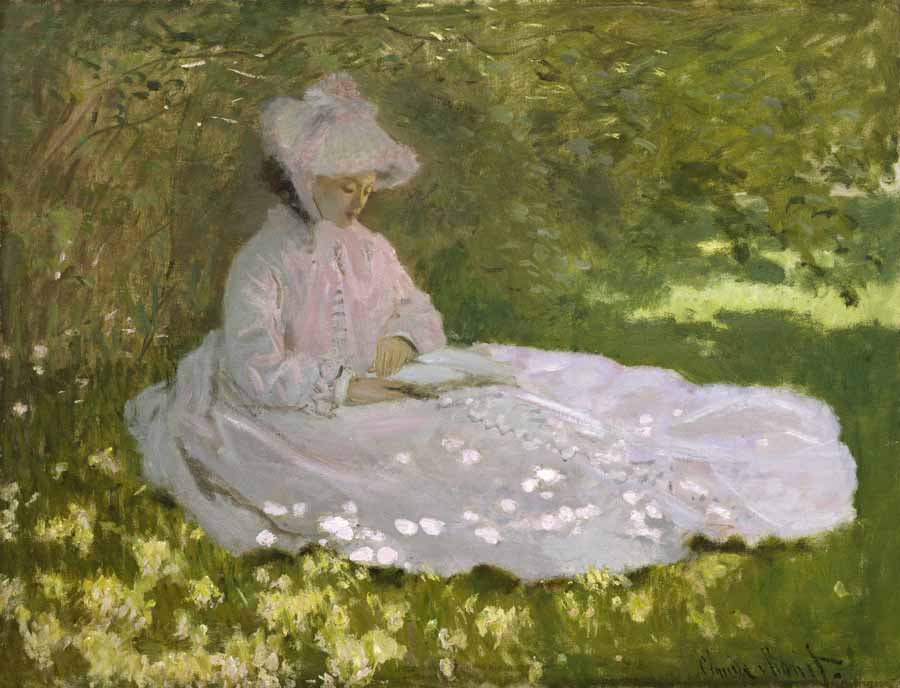 Claude Monet, Springtime, ca. 1872. Oil on canvas.  WaltersMuseum,  

Baltimore,  Maryland (acquired by Henry Walters, 1903).

    

Assembled over a period of more than 140 years, the collection of the Walters Art Museum entails one of the finest holdings of 19th-century paintings in the United States.  The only West Coast venue for the exhibition, the Santa Barbara Museum of Art is pleased to present 40 works from this renowned collection, selected for their art-historical significance and superior quality.  Although strongly weighted in favor of French painting, this exhibition, like the collection, also includes major works by British, Spanish, and American artists.

California Calling: Works from Santa Barbara Collections, 1948 - 2008

Part I:  July 18, 2009 – March 7, 2010  Extended!

Eclectic, inventive, anti-conformist… these are just a few of the widespread characterizations of artists who have lived and worked in the richest, most diverse, and most populous region in the  United States since the end of World War II.  California Calling is a two-part exhibition highlighting works from a selection of artists and movements in California from the past sixty years.  Drawn from the Museum's permanent collection and selected local collections, works included exemplify the distinctive vitality of art in the region and the significance of the SBMA as a venue for art on the West Coast.
---
HENDRICK  AVERCAMP LANDSCAPES ON EXHIBITION AT NATIONAL GALLERY OF ART
In the first exhibition devoted to Dutch landscape artist Hendrick Avercamp (1585–1634), scenes of ice skating, sleigh rides, and outdoor games, including the early game of colf (a game combining aspects of golf and hockey), on frozen canals and waterways, bring to life the lively pastimes and day-to-day bustle of the Golden Age of the Dutch Republic.
On view in the West Building Dutch Cabinet Galleries at the National Gallery of Art, Washington, the only U.S. venue, from March 21 through July 5, 2010, Hendrick Avercamp: The Little Ice Age will feature some 15 paintings and 15 drawings.
For more information and publicity images, click on: http://www.nga.gov/press/exh/3150/index.shtm.
The exhibition was organized by the National Gallery of Art, Washington, and the Rijksmuseum, Amsterdam, where it is on view through February 15, 2010.
 Don't miss the National Gallery of Art Sculpture Garden's ice-skating season! Located on the National Mall at 7th Street and Constitution Avenue NW, the ice rink is a favorite destination, attracting thousands of visitors to skate in the nation's capital. This year, lessons are offered for all levels of ice skating. For more information and to order publicity images of the ice rink, please visit http://www.nga.gov/press/2009/ice_rink.shtm.
---
BELA BACSI PRIVATE CLAY MODELING CLASSES
Following the renovation and expansion of the Bela Bacsi private studio, he is pleased to annouonce the return of private clay modeling classes.
As in the past, he will work in water based clay, with a live model.  Individual projects (in water based clay) are also welcome.  Class size limited to 10 guarantees one-on-one time with special attention to composition, selection and use of the proper tools, and designing your clay model for a successful "next step" which could be firing, or making a mold for plaster or bronze.  All works may be fired for a nominal fee.

The Winter class schedule is as follows:

10 Saturdays, January 30 - April 10 (no class March 27)
10:00am - 2:00pm (lunch break from 12:00 - 12:30)
115 West Los Olivos Street, Santa Barbara

Cost:  $450 tuition, payable in advance

For more information or to enroll, please contact us at (805) 687-2636 or bbacsi@aol.com.
---
Mercedes-Benz Fashion Week will take place February 11-18 in New York City's Bryant Park.
---
The Drawings of Bronzino, the first exhibition ever dedicated to Agnolo Bronzino (1503-1572), brings together nearly all of the 61 known drawings by, or attributed to, the great Florentine court artist of the Medici. On view at The Metropolitan Museum of Art from January 20 through April 18, 2010, the exhibition features drawings of extraordinary beauty and rarity which are seldom on public view, and draws loans from major museums and private collections within Europe and North America, including the Galleria degli Uffizi, Musée du Louvre, British Museum, Royal Library of Windsor Castle, Ashmolean Museum, Kupferstich-Kabinett Dresden, and Staatliche Museen Berlin.
The exhibition was organized by The Metropolitan Museum of Art, New York, in collaboration with the Gabinetto Disegni e Stampe degli Uffizi and the Polo Museale Fiorentino, Florence.
The exhibition is made possible by the Gail and Parker Gilbert Fund.
Additional support is provided by Dinah Seiver and Thomas E. Foster.
The exhibition is supported by an indemnity from the Federal Council on the Arts and the Humanties.
Surprisingly, this great artist has never been the subject of a comprehensive exhibition, yet he is one of the most important draftsmen of the 16th century, and a leading figure among Mannerist painters in Florence. The son of a butcher, Bronzino was born in 1503 in Monticelli near Florence, and at a very young age was apprenticed in the workshop of painter Jacopo Pontormo (1494–1557), who had a great influence on him. A painter, draftsman, teacher, and learned poet, Bronzino became famous as the court artist to the Duke Cosimo I de' Medici and his beautiful wife, the Duchess Eleonora di Toledo. Bronzino's portrait of the Duchess and her son became one of the artist's best-known masterpieces and evidence his power in capturing the psychology of his sitters. His technical virtuosity as a painter and draftsman was highly praised by his contemporaries, and he was a much sought-after teacher, who had numerous pupils. Bronzino, however, was no less admired in the intellectual circles of his day for his accomplished poetry, which demonstrates a refined intellect and pungent vernacular wit.
The Drawings of Bronzino offers an introduction to Bronzino's celebrated oeuvre and a unique insight into his larger projects and commissions through the close examination of his drawings. Bronzino was a perfectionist, not prolific, and his surviving drawings, while exquisitely beautiful, have been little studied, as they are seldom on public view. The exhibition and accompanying catalogue explore his work as a draftsman in depth and make a substantial scholarly contribution, re-examining some of the open questions regarding his career, and more precisely defining the chronology of his works.
The display of studies in chalk as well as more painterly drawings in wash and gouache demonstrate Bronzino's brilliant command of the human figure, his inventive genius as a designer, and his gift for composition. Preparatory drawings related to important fresco cycles, altarpieces, and tapestries with rich allegorical meanings reveal the artist's literary sensibilities. Outstanding works include Head of a Smiling Woman in Three-Quarter View (cartoon fragment for Moses Striking Water from the Rock) from the Musée du Louvre, Standing Nude (study for The Crossing of the Red Sea) and Study of a Left Leg and Drapery from the Metropolitan Museum's collection, Joseph with Jacob and His Brothers (fragment of modello for the tapestry Joseph Recounting his Dream of the Sun, Moon, and Stars) from the Ashmolean Museum, Oxford, Study for Jealousy from the The J. Paul Getty Museum, and Head of a Curly-Haired Child Looking Up to the Right (study for the Christ Child in the Holy Family with St. Elizabeth and St. John) from Staatliche Kunstsammlungen, Kupferstich-Kabinett, Dresden. Many exquisite works from the Gabinetto Disegni e Stampe degli Uffizi are featured such as Study for a Portrait of a Seated Man and Standing Nude (study for The Crossing of the Red Sea).
The Metropolitan Museum's refined and graceful painting, Portrait of a Young Man, is displayed in the last gallery of the exhibition where it is accompanied by panels detailing recent discoveries of under-drawing in the picture through infrared reflectography.
The exhibition is organized at the Metropolitan Museum by Carmen C. Bambach, Curator in the Department of Drawings and Prints, Janet Cox-Rearick, and George R. Goldner, Drue Heinz Chairman of the Museum's Department of Drawings and Prints.
The Drawings of Bronzino is accompanied by a fully illustrated catalogue, authored by Carmen C. Bambach, Janet Cox-Rearick, and George R. Goldner, with essays by Marzia Faietti, Elizabeth Pilliod, and Philippe Costamagna. It is published by The Metropolitan Museum of Art and Yale University Press and is for sale in the Museum's bookshops (hardcover, $60.00).
The catalogue is made possible by The Andrew W. Mellon Foundation.
Educational programs accompanying the exhibition include a lecture by Carmen C. Bambach on April 9; a Sunday at the Met program on March 28 with lectures by James Fenton, Elizabeth Cropper, Deborah Parker, and Louis A. Waldman; film screenings; gallery talks; and family programs.
This Sunday at the Met is made possible in part by the Italian Cultural Institute of New York.
The Antioch Chamber Ensemble will present a concert of music by Monteverdi and the world premiere of "Of Art and Onions: Homage to Bronzino" by American composer Bruce Adolphe in conjunction with the exhibition on Saturday, March 6, at 7 p.m. in the Metropolitan Museum's Grace Rainey Rogers Auditorium. Mr. Adolphe's contemporary Mannerist piece for chamber orchestra and soloists was inspired by the paintings and poetry of Bronzino. It is a co-production of the Palazzo Strozzi Foundation and The Learning Maestros.
The Palazzo Strozzi in Florence will present the exhibition Bronzino, Artist and Poet, the first ever devoted to the artist's paintings, from September 24, 2010, through January 23, 2011.
An audio tour, part of the Museum's Audio Guide Program, is available for rental ($7, $6 for Members, $5 for children under 12).
The Audio Guide is sponsored by Bloomberg.
A ten-minute podcast episode narrated by Carmen C. Bambach on the life and work of Bronzino is available for free download in the Met Podcast series at www.metmuseum.org/podcast.
The exhibition is also featured on the Museum's website at www.metmuseum.org
---
ESSENTIAL LANDSCAPES:
January 30 through April 18 
Phoebe Brunner and Pamela Kendall Schiffer
Elverhøj Museum of History and Art is pleased to present "Essential Landscapes," an exhibition of new works by Santa Barbara artists Phoebe Brunner and Pamela Kendall Schiffer. Both artists explore the expansive landscapes of California's Central Coast. In addition, Schiffer presents images of Montana and Wyoming, as well as of secluded Hollister Ranch on the Gaviota Coast north of Santa Barbara.
A reception for the artists will be held on Saturday January 30 from 4 to 6 PM. There is no charge for admission.
Both artists seek to capture quintessential aspects of landscape, but their finished work differs markedly. Schiffer favors intimate, detailed compositions, often of simple subjects defined by light, whether soft and atmospheric or sharply bright. She works primarily in oils, watercolors, and pastels, although her Montana and Wyoming pieces are multi-layered original prints. Brunner, on the other hand, favors large canvasses and bold colors and contrasts in order to re-imagine a specific locale. Her vistas, painted in glowing oils, are both realistic and surrealistic.
A native Californian, Schiffer has lived in Santa Barbara for over 25 years. She earned a B.A. from UCSB in 1982, majoring in Fine Art and studying painting and ceramics. In 2008-2009 she collaborated on a series of original lithographs with master printer Geoffrey Harvey at Sunlight Graphics in Livingston, Montana. In 2008 Schiffer was Artist-in-Residence at the Ucross Foundation, in Clearmont, Wyoming.
Schiffer explains what her art tries to accomplish: "My paintings continue to study the landscape and ocean areas of Santa Barbara as defined by light. Some are subtle, reflective and atmospheric studies, while others are very direct, focusing on the effects of full sunlight or moonlight on something as stark as an agave stalk. I am moved by the power of simple things in my observations of nature, be it a lone drifting cloud, birds soaring, a stand of trees in the distance, backlit and glowing, or the sublime blue of the sky. My paintings reflect my sense of things beautiful and profound, joyful and optimistic, quiet, still and timeless."
Brunner was educated at the California Institute of the Arts (Chouinard); Universidad de Guadalajara; Otis Art Institute; and UCSB, earning a Bachelor of Fine Arts there in 1972. She describes what she means by re-imagining landscapes: "By creating an alternative view to traditional landscape painting, my re-conceived landscapes of the American West, simultaneously real and surreal, become an offering to the viewer to experience our surroundings with a new perspective. In addition to tapping into a huge visual reservoir of memories, I utilize photographs, field notes, and thumbnail sketches, but primarily my imagination.... My imagery is comprised of the indigenous topography, botany, geology, and light. However, the work is not a documentation of an actual place, but rather a re-imagining of a unique site. The viewer is led to wonder where these landscapes exist, with a longing to visit, and at the same time search in their own subconscious to find the location."
Both artists have exhibited in numerous shows and won awards for their art. Recent solo shows by Pamela Schiffer include Hollister Ranch, Craig Krull Gallery, Santa Monica (2009) and  Of This World: New Paintings, Easton Gallery, Santa Barbara (2008). Group shows include The View from Here,Atkinson gallery, Santa Barbara City College, and Holiday Show, Easton Gallery, Santa Barbara (2009);Collecting for the Millennium, Ventura County Museum of History and Holiday Show: About Clouds,Easton Gallery, Santa Barbara (2008).
Phoebe Brunner recently had one-woman shows at Rovzar Gallery, Seattle (2009) and Hespe Gallery, San Francisco (2008). Recent group shows include Edge: Santa Barbara County Artists Respond, Santa Barbara, A View from Here: A Group Exhibition of Contemporary Landscapes and Cityscapes, Judson Gallery, Los Angles, and Eyes Open, Galerie Eye, Carpinteria (2008).
"Essential Landscapes" runs from January 30 through April 18, 2010.
---
SHOUL
CHIC WAY FOR WOMEN ON THE GO TO STAY WARM
This lovely little wrap is very soft and lightweight and is perfect for travel or anytime. It dresses you up or can be casual, and comes in acrylic or cashmere blend. Colors include black, red, camel, navy, cream and off-white. Visit: www.theshoul.com for more information.
 Schumannfest 2010 in Düsseldorf
An entire year of celebrating Schumann and his music. Concert highlights from May 28th – June 14th, 2010.
2010 marks the 200th anniversary of the birth of Robert Schumann, master composer and musician of the Romantic period, and Düsseldorf, the city where he lived and worked, celebrates with a year of concerts and events all over the city with top events taking place during Schumannfest 2010, May 28-June 14, 2010.
As one of the most comprehensive festivals of its kind ever, Schumannfest 2010 will feature performances of the composer's entire body of work in venues and on stages all over Düsseldorf.   The festival's main events during its 18 days include concerts in all of the city's premier classical music venues such as the Opera House, Tonhalle Concert Hall, College of Music, as well as several churches with performances by world-class international musicians and orchestras. Schedules and details are available at www.schumannfest-duesseldorf.de. In addition, a new guided tour in the Footsteps of Robert Schumann is offered in English and German.
Schumann spent his last creative years in Düsseldorf as the city's musical director from 1850-1854.  During Schumannfest, the city itself becomes the backdrop for a fascinating spring music festival experience.  The city's Old Town is home to the "longest bar in the world" - 260 restaurants, bars and pubs serving local "Alt Beer" and delicacies. The river promenade, considered the most beautiful on the Rhine, leads from Old Town to modern MediaHarbour.  Moreover, 20 castles in and around the city as well as short distances to other destinations including the Rhine-Ruhr area, Cologne, Belgium, the Netherlands, offer many more opportunities for short and long-term stays. Düsseldorf International Airport, Germany's third-largest, offers several non-stop flights from US cities as well as convenient connections to many European cities and beyond.  Find Schumannfest specials for hotels and air fares at www.visitduesseldorf.de.
---
CONTEXT AND LE ARTI ORAFE SCHOOL OF FLORENCE AWARD SECOND ANNUAL ARTISANAL APPRENTICESHIP
Florence local Elia Rizzo chosen as the second recipient of the scholarship, which supports an apprenticeship program for artisanal workshops.
Context's Foundation for Sustainable Travel and the Le Arti Orafe school, in the heart of Florence's Oltrarno area, are proud to announce the winner of their annual artisanal scholarship: Elia Rizzo, a Florentine native and student of jewelry design. The panel of judges chose Elia because of his great ability and willingness to enrich the city's traditional artisanal community.
The award is comprised of a scholarship worth 4000 Euro towards an advanced etching course at the Le Arti Orafe school, a technical institution dedicated to jewelry design and creation that was started by jeweler Gio' Carbone in 1985. The student will study the painstaking techniques required for etching, which commonly uses traditional Florentine floral motifs and landscapes as subject matter. The second part of the award is an apprenticeship at a local jewelry studio, Antica Bottega degli Orafi di Matteo Baroni, located in Piazza Demidoff.
"After the great success of last year's premier scholarship, the Context community was very eager to recreate the experience for another dedicated student," says Megan McDonnell, Context Florence's city manager. "This initiative is so special to all of us because you can see the immediate benefits it provides not only to the student, and the host workshop, who shape and mentor the next generation of artisans, but most importantly the community, which is enriched with fresh creative spirit and a dedication to preserving dying traditions, such as apprenticeships."
This project was underwritten by Context's Foundation for Sustainable Travel, which was created in 2007 to support cultural preservation projects in cities like Florence, Rome, London, New York and Paris. A portion of Context's proceeds is also earmarked towards a carbon-offset program. This year, thanks to programs like our Florence scholarship, the Foundation was recognized by National Geographic's Geotourism Challenge as an outstanding leader in sustainable travel, the only urban-based travel company to receive recognition.
---
Veteran Designers Launch Innovative New Design Firm
"Studio Collective" in Los Angeles






Studio Collective

, a boutique design agency founded in August 2009 in the heart of Santa Monica, is a new face in the world of interiors and architecture. But its three principles - Adam Goldstein, Leslie Kale, and Christian Schulz - are seasoned veterans of hospitality, nightlife, retail and residential design, with a joint resume that includes legends like Frank Gehry and Phillippe Starck, contemporary icons like Dodd Mitchell and Kelly Wearstler, and spaces whose names - Teddy's, The Viceroy, Katsuya, Thompson Beverly Hills, SLS Hotel - are as celebrated as their clientele. Now,

Studio Collective

is set to make its own name with a slate of equally buzzworthy developments including three distinct projects at the Hollywood Roosevelt Hotel and the recently completed interiors of SBE's Hyde Lounge at the Staples Center.
 
The exclusive Hyde outpost converted from eight private event suites at the Staples Center amps up the luxe feel of Hyde on Sunset with a masculine rock-and-roll edge. Rich, dark colors and backlit onyx provide an opulent setting for distressed leather upholstery, burnished metal finishes, regal flea market finds and eclectic baubles that add a sophisticated personal touch. Slabs of stone and a cozy fireplace give the VIP suite the feel of a tucked-away bachelor pad.
 
For the Hollywood Roosevelt Hotel,

Studio Collective

is simultaneously working on the design for the Johnny Grant Suite, a 3,200-square-foot penthouse with two separate event terraces, The Spare Room, a new gaming parlor complete with bowling lanes, and the renovation of Dakota into Public Kitchen and Bar; an entirely new dining concept.  For all three projects,

Studio Collective

is staying true to the building's original glamorous Hollywood bones, while giving each project its own unique modern identity.
           
Other current projects include a handful of residences in San Marino, Manhattan Beach, and the Hollywood Hills, and poolside renovations at the 4055 Lofts in Marina Del Rey and the Sofitel Hotel, LA. The Fairfax, the new neighborhood gastro-pub in the former Largo space will get a top-to-toe design treatment, from the transformed open-air façade to the soaring loft-like interior, including glowing pendants & patinated surfaces.  
           
Unlike most other firms,

Studio Collective

offers full service branding and design, assembling hand-picked teams to handle everything from graphics to staff uniforms to the space that houses it all. The company name aims to convey this collaborative spirit; "studio" acknowledges the artistry and craftsmanship behind every design concept, while "collective" nods to the deep well of local talent that can make any idea come alive.
           
Schulz and Goldstein met at SCI-Arc in the late '90s and reconnected at SBE, where Schulz was overseeing SLS and Goldstein was in charge of noted restaurants including Katsuya and XIV. Schulz and Kale, meanwhile, had worked closely together as heads of the Dodd Mitchell team in charge of the Roosevelt's 2003 renovation. During those years, each saw how the old business models conflicted with the new economy, and each yearned to express a more singular, personal vision. When SBE folded its design division, Schulz and Goldstein joined forces and recruited Kale, who is also chief designer for KALE, a luxury handbag line sold at Barneys and Harvey Nichols, to add her effortless feminine chic to his and Goldstein's more architectural approach.
           
The larger entity created by their balance of energies and skills is the magic ingredient of

Studio Collective

. Goldstein is a big picture person who brings an air of calm and reassurance to a "need it now" industry. Schulz has a near-obsessive attention to detail that leaves no doorknob unturned (and, furthermore, he can envision that doorknob as a chair or maybe a lamp). Kale, meanwhile, thinks nothing of scouring the Rose Bowl for the perfect Louis loveseat, and then going all the way to Guadalajara to source rivets for a table. And as she proudly likes to point out, it will be finished at budget, on time. 
 
All agree that there is no signature

Studio Collective

"look," and there won't be, if they can help it. The challenge - and the fun - is in the opportunity to create something fresh and new every time, while staying true to a project's soul. Still, there are a few company rules: craft always trumps status, history always trumps trend, and although it's ultimately about arriving at that picture-perfect finished product, it's just as important to enjoy the process of getting there.




---
Cellists Will Celebrate Life & Cello Music at Glendale Concert on Saturday Feb. 6
By Laurence Vittes
A gaggle of cellists and other musicians will gather at the First Baptist Church of Glendale on Saturday February 6. Their goal: To celebrate "The Greatest Music Written For Cellists" including World Premieres compositions written by composers Carol Worthey and Deon Nielson Price.
The virtuoso cellists: Ruslan Biryukov, Maksim Velichkin, Hope Easton, Garik Terzian, August Lee and Patricia Ryan. Their partner in crime: Pianist Mary Au.
For nearly 400 years people worldwide have been fascinated by the sound of the cello, the musical instrument which some say is closest in passion and intensity to the human voice. Over the centuries great cellists have been guests at the palaces of monarchs and the homes of presidents. From Pablo Casals to Mstislav Rostropovich to Yo Yo Ma, the sound of the cello and the cellists behind the sound have captivated millions.
The concert will feature Handel's Double Concerto for 2 Cellos, Johann Georg Albrechtsberger's forbiddingly titled "Doppelfuge" for 4 Cellos, Mozart's lovely "Ave Verum Corpus" arranged for 4 Cellos, David Popper's "Requiem for 3 Cellos," and music by Boccherini, JS Bach and Alfredo Piatti.
The concert will conclude with two World Premieres:
"Russian Scenes" for Cello Duo (2009) by Carol Worthey (with paintings by the composer!) captures moments in the life of the folk tale including a bear fight, a trip on the Grand Siberian Railroad, a walk through the Hermitage Museum in St. Petersburg and a no-holds-barred celebration of life with vodka, blini and laughter.
"If Life Were To Sing!" for Cello Quintet (2010) by Deon Nielson Price was inspired by a poem written by Ila Mae Richardson suggesting that troubles could turn to blessings if only we all were singers and we let our hearts take wing!
The concert will be performed in the First Baptist Church of Glendale, a recently restored, 104-year old architectural and acoustic jewel of Los Angeles. Tickets are $15, $20, $25 and $50 for VIP Tickets. Tickets and can be purchased by calling 323-663-3601 (English/Russian); 323-463-7224 (Russian/English) and 818-640-7047 (Armenian/English). A portion of the proceeds will be donated to the First Baptist Church of Glendale.
---